Contents
---
---
Many newlyweds do not want their solemn marriage to take place within the four walls of the city registry office. Despite all the solemnity that the wedding organizers are trying to create, the process itself no longer causes a storm of emotions. The standard words of congratulations, the Mendelssohn march and the traditional exchange of rings - all this has lost its former piquancy. I want something new and unusual. That is why many couples prefer to order exit painting, which will allow you to exchange wedding rings in any corner of the country, whether it be an ancient castle or a forest manor.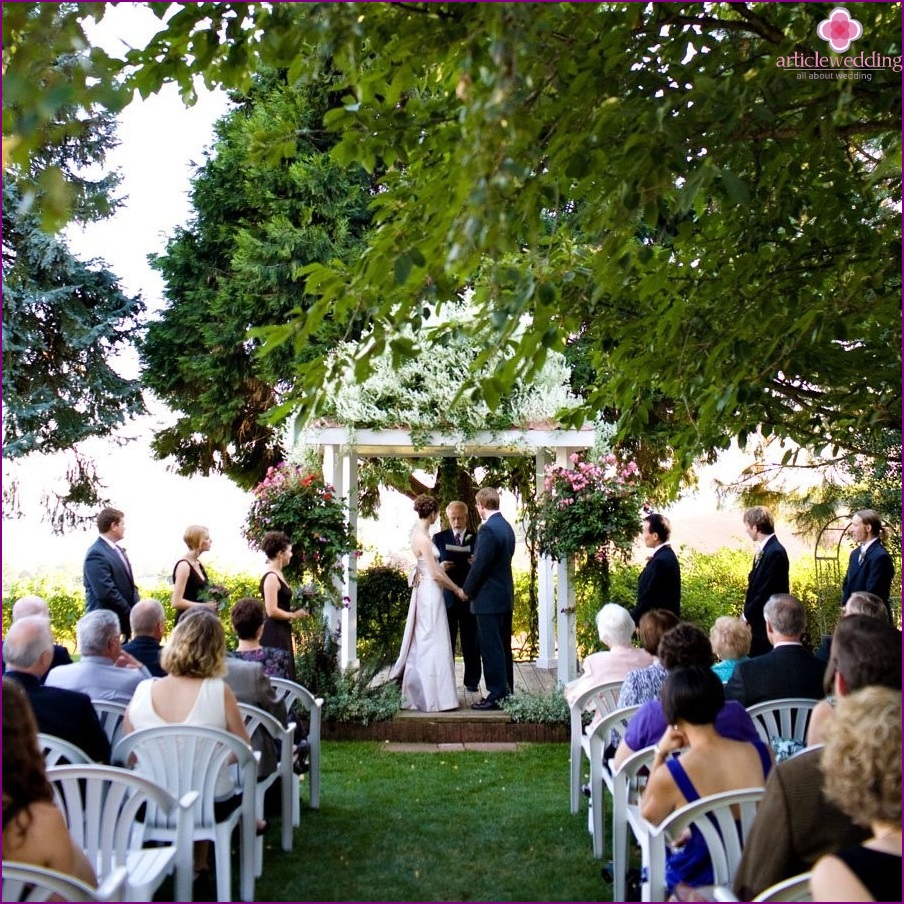 Place for exit registration
If you still decide to order exit registration, it is worth considering several important points, in particular, the place of registration. It is best to hold a wedding ceremony near the banquet hall so that guests do not have to travel a long distance to the restaurant.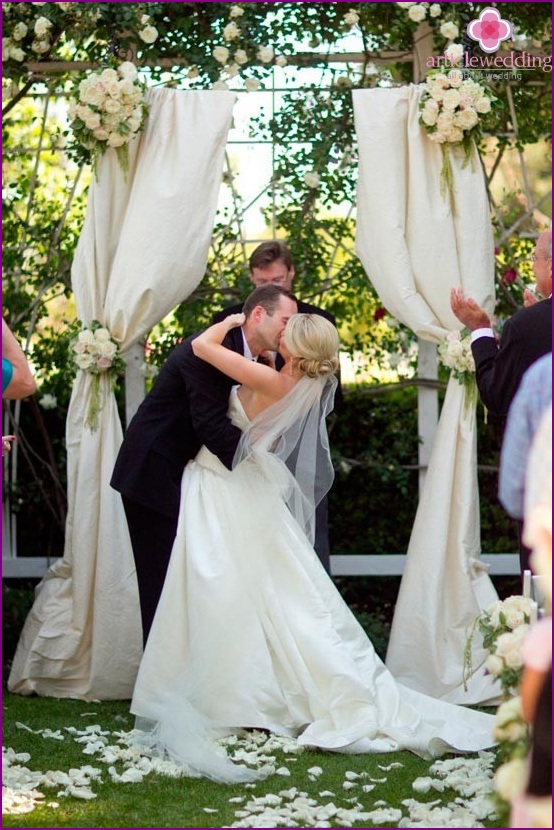 Ideally, you can order a homestead or a restaurant near the water, where the newlyweds can arrange a wedding venue in an open area. It can be a beautifully decorated arch, tent or awning. The tent will allow you to conduct the ceremony, despite the possible bad weather. Decorate the place for painting with fresh flowers, put chairs for guests in several rows and between them lay a white path along which the bride will go.
Exit registration can be carried out in an old castle. You will remember this painting for a long time.!
Immediately after registration you can go to the restaurant and continue the celebration of the wedding! Registration in the fresh air is special. You will be charged not only with a good mood, but also get great photos with beautiful scenery.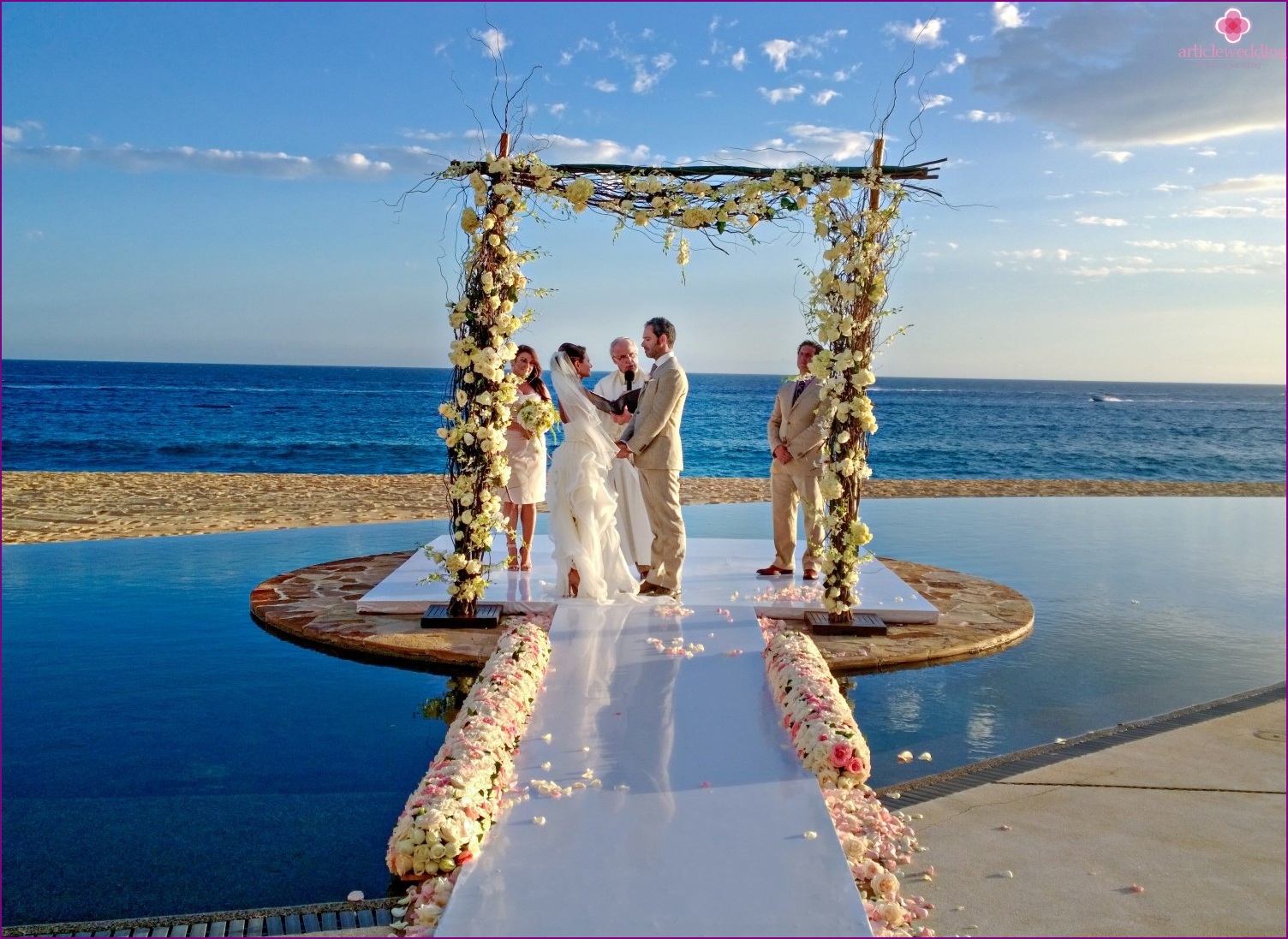 Cons and pros of exit painting
Perhaps, in every business there are pros and cons. This also applies to marriages..
If we talk about the pros, the most important of them is the possibility of combining painting and celebration. Another plus will be the opportunity to get unusual memories and enjoy the beauty of nature. You will have the opportunity to feel the uniqueness of the wedding and its uniqueness. Exit painting also gives you the opportunity to immerse yourself in the European style and independently decorate the scenery, in particular, creatively decorate the wedding arch.
As for the minuses, this is perhaps the likelihood of bad weather. You can never predict what kind of weather will fall on your wedding day. Salvation in this case will only be a tent. If you have not taken care of this matter, you will still have to return to the premises and hold a wedding ceremony there. Registration has no such disadvantages on the coasts of warm countries.!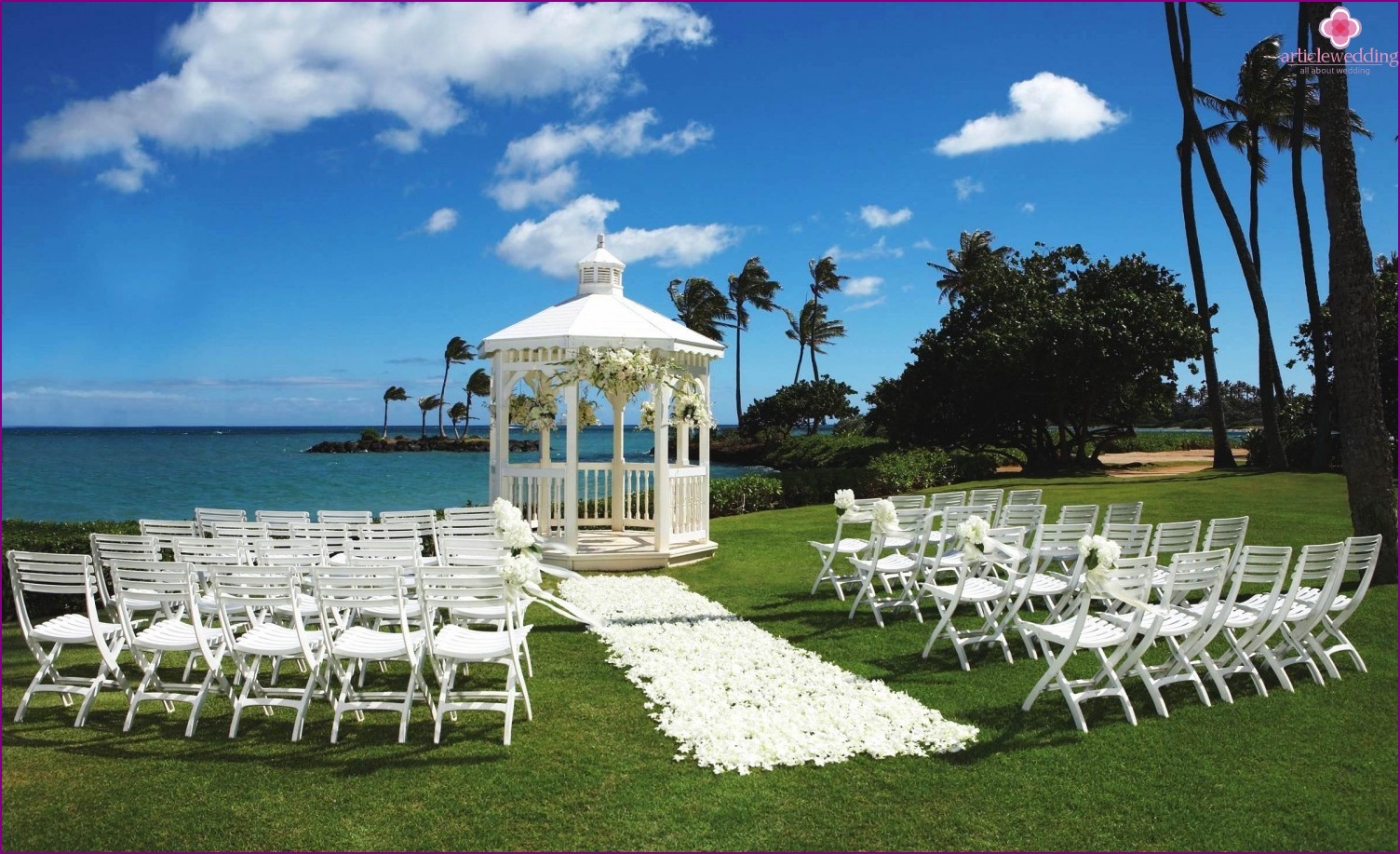 Some more important points
It is also worth considering that exit painting must be ordered in advance. Given that such registrations are becoming more popular, you should try to find a suitable day and suitable registrars. Also, the registrar's disagreement to go to the place where your wedding is planned can become a big problem. You should clearly stipulate all the nuances: how the registrar will get, how he will return home and much more. Also, such a painting is an expensive pleasure, so be prepared for serious amounts if you want an unusual marriage registration.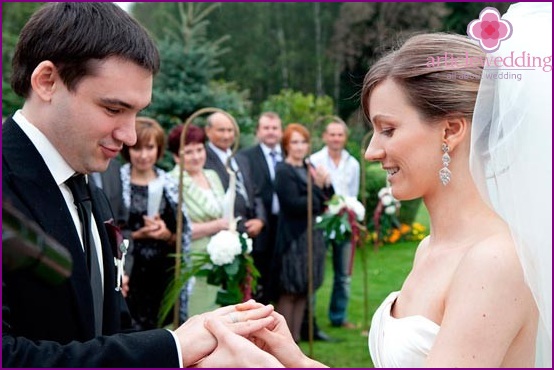 In any case, if you decide on an exit list, you will not regret it. The main thing is that you will get a lot of pleasure from your holiday and exchange rings exactly where you dreamed for so long, in that special place that will connect you with your memories! And what wedding photos will turn out in the bosom of nature!
The site www.articlewedding.com hopes that your wedding will be held exactly as you dreamed, and will leave the most vivid impressions about the wedding day!