Contents
---
---
Every person at least once in his life dreamed of visiting Paris. Paris is associated with love, romance, passion. And this city simply attracts the newlyweds. Where, if not in Paris, to spend the most romantic month of your life?
Paris is beautiful at any time of the year. Paris – these are the Eiffel Tower, Champs Elysees and Chanel. You will fall in love with him forever. And therefore, if you decide to spend your honeymoon in the capital of France, you will make the right choice..
Our articlewedding.com website will tell you what you need to know and consider if your honeymoon is in Paris..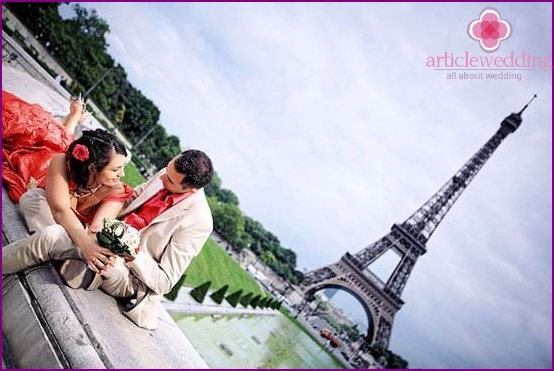 Get ready
You can trust a travel agency and just choose a tour for the newlyweds. But if you want to plan your trip yourself, then pre-purchase plane tickets and make hotel reservations. Book a bridal suite.
What to see in Paris?
This question is often asked by visitors. And here is the answer: you need to see everything! The Louvre Museum with its majestic paintings and sculptures, Notre Dame de Paris – Gothic cathedral of Europe with spiers and stained glass windows. And of course, the Eiffel Tower. The main symbol of Paris will not leave anyone indifferent.
Take a boat ride on the Seine – so you can see all the hidden places of the city. No need to go far – the boat station is located next to the Eiffel Tower. If you want to make the river walk more romantic, then go to the embankment in the evening and admire the twinkling city lights.
Eiffel tower kiss and romantic walk along the Seine – you represented your honeymoon?
In addition to exploring romantic places for lovers, take your time and visit one of the oldest universities in the world. – Sorbonne. And you, of course, heard about the French cabaret – an incomparable show that you simply must see!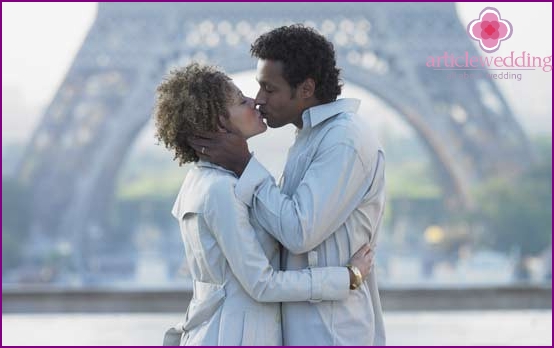 Transport
You will spend hours wandering the streets of Paris holding hands… But how do you have time to explore all the famous places in Paris in a short time? Paris is famous for its double-decker tourist buses. Each bus has special headphones, wearing which you can hear an excursion in your native language.
Bus stops are located near the most famous sights of Paris. You can ride the route all day. Or get off at each stop, admire the masterpieces of sights, and then get on another bus and continue on your way.
Shopping
The capital of France is famous not only for its sights. As you know, this is also the capital of world fashion. Thousands of brides come to Paris for wedding dresses. But since the wedding is already behind you, you can just walk along the Champs Elysees. Exactly there are expensive shops with world famous brands. To save money, go to the stock stores. There you will find products from last year's collections with discounts up to 90%.
Our wedding portal articlewedding.com advises you: go on a honeymoon to Paris. Your trip will be unforgettable. The capital of France, full of beauty and romance, will charm you forever.