Contents
---
---
Today, almost every hotel boasts a honeymoon room. For representatives of the hotel business – this is a kind of important «additional service», which is constantly in high demand and brings considerable profit. But what is so special about apartments for young people?
In any hotel, a room for honeymooners has special characteristics in comparison with standard offers. It has a specific design and has a set of special services. Unique conditions have been prepared for newly married, which can be easily changed and supplemented depending on the client's desire.
Despite the fact that the hotels are different in style, layout, method of organization, set of services, etc., the articlewedding.com portal noted that for all proposed rooms for honeymooners, the same «skeleton».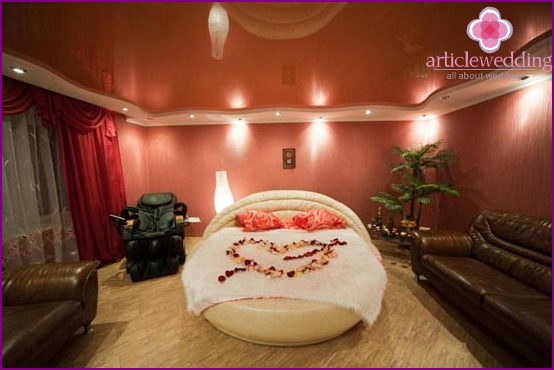 Romantic design
As a rule, apartments for honeymooners are decorated in very gentle and pleasant colors: cream, ivory, pinkish, purple, etc. Furniture is also selected not flashy, but unusual, for example: a heart-shaped bed, a lot of soft poufs and armchairs, tables with velor cover, etc. Also required «amorous» accessories, intimate lighting and candles.
Jacuzzi for lovers
Often an important attribute of rooms for young people is a jacuzzi, because what can be more romantic than taking a foam bath together in the light of candles and with glasses of champagne. You can take a pretty attractive offer – adding aromatic oils and rose petals to water. Or, as an economy, take everything you need with you.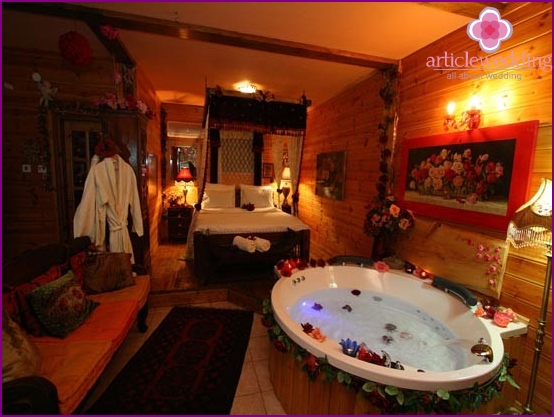 Increased Service
Unlike ordinary clients, the newlyweds have a special attitude. Before their check-in, fruits and chilled champagne must be put in their room (you can discuss it with the manager, if other preferences). Also, clean linens, towels and various cosmetic and hygiene products are prepared for customers. Some hotels delight newlyweds with surprises and bonuses. The options can be very diverse: a free romantic dinner, a night at the hotel as a gift for the 5th anniversary, a discount on the following arrivals, etc..
Food according to the schedule of the newlyweds
After checking in, the newlyweds are offered breakfast with dishes decorated in bizarre forms. Delivery to the room. Young people can leave a schedule in advance when to bring food so that they are not disturbed once again.
Special offers
Portal articlewedding.com also recalls that in addition to all of the above, at the request of customers, the number can be decorated with balloons, ribbons, flowers, etc. This will give additional romanticism and solemnity to the setting..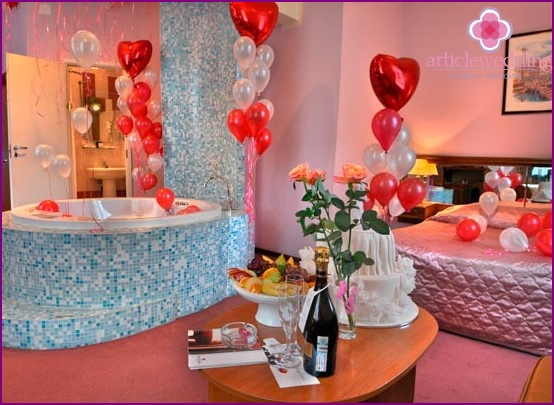 The night in the honeymoon room will be magical. This is an amazing place that is perfect for starting a life together. Here, no one will interfere with the complete enjoyment of each other, and the whole atmosphere will only contribute to this. This final stage of the celebration will greatly enhance the emotions of the wedding and make the experience truly unforgettable. Yes and as «bonus» you will have a place to come to «update» memories.