Contents
---
---
Money is the most common gift for any celebration, including a wedding ceremony. For some, the banal delivery of the envelope will seem boring. For you, we have gathered a lot of interesting ideas on how to present a cash present for the wedding. The carpet from money at the wedding looks original, which is done very simply and quickly. In addition, you will find many other methods for presenting a cash gift..
Ways to give money for a wedding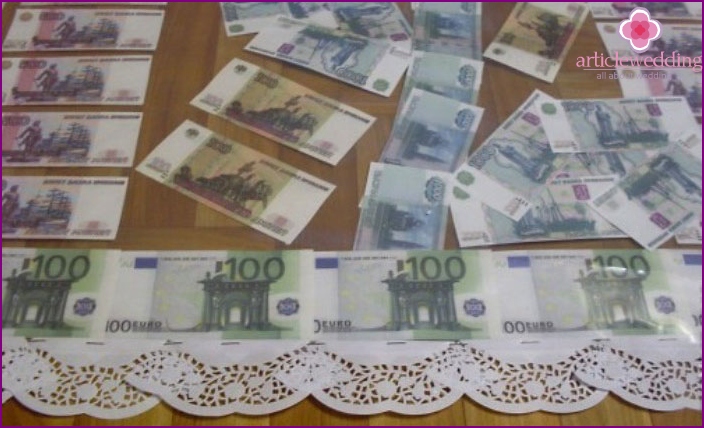 Below are the most interesting and bright ways to give newlyweds money for a wedding:
A carpet of money at a wedding will be a creative gift for young people. For it, it is necessary to insert notes between the layers of the film, stitch the spaces between them, attach the fringe along the edges.
Money tree - an ornamental plant decorated with money. To do this, a room flower / tree is bought, and banknotes and coins are attached to it with tape. It looks original if the money will be different: euros, dollars. It is also necessary to present such a gift in an original way: put a pot of earth in front of the bride and groom, ask them to plant a coin. Then the young people close their eyes, and you quickly change the pot to the prepared money tree.

An endless source of money - glue the bills together with a weak tape so that the tape can be removed without any problems. We prepare a gift box that can open and close. Wind the tape on the toilet paper holder. We put the gift inside the box, pushing the edge of the ribbon through the slot.
Pillow with money for a wedding - use paper notes as a filler of a beautiful pillowcase of a decorative pillow. It is allowed to dilute the filler with dry flowers..
A cash gift changes in small bills, folds inside a velvet bag. Upon delivery, guests wish that the money be considered not counted.
Fill the piggy bank with money, hand it to the newlyweds.

We place the bills in a photo frame in the form of an abstract drawing, fan, flower or other shape. A seal is placed under them so that the money remains in the required position. Write congratulatory words on the seal itself.

Money nesting doll - put the bills in an envelope, then in a bag, then in a small box, then in a large box. Wrap each package with beautiful paper. When presenting a gift, wish the young people a sufficient amount of money, despite the fact that they are not easily obtained.
Savings book - we put notes in several envelopes, on each we write the purpose of the deposit. From a beautiful cardboard we make a cover with the inscription «Savings book», insert envelopes inside, sew.
An umbrella is an original idea, with money tied to its spokes. The umbrella is given closed, and the young must open it. When opening the umbrella, say the words of a famous song «Most importantly, the weather in the house».

Treasure chest - purchase a chest in the gift shop. Redeem your cash gift with coins, fill it with a chest. In addition, put beautiful pebbles that are sold in flower shops. So the gift will look like a real pirate chest.
Jar of money - on the three-liter jar the inscription is stuck - greens with vegetables, dried greens, cauliflower. The jar is filled with money, handed to the newlyweds.

Money balls - the newlyweds are presented with a huge box wrapped in wrapping paper. It must be opened immediately. When the box is opened, helium-filled balls fly out to which the money is tied or put into the balloon itself.
Money bouquet - banknotes are folded with tubes, roses and neatly inserted into the finished flower bouquet.
Money cake - all bills are folded with tubes, fastened with elastic bands. A cake is being built on the stand. He is tied with beautiful ribbons to keep his shape.

Casket - a large casket with several compartments is purchased. Folded bills are placed inside.
Magic chest - a cardboard chest is made, decorated with ribbons, inscriptions, photographs, other trifles as you wish. The chest is filled with several chiffon shawls, interconnected. The bride and groom open the chest, grab one handkerchief, and pull out a whole chain several meters long. Under them, at the very bottom, is a cash gift.
A real mini safe is ordered from a specialist, presented to the young ones along with money and keys to it. Upon delivery, offer to keep all the savings in this safe.
Get a decorative sailing boat in a gift shop, insert banknotes instead of sails.

Kinder surprise - get a big chocolate egg, carefully separate the egg halves, take out the toys. Put rolled up bills in a box, put them in a chocolate egg, put together. Go along the seam on the chocolate with a heated spoon. Wrap with packaging, hand over to young.
Money vase - overlay the inner walls of a beautiful vase with money. Secure over foil. Fill the vase with sweets so that during the holiday the whole structure does not creep.
How to make a carpet of money with your own hands
A wedding carpet made of money is an original and fun idea. At the farm, it will be useless, but such a gift will bring a lot of pleasure to a young couple. Banknotes are laid out in rows, randomly, by any pattern. It is better to use banknotes of different denominations to make the pattern look diverse. To make a carpet out of money, lay out the bills on a cloth, cover with a film. Sheathe each money manually or on a typewriter.

Necessary materials
To create a wedding carpet from money you will need:
needle;
threads
scissors;
fringe;
a rectangle of fabric measuring 100x120 cm, 80x100 cm, the size depends on the number of bills;
money itself;
transparent film the same size as the fabric. It should not be too thin, otherwise it will tear from a puncture, but not too thick so that you are not tired to sew it.
Schemes for crafts
Before embarking on sewing, you need to consider in what order the money will be placed. Lay them out on the fabric in several ways, evaluate how it looks more original. Lay out the money in order or in the form of any pattern. Carpets look very interesting, the bills in which are arranged in sections, for example, six bills together, arranged in a square, after a short distance there is still the same square. The distance between the money squares is decorated, for example, with ribbons..

How to trim fringe edges
When you have sheathed all the money, we proceed to the fringe decor. Sew the top and sides with wide braid, and the bottom with fringe. It is not forbidden to decorate all the edges with a fringe. When attaching the braid, bend it in half, because it should be on the side of the film and fabric, so the edges will look much more neat. It's better to sew the fringe manually, as some machines chew the film, as a result the product will be damaged.
Options for greeting poems for a cash gift
Such an original wedding gift, like a carpet of money, requires original accompanying wishes. Make your own speech suitable for a cash present that will reveal the essence of the gift, show your imagination: for example, if the young have moved into a new apartment, give money with words for new appliances or furniture. It is not forbidden to use ready-made wishes in poetic form. If you find it difficult to remember, write a verse on a greeting card and peep.
Absolutely everyone knows -
There is never much money!
Therefore I give an envelope
With a sum of money to you!
I know that such a gift
Pleasure will give.
Spend anything boldly!
Money is a bargain!
This cash gift
Take from me now!
There are not many and not few,
And literally just right!
They say money is not happiness,
But living without them is sad.
Happy to spend them,
All you want to buy!
To the celebration of a happy occasion
There is a surprise to live without vicissitudes!
I wish you well-being,
Pleasures, health and joy!
Hold a big money as a gift,
Buy any beauty on them,
Looking from the depths of shop windows, golden,
On them sorrows dispersed the darkness.
Everything can come in handy in life.,
And the plot on the moon for something yes to fit,
True, to achieve something,
It takes a lot and hard work!
To make a great start
We give you a little and a lot,
So that «Where to live?» there was no question
We give this first installment to you apartment!
Everything in life matters:
Shopping, budget, entertainment!
Wedding Day - Give Money,
And the choice of gift is yours!
We give money to young people!
Here you have copper money,
So you are not poor!
Here you have the silver,
To be good to you!
Here is paper money for you,
To make you important!
They thought and wondered for a long time,
What to present to you.
So that original,
Non-standard, from the heart.
What can be non-standard
And be more original,
Than the thing that you yourself chose
And I decided to buy myself?
So our creativity
From the heart you appreciate,
Take cash soon -
And do not drag with the purchase!
Video: congratulation on the celebration in the form of a money carpet
The video presented demonstrates how to present the carpet to young people. The gift is accompanied by an original rhyme: several guests come together and stand in a row, each reading his part of the general congratulations. At the end of the wishes, the young are presented with a wedding gift in the form of a money carpet. This method of congratulation looks very creative..
Photo of original wedding gifts - carpet of money