Contents
---
---
Decorating the celebration with peonies is a new and original trend in wedding fashion. The design of the holiday, decorated with the buds of this gentle and unusually beautiful plant, looks interesting and elegant. Peonies at the wedding perfectly emphasize the solemnity of the event. Their presence at the festival in the language of flowers means devotion, love, passion. Therefore, their use is appropriate at a wedding ceremony, because such feelings are usually experienced by newlyweds to each other. What are some interesting options for using these colors to design a celebration?
Ideas for using peonies in a wedding decor
If you like peonies, then consider including them in all the accessories of your wedding. This will be especially true in the spring-summer season, because during this period they bloom. Peony wedding looks bright, unusual, stylish. For its design, you can invite florists or decorate your celebration yourself. Peonies exist in a large color palette, but the following shades are popular for decorating celebrations: white, cream, yellow, pink, purple, red, burgundy.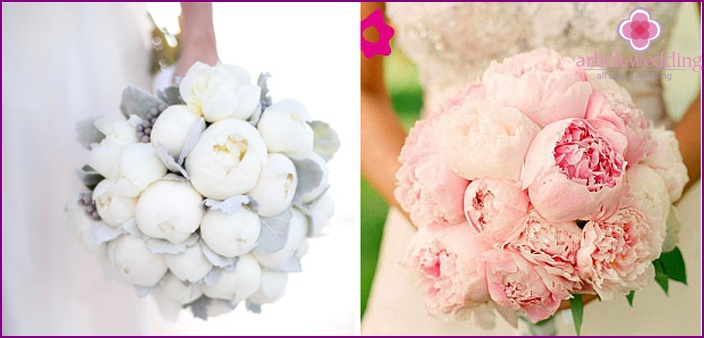 Such richness and beauty of colors allows you to choose them for any shade of the wedding. To design a holiday, pick out buds from one or several varieties in one color scheme. Also, these flowers differ in the shape of the buds: they can be traditional, terry, anemone-like, spherical, crown-shaped, similar to a rose. It is impossible not to mention their amazing, light, pleasant smell, which is able to create a special wedding atmosphere at the celebration. What are some interesting ideas for a peony wedding design??
Bridal bouquet and groom's boutonniere
The bride pays special attention to the choice of a wedding bouquet. This accessory is extremely important for a bride and groom because it is part of her image. For a wedding bouquet of peonies, white, pale pink buds are usually chosen. But contrasting with a snow-white dress, dark red and burgundy flowers also look great. They can be either fully opened or tender buds with a small number of petals.
The composition with large flowers and succulents looks original. A bouquet of slightly blossomed peonies of different shades, tied with a satin ribbon to match, will look bright, fashionable. Aristocratic and exquisite will get a floral arrangement with a combination of these flowers with roses. Wedding accessories for the bride are created using only one peonies and their ensembles with 😕 poppies, roses, irises, bells, lilies of the valley, mimosa, freesia, sprigs of greenery.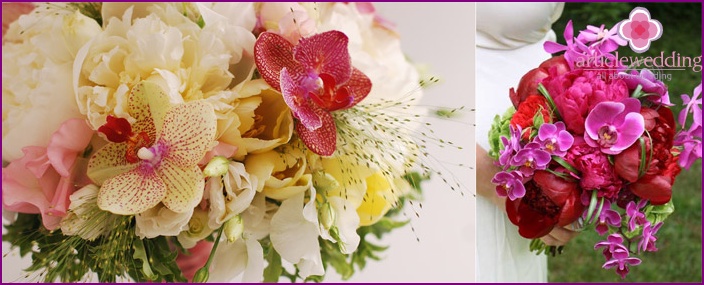 To arrange a wedding in vintage style, bouquets for the bride and groom, including barely barely opened buds, are perfect. White peonies with a small amount of burgundy look spectacular in the composition. The combination of open and closed buds will look amazing in the hands of the bride. If the bride loves originality, then to create an extravagant image, a bouquet in the form of a peony handbag on a pearl string or silk ribbon is suitable.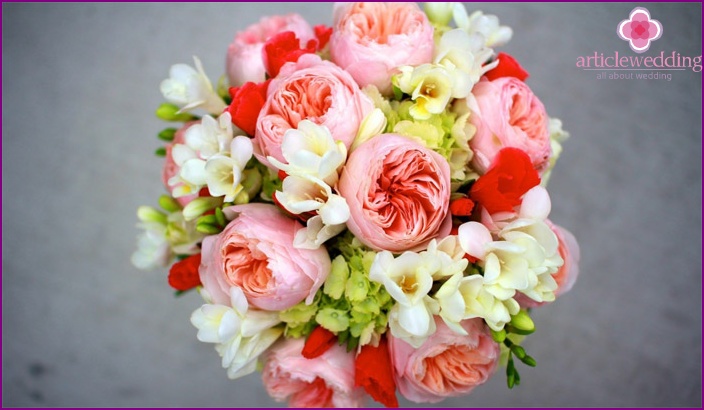 Wedding arrangements can be with either long or short legs, but peonies have one drawback: they cannot be without water for a long time, so they must be periodically placed in a vessel with a liquid. The peony in the hair of the bride, which is combined with her bouquet, will look romantic, feminine. The groom's buttonhole must be combined with the accessory shade of the bride and groom. It is made from small or medium-sized peonies. A peony in a composition with greens looks especially impressive on a groom's suit.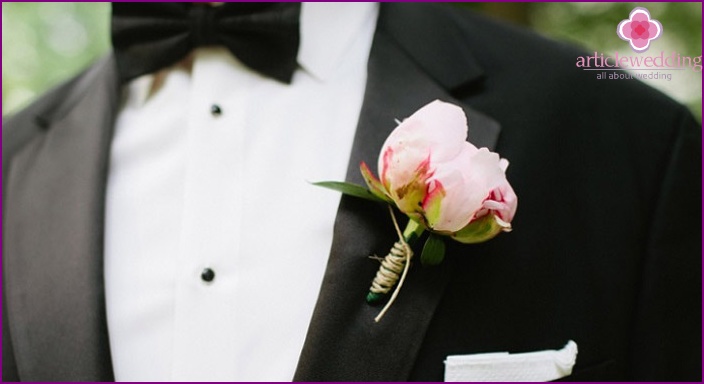 Away ceremony decoration
Peonies can be a great backdrop for an outdoor ceremony. Especially romantic will be a wedding on the shore of a lake or river. The palette of colors for the ceremony in nature is diverse: it can be blue, soft pink, milky shades - they will perfectly combine with a blue lake or river. Flowers of such a palette are perfect for decorating a wedding arch for an outdoor ceremony. If you want to give the celebration a French vintage style, you can choose different shades of peonies for design.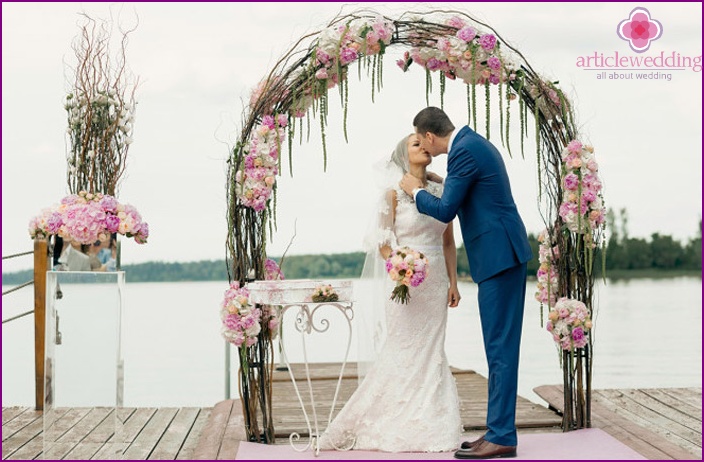 Banquet room decor
The peony sea will look romantic, extraordinary in the banquet hall. It is created by filling a glass, ceramic or porcelain container with water and many buds. Designer glasses or wine glasses filled with delicate petals of these colors will also decorate the interior of the hall. The design of chairs, using living peonies as the main decorative element, will be romantic and pleasant for guests. These flowers will create a luxurious atmosphere at a wedding celebration..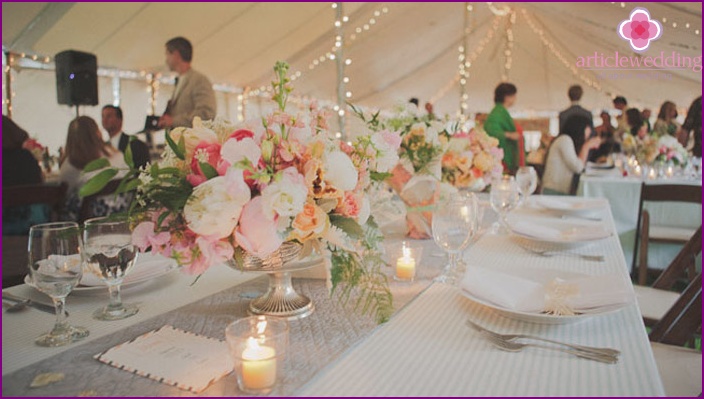 Accessories for a festive table
Table decoration is performed with small bouquets of peonies in small jugs. They are placed in the center of the table, which creates comfort and emphasizes the sophistication of the holiday. These flowers are also great for arranging seating cards. Wedding cake will be in harmony with the general theme of the celebration, if it is decorated with sweet peonies in the style of the whole holiday. Other sweets can also be with an interesting decor in the form of flowers..
How to arrange a suburban wedding in a modern, beautiful and original way? Take living peonies as the basis of your wedding design. They emphasize the sophistication of the holiday. The combination of white and pink varieties of plants for decoration of the arch, tables, tent, chairs and other accessories creates a solemn and aristocratic atmosphere.
Examples of wedding decoration with peonies - photo
The wedding celebration, which is decorated with beautiful peonies, is bound to delight. Delicate flowers delight the eye and exude a stunning aroma that adds a twist to the wedding. In addition, these flowers are distinguished by a variety of color palettes - from delicate marshmallows to juicy fuchsia. The season of peonies is short-lived, but it opens up bright prospects for the newlyweds: the wedding will definitely be an event that will be remembered for a long time.