Contents
---
---
Wedding bouquet - how to choose and save?
An indispensable attribute for a bride on a day crucial in her life is a wedding bouquet. This is a symbol of happiness, love and romance, which she will keep for many years, periodically taking it out, remembering her triumph. Therefore, such a composition should be original, meet all the wishes of the bride and match along with the color scheme of the celebration.
How to choose a bouquet
Previously, choosing a bouquet for the bride was a responsible matter for the groom. Currently, as a rule, girls independently choose their own composition, order a bouquet, not trusting anyone responsible for such a responsible matter. And it is not surprising, because so many things must be taken into account to make this accessory original, beautiful, combined with a wedding image. Also do not forget about the composition of the groom's boutonniere..
Choosing a wedding bouquet is not as easy as it might seem at first glance. When choosing, it is important to consider several significant characteristics and points:
Flowers. Initially, it is worth deciding on the plants, their choice is simply huge now - classic roses, magnificent orchids, charming lilies, original calla lilies, delicate lilies of the valley.
Seasonality. When choosing, pay attention to plants that correspond to a certain period. For winter weddings, carnations, gerberas, roses, chrysanthemums are suitable. It is better not to choose other plants, since there is a risk that they will not live long in winter frosts. For a summer wedding, choose freesia, calla lilies, hydrangeas, orchids.
Colour. Having chosen the type of flowers, it is necessary to determine their shades.
Here it is worth paying attention to several important points:
The color of the composition should correspond to the overall color scheme in which the wedding is decorated.
The bouquet should be in harmony with the dress of the bride.
It's worth choosing the color, taking into account the shade of the bride's hair.
So, blondes are not recommended to use bright, catchy colors in a bouquet so that he does not distract all attention from the bride, but white, nondescript tones are also not an option, since the flowers will merge with the bride's color type. It's best to choose pastel shades. For brunettes, bright colors (red, purple) or white, cream shades are perfect.
The form. An important component when choosing, since the way the bouquet will look in the bride's hands depends on the correctly selected shape. When choosing a shape, consider the style of the dress and veil of the bride, her figure and height.
Price. Not the last indicator that the bride pays attention to. It is recommended to visit several floristic salons, compare prices, quality of services offered.
Options for wedding bouquets (PHOTO)
The choice of bouquets for the wedding ceremony is simply huge. They differ in color, in form, as well as in the type of flower ensemble. Each bride will be able to choose her own bouquet - the ultimate dream, conveying her inner state.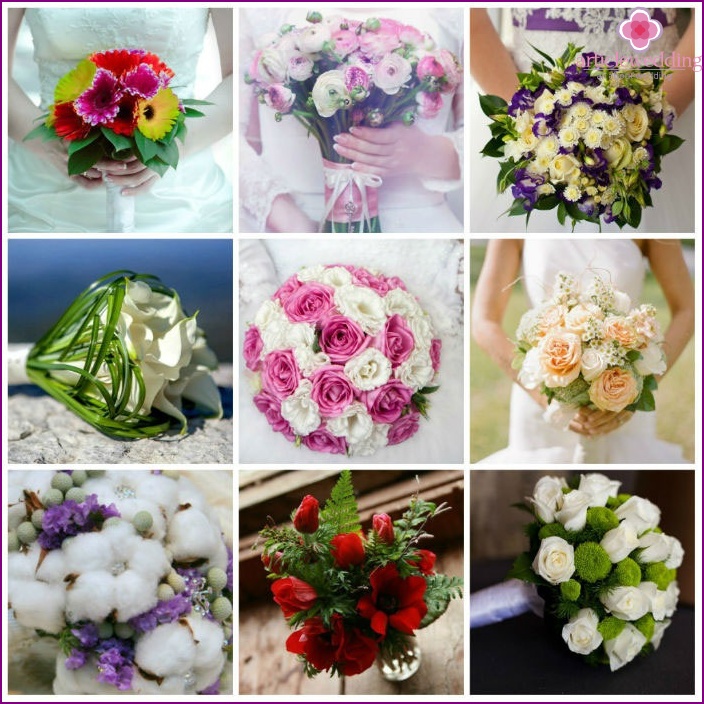 Recently, original compositions with beads, satin ribbons or even sweets are often found. They look spectacular, and most importantly - retain their original appearance for a long time..
Bouquet of peonies
Brides rarely consider peonies as an option for flowers to make up a composition for a wedding. Some believe that they look very simple, but the skillful hands of a florist can transform them into an amazing floral ensemble. As a rule, make out a bouquet of peonies in a round shape.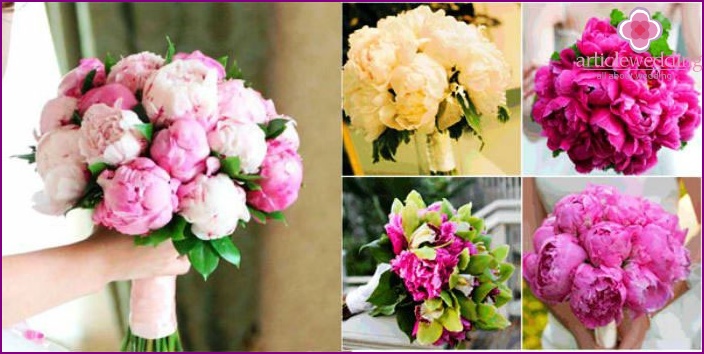 When choosing peonies, remember that their season falls at the end of spring - the beginning of summer. Peonies quickly bloom in warmth and can lose their original appearance. To work with such flowers, you need to find a professional florist, who, moreover, will be a little magician. The flower mix looks beautiful - peonies and roses, orchids, irises, chrysanthemums.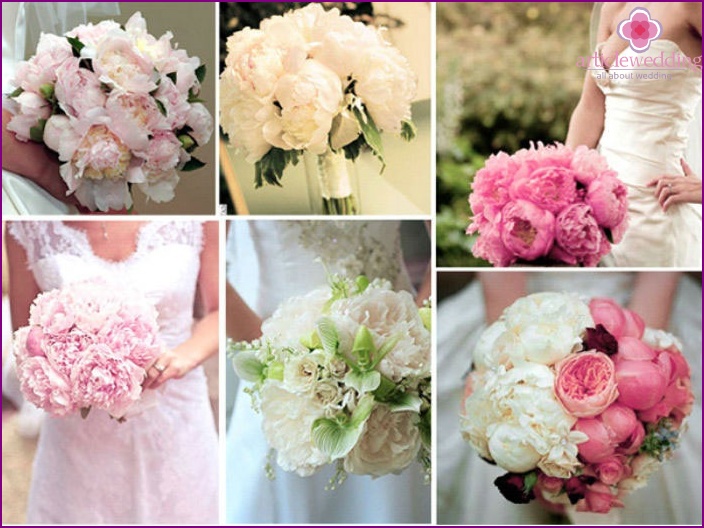 Of roses
The most popular option is making roses bouquets. And there are several reasons for this:
Roses available year round.
Roses come in different shapes, colors, sizes.
They go well with other colors..
Suitable for any look and model of the bride's dress.
Roses are very hardy, able to maintain a fresh look throughout the day - in the registry office, during a walk, during a feast. Pay special attention to bush roses, which have small buds and look great, combining with other flowers or larger roses. As a rule, roses look beautiful in the shape of a ball or hemisphere.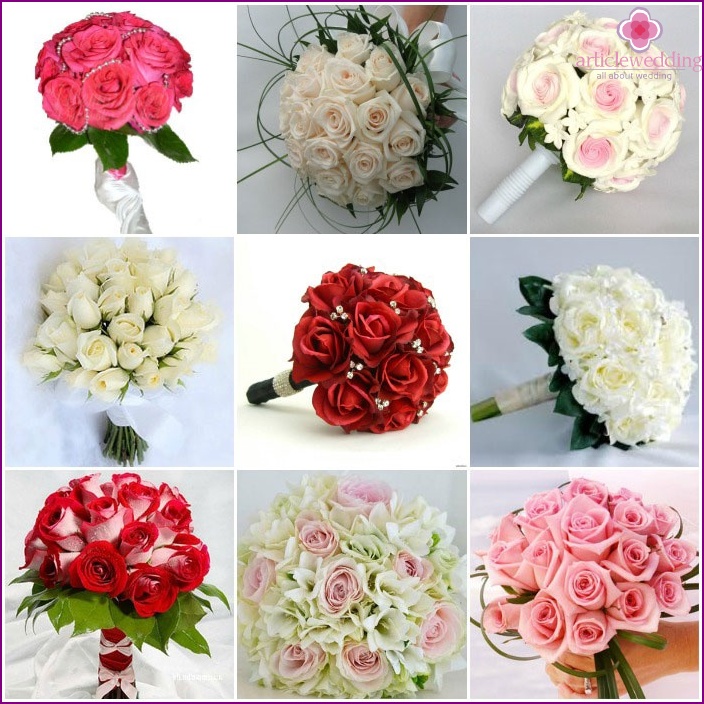 From orchids
Orchids are flowers that have recently been used in wedding floristry, but they have already won the hearts of many girls. Orchids can be of various shapes, colors, because you can choose the ones that you like. These flowers go well with others, but still, their nobility deserves a solo part..
Bouquets of orchids, especially falling (cascading), always look beautiful. They look aristocratic, but the price is considerable.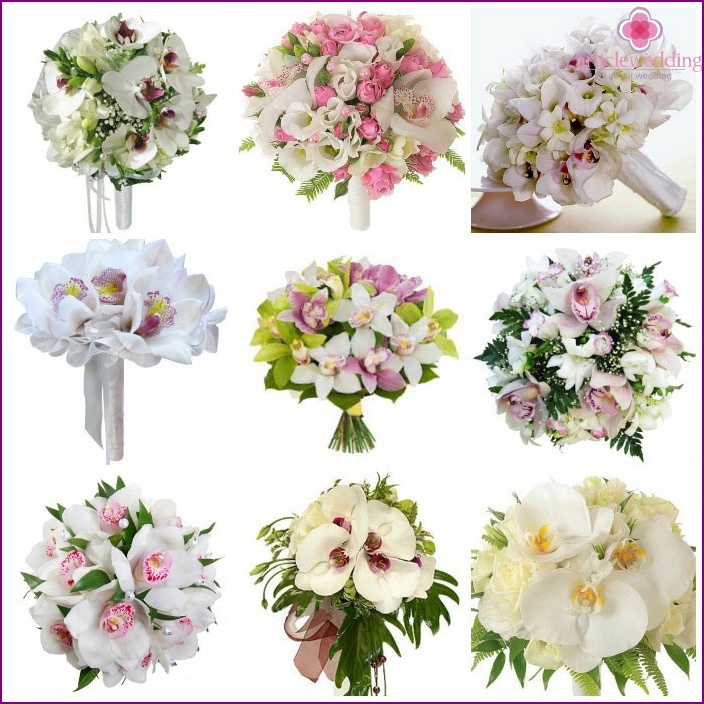 From callas
Callas are original flowers that, despite its simplicity, look quite impressive. A wedding bouquet with callas will retain its original appearance for a long time, as they are resistant to any weather conditions..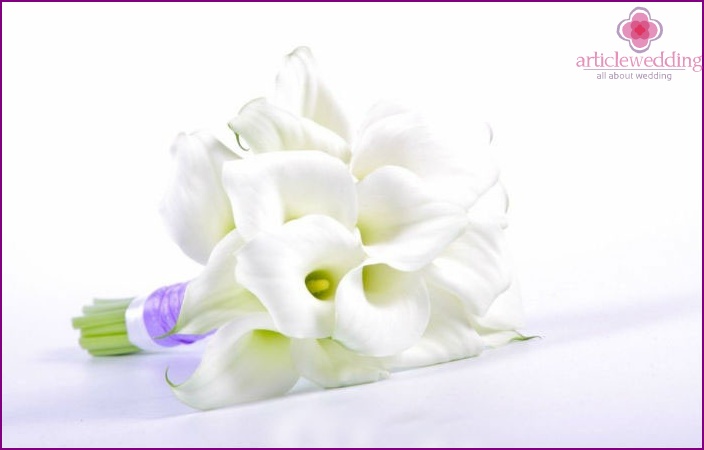 Callas come in different colors, you can choose the shade that best suits your outfit and makeup.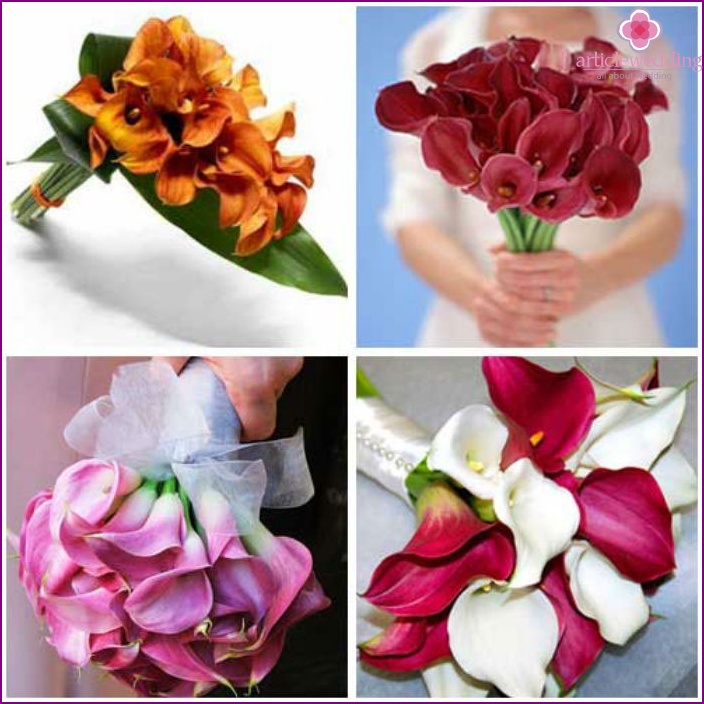 From gerberas
The wedding bouquet with gerberas turns out bright, original. Such flowers are preferred by creative girls who want to stand out. Gerberas are resistant to various weather conditions, they retain their fresh appearance throughout the day, and the secrets of florists allow you to create a bouquet that does not lose shape. Gerbera compositions are made round or spherical.

From daisies
This option is usually chosen by sentimental girls. It looks like a bouquet of daisies is cute, unusually romantic, despite the simplicity of the plant. Florists make flower ensembles with daisies in the form of a hemisphere or a circle, and choose them in late spring or summer.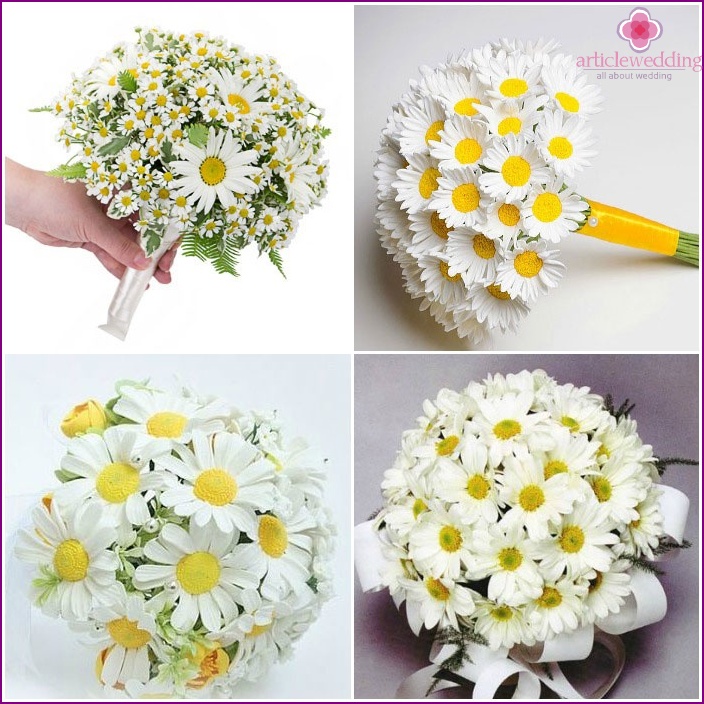 From carnations
Carnations are autumn flowers, because it is precisely this period that will pamper you with their variety and large assortment. Due to the variety of color shades, you can pick up carnations of such a color that would best meet the color scheme of the wedding. Bouquet of carnations is very hardy, able to maintain excellent appearance throughout the day..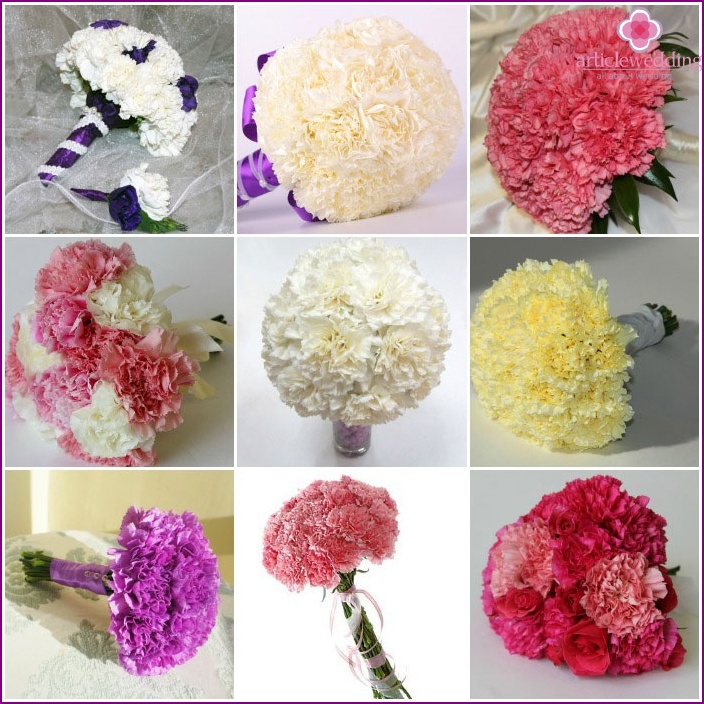 From tulips
Tulips are especially popular in spring, when the season is for them. Floral arrangements with tulips are not common among wedding florists, but, nevertheless, this does not prevent them from looking very elegant and spectacular. Combining with roses, tulip bouquets create a delicately romantic floral ensemble.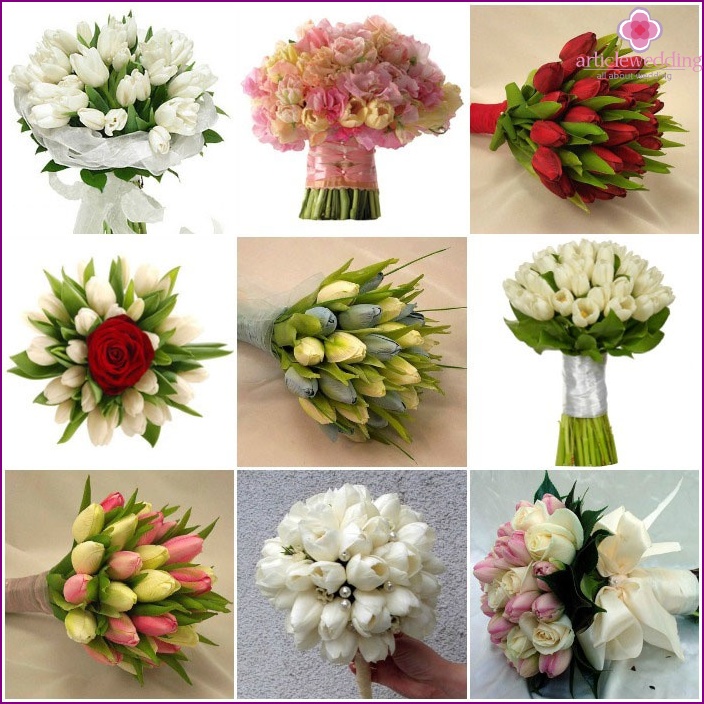 From lilies of the valley
You can find lilies of the valley only in early spring, because if the wedding is planned for October, it makes no sense to dream of such flowers as the main components of the wedding arrangement.
Lilies of the valley look exquisite, often they use bright greens to create a background for them. You can use lilies of the valley, combining them with other flowers - roses, callas, crocuses. When choosing lilies of the valley, pay attention to their specific aroma, which can cause allergies or headaches..

From chrysanthemums
Chrysanthemums are wonderful flowers that are distinguished by stamina, a variety of shapes, shades. Chrysanthemum buds go well with roses, gerberas, carnations. The ideal time for chrysanthemums is autumn, during this period they are especially beautiful and affordable.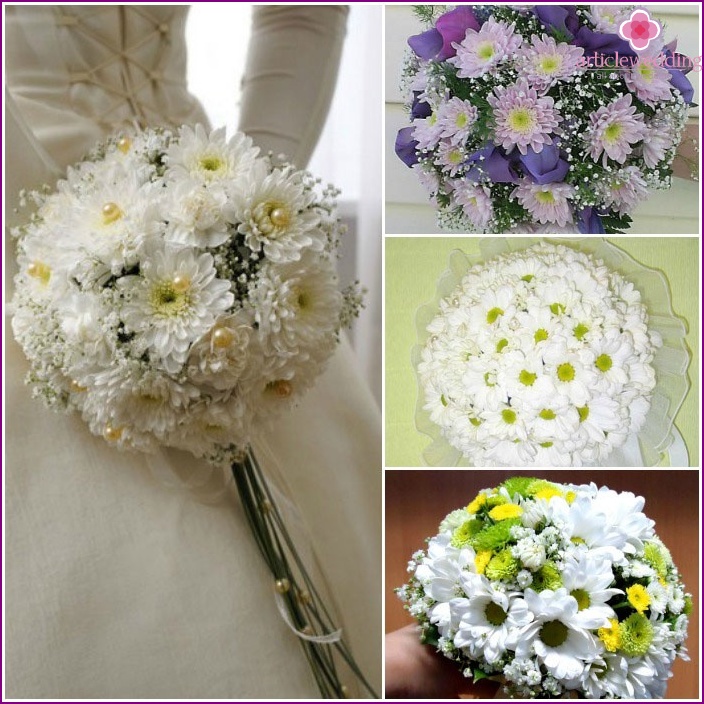 Wedding bouquet shape
For wedding bouquets, it is possible to choose a different shape - here the limit of imagination is unlimited: sphere, cascade, structural, drop, spider bouquet, hemisphere, Biedermeier, glamelia. As an option, you can ask to make a flower arrangement for you in the form of a handbag, a fan, a clutch. When choosing the form of composition, it is necessary to take into account the style of the dress, the physique of the bride:
For slender, short girls, it is better to use classic small bouquets of elegant shape. Elongated and massive compositions will not suit them..
Tall girls are better off choosing elongated, cascading and drooping shapes..
Puffy girls fit round floral ensembles.
Depending on the style and style of the dress, it is worth remembering several important points:
Vertical shapes of floral arrangements are suitable for long, tight dresses.
Round - for any dresses, but look perfect with curvaceous models.
The composition in the form of a fan or handbag is perfect for a classic dress.
To deal in more detail with the models of dresses and the shape of the bouquet, we suggest paying attention to the presented photo.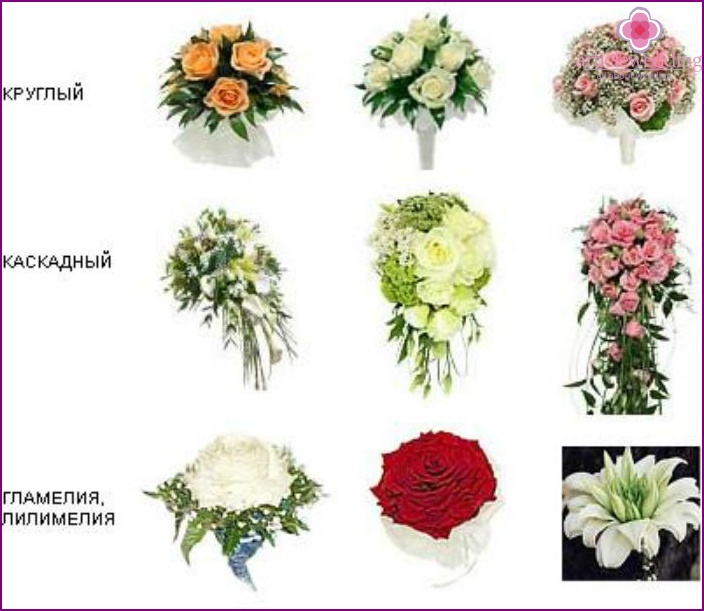 DIY wedding bouquet
Making a wedding bouquet with your own hands will be absolutely no difficulty. The main thing here is your desire, and with it a drop of fantasy.
To create you will need:
Flowers - buds, petals, branches.
Satin ribbons or other pen decoration.
Beads, chains, beads, decorative stones, pearls.
Holder.
Think about the composition, prepare a flower holder (if you will use it). To make the bouquet neat, break off the extra branches, leaves from the stem. Next, make a form, substituting the branches of plants. Tie with ribbons, decorating with beads or bows as desired.
DIY workshops on making wedding bouquets:
Decorative elements
To make the bouquet original, it is decorated with additional accessories. For example, they use beads, dry twigs, feathers, and also use twigs with berries or elements of artificial flowers. It all depends on your imagination, preferences. As a rule, holders also lend themselves to decoration: they are decorated with beads, satin ribbons or lace, which were used in sewing the bride's dress.
Bouquet understudy
Often brides order an understudy bouquet. What is it for? Firstly, an understudy is useful if, during a photo shoot, your bouquet has lost its irresistible appearance or wilted from difficult weather conditions (extreme heat, cold or wind). Then the understudy will come to the rescue. Secondly, when the bride traditionally throws a bouquet - it is better to use an understudy for this, because it is easier. As a rule, lighter materials and artificial elements are used to make the doubler. Witnesses wear it until the hero of the occasion needs it.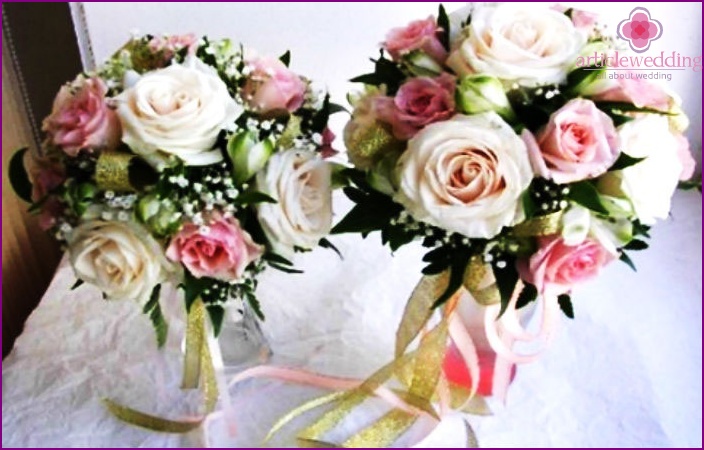 How to save a bouquet
Most brides want to keep the wedding bouquet for many years, because they believe that it will ensure peace in the house.
The first way is to save the whole bouquet. To do this, immediately after the celebration, pack the bouquet in thick paper and identify it in a dark place for a month and a half. When the bouquet dries, it can be used as an ikebana in a vase, enjoying the beautiful view for many years. There is another solution - to hang the bouquet with flower heads down in a cool, dry room. The effect will be the same.
The second way is partial preservation. For example, you want to leave rose buds as a keepsake, and take them out of the bouquet. Put the roses in a box that is large enough in size and sprinkle lightly on the perfumes you used on the festive day. Each time you open the box, you will remember the holiday.
The third way is storage in the sand. You will need a box with holes made in its bottom, into which you must carefully insert the stems of flowers (roses). Then fill the buds with small portions of sand, completely covering them. Drying time for flowers will be several months, but the result will be expected if you put flowers in a box without a single drop of moisture (dew, water, etc.).
How do you want to see your wedding bouquet? Leave your comments.