Contents
---
---
Bridal bouquet of chrysanthemums
Not for nothing that the bride spends a lot of time on the selection of accessories for the wedding outfit, because all its elements must be harmoniously combined with each other. The future spouse should pay special attention to the composition of the flower arrangement: the plants that the girl chooses can tell a lot about her character, relations with the future spouses. A wedding bouquet of chrysanthemums suits gentle, romantic natures, this accessory will make the image of a newlywed touching and sweet. Options for a variety of bouquets using this plant, see below..
Options for bridal bouquets of chrysanthemums
There is still debate around the world about the country in which chrysanthemums first appeared - in Japan or China, but there is no doubt that they were brought from the East. On the territory of both states, this plant is respected, loved and used for architectural design, clothing decor, and the Japanese Higher Order of Chrysanthemums is considered the most honorable among all other awards. For a long time in Japan, only the imperial family was allowed to embroider this flower in national attire, and ordinary people could be convicted of this kind of liberty..
In the East, chrysanthemum is inseparably associated with the sun, this has been the custom since ancient times when the flower existed in a single color - yellow. Breeders have long been able to breed hundreds of plant species of a different shade and original petal shapes, which currently number about 10,000. Once this flower was considered a gift from the Gods, so the bride who chooses it as an element for the festive bouquet will receive God's grace, blessing of heaven. This plant can also mean power, a strong spirit, the ability to survive many difficulties..
The value of chrysanthemum in the bouquet of the hero of the occasion may vary depending on its shade:
The composition with white flowers symbolizes the tenderness of the bride, her vulnerability, purity and innocence.
A blue bouquet means fun, lightness, carefree relations with a loved one, and yellow means a cheerful mood that is always present between future spouses.
Red color speaks of passion, prosperity and romance..
Pink means tenderness, girlhood, easy temper.
Lilac or purple emphasize the originality of the bride, her unique style.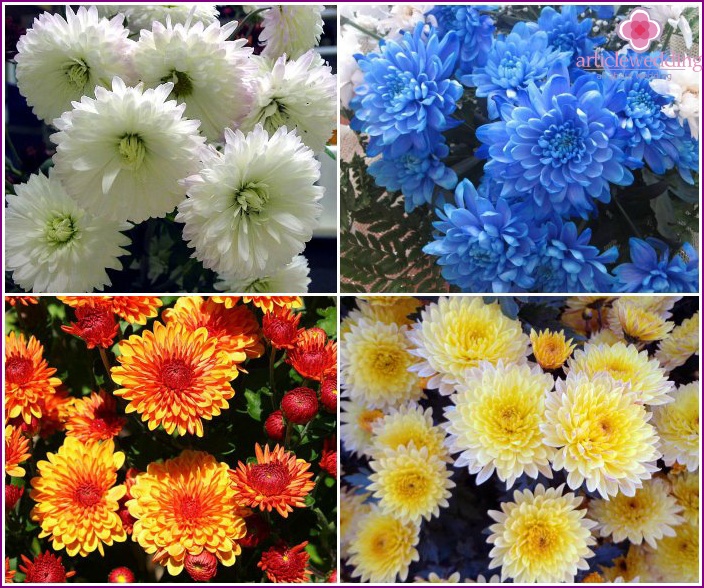 It is worth choosing these flowers for composition, based on their appearance: there are bush and single-headed flowers. The first option is the inflorescences of several opened buds that are perfect for a bouquet in a natural style, and stems with one flower can decorate an elegant, restrained composition. Single-headed chrysanthemums of a larger size, they are rarely visible yellow core. There are many species of both plants, their petals differ in shape - terry, semi-terry, resembling a spoon or rolled into a tube, short or long.
A large number of species of interesting plants will allow the bride to make a bouquet for any wedding look - touching, daring or romantic. The hero of the occasion should choose a flower depending on the style of the dress, accessories, makeup and hairstyle, wishes for restraint or, conversely, the brightness of the flower arrangement. Anemone or pompoms, fantasy chrysanthemums or cirrus - each species can become an excellent detail of a bouquet emphasizing the individuality of the bride and groom.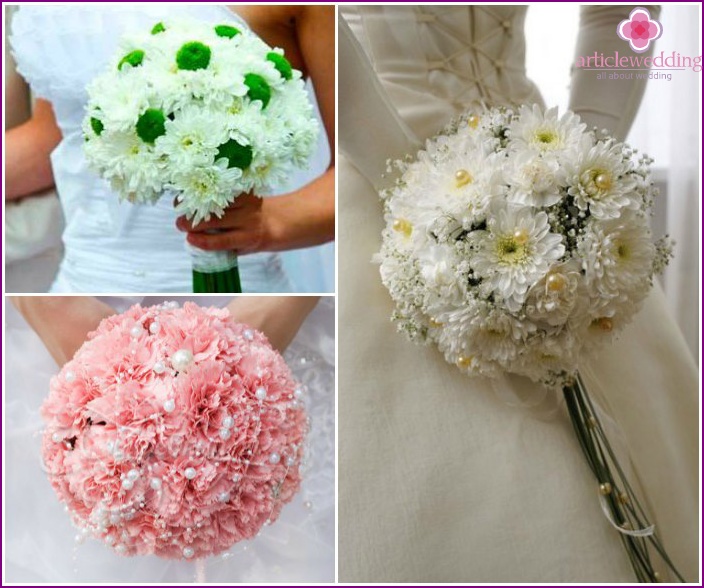 In Russia, a variety of Korean chrysanthemums (oak trees) is popular with small buds of inflorescences that look great and are able to survive the winter in the open ground. In general, almost any kind of this unique flower easily copes with the cold, so brides can safely use it in the composition for a winter or autumn wedding. At a temperature of up to 20 degrees, the plant can remain fresh for up to two weeks, standing in the water, so the newly-made spouse will be able to admire a beautiful bouquet long after the ceremony.
Combination with roses and alstroemeria
If a girl wants to create an original image, a floral arrangement that includes roses, alstromeries and chrysanthemums will look great as a wedding accessory. This version of the bouquet means the girl's cheerfulness, her energetic character, activity and initiative. Alstromerias are inflorescences with several buds resembling lilies, and together with a bushy version of roses and chrysanthemums they will make the bouquet lush, airy. Garden roses are also suitable for accessory, with their help florists will place delicate or bright accents..
Arrangement of chrysanthemums and gerberas
The birthplace of vibrant gerbera is South Africa, although it is found in other countries in the south. This cheerful flower seemed to have absorbed the heat of the tropical sun - the plant always lifts the mood, makes even an ordinary day a holiday. Gerbera in a wedding bouquet symbolizes joy, good mood, kindness of a future wife. A huge range of shades of the flower makes it an excellent detail of the composition with chrysanthemums: pink gerberas will make the bouquet even more tender, yellow will give it sunshine, cheerfulness, red will make a bright accent.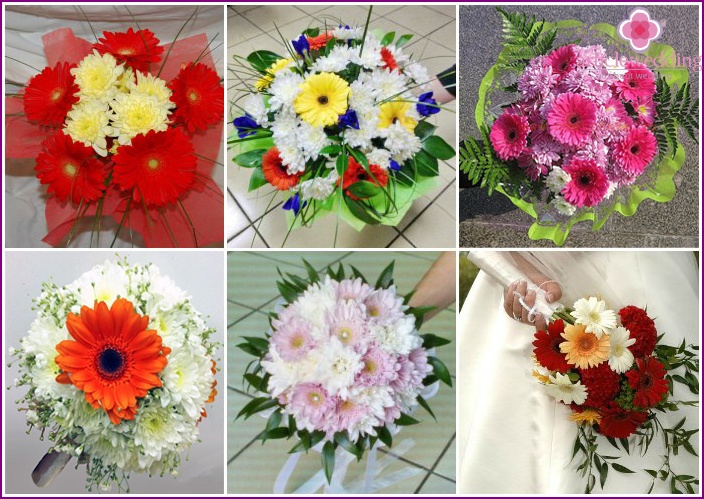 Delicate bouquet of their chrysanthemums and carnations.
Carnation is perfect as an addition to the chrysanthemum bouquet of a believing bride, because this flower symbolizes the Christian understanding of love: according to legend, it first blossomed on the birthday of Jesus. Since ancient times, this plant has symbolized marriage ties, and was previously used during weddings, however, many modern girls for some reason unjustly rarely pay attention to it when choosing elements for a solemn floral arrangement. A bouquet with carnations and chrysanthemums will emphasize the touching, innocent image of the newlywed.

Wedding bouquet with roses and chrysanthemums
Rose - the queen of flowers, can become an adornment of any wedding bouquet, including a bouquet with chrysanthemums. The bush variety of this plant will perfectly complement the inflorescences of small plants, and large garden roses will emphasize the airiness and lightness of the flower arrangement. The hero of the occasion can safely choose contrasting roses to design an accessory or combine flowers of similar shades.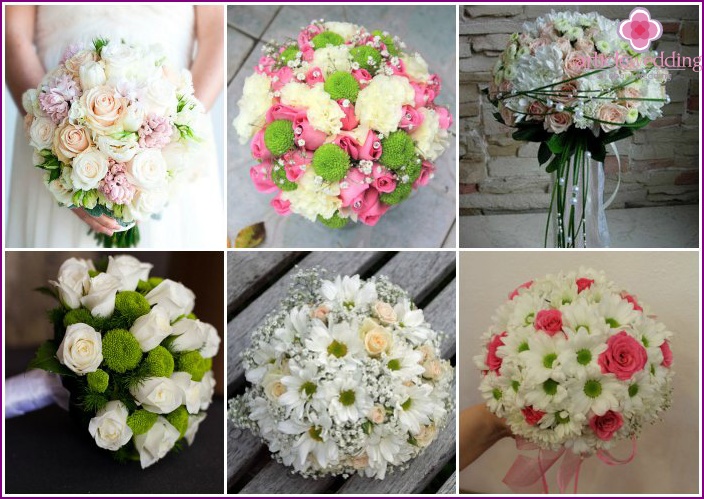 Chrysanthemum mono-bouquet
Chrysanthemums have the ability to create completely different moods for a festive accessory, to make it soft, airy, austere or natural. These plants look great, decorated in a spherical or semicircular composition. The future spouse can choose flowers of one shade to design a composition or combine several tones. White-pink, white-green, yellow-orange and yellow-orange options for the bride's accessory look interesting and beautiful.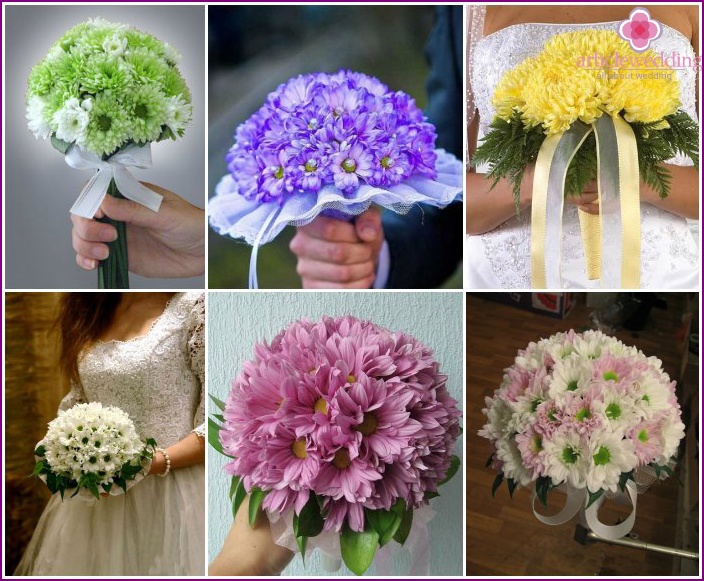 How to make a bouquet of chrysanthemums with your own hands
If the bride and groom does not want to trust the florist to create their own holiday accessory, she can try to compose the composition herself. To do this, you need two types of chrysanthemums - yellow and white, and in addition several branches of fern for external decoration, gypsophila for visual volume and a special floristic instrument - an oasis.
Photo of wedding bridal bouquets of chrysanthemums
Touching chrysanthemums with a delicate aroma in the accessory of the bride and groom combine perfectly with other plants - roses, lilies, alstromeries, peonies, hydrangeas, eustomas, gerberas, carnations. Bouquet can also be decorated with decorative details - for example, artificial berries, butterflies, beads, dry branches. For ideas on creating a chrysanthemum flower arrangement, see the selection of photos below: