Contents
---
---
There is no good wedding without guests. There is a tradition of giving bonbonnieres as a thank you to invited people for attending a holiday. A gift is a bundle or a box in which goodies are placed. There are many ways to give bonbonnieres. You can arrange them before the celebration on a separate table or near name cards, give them out to the banquet, at the end of it, during a meal change or before serving a dessert.
How to choose bags for bonbonnieres for a wedding
The materials for making the bags are different, but the appearance of the bonbonnieres should not differ. An exception may be only the desire of the newlyweds to make different gifts for men and women, then the bags are made in different colors. The decision on the size of the bonbonnieres is based entirely on what will be inside. You can attach a wish card to the rope covering the bag.
Options for wedding bonbonnieres in the form of a bag
The idea to give guests bonbonnieres came to us recently, although symbolic gifts from the newlyweds existed earlier. Depending on the imagination of the bride and groom and the wedding theme, they can be of different shapes, but the most common, due to the ease of manufacture, have always been bonbonnieres in the form of a bag. Materials of products are selected taking into account the subject and design of the event, weight and size of the gift.
From brocade
When choosing material for creating bonbonnieres, newlyweds often use brocade. This can be a fabric for creating a bag, decorated with a bow, or a ribbon for decor. Due to the density, the contents will not be visible through the product, which will increase the guests' interest in the souvenir. Brocade is used when there are sharp corners in gifts or at antique weddings.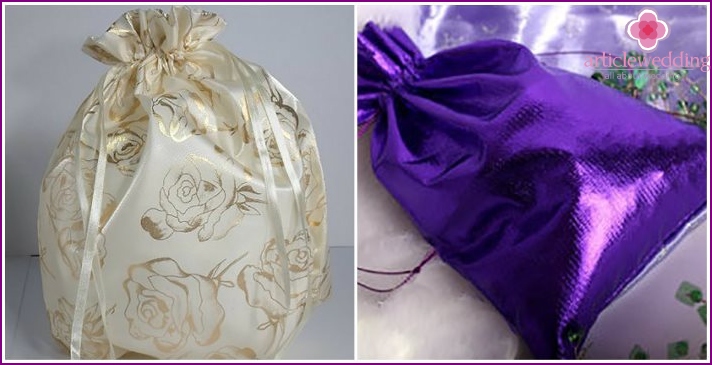 From organza
Creating pouches using organza is not an easy task. This soft and transparent material should be as close as possible to the size of the gift, otherwise its sagging will give the present an unaesthetic appearance. The gift itself should look good so that through the material it is not visible its shortcomings. For example, take sweets. Organza for colored wedding gifts.
From silk or satin
Thanks to the appearance of silk and satin, even small souvenirs will look worthy. This fabric is used to make pouches for classic white weddings. Silk and satin of various shades make gift bags-bonbonnieres for theme and color weddings. These materials are often decorated with rhinestones or large beads..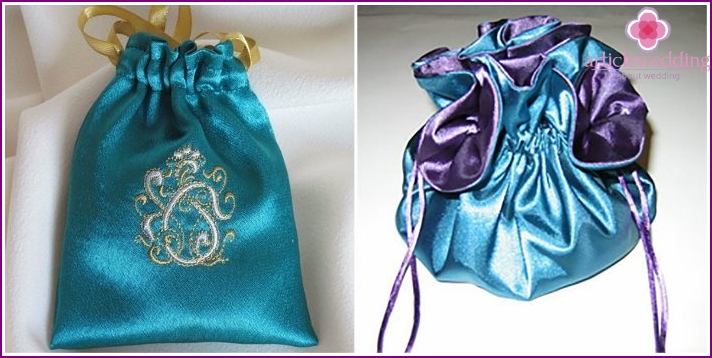 Linen bags
A simple but unusual gift will be a bonbonniere made of flax. This material is suitable for any wedding. Such housewife bags are used in the future to store something. They are often decorated with lace to match the color of the wedding. In the presence of free time and desire, the bride can decorate them herself with embroidery.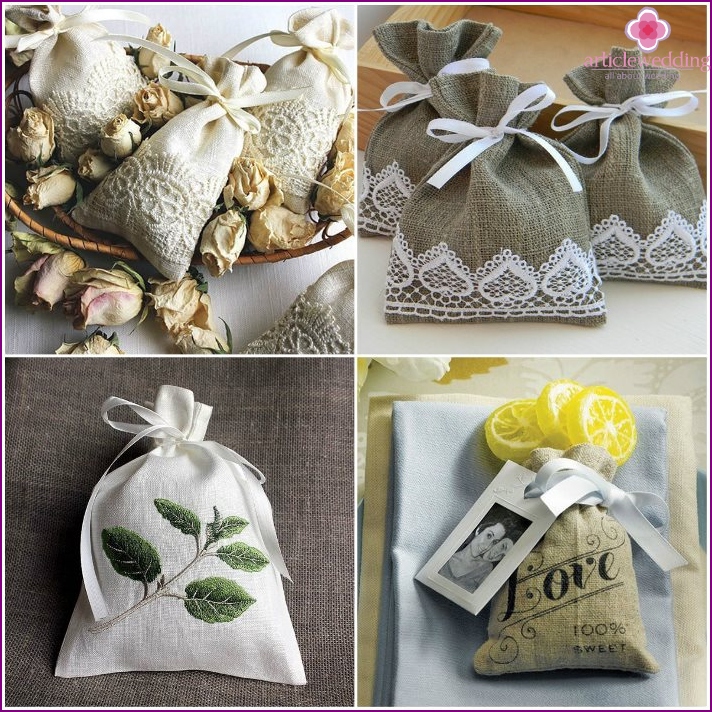 Burlap
An extraordinary solution would be to use burlap to create bonbonnieres. Having correctly beaten her appearance, you can make this characteristic a virtue. Candies and other sweets are placed in such bags, and they are decorated, like linen, with lace. An applique from the same material with less weaving or linen will look good. If necessary, burlap is painted in a different color..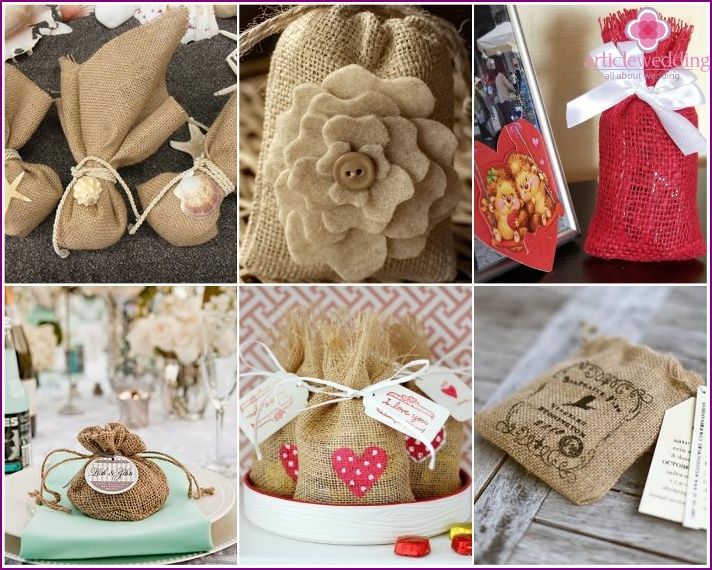 What can be put in a bonbonniere
The first bonbonnieres were made of leather, crystal, and porcelain. They invested five sweets, embodying family happiness, prosperity, luck, longevity, love. Over time, fabrics, paper began to be used as material, and any trifle now serves as a gift. Often, newlyweds put items related to the time of year in a bonbonniere.
Autumn is a romantic time, with lots of fruit. Based on this, guests are given apples, pears, and wishes are strengthened as a leaf. Original at this time will be a jar of jam or jam, but this option is not suitable for a large number of guests. You will need to either buy it, which will cost a lot, or cook it yourself, spending a lot of time.
In winter, it will be appropriate to put various types of cookies with tea bags in bags, and attach photos of the newlyweds instead of the name. If the wedding falls on New Year's or Christmas, they give a painted ball with the date of the wedding or angels made with cotton wool. A good solution would be tangerines enclosed in bonbonnieres and decorated with ribbon, which will fill the room with a pleasant smell.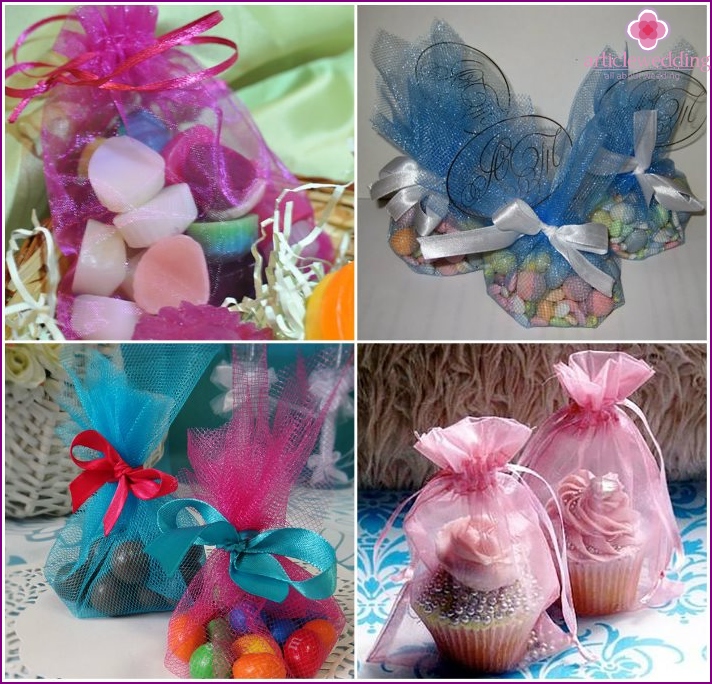 In the spring, a small flower in a pot will look good in a bonbonniere. In the summer, collect some herbs with a pleasant smell, such as juniper, sage, mint, rose, vanilla, lavender, lime, and make the guests handmade soap, compositions for which are purchased in the store. Playing a nautical theme is a good idea, but such a gift is suitable for either a wedding in blue or a standard white.
Universal gifts with refinement are given more preference. These include a variety of stationery: notebooks, notebooks, on the main page of which newlyweds are depicted. With such images can be cups and key rings. Standard gifts in the form of towels will also always find application. The main thing is that it should be presented with a soul.
Video: making a bonbonniere in the shape of a do-it-yourself pouch
Bonbonnieres are, at first glance, small gifts, but they can cheer up guests, which will certainly affect the holiday itself. These lovely presents take on special significance if made by the hands of the newlyweds. The easiest, fastest and cheapest way to make these gifts is to create bags. Thanks to the durable fabric, they can withstand a significant weight of gifts.
The advantages of creating bonbonnieres for newlyweds are obvious: it is uniqueness, selection according to the size of the gift and the style of the wedding. But not everyone knows how to make them and what materials to use. The video below will help you understand the nuances of creating bonbonnieres and how to decorate them so that you can easily create your own works of art.
Photo of wedding bonbonniere bags
Having shown imagination, due diligence, attention to detail, you can create an original bonbonniere, which guests will remember for a long time. Ready-made gifts look good in photos that will subsequently decorate your wedding album. To select material and jewelry, look at examples of bonbonniere bags in the photo below. If necessary, by refining these ideas, you can use them for your products..