Guess how the word translates «pearls» in many languages ​​of the world? Lovely, radiant, unique! Poets sang it in verses, artists depicted on canvases, they decorated holiday dresses. It is said that only the beauty of a woman can be compared with the beauty of pearls. So, this stone has long been considered a female jewelry and amulet..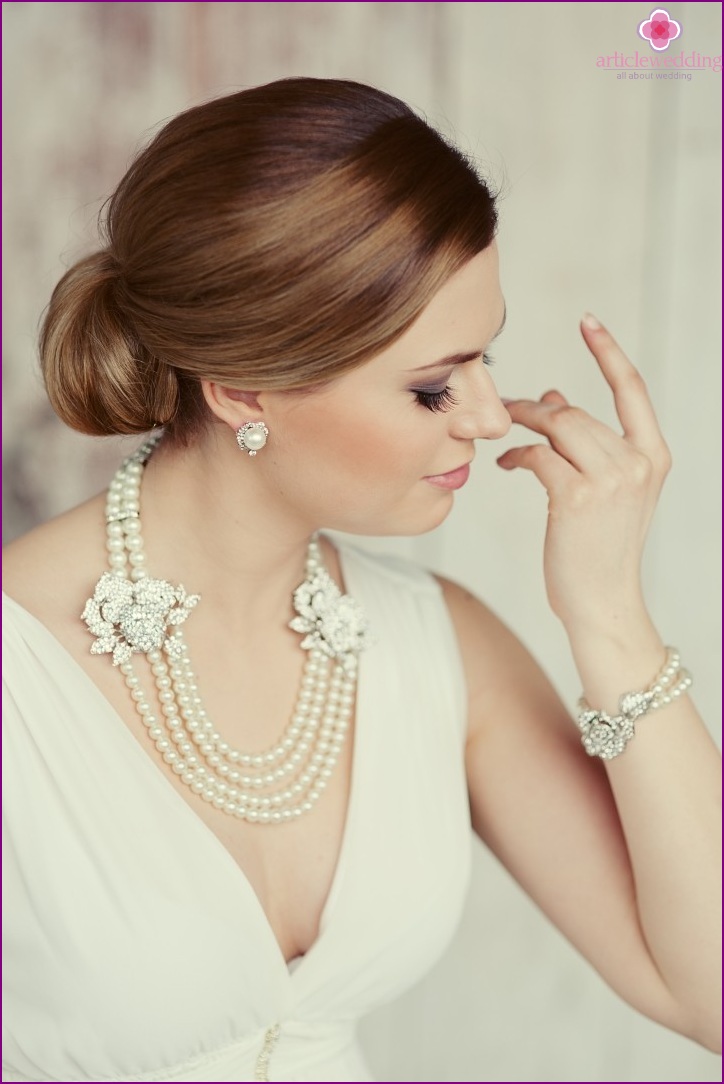 There are legends in India that tell how a pure drop of rain fell from the sky into a sink. Time passed, and the drop turned into a marvelous gem. Pearls are called «a frozen drop of rain», «petrified moonlight», «after the virgins»... In ancient times, it was believed that pearls are the tears of mermaids who mourn the dead sailors.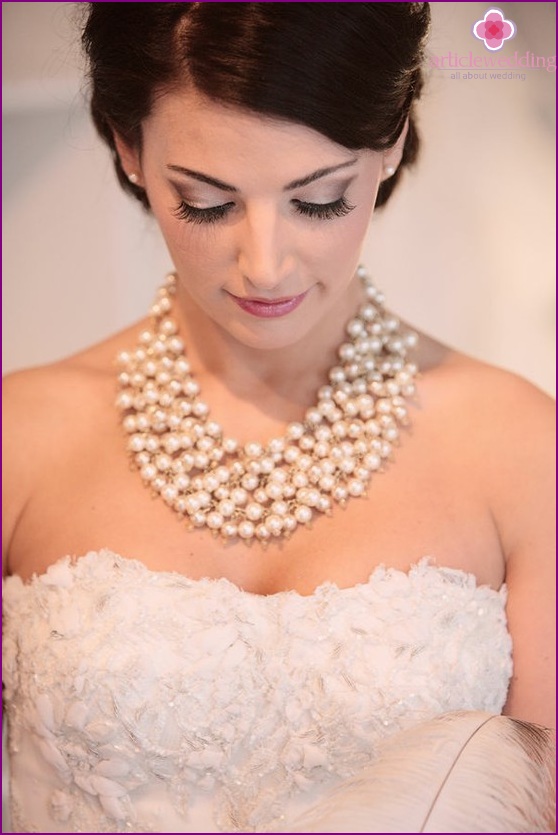 However, you should not attribute to pearls properties «unlucky» stone, rather stone «poetic». Indeed, in many cultures there are beliefs that pearls bring happiness, joy and love, and if tears, then only tears of happiness. In Antiquity, a pearl thread symbolized marital well-being. In the Renaissance, grooms gave lovers a ring with a pearl as an engagement ring. And on the bride's wedding they put on dresses embroidered «frozen raindrops». A gem migrated to Russia from China. Russian aristocrats and tsesarevna necessarily kept pearl strings or earrings in caskets.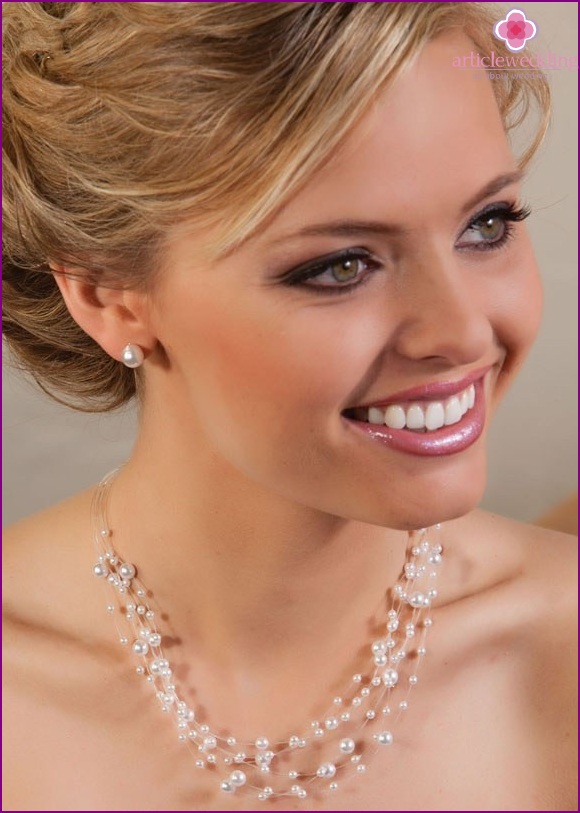 The choice of pearls for a wedding should be approached with all seriousness. Good luck will bring jewelry, borrowed from mother or grandmother, especially if they are happy in family life. The wedding site www.articlewedding.com recommends paying attention, first of all, to the sparkle of the stone. Not an overflow of color, namely gloss. Jewelers say that genuine pearls seem to have light from within, creating the illusion that you see a tiny pearl inside a gem. In this case, there is a big contrast between the bright part of the stone and the shadow.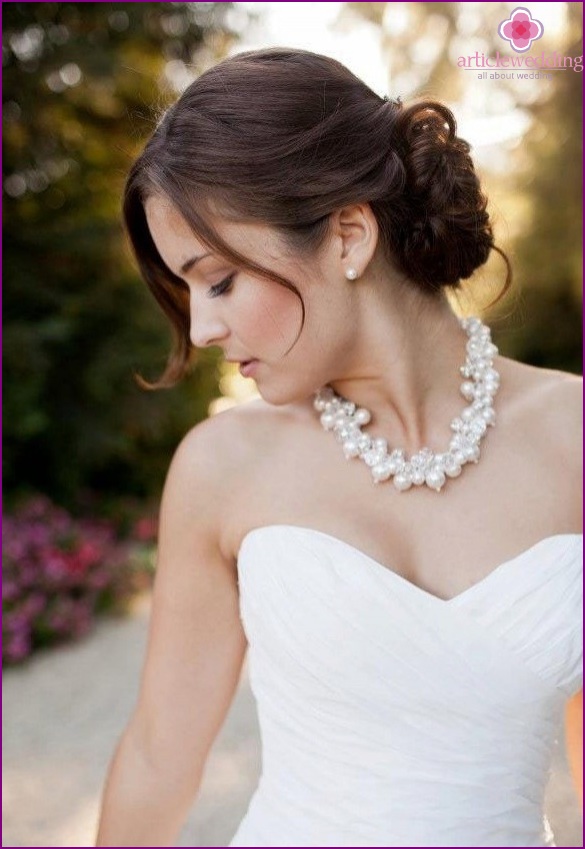 Pearls in the accessories of the bride
The main advantage of pearls in accessories is that it suits almost any woman. This gem comes in many different colors: white, cream, golden, pink, peach, lilac, purple, blue and even black. Do not rush to the choice. Carefully evaluate how this or that pearl jewelry is combined with the color of the skin, eyes, hair and the type of appearance as a whole. According to the rules of good tone, the color of the stone should be close to the color of the skin. For example, girls of oriental type or tanned young ladies should prefer cream, golden or pink pearls, while girls of Slavic appearance should stop like snow-white or silver gems. Then the stone will give the image a unique, charm and nobility.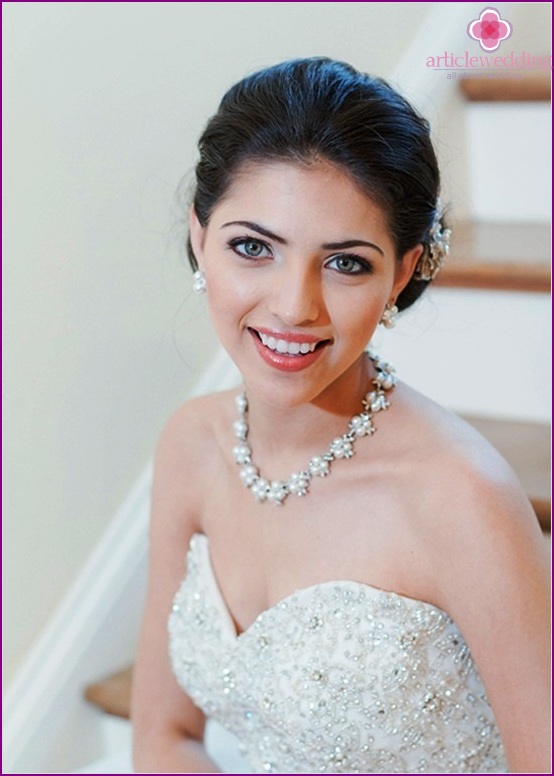 In addition, when choosing a jewelry, consider age. The older and wealthier the woman, the larger the pearls in the necklace she can afford. But for young girls, such a luxury is not only not to face, but also is evidence of bad taste.
The subtlety of choosing a pearl jewelry is the combination of the thread with the neckline of a wedding dress:
Necklace «collar» (about 30 cm.) suits thin girls with a long neck.
Beads «under the throat» (35-40 cm.), Which tightly fit the base of the neck are good for dresses with a neckline «boat», neckline or V-neckline. In this case, they look elegant.
Classic version «Princess» (up to 48 cm.) is the golden mean and is suitable for almost everyone.
A thread «morning» (50-60 cm.) Must not touch the cut line.
Beads «opera» (up to 90 cm.) on the contrary falls below the bust line. This is an option for luxury weddings..
Option «rope» (more than 90 cm.) usually worn in two or three rows tied with bizarre knots.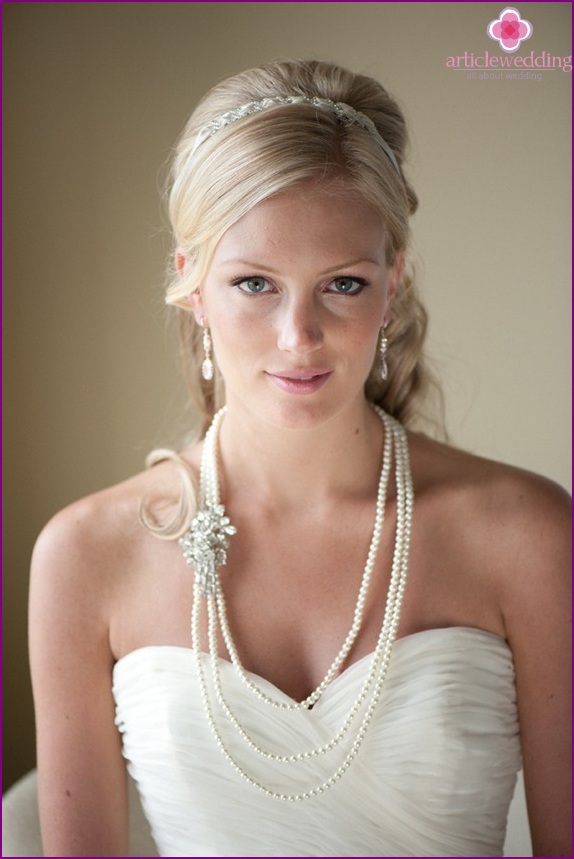 Pearls will also look great in a wedding hairstyle, especially at nautical-style weddings or in tiaras that attach a veil. You can wear bracelets or earrings with these mother of pearl stones.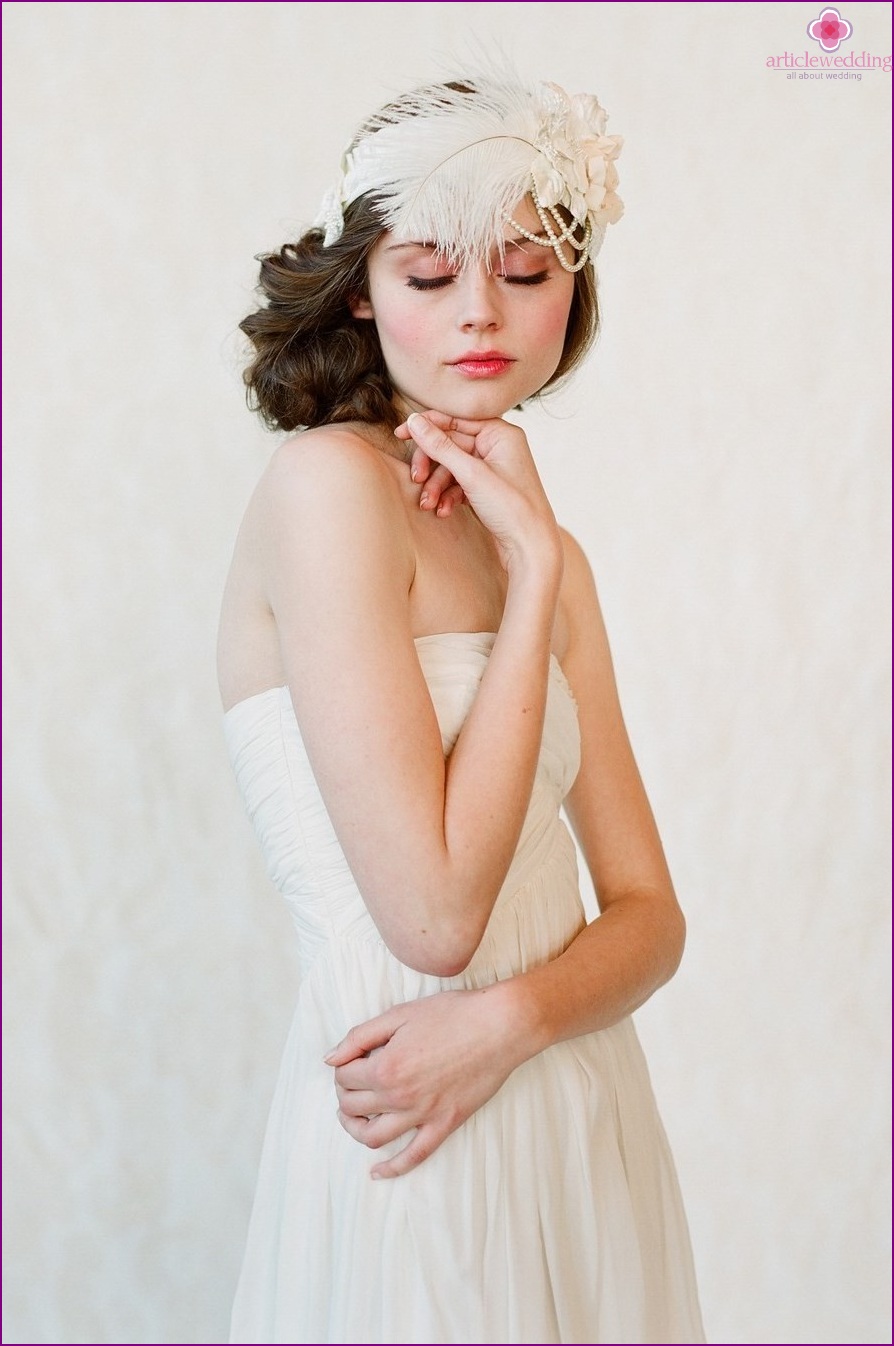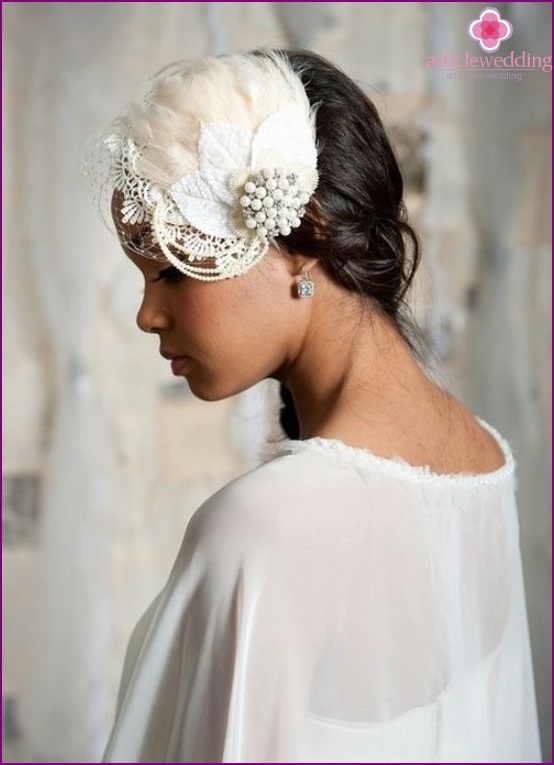 Wedding dresses embroidered with pearls look elegant, sophisticated and feminine. To complete the image, pick up shoes decorated in a similar style.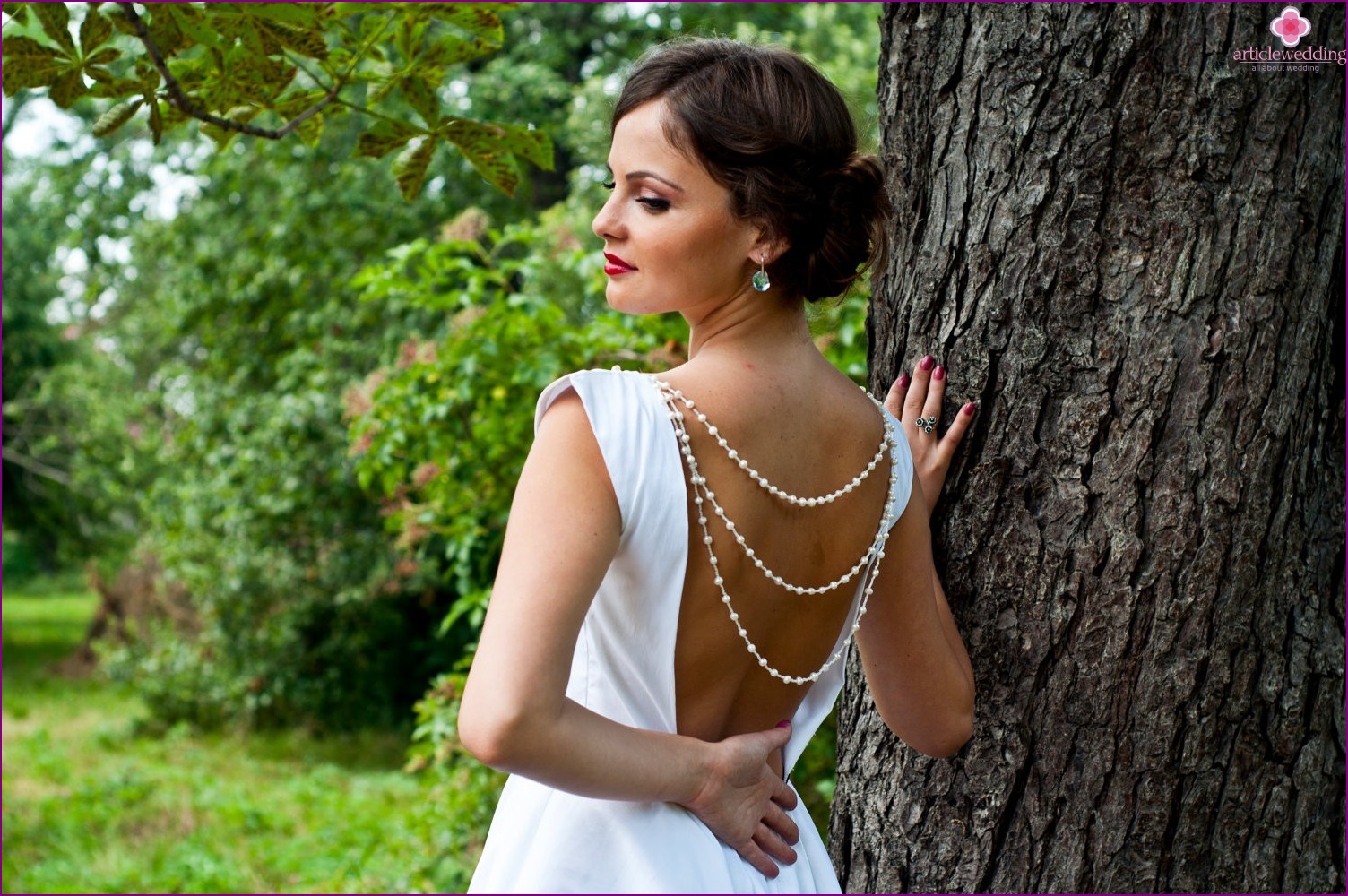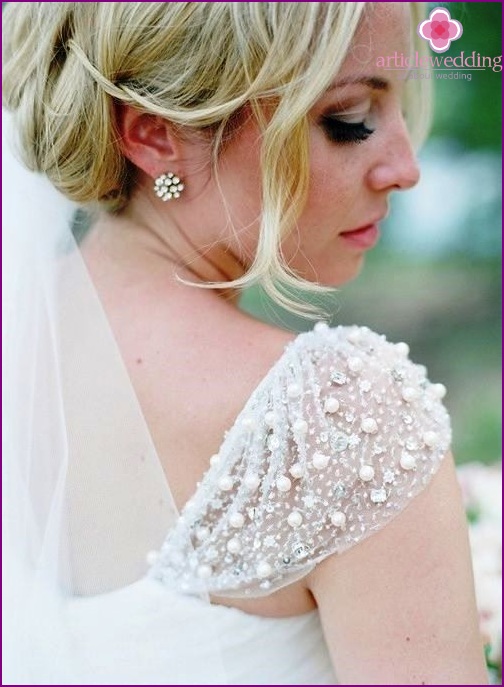 The wedding portal www.articlewedding.com advises you to buy faux pearl jewelry if you are influenced by superstitions. The accessory will look good, but will give you peace of mind, eliminating doubts.
Whatever option you prefer, pearls will add femininity and tenderness to your image..