Contents
---
---
Every bride wants to be a princess at her wedding. And this desire must be realized with the help of beautiful clothes, accessories, additional elements. To make the outfit of the bride and groom perfect, wedding suits from world couturiers are often preferred. Their beauty is confirmed by the brand and many famous personalities. Designers and fashion designers from all over the world puzzle over how to create a dizzying image of the bride, and for many this goes well.
Than special designer haute couture dresses
If you have ever participated in the search for a wedding dress, you probably noticed that the outfits in expensive popular stores are very different from those that are presented in ordinary markets. What can we say about designer masterpieces. In such models, the soul is invested, in addition to the highest quality materials, jewelry and accessories. Wedding dresses from fashion houses and are not cheap.
There are many seamstresses who, based on the models of fashion brands, take to make copies of them. Yes, they get their own masterpieces, but they are completely different from the original. This happens because the latest technologies are used for designer suits, they are tested and verified, modified, improved. You can't put collections from wedding salons next to designer haute couture dresses. The level of work performance is different.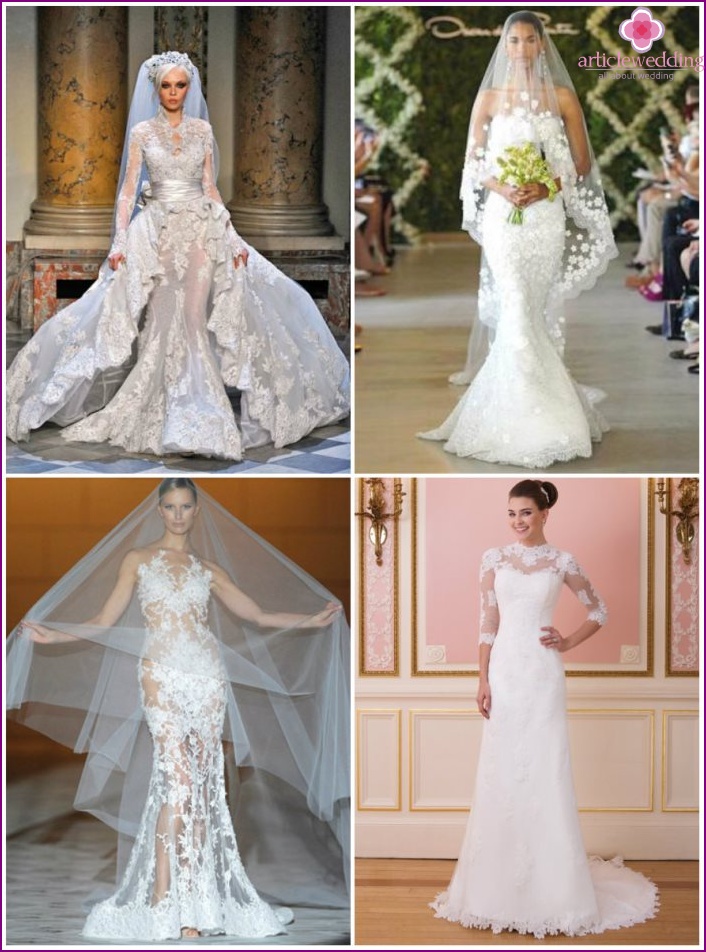 Couture dresses from the collection of famous designers
Wedding dresses from fashion houses Dior, Naeem Khan, Valentino, Versace are very popular among fashionable women getting married. It has long been a rule that when a new collection is shown, the wedding dress is always the last piece. The model that demonstrates it goes beyond the hand with the creator himself. This dress is the face of a fashion designer, and often it is a wedding. Such a robe is always the most expensive, sophisticated, difficult to perform for display. We are not talking about quality at all, this is implied a priori.
Now the tradition of demonstrating a wedding dress in the finale of fashion shows has faded into the background. Fashion designers create separate large collections of dresses for brides. Every future bride wants to attend such a wedding costume show. Choosing a dress at the demonstration is much easier than in the store. But if you don't get to such an event, do not be discouraged. Now we will consider the main trends that are used by famous couturiers..
Wedding dresses from Dior
Some collections of this fashion house were made in the style of Barbie. Such wedding dresses were in corset format, A-silhouette was used. Dresses were decorated with beautiful bows of bright colors, lace or lace. Opposite in the collection were gray, black wedding dresses, which emphasized femininity in a different way. At the Dior fashion house, they are never afraid to use different styles in dresses..
Particularly noteworthy is the model with black embroidery on the skirt, pleated sleeves and jacket sides that come in smell. It would seem that such a combination of forms is impossible, but Dior changes the standard outlook on things. The fans with great attention received a dress with many colors that are sewn onto a skirt and corset. The upper part of the outfit is translucent, and the lower part does not glow at all. A short stylish outfit fits perfectly into the wedding image of a bold bride.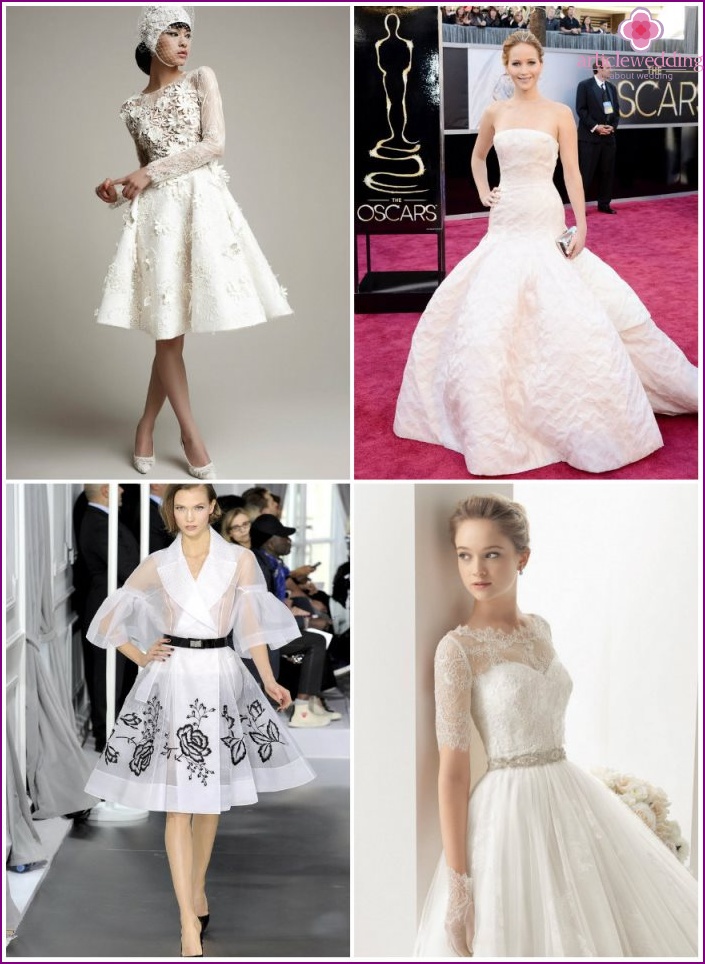 Naeem Khan
Wedding dresses from Naeem Khan are very different - delicate, strict, unusual. But each model is unimaginable in its own way. Some images can completely outshine other women and even the groom. Charming outfits contain a lot of stones, brooches and embroidery. There is a special wedding collection from Naeem Khan, which is made of a special fabric. There are no standard accessories here, but the material creates an elegant, holistic look..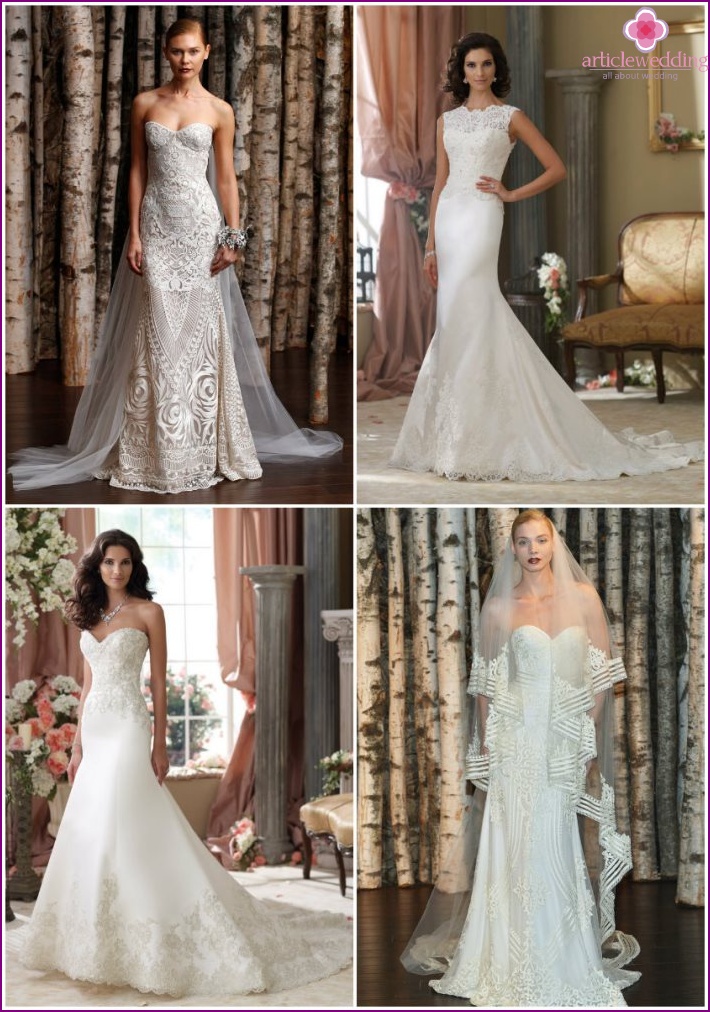 Valentino
Valentino wedding dresses have always been striking in their modesty. This fashion house is able to create a charming image from plain fabric due to the model of the dress. Outfits in white with a full skirt gained great popularity. Coming out of the waist, the fabric seems to be inflated from below and creates a puppet effect. This wedding dress has become an ideal option for more than one bride, and it can rightfully be called the most popular type of dresses from Valentino.
The images of brides from fashion designers are not always similar to the ones we are used to. Very often these are short dresses, strict silhouettes, unexpected colors. In stylish options from the Valentino fashion house, there are transparent, light, flowing fabrics. There may be a minimum of lace that distracts from the irregular shape. You will not find any bows, standard models here, and the minimalist style of a designer house can win the heart of more than one bride.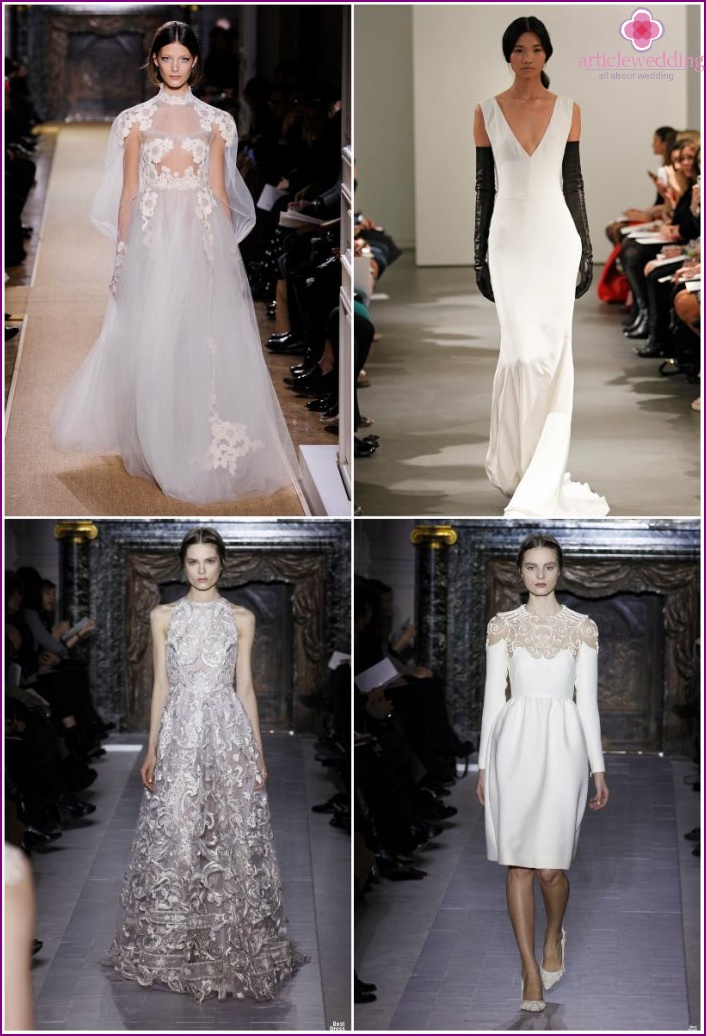 Versace
Wedding dresses of this house are considered the standard of tenderness. Although men's notes are felt in other women's collections of the brand, they are not present at all in solemn images for brides. Versace collections have bows, lots of lace, dresses embroidered with stones and rhinestones - that's why they attract so much attention of young brides. This handmade wedding dress will be a great addition to a perfect celebration.
Some celebrities, wanting to be original, order outfits personally for themselves. This is very popular among Versace fans as the exclusive wedding costume will be one for the whole world. All details and little things will be thought out by the fashion house fashion designers, and the owner will receive the most sophisticated outfit (dress, veil, shoes, accessories, gloves, tiaras).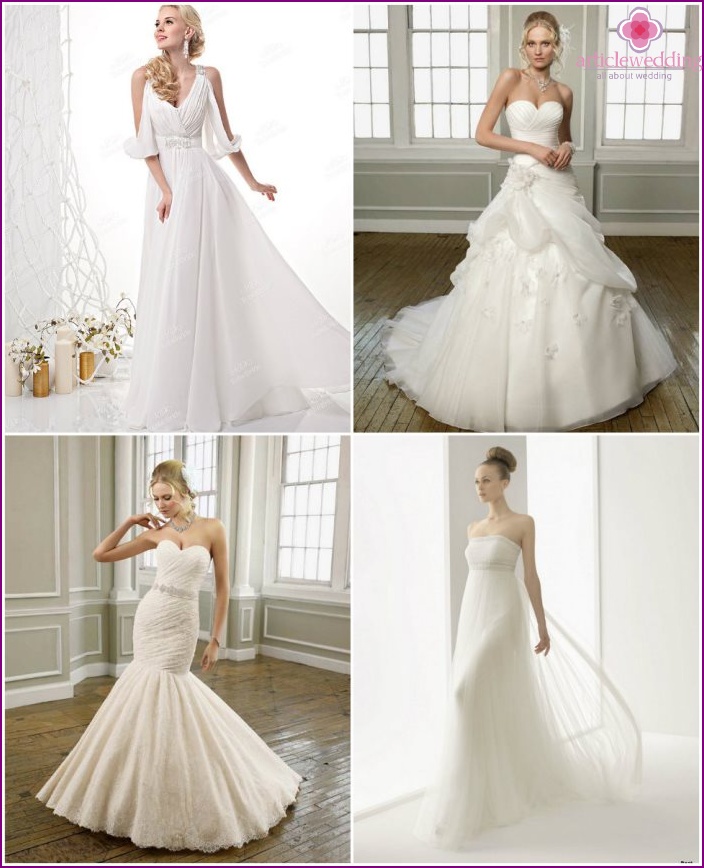 Elie saab
Few women present their wedding dress without rings, a mass of petticoats. A feature of the Elie Saab designer's approach is the desire to show that not only magnificent dresses for brides can be elegant. In her collections there are dresses from one layer of high-quality fabric, lace. Models look great due to decoration with belts, stones and voluminous details.
Elie Saab as a fashion designer became popular due to her wedding dresses. There are no standard forms, unusual models with pockets, transparent fabrics and unrealistic variations prevail. The emphasis in the outfit can be placed on the sleeves, a scarf or a small train. But all the details of wedding dresses from the designer Elie Saab will be surely thought out to the smallest detail..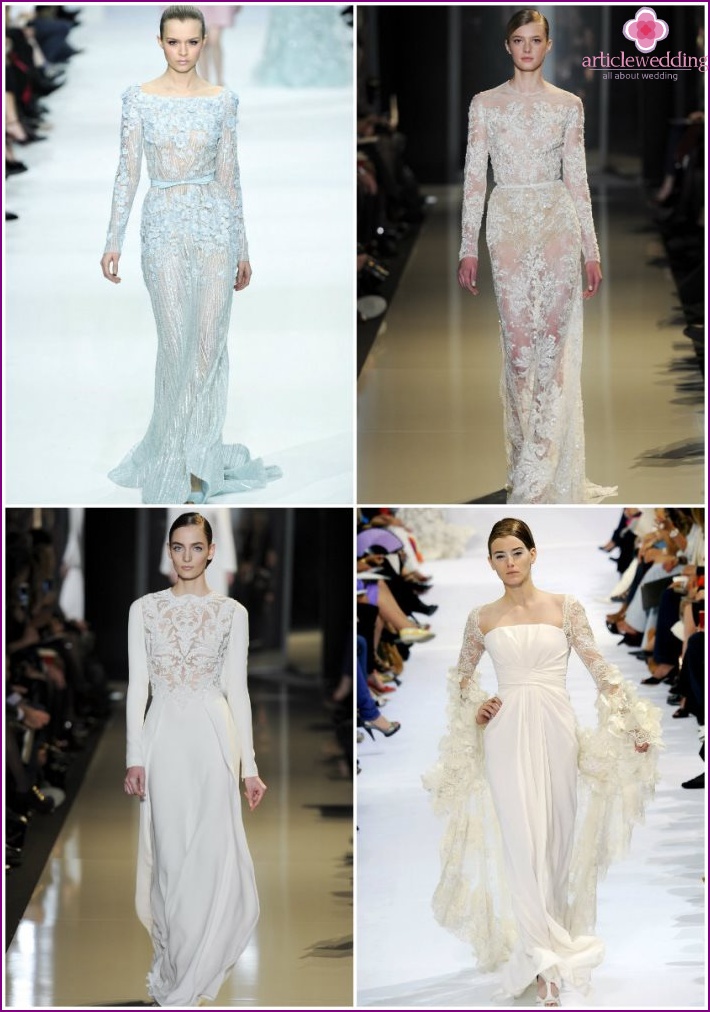 Jean paul gaultier
The approach of fashion designers at Jean Paul Gaultier fashion house is characterized by bold looks; they sew different models of wedding dresses. In one collection there are short dresses with wide hips with underwire, open parts of the chest and a long transparent veil, but it can also contain very magnificent wedding dresses with a lot of petticoats, jewelry and accessories.
A swimsuit-style bride dress is also the work of the masters of Jean Paul Gaultier. Such an outfit can be decided only by a very brave newlywed. And how do you like the queen's dress with a stand-up collar, a closed front and a hat? It also made a splash among the fans of the brand, as it stood out from the rest of the models showing maximum non-standard.
Photos of wedding dresses from haute couture 2015
Before choosing your wedding dress, be sure to consider a few beautiful and stylish options in the photo below. This may give you the idea of ​​a cherished dress, which will be a symbol of love and happiness. The main thing in choosing a wedding suit is not to make spontaneous decisions. Weigh all the positive and negative points of each model., «sleep» with the desire to buy an outfit, and in the morning you will have the right decision.