Contents
---
---
A celebration like a wedding is a wonderful day in the life of every girl. On this day, the bride wants to look not only charming, but also original. Therefore, the wedding dress should not only be beautiful, but unique, allowing you to attract the enthusiastic attention of others. Check out the most unusual, original wedding dresses, photos of which will help you imagine yourself in each of them..
The most beautiful dresses of brides
The collection of wedding decorations is so unique that even with the most demanding tastes, a girl will find a dress from which she cannot take her eyes off. Details that are sewn or attached to it make each model interesting, unusual. Fashion designers turned sewing a wedding dress into a real art.
The girl wants to be unique on the day of her marriage, so the first thing to decide is the design and style of the dress. It can be strict classical, unusual extravagant, long, short, magnificent or tight-fitting. Which option is better? It's a matter of taste. The ideas and fantasies of fashion designers, embodied in life, allow you to create a unique image. But it will be tender or shocking - it's up to you.
A great option for a wedding dress that always remains in fashion is a classic white dress (as in the photo below). It is a universal choice for brides all over the world..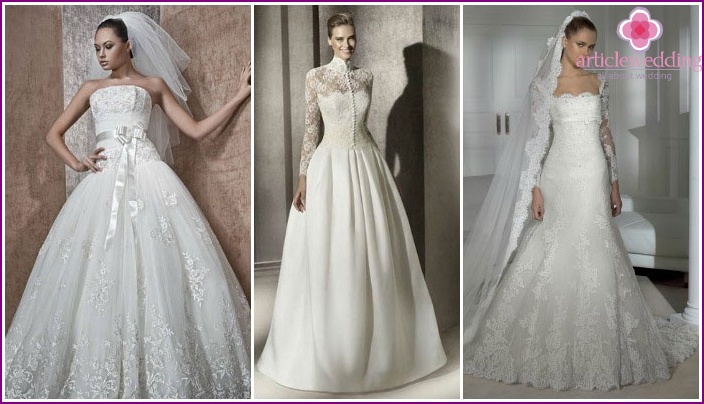 Designers have released clothes for weddings in other colors, except for white - pink, blue, beige, etc. Models of such colors are also popular among fashionistas (see photo).

Amaze with their splendor «aerial», light dresses that have a multi-layer fluffy skirt and lace corset. Such clothes will allow any girl to feel like a real queen of the ball. Lace, as well as additional accessories, make these dresses look even more beautiful. How such styles can look:

Weightless, flowing fabrics used in wedding dresses fit nicely to the figure, emphasizing all its advantages. In tandem with them looks great lace or fur cape-bolero, gloves.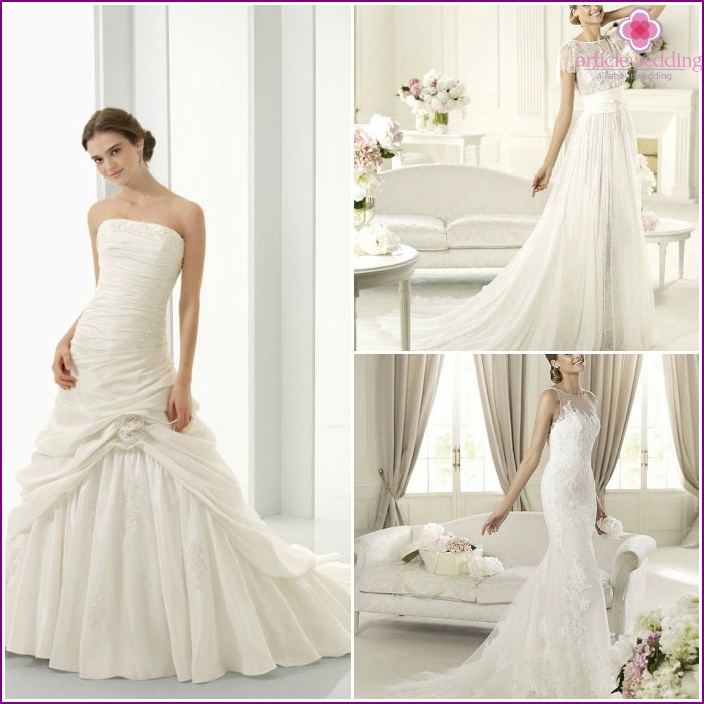 Dresses from world famous designers such as Alfred Angelo, Badgley Mischka, Carolina Herrera, Justin Alexander, Vera Wang, are considered the most beautiful. They present their creations in various colors, styles. A number of designers pay special attention not only to dresses, but also to suits that remain relevant for a long time. Models of the decoration of the above masters are presented in the photo..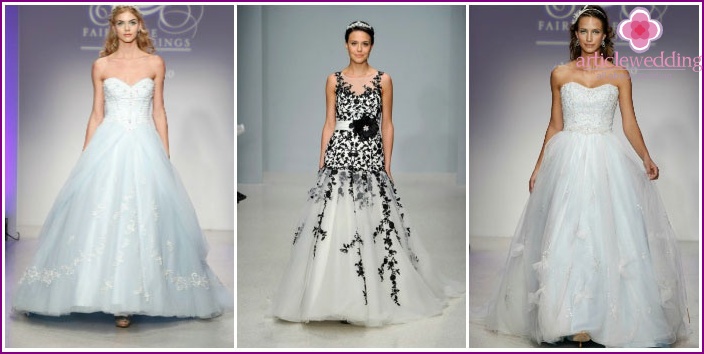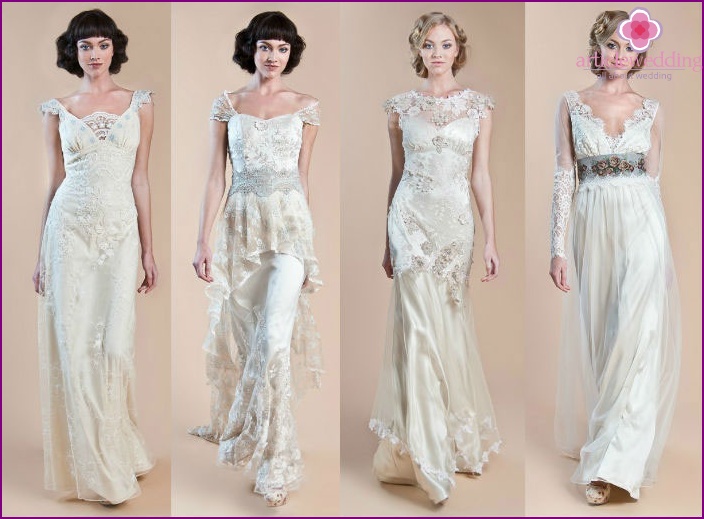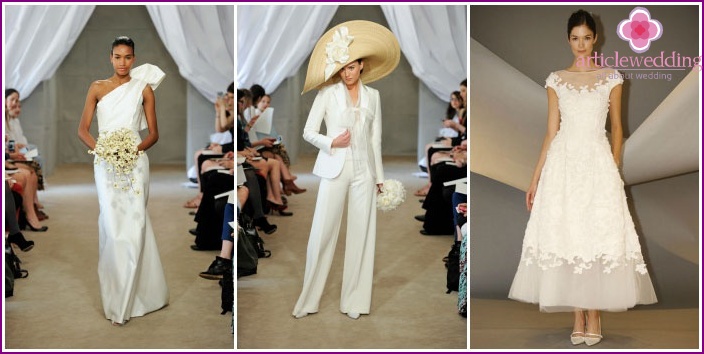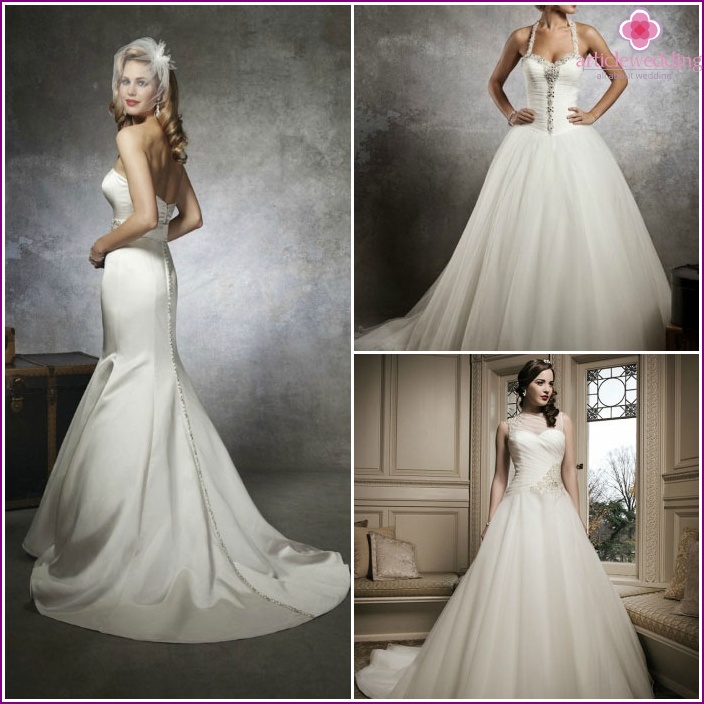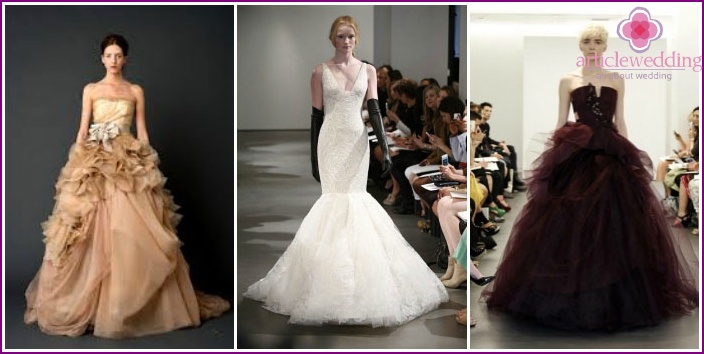 Creative wedding dresses (PHOTO)
Along with classic wedding dresses, creative dresses that are sure to have their own are very popular. «zest». They are unusual in that they have an unusual color for dresses or an unusual shape. Such models surprise with their bold decisions in the choice of materials for their sewing. Unusual models of dresses see: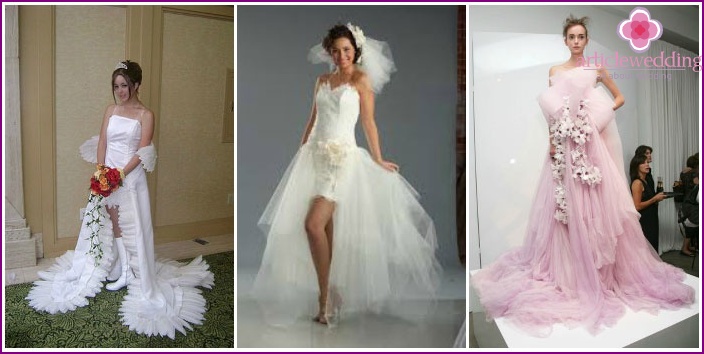 Unusual in color
Instead of clothes for a classic white wedding, dresses of various colors come to give originality and uniqueness to the image of the bride. Soothing bed tones and bright, catchy colors, such as rich red, are considered fashionable. In order for the image to be finished, you need to complement the suit of the groom with details of the corresponding color. It could be a tie, a boutonniere.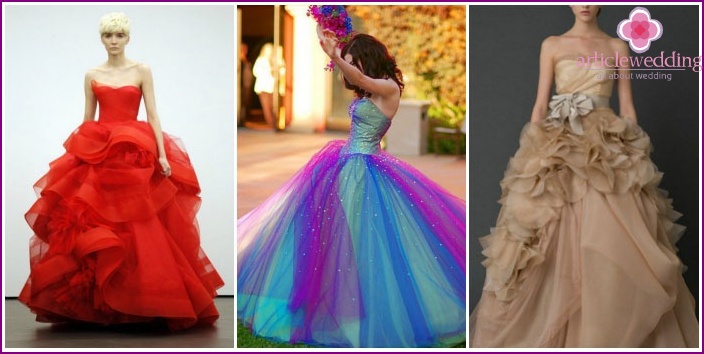 In shape
Popular and popular models are those in which the bride can show everyone her slender legs. They look beautiful and sexy, give the image femininity. The dress style is also unusual - elongated at the back, with a train and without it. Pay attention to the photo..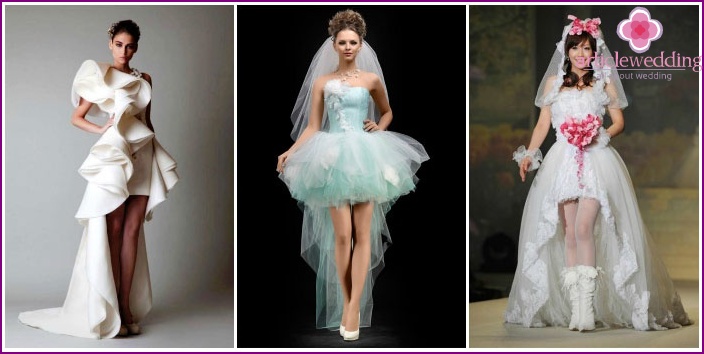 Erotic
If you like to attract the attention of men, take a look at erotic wedding dresses. Their main «zest» in that they expose one or more parts of the body, for example, legs, back, chest.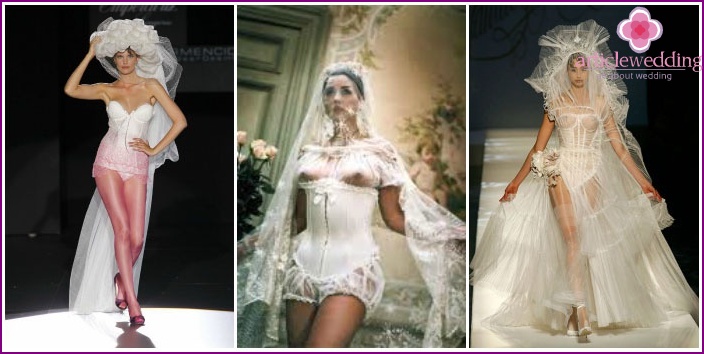 Well-known fashion designers use various materials for sewing such revealing dresses. The main thing is that the model is distinguished by individuality and uniqueness. As an experiment, they use materials such as paper, feathers, rubber, balloons, even condoms. Such masterpieces can be placed in the museum to shock visitors with their originality..
From paper
In New York, fashion designers creatively approached sewing a wedding dress using plain material - toilet paper. It took a thousand rolls of paper, several liters of glue, thread, duct tape to make it..
Out of money
The robe looks original, the material for which are banknotes. It is unlikely to survive the wedding ceremony, but it looks spectacular.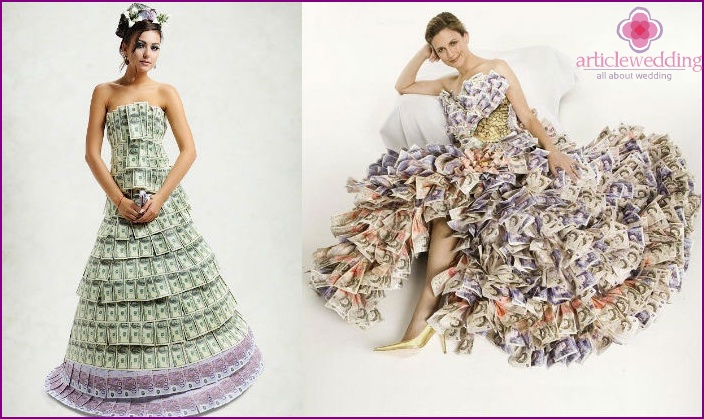 Of feathers
Peacock feathers - the basic material used to create unusual attire. The idea of ​​tailoring such an outfit belongs to Chinese designers. To create this extravagant model, 2009 peacock feathers and 60 jade stones were needed. Putting such beauty on the wedding will be a risky decision, but the outfit looks just amazing.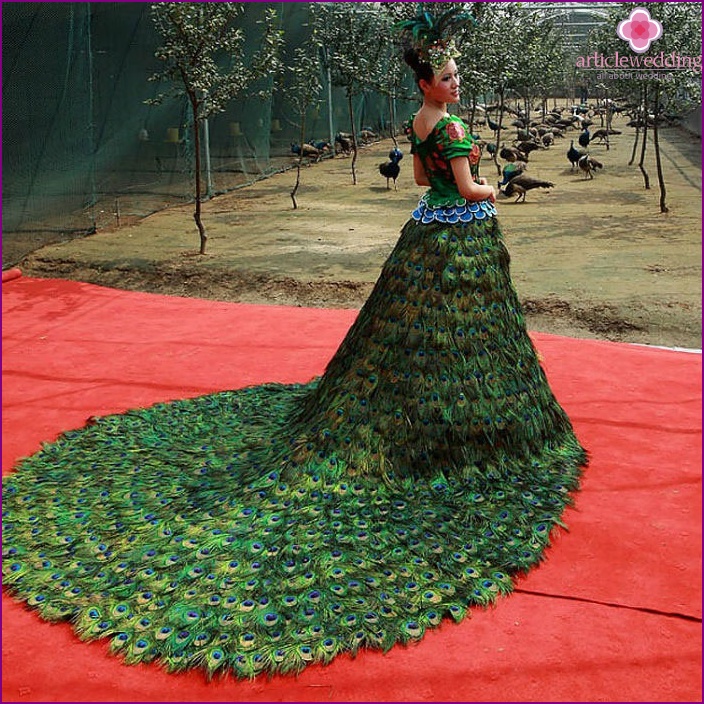 From flowers
Wedding attire, the details of which are fresh flowers, is an excellent idea for creating a feminine, delicate look. They look just gorgeous. Flowers give the bride who has chosen such decoration, freshness, beauty and originality.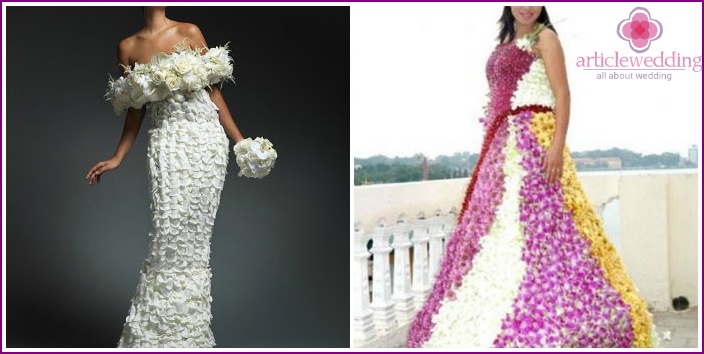 From balloons
Thelma Levett used balloons to create a unique and unusual wedding dress for her beloved daughter. She spent five thousand balls to get this exclusive outfit. But it is impractical because it is bulky enough and does not give the bride freedom of movement.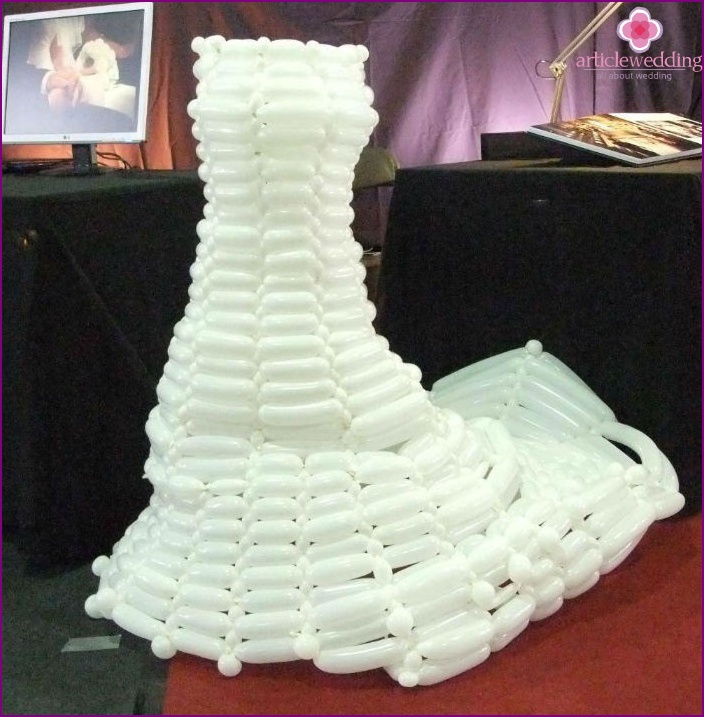 From condoms
The material for creating wedding clothes can be condoms. At the nineteenth annual event in New York, dedicated to the fight against AIDS, was presented an unusual dress, which was used to create 12,500 condoms.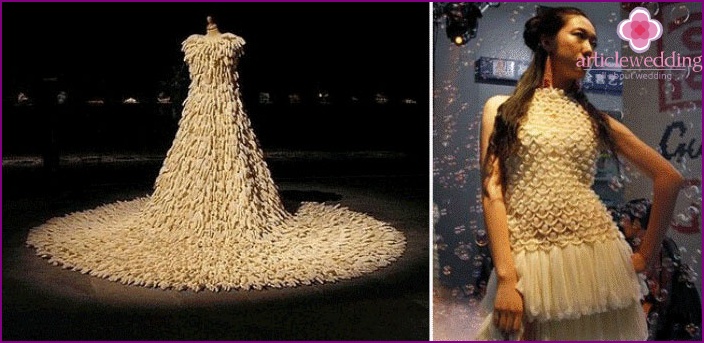 With LED
To truly shine at the festivity of the bride will allow an unusual model, which includes three hundred light bulbs on batteries hidden in a fluffy skirt.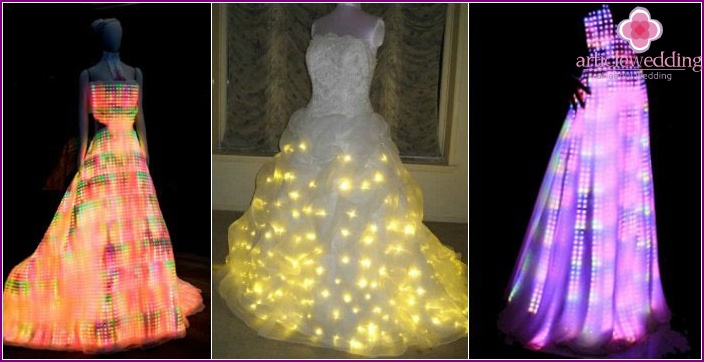 Of sweets
Another unusual masterpiece of designers is delicious clothing. Lauren Smith introduced «chocolate» dress decorated with slices of orange and chili. A ten-kilogram outfit laid out in small cakes was created by baker Valentin Stefanov. And the cook, Juan Manuel Barrientos, took to create his masterpiece rose petals covered with powdered sugar.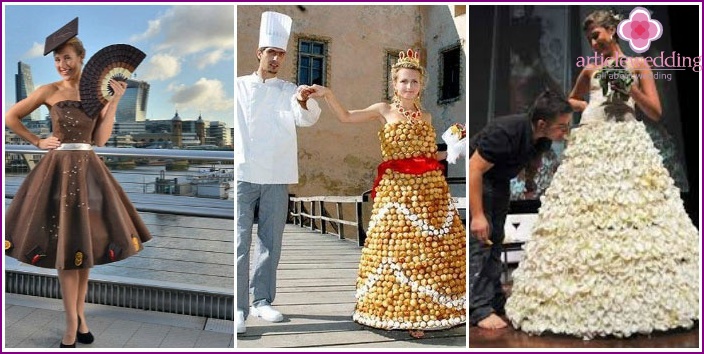 Body art outfit
To look spectacular at your own wedding will allow such a form of art as body art. In almost every city there is an agency that provides wedding body art services. This type of jewelry is suitable for brave girls, it allows you to hide any imperfection on the body - a mole, a scar, etc. Thanks to this, the bride will be able to wear an outfit of any degree of openness.
The master will be able to paint any part of the girl's body - arms, legs, shoulders, chest. He will be able to make an image of gloves or stockings, draw a continuation of the dress, and also perform a drawing instead of underwear, which can surprise a newly-made spouse.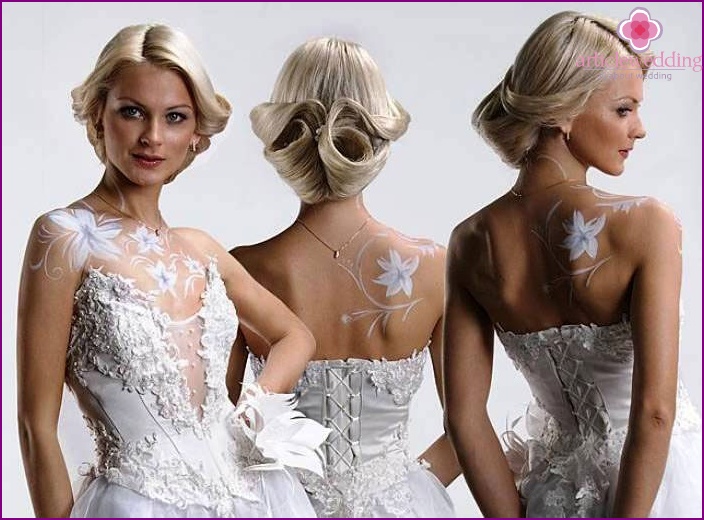 Modern models of wedding dresses are distinguished by their originality and novelty. They are spectacular and creative. You have the opportunity to easily pick up a special style to your liking. We hope that our information helped you make the right choice..
Photos of the most unusual dresses in the world