Contents
---
---
A snow-white dress has ceased to be an indispensable attribute of a wedding. Wedding fashion designers came up with a lot of original styles for the bride, surpassing white models with beauty, functionality, style. Elegant and chic can be called turquoise wedding dresses, which are now sold in a wide range for every taste. This unusual color never ceases to amaze, always admiring its beauty..
What style of turquoise wedding dress to choose?
Amazing color has a huge number of shades: bright, catchy, bright, delicate. Dresses in a rich turquoise hue are suitable for confident girls, and brides who are inclined to choose a traditional wedding dress can pay attention to white wedding models with delicate turquoise decor. The choice of the style of her wedding dress will depend on what stylistic preferences the bride and groom, as well as what type of figure she has,.
To date, the most common styles of turquoise wedding dresses are:
A-line.
Lush in style «Princess».
Greek style.
Empire.
Dresses of this color are chosen in length, because long models and short wedding options are in fashion. Long styles look elegant, elegant, chic, especially when a dress is provided for a train. But such a model is not very convenient when you need to dance and have fun. Modern brides are increasingly choosing wedding dresses for short turquoise shades that look provocative and courageous, moreover, do not interfere with free movement throughout the day.
Silhouette Model A
A-line dresses are a classic that fits any figure. Such styles hide the fullness, add growth due to straight lines, emphasize the high chest, emphasize a thin waist, making the image of the bride perfect. A-silhouette creates the effect of a glass, because the hem gradually expands downward. This result has been sought by medieval ladies for centuries to look graceful without mocking their bodies.
The main advantage of A-cut is that the narrow top visually stretches the figure, adjusting the bride's posture without any effort on her part, which makes the gait royal. Such a style can be created magnificent if you put on additional crinoline skirts to match the dress or any other shade that harmoniously blends with the turquoise color:
green;
blue;
light lilac;
pale pink;
gentle aquamarine;
dark azure.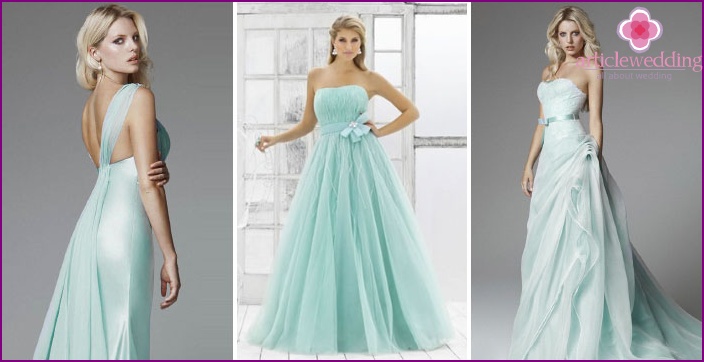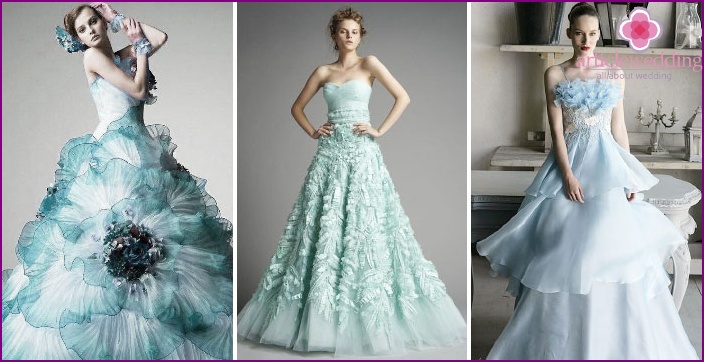 In greek style
A Greek-style wedding is very popular among young people, which is why dresses are so in demand. Almost all models include bare shoulders, but there are styles with long lace sleeves. These are delicate and touching dresses that differ in the following details:
high waist under the chest;
long flared hem;
squared bodice.
Flying draped maxi and a long hem hide the volume at the waist, so pregnant brides with a rounded belly are very fond of the turquoise Greek dress. Often these outfits can be seen at a nautical-style wedding. Brides are increasingly refusing the magnificent decor of Greek styles in favor of all kinds of draperies and noble textures. Preference is given to matte (without excessive shine) fabrics of turquoise hue: fine knitwear, chiffon, silk.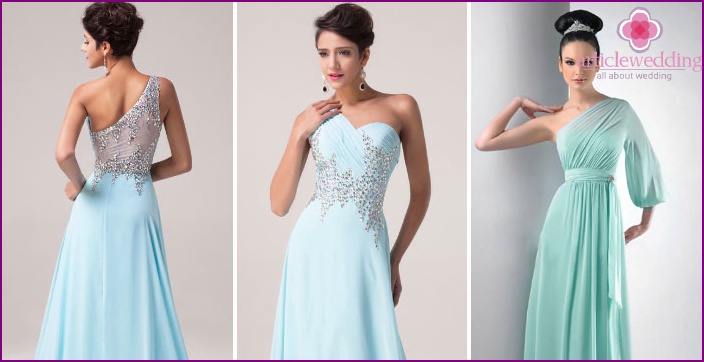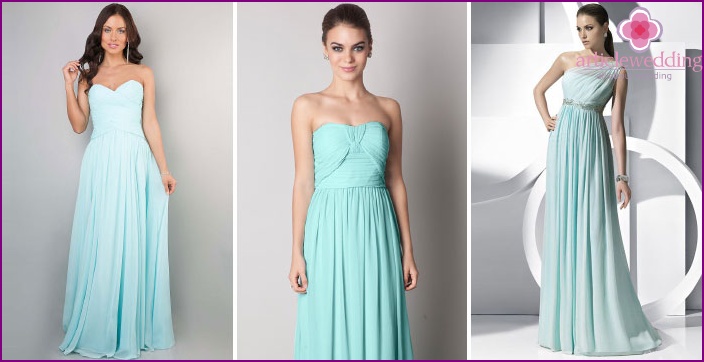 Lush princess style
Magical, mysterious, delicate and chic dresses «Princess» - The subject of dreams of millions of girls. The secret of such popularity is that the style is very simple: there are no extraneous details in it that can burden or ruin the image of the newlywed. The absence of flashy elements gives the lush wedding dress a turquoise color of elegance, which is why it is ideal for the official part and for the subsequent celebration in the banquet hall or at home.
Cut «Princess» traditional: narrow top and trapezoidal lush bottom. The length varies from the classic hem to the toes of the shoes to a shortened (mid-thigh). This is an ideal model for those brides who like to shock and surprise guests, especially if the turquoise color is combined with bright details, emphasizing a beautiful chest or thin waist. Style «Princess» suitable for slender or pear-shaped types of figures.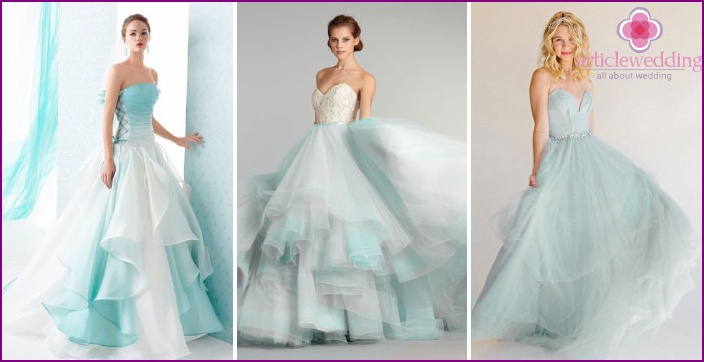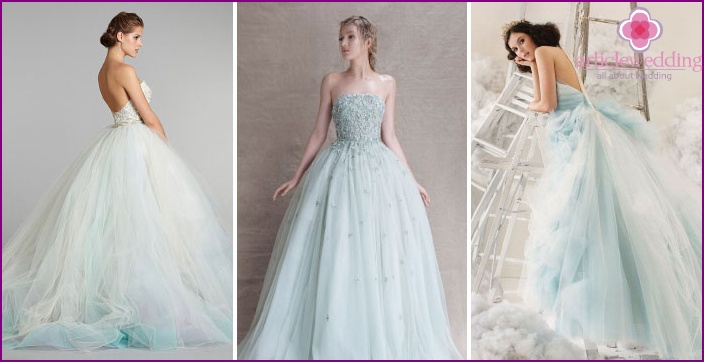 Dress with a train
Princess dresses and celebrities choose wedding dresses with a train in turquoise tones. This element of clothing was brought into fashion by Diana Spencer (Princess Diana), when the length of the train of her attire at the wedding was 7.5 meters. Contemporaries often order a train for their wedding dresses, because it adds solemnity to the image, making a lasting impression.
Girls do not even pay attention to the fact that this is not a very practical element of a wedding dress, which deprives them of their freedom of movement. But the designers went to meet the brides and designed to replace the one-piece train removable, which are easily removed after the official part of the celebration. Fashion designers have proposed another option: a loop in the form of a tourniquet, which is attached to the dress so that its lower fold is equal in length to the hem of the wedding dress.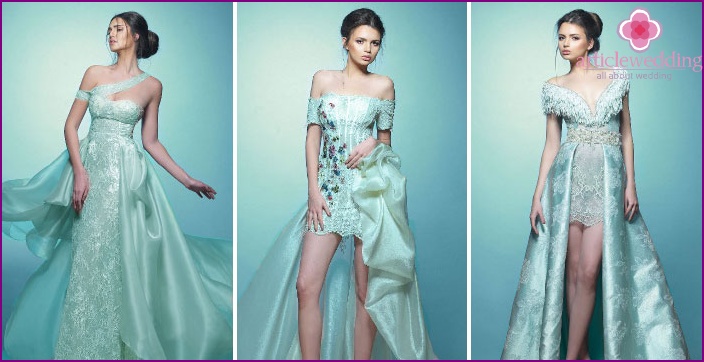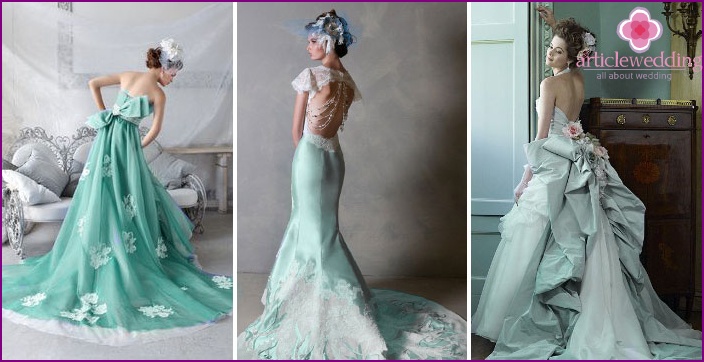 Turquoise dresses with decorative elements.
Turquoise shades of wedding dresses are most suitable for blondes and red brides. Brunettes often choose a white wedding dress, decorated with a turquoise decor. Decorative elements - embroidery, flowers, lace, rhinestones, sequins - attract special attention. The main thing is not to overdo it with decorations and choose colors that blend perfectly with the turquoise palette. The maximum number of shades on the bride should not exceed three.
The yellow decor feels great on the turquoise wedding dress - the bride's bouquet of sandals, hair clips in her hair. A passionate and even slightly aggressive combination - turquoise and red will certainly impress and will be remembered for a long time. Two such bright colors in the bride's attire are perfect not only for a summer wedding, but also for a winter one. Turquoise shades require impeccable makeup.
Decorated with embroidery or rhinestones
Turquoise wedding models differ in the type of fabric, style, length. But the most interesting difference is the appearance of the decor. Dresses with a variety of embroidery have become widespread among modern brides. Rhinestones, beads, stones or ribbons are used to decorate wedding styles. High-quality embroidery will make any wedding model luxurious, but the price for it immediately rises at times.
Embroidery with rhinestones or stones immediately gives the wedding dress of any turquoise shade a luxurious look. With the help of rhinestones, masters create various patterns that focus on the waist, bust or hem. Famous designers also never get tired of returning to embroidery on their exclusive wedding dresses. Embroidered elements can be seen in the collections of Vera Wong, Carolina Herrera and Oscar de la Renta.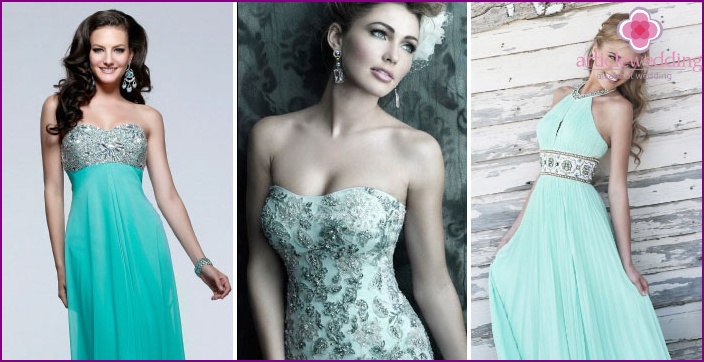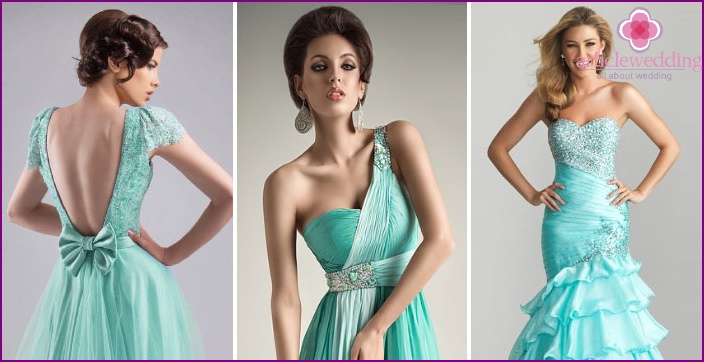 With lace or flower applique
Some elements on a snow-white dress of a bride of a turquoise hue, made of lace or a lace wedding dress in full turquoise color, look great. It is easy for the bride in this outfit to plunge into the world of dreams and feel like a queen. Modern lace is not a rare or expensive material, so a bride and groom with any income can afford it.
Turquoise dress with floral applique looks expensive and exclusive. On a traditional snow-white wedding dress, the application of a turquoise hue looks even more luxurious. Floral applications can take different forms, depending on the location. With their help, any detail is decorated to focus on it..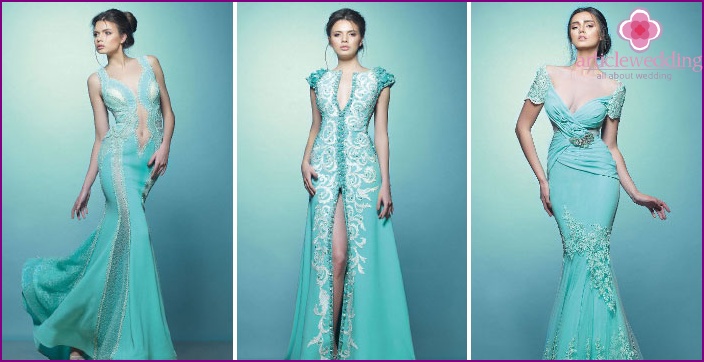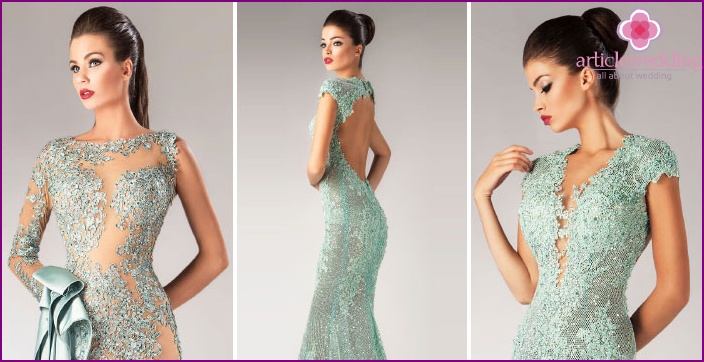 Decorated with frills or ruffles
Shuttlecocks on a turquoise-colored wedding dress emphasize the bride's beautiful waist, hiding her wide hips and tummy. The main thing when choosing a style with ruffles and frills is to abandon massive jewelry so as not to burden the romantic image of the bride. The correctly selected length and width of flounces or ruffles allows you to hide absolutely any flaw in the female figure. Among the many wedding models proposed by designers this season, any girl will choose the perfect style for herself.
It can be a cascade of ruffled turquoise on a white wedding dress or flounces varying in shape, length and shade, generously decorating individual parts of the outfit. In any case, they amaze with color combinations and smooth transitions. Ruffles along the armhole, on the sleeves or in the chest area emphasize the thin waist, beautiful shoulders, graceful arms and the neckline of the bride.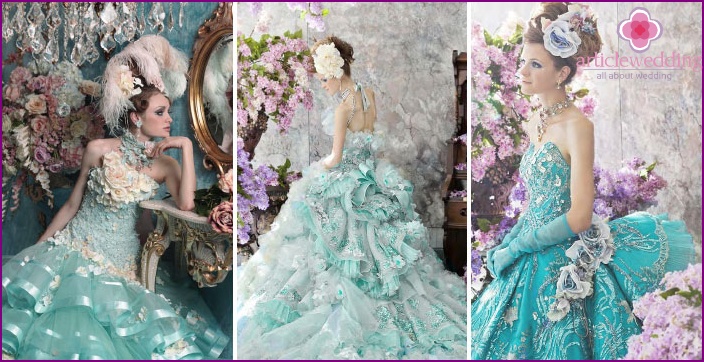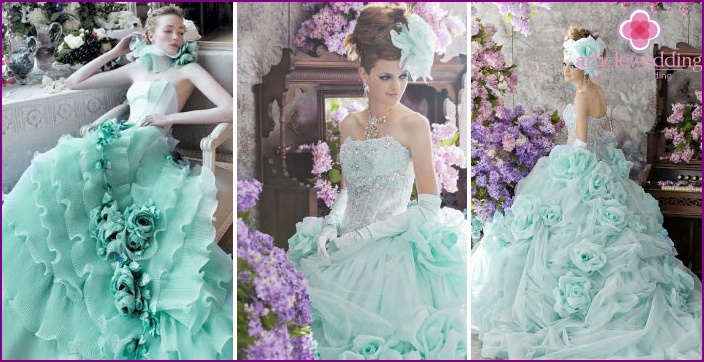 Shoes and accessories for a turquoise dress
The turquoise color of the wedding dress will look great with shoes and jewelry of the same shade. But the bride's bouquet is better to choose in this case any other color in order to slightly diversify the image. Turquoise elements look great on a white background, for example, a turquoise shade bow on a snow-white veil or jewelry made from this natural stone: earrings, bracelet, necklace. It is appropriate to use shoes of golden or silver color with any shade of a turquoise dress, which will add solemnity to the look of the newlywed.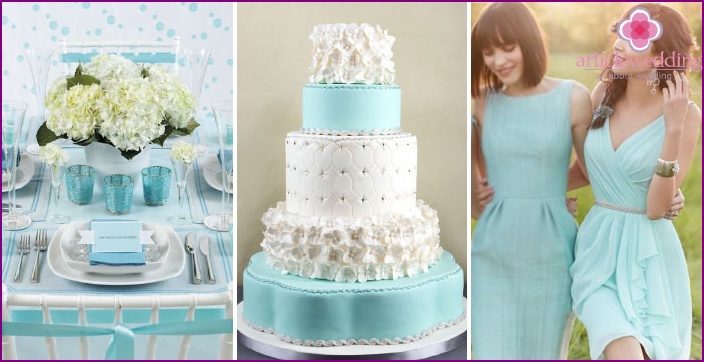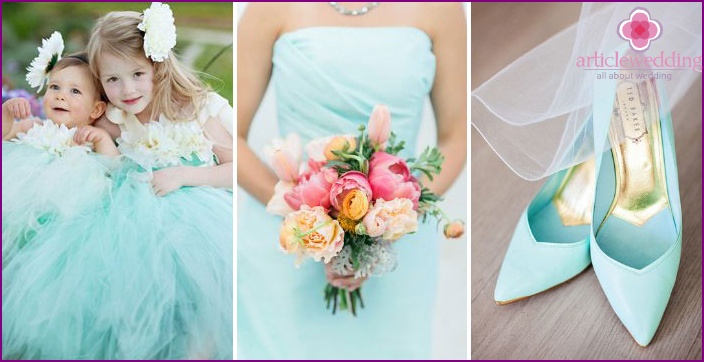 Photo of wedding dresses in turquoise color
A modern wedding requires original solutions for the image of the newlyweds, and for the images of their guests. The bride looks great, wearing a traditional white outfit with accessories of any turquoise hue, when there are girlfriends nearby who choose dresses in turquoise color. No less luxuriously this color is combined with other shades, the main thing is that they harmoniously fit into the wedding, and the bride does not look like a separate element. Choosing a turquoise color as the main one for your wedding, approach the process creatively and you will be guaranteed success!