Contents
---
---
In the summer I want lightness, airiness and freedom. A wedding dress with an open back cancels some traditional foundations in choosing a dress for the bride. On the other hand, an open back is inherent in many classic styles of dresses for special occasions. So, this option is great for weddings. Find your perfect open back wedding dress.
Classic cut
First of all, pay attention to the classic styles of dresses with an open back. For example, ball gowns or evening dresses on spaghetti straps with a mid-cut neckline. Such dresses look elegant and quite restrained. At the same time, they perfectly emphasize the graceful curves of the female figure.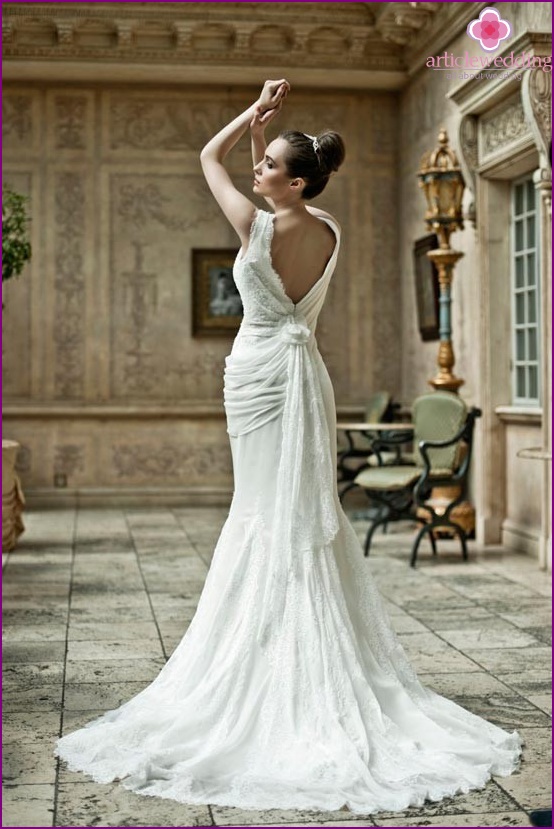 Lace back
Thin intricate lace is an indispensable attribute of weddings and the image of the bride, the site www.articlewedding.com believes. A wedding dress trimmed with translucent lace at the back will perfectly reflect the idea of ​​inner feminine beauty and attractiveness. For inspiration, look at samples of models of dresses in the Rococo style, Empire style and even «Twilight». Lace trim suits both outfits and without sleeves. This is one of the most successful and elegant styles of a wedding dress..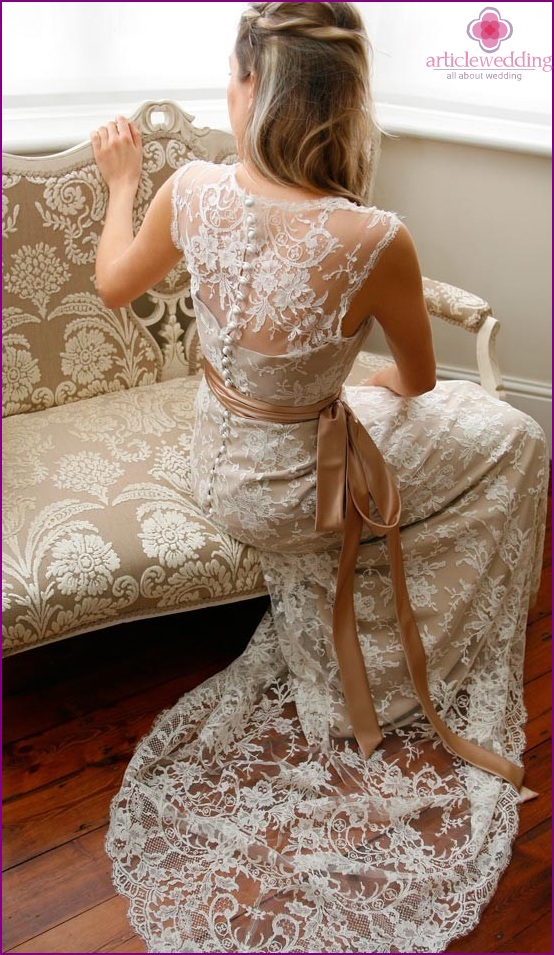 Openwork weaving
A wedding dress with delicate or asymmetrical stripes of fabric, creating the impression that the dress is about to slip off fragile shoulders, is another interesting option for a bride with an open back. He will make you look like a nymph from an ancient Greek myth or a seductive mermaid from a fairy tale.
Maximum openness
Bold brides who do not like the traditional styles of wedding dresses can try on several extravagant models with the maximum open back. Such a dress looks very seductive and unusual. An interesting option is the lace trim of the cutout line. The dress with the maximum open back looks organically when it is sewn «on a figure», and magnificent wedding dresses of this type run the risk of seeming defiant. But choose only you!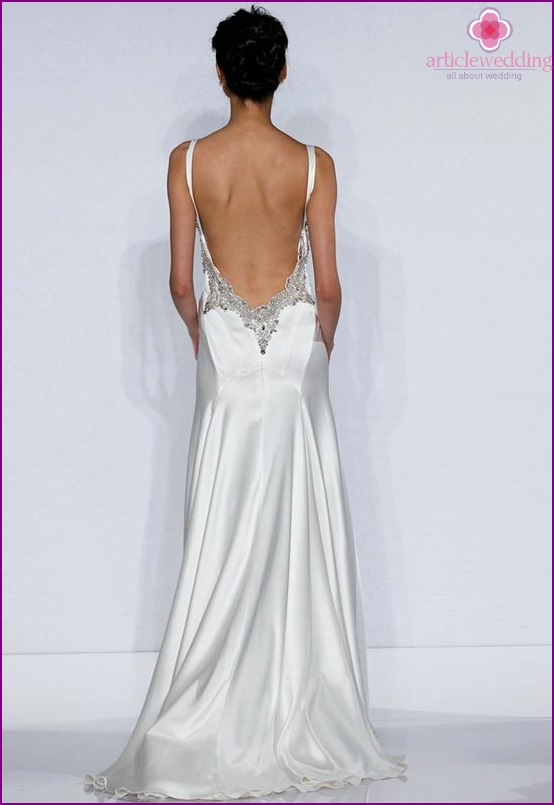 Lacing on the back
If you want a fluffy style dress «Princess», with a corset and an open back, take a look at models with lacing. The dress looks beautiful if the neckline is narrow and the braid is thin. Then the image will turn out to be attractive and playful. Thick lacing from satin ribbons does not always look appropriate, be careful with similar models.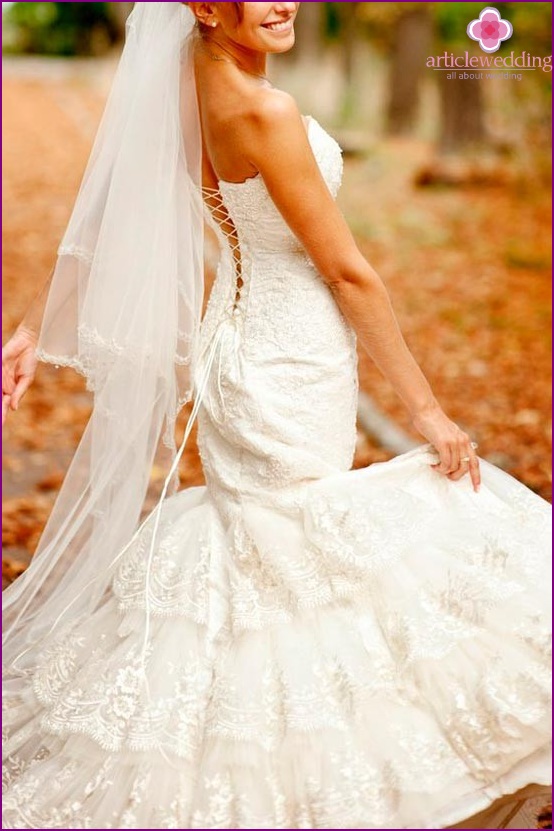 Dresses by Type «bolero»
An interesting option for a wedding dress with an open back is a model with a covered shoulder and «a window» on the back. It seems that the bride is wearing a bolero. Despite the open back, the dress looks quite restrained. A good option is lace trim of the front upper part of the dress, which smoothly passes into lace translucent trim of the neckline and shoulders.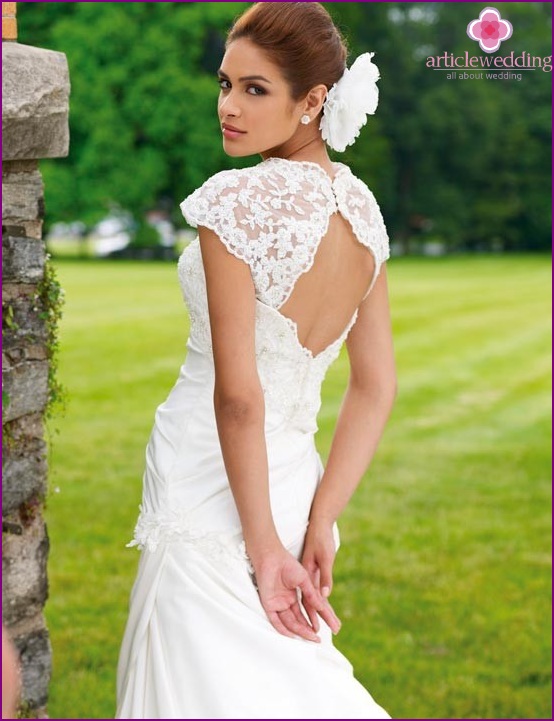 How To Wear an Open Back Dress?
An open back wedding dress is an extraordinary and seductive option. Be prepared for attentive looks. This is a style for courageous and charming girls. You can choose jewelry for an open back, for example, a pearl string or a multilayer accessory. Remember that a dress with an open back implies a certain hairstyle for the bride: either a short haircut or hair pulled up (preferably in a smooth elegant bun, head jewelry is acceptable).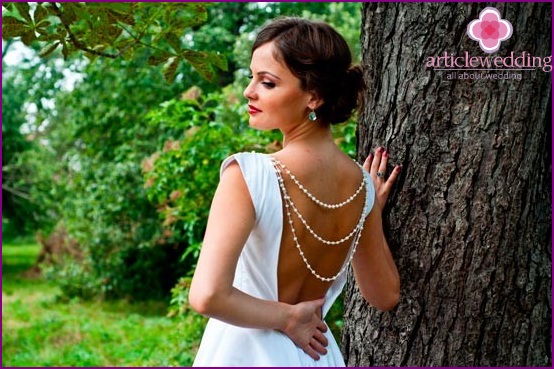 Elegant detail
The wedding portal www.articlewedding.com suggests choosing a long veil for a dress with an open back. She will make the image mysterious and elegant. The original detail of your outfit will become like a precious pearl in a mother of pearl shell.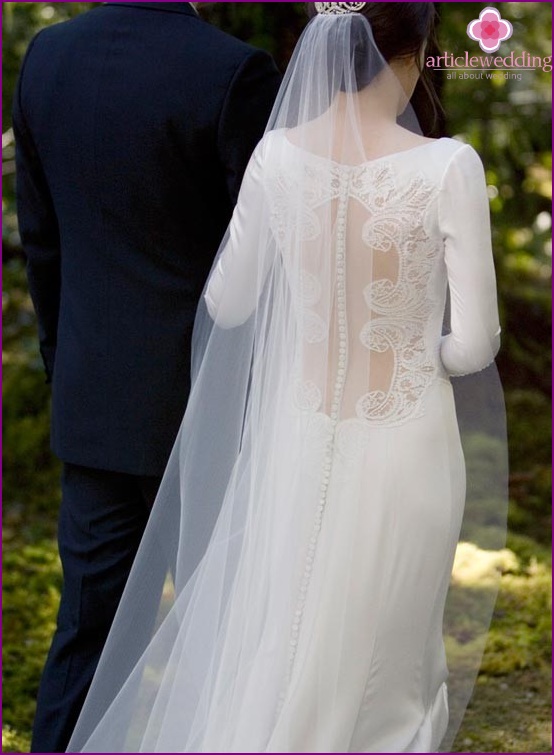 An open back wedding dress is a mysterious and attractive bride.!