Contents
---
---
A traditional white wedding dress is a classic outfit for the bride. However, some extravagant girls these days are increasingly choosing unusual, and sometimes even shocking, dresses of the bride. An elegant outfit is not enough for them to attract the attention of others and get into local newspapers. For this, the brave young ladies put on the most incredible and unexpected toilets, shocking invited guests and relatives.
Outrageous Wedding Dress Ideas
Brave and confident ladies, extremely extraordinary and bright personalities, natural born actresses can afford to wear a shocking bride dress. There are several gradations of the degree of strangeness of newlywed costumes. For some girls, bright scarlet decorative elements on a snow-white toilet are already a sign of vulgarity, for others, dressing in a shocking paper dress is quite normal.
Someone's black wedding dress can cause a real shock, but for ardent individualists this decoration will become a symbol of protest ordinary and trivial. The desire to put on your own wedding in a flamboyant costume or to decorate yourself with unimaginable accessories may be due to internal rebellion or lack of attention, which the bride is trying to make up for in such an unusual way.
If you consider yourself to be individuals with a bold and extravagant approach to choosing clothes, and also like to make an indelible impression on the audience that surrounds you, feel free to put on a shocking bride's dress for the wedding. Do not forget to take into account some nuances. For example, be sure to consult with a future spouse, whose support you will urgently need. If the groom is categorically against shocking shocking, it is better to refuse the idea. You do not want to quarrel with your future husband on the eve of the celebration.
Dress made of toilet paper

Fashionable couturiers Katherine Chalifox and Anne Kagawa Lee presented a shocking wedding dress that will definitely appeal to an extraordinary bride. The shocking model of wedding decoration, the creation of which required a large amount of toilet paper, looks not just original, but even super-creative. In this outfit, it's better not to get caught in the rain, also stay away from open fire.
Choosing toilet paper for making a shocking wedding dress is unlikely to lend itself to a rational explanation. The invited guests can only guess what the bride wanted to say with such an extraordinary dress. Perhaps this is just a manifestation of the subtle sense of humor of a resourceful young lady who wished in this way to defuse the too solemn atmosphere of the holiday.
From banknotes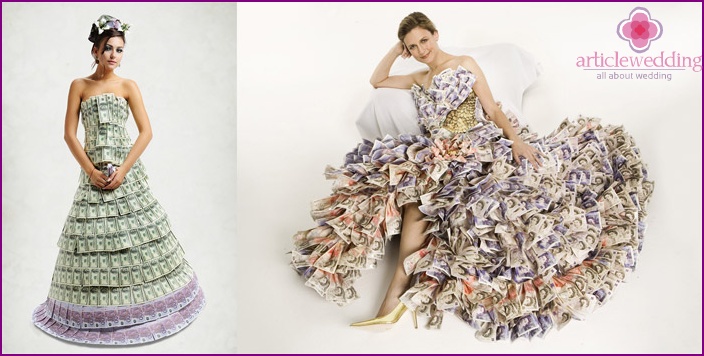 Among creative brides, money dresses are especially popular. At the same time, both metal coins forming a kind of wedding chain mail and paper notes can act as material. Bride in a million - an original image that will be remembered for a long time by both invited guests and heroes of the occasion.
Giving preference to a monetary dress, as in the case of toilet paper, one should not forget about the ease of ignition of this material. There is a high risk that the dress, designed to become a kind of symbol of the financial well-being of further family life, will become unusable very quickly if the bride actively moves or dances.
Of the feathers of a peacock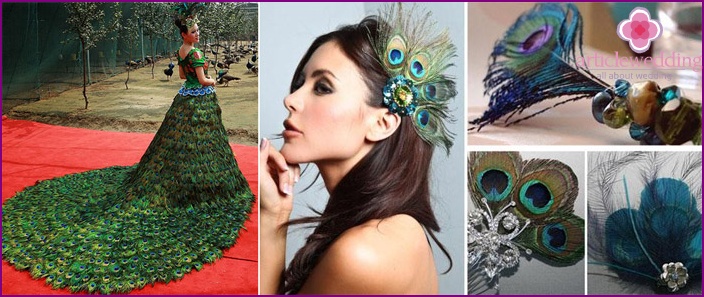 An elegant version of the bride's shocking dress to create which were used peacock feathers. An interesting model was presented by a fashion designer who took as a basis for his masterpiece 2009 stunningly beautiful feathers. This is a universal option for a bride who has an irresistible desire to excel, but does not want to go beyond the reasonable.
In such a crazy outfit, you will not only become the center of attention, but also insure your holiday from unforeseen incidents, such as a heart attack in an elderly relative. This is not to say that such an extravagant dress is comfortable to wear, however, comparing it with the rest of the shocking toilets, it is worth recognizing the leading position of this robe by several criteria. However, in such a dress it is better not to appear on the eyes of animal advocates, unless it is made from artificial analogues of peacock feathers.
Embroidered LED Outfit
A luminous wedding toilet, as if invented in the distant future, will turn the bride into a real princess. Progress and modern technology allow you to create amazing models with wired LEDs. A stunning and no less shocking dress, emitting bright mysterious light, will certainly become the center of attention of invited guests.
The bride's robe with sewn-in LEDs is the wedding dress of the future, which is likely to appeal to fans of the fantasy genre. To look at the same time stylish, modern and shocking, you should carefully consider the option of a luminous attire for a wedding. The main thing here is to provide for the features characteristic of such a dress. Connecting imagination, try to complement the image with futuristic accessories.
Shocking Edible Wedding Dresses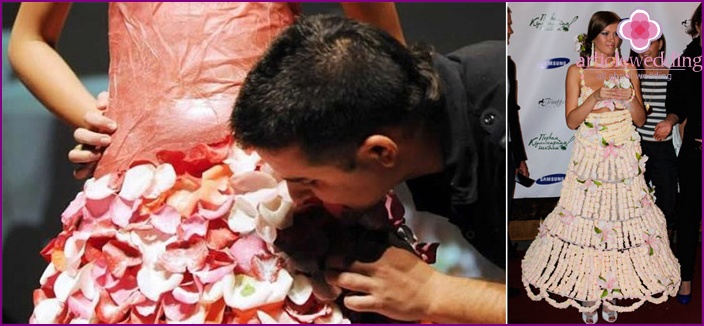 Choosing a shocking bride's dress for the wedding, you need to take care of some of the nuances in advance. For example, if the wedding will be relatives of the older generation, it is advisable to warn them in advance about the upcoming show. If the bride's robe is also edible, she will be able to show off in it only for a certain time. It is highly likely that the outfit will lose its attractive appearance all day long..
It is advisable to wear a luxurious sweet dress, for example, at a wedding ceremony or for holding a wedding photo shoot. The shocking outfit will remain in the memory and in the pictures, and for a long time will delight the young. Do not forget, an extravagant edible dress is a specific robe that will involuntarily limit your movements, as well as interfere with a comfortable stay at the holiday.
From sweets, cakes and chocolate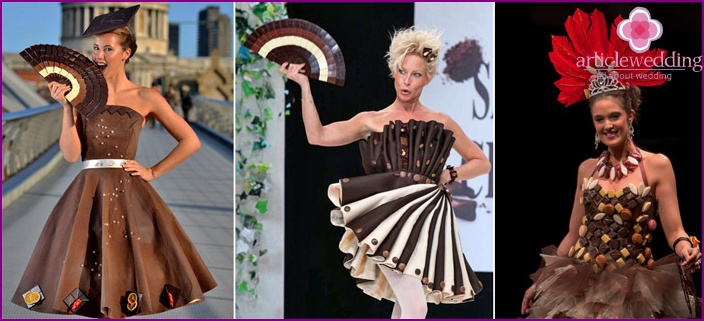 Modern resourceful designers come up with the most incredible and unexpected wedding clothes for brides, for the manufacture of which they use unimaginable materials. Sweet desserts in the hands of a skilled couturier may well become the basis for creating a shocking outfit. An original chocolate dress in the form of an edible cake is not just an unusual, but even an extreme option, the choice of which involves observing some features of operation.
From eggs, flour and cream
A wedding dress in the form of a magnificent holiday cake is a shocking option for the bride. A robe made using foods such as eggs, flour and sweet cream will surely make a lasting impression on guests. The dress is suitable for an extravagant photo shoot, but it is unlikely to be able to spend the whole day in this form without incident. If the cream begins to melt under the influence of the heat of the human body, the bride runs the risk of remaining, if not naked, then dressed in a shapeless sweet porridge.
In the form of a cake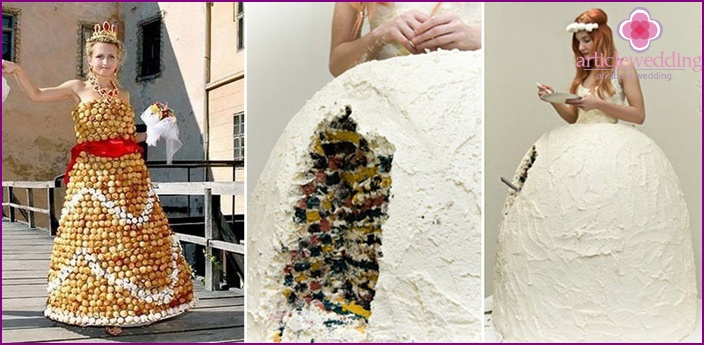 Bold modern brides have proved that a luxurious wedding cake is able to fulfill the function of not only a delicious sweet dessert, but also a shocking outfit. The unexpected decision to put on an edible treat on the occasion of his wedding should be well thought out, and most importantly thought out. To insure yourself against unforeseen situations, it is better to wear a cake-dress for a certain period of time, for example, for a wedding shooting or a ceremony.
Photos of the most shocking dresses in the world
Nowadays, extravagant brides, choosing between classical elegance and shocking outrageous, more often stop at the second option. Many find peculiar compromises when they put on elegant toilets decorated with fresh flowers on the occasion of the wedding. However, most of the brave ladies who decided to impress the public give preference to unimaginable, and sometimes openly vulgar models of decoration. Before going to a wedding ceremony in a bikini or with a naked bust, think carefully about relatives and your beloved bridegroom.