Of course, for the variety of wedding dresses presented and the widest price range, you need to say "thank you" to market competition! But the medal always has two sides ...
In the struggle for the client, many manufacturers, not honest in their arms, stamp wedding dresses under the well-known world names, as Adidas sneakers used to be stamped, under their own label - "Abibas". As a result, attractively low prices and insultingly low quality. It's a pity that the latter is revealed, as a rule, after the purchase, on the most solemn day.
Despite the fact that the prices for wedding dresses vary greatly, a priori quality work cannot be cheap. But in fairness it is worth noting that you can buy a great outfit for quite reasonable money. The main thing here is to understand why a comfortable Lexus costs more than a comfortable (according to the manufacturers) domestic Lada, or ... what you pay for when buying a wedding dress, for example, from Sottero and Midgley (Haute couture from Maggie Sottero).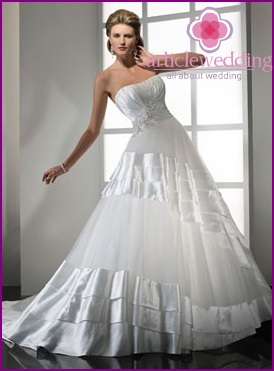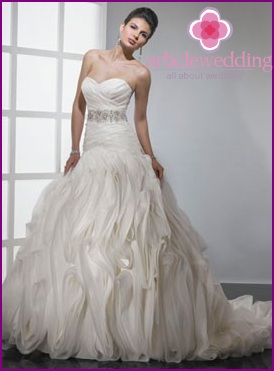 While many manufacturers from China, Belarus are trying to charm brides with a beautiful picture, having completely forgotten about convenience and quality, Sottero and Midgley were innovative in the design of wedding dresses, creating breathtakingly beautiful and impeccably comfortable models! Maggie Sottero's couture brand proposed a revolutionary form of corsets with a V-shaped lacing on a wide ribbon, thanks to which it was possible to ensure a perfect fit of the dress on the figure, without fainting the bride and not arranging her torture with stiff bones of a corsage. If you look at the materials that designers use Sottero and Midgley, then here, that not the fabric - then a masterpiece! If the atlas, then certainly with the effect of 3D-flickering "Shimmer" (Shimmer). If it's lace, then the unique Alencon "Alencon", which is not on sale, is so rare! If decor, then exclusively Swarovski Crystal and handmade brooches.
As for design: exquisite style, impeccable taste and originality - this is what Sottero and Midgley designers guarantee for brides. These are wedding dresses whose photos are fascinating, but in reality they are an obsession for the most sophisticated brides.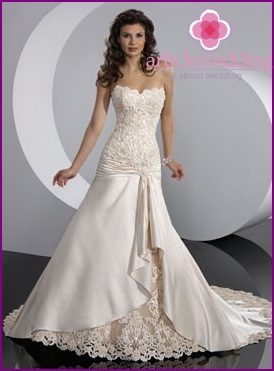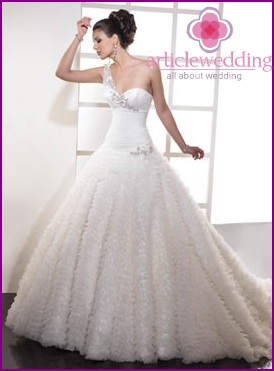 Can such an exclusive, where everything is thought out to the smallest detail, be cheap? The use of manual labor makes wedding dresses not only guaranteed to be of high quality, but also priceless! However, we repeat: you can buy a luxurious outfit at affordable prices. By purchasing a quality dress, you get much more than just a beautiful wrap. You get convenience, a guarantee that on the most important day the dress will not let you down either by the torn off beads or a corset bent into an accordion. In the end, you get the opportunity to be the queen on your most important day - your family's birthday!