Contents
---
---
Several centuries ago, elegant lace began to be used in the decoration of dresses. It was loved by the ladies of that time, because it allowed you to look exquisite. Modern girls also appreciate this material - its tenderness is great for a wedding. Lace wedding dresses of 2015 were presented in their collections by famous designers, brands, houses - Lebanese fashion lawmaker Zuhair Murad, Spanish brand Pronovias, Italian house Blumarine and many others.
Wedding dresses with lace top (PHOTO)
A lace corsage or bodice that goes into a smooth satin, batiste or silk skirt creates an elegant wedding silhouette, drawing attention to the face. An openwork top will become the main accent of the image if it is used in combination with a fluffy skirt made of dense material, and lace details will no longer be found on the dress.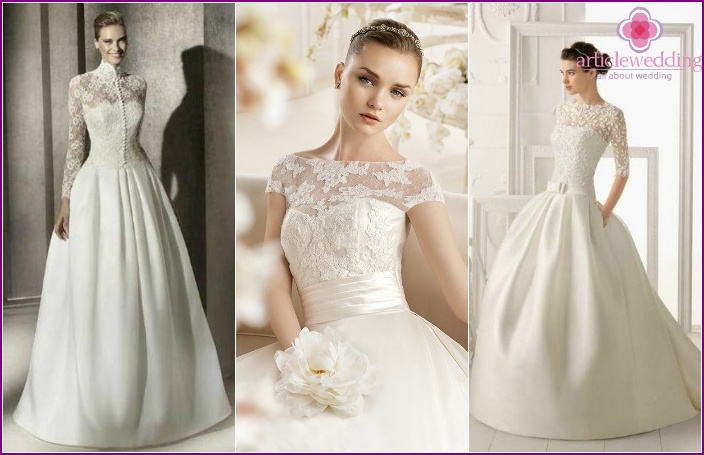 Wedding Dresses with Lace Sleeves 2015
Gorgeous translucent sleeves will decorate the bride's dress during the wedding, and after it is ideal for a church wedding. Sleeves are made using various fabrics - guipure, Venetian and other European lace-making techniques, coupon lace. Using the same lace for the neckline and long sleeves will be a great solution for a wedding in the cold season.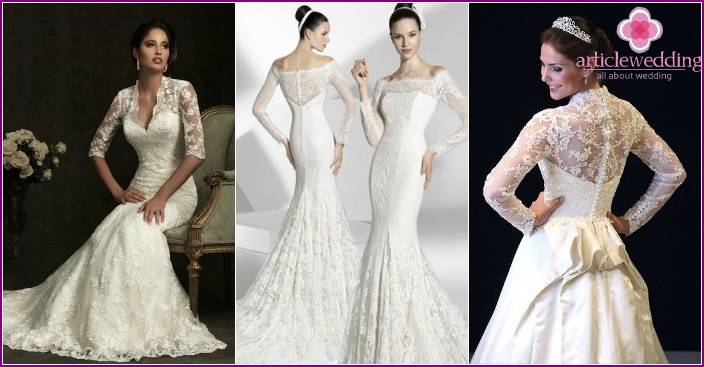 Short wedding dresses with lace
A short dress model is suitable for brides with a slim figure, as well as for owners of short stature and excellent physique. Textured fabric will add femininity to the bride. It is better to choose models of lace short wedding dresses in 2015, having a closed neckline, so that a restrained top balances a seductive bottom.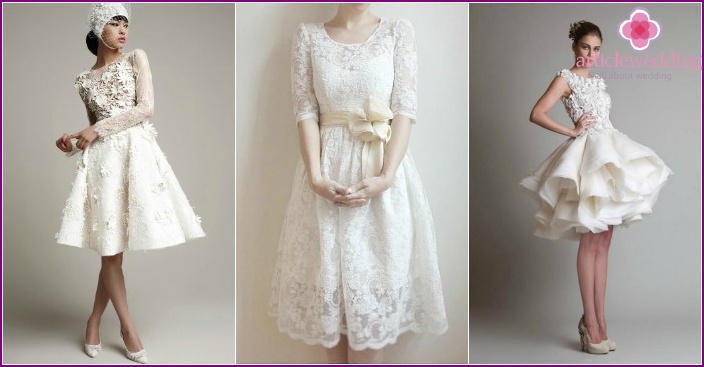 Open Back Lace Wedding Dresses
The cutout on the back will look beautiful in girls with an even, stately posture. Decorated with lace, it will add luxury to even the most modest dress. Having preferred a model with an open back, keep in mind that you can effectively look in it only if you have perfect skin, a chiseled figure, appropriate accessories, hairstyles and shoes.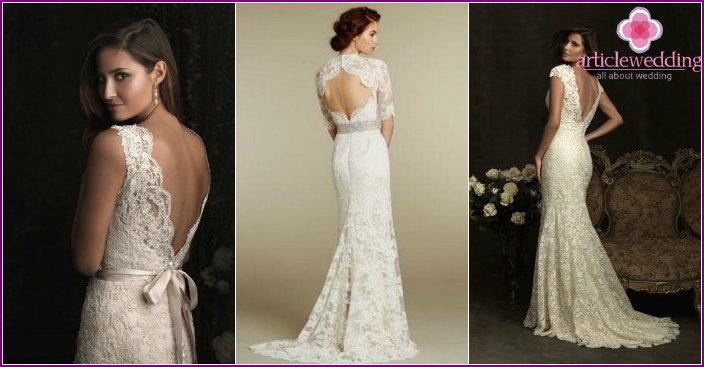 Ballroom models of 2015 (PHOTO)
In the decoration of classic lush silhouette models "Princess" different elements are involved - sequins, pearls, embroidery, ribbons, drapery. Intricate patterns can be decorated with the bottom of the volume hem, corset, sleeves or the entire dress. A fluffy cascade skirt will look original.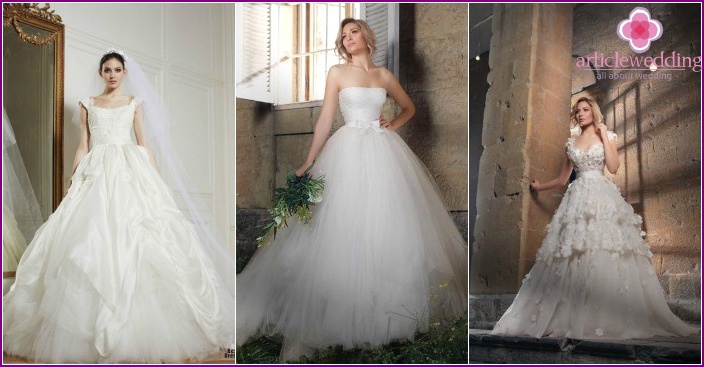 Narrowed
Narrow wedding lace dresses, completely fitting the figure, look sophisticated. The fitted cut will emphasize all the advantages and disadvantages of the figure, therefore, such a style should be chosen by slender brides with a balanced figure. An original addition to the image will be a veil, decorated with lace around the edges. A wedding style robe with a long train can interfere with your movement. A.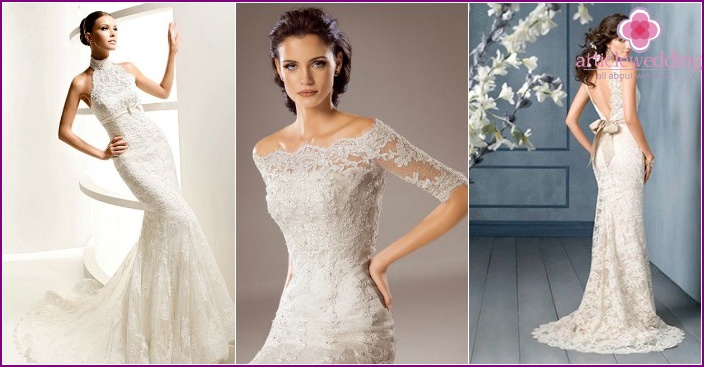 Style «mermaid»
Season 2015 is rich in various models of the popular style «mermaid» (fish). The silhouette of the model is a tight-fitting knee-high top, turning into a flared skirt. This image is also suitable only for girls with an ideal figure. The style of the model will emphasize your graceful posture and waist, making the image sophisticated and luxurious.
Straight Sheath Dress
Stylish sheath dress does not require additional decor, except for lace trim. It often has a collar, sleeves that end with cuffs. It does not matter how magnificent your wedding will be, a sheath dress with lace looks equally elegant both at crowded celebrations and at chamber weddings. Choose the length for this outfit, according to the style of the celebration. Due to the simplicity of the style, it is easy to choose accessories for it.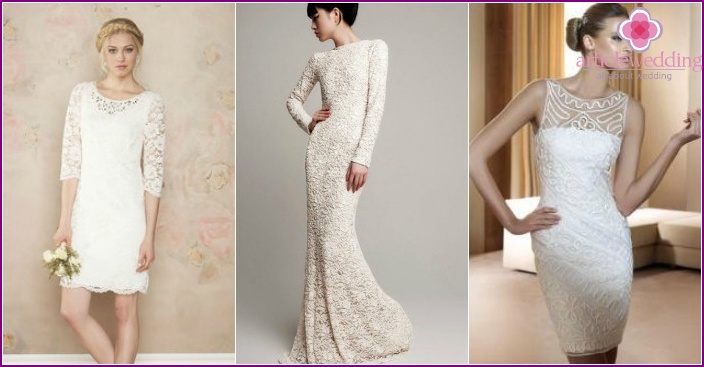 With a lace train
A magnificent openwork train perfectly emphasizes the majestic palace image of the bride, and lace trim richly decorates the fabric. It can be of different lengths, depending on the chosen style. There are loops entirely sewn from lace, having lace inserts or rims.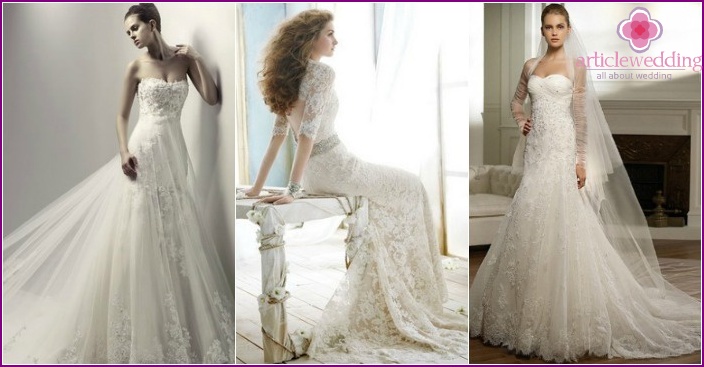 Colored lace dresses
Instead of white on the catwalks, you can increasingly find bright, unusual colors for the wedding look - ivory (ivory), mint, cream, red shades. The color outfit must match the girl's color type, combine with all accessories.
With lace cape
A weightless lace wrap through which the silhouette of the dress shines through, the graceful shoulders of the bride, emphasize a romantic, delicate image. It will come in handy at a wedding to hide bare shoulders or a deep neckline. Lace bolero will also look great (as in the photo below).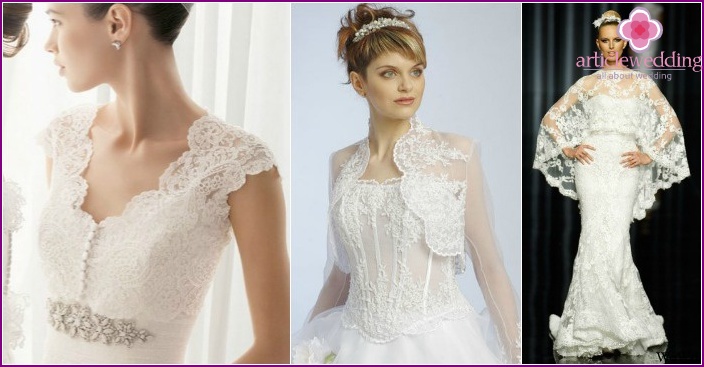 Lace Maternity Dresses
Pregnant girls need to pay attention to styles that are successfully emphasized or hide their position. High waist, lace trim on the bodice, flowing light fabrics will allow girls in position to look great and not lose their sense of comfort.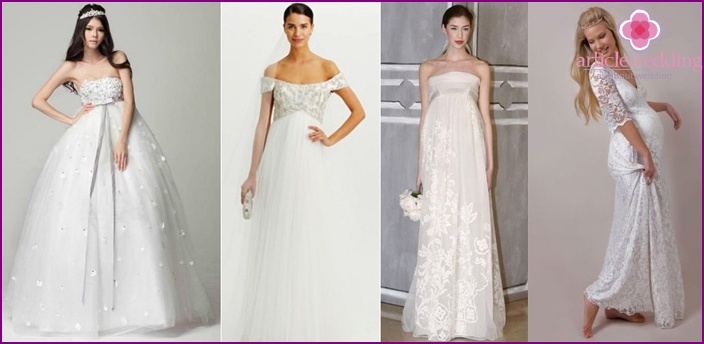 How to choose a wedding dress: designer tips
Buying an openwork wedding dress for a wedding ceremony is becoming a trend. Here are some tips to help you choose a wedding dress and choose the right accessories for it:
The most fashionable models - without unnecessary decoration, bows, ribbons, flowers.
The tight-fitting laces expressively emphasize the figure, but at the same time expose the flaws - be careful.
Lace trim looks equally good with a diamond necklace or a simple pearl necklace, but you should not get carried away with a lot of accessories.
To decorate hair, a veil, a veil, flowers, hairpins are suitable - the main thing is that they do not distract attention from the very attire of the bride.
Remember the shape type: for «pear-shaped» a-silhouette princess is suitable, in rare cases - a mermaid; «round» - it is better to choose a Greek outfit, «hourglass» everything is allowed, but most likely they will look in «mermaid».
Lacy wedding attire will give you tenderness, femininity, elegance. A bride dressed in such a dress looks touching and innocent. Tell us in the comments which models you liked..