Contents
---
---
Style «Mermaid» or «Fish» popular with brides. The dress in the form of a fish tail tightly fits the figure of the girl from the very top to the thigh or knees, and then expands. Mermaid wedding dresses with a train make the image more seductive and sexier. They can often be found at royal weddings. Fashion for such wedding styles has been successfully held for several decades. Models are constantly being improved, but the elegant silhouette remains unchanged..
Models of dresses Mermaid with train
There are a lot of options for tailoring a one-piece or detachable style of a mermaid. The lower part of the skirt can be solid or made with wedges when the dress expands only at the back and goes into the train. «Tail» mermaids are sometimes sewn by cut-off, and the top of the dress in this version is created as a classic case, to which a fluffy skirt with flounces, draperies or frills is sewn. Mermaid wedding models are multifaceted and diverse..
They come with or without straps, with sleeves and a bare back, with a neckline «heart» and deep neckline. Some styles have a modest and fitted skirt, while others are sewn with fluffy skirts with a long train. Each year, designers give brides thousands of opportunities to choose a completely exclusive and unique version of the mermaid dress for the wedding..
With open back
If you are confident in yourself, like compliments and try to be in the spotlight, then you better choose a mermaid dress with a long train and an open back for the wedding. Make sure that no traces of a swimsuit or cosmetic defects are visible on exposed parts of the body. In this outfit, you need to be able to keep a beautiful posture, and a slender figure should not let the stand out folds of fat at the time of the dance or photo shoot. The back opens completely or partially, sometimes it takes the form of geometric shapes or other shapes:
trapeze
oval;
wedge-shaped;
a rectangle;
a triangle;
asymmetric form;
in the form of a heart;
teardrop shaped;
round;
diamond-shaped.
All this beauty is decorated with lace, rhinestones, embroidery, gold threads, bows, ribbons, lacing or other elements. Depending on the finish, the length of the veil, gloves and other accessories that should be airy are chosen so as not to overload the image with unnecessary details and not to cover the beautifully designed back. Shoes purchased appropriate style.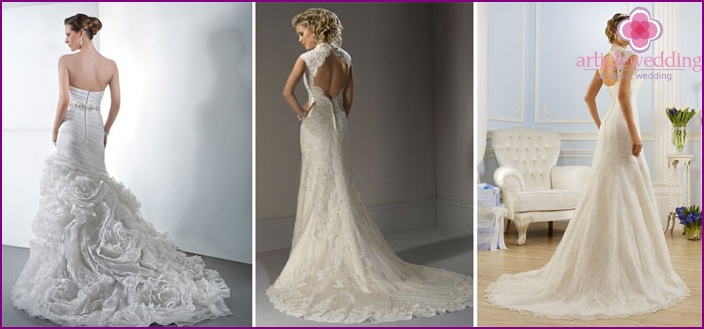 Beaded Lace
Especially popular with brides is a mermaid lace dress embroidered with beads. This cut pleasantly outlines the figure, hiding flaws. The bride in this outfit resembles a fairy princess, and the Little Mermaid from a fairy tale can only envy her. Lace wedding dresses look very rich. The structure of thin fillet lace creates the foam of a full skirt, ending with a long train of Irish weaving.
Jewelry for this dress is not needed at all. A lace wedding dress with a train is a real masterpiece of art, which in itself is an adornment. The only suitable wedding attribute is a bridal bouquet. The veil is not needed here, but the diadem with sparkling crystals will be very suitable for the newlywed. For courageous girls, designers created mermaid models made entirely of transparent lace, which is densely covered with flowers in the bodice.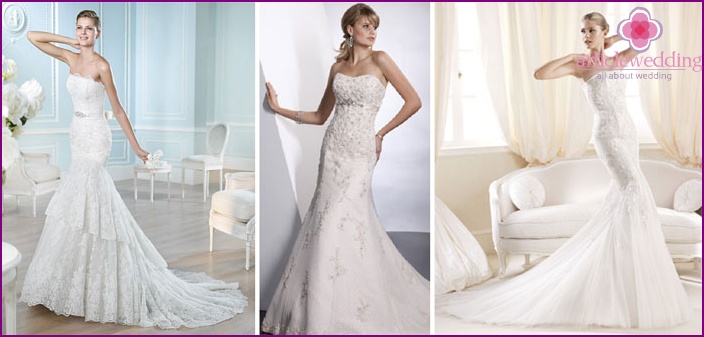 Closed dress with delicate embroidery on the back
If a girl wants to look chaste, but seductive in the eyes of the groom, she should choose a mermaid style with a closed but lace back or decorated with elegant embroidery. Such a model will emphasize modesty and style at the same time. This is a win-win version of a wedding dress that has been tested for a decade, attracting brides of all ages.
Closed dresses are considered classics, so they will never go out of style. Mermaid models made of light chiffon or a denser satin will make the bride fragile and innocent, focusing on a thin waist, high chest and seductive hips. The combination of expensive fabric and delicate lace will allow the girl to create a romantic image, but remain restrained and modest.
With an airy decor and a large train
Stylists claim that the mermaid dress is perfect for tall brides. But what about miniature girls with a chiseled figure who want to wear an outfit of this style for the wedding? The preferred element of a dress with a train is the neckline, regardless of the parameters of the bust. An open back draped with an airy transparent white scarf will fulfill the function of visually increasing growth.
For girls of short stature, there are mini mermaid models that are short in front and in the back turning into a long train of light airy fabric. Such dresses will be an excellent choice for owners of slender legs. It will be much more convenient to move and dance in them than in long dresses. A train will visually lengthen the figure, creating an elegant silhouette.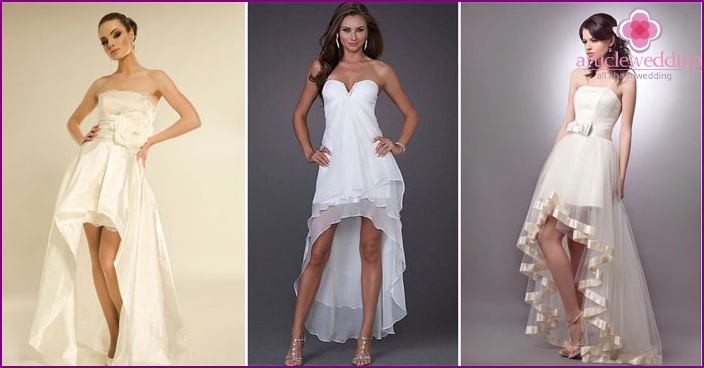 How to choose a dress with a mermaid style train
The mermaid's wedding outfit makes a woman's figure look like an hourglass, which at all times was considered ideal. This model makes the girl slimmer and taller, but still, not all brides are suitable for her. Full girls will have to look for stretching underwear for such an outfit, because the fabric that tightly fits the figure will emphasize the extra centimeters on the waist and hips. It is also better for magnificent brides to pay attention to the train, which should start from the middle of the thigh, and not under the knee.
Would you like to visually enlarge your hips using the mermaid style? Try on a model with a top that is draped in a crease and with a belt not on the waist, but on the hips. To narrow your waist, use a darker belt. If you do not want to draw too much attention to your figure, then pay attention to silk models. If you prefer a frank wedding outfit, then choose a model made of thick fabric. But when buying a dress a year, be sure to follow a few rules:
If you want to look modest, then give preference to a dress with sleeves.
If you want to show the beauty of the breast, but are afraid that at some point it may be exposed, choose a model with straps.
Be aware that thin fabrics accentuate the lines of your underwear, so don't wear lace underwear, it's better to use seamless or smooth.
Choose accessories, depending on the model. If the top is open, then get a nice necklace, but if the bodice is embroidered with beads or decorated with a different decor, it is better to refuse wedding decorations.
Photos of wedding dresses mermaid with a train 2015
When putting on a mermaid wedding outfit, you should be completely self-confident. There will be no other way. You will immediately notice that in this dress the posture is straightened, the gait changes, the appearance becomes more feminine, turning you into a queen. Look at a few magical wedding images that are created with the cut mermaid. We hope that our ideas will help you make the right choice..