Contents
---
---
What dress to wear for a sister's wedding
A wedding is a wonderful joyful event not only for the bride and groom, but also for their relatives. If the beloved sister is getting married, it is worthwhile to take care of the dress for the celebration in advance. How to choose a dress for your sister's wedding? In answering this question, several nuances should be taken into account. Preferring a beautiful, spectacular outfit, do not forget that the main focus of the holiday should be on young.
What can and cannot be worn for a sister's wedding?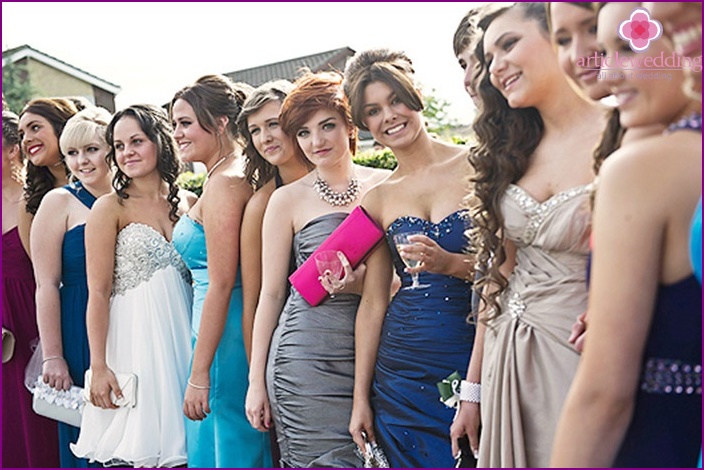 Selection of a dress requires compliance with some unspoken rules. The features of the bride's dress should be considered. Do not overdo it with the brightness of the image. Looking at your sister's wedding is more effective and noticeable than the bride, is considered a sign of bad taste. All compliments and enthusiastic looks should be directed towards the hero of the occasion. It's better if your sister's wedding dress is modest but tasteful.
The sister of the bride is a relative of the newlyweds, so she will not remain without the attention of the guests. For this reason, the choice of dresses on the occasion of such a wonderful festive event should be approached carefully and thoughtfully. The style and length of the outfit is chosen in accordance with the features of the figure and color type. It will not be superfluous to dilute the toilet with exquisite accessories. It's best to coordinate your outfit with your sister in advance..
Tips for choosing a wedding dress sister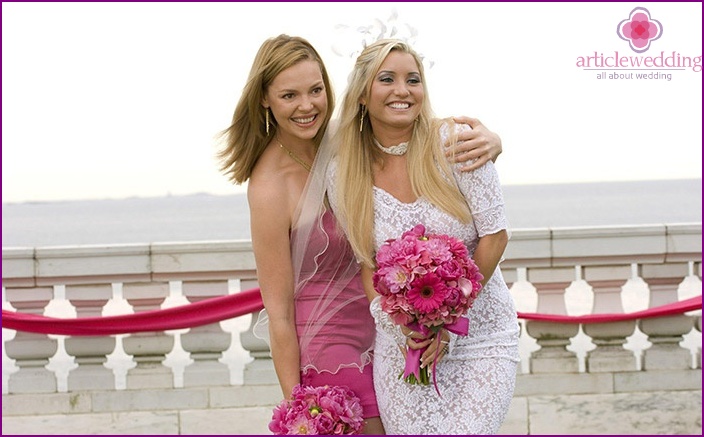 Choosing a dress for a sister's wedding is a responsible task. First of all, this is due to the fact that being a relative of the newlyweds at the holiday, the attention of those around cannot be avoided. The image should be moderately bright and at the same time restrained. You, as the sister of the bride, should not attract more attention to yourself at the wedding than the hero of the occasion. To look modest and charming - this is the perfect balance that you need to pursue when choosing a dress for the wedding of your beloved sister. In addition, it is worth considering your color type, features of the figure, time of year.
Color spectrum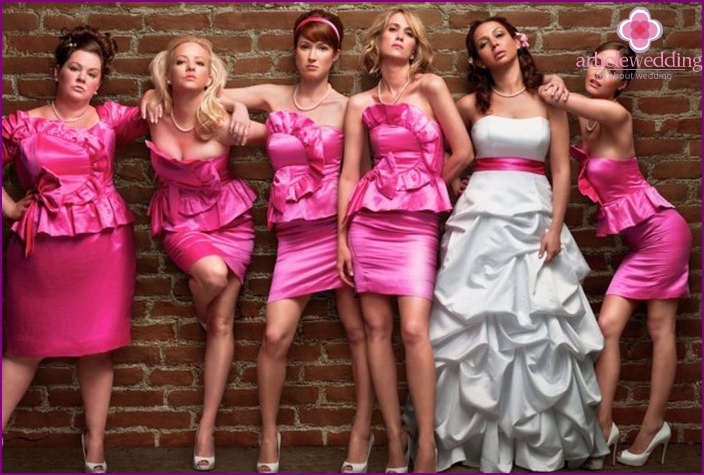 When choosing a dress to celebrate the wedding of your beloved sister, special attention is paid to the color scheme of the outfit. In this aspect, you need to consider your color type. Specialists distinguish four main types of women, which are conditionally called winter, spring, summer and autumn. Having decided on your color type, it will be much easier for you to choose the color of the dress for the sister's holiday.
In girls belonging to the color type «winter», usually dark eyes and hair, delicate fair skin with a pinkish or olive tint. Such women are recommended to give preference to gray, purple, blue, blue. Do not put on dresses in warm colors. For color type «Spring» blue or green eyes, fair hair, skin with a slight pinkish tint are characteristic. In this case, gentle pastel colors are ideal. Cold shades recommended.
Girls of type «summer», usually have fair hair, green or brown eyes, fair skin. Experts recommend giving preference to green, pink, blue and gray colors. Do not choose the outfit of yellow, purple, blue or red. Color type «fall» - This is usually red or dark hair, dark gray or dark green eyes, dark skin. In this case, orange, olive, brown are perfect. Girls belonging to this type should not choose light shades in clothes.
Body Features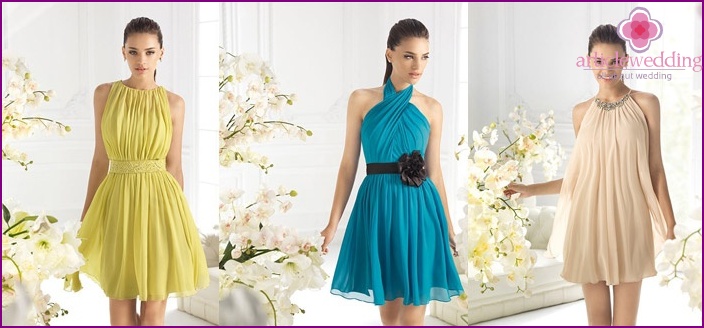 When choosing the style of an evening dress for a wedding, you should consider the features of your figure. To look perfect at your sister's holiday, you need to think through your outfit to the smallest detail. In this aspect, several basic types of shapes are distinguished. At the same time, it is quite possible to correct almost any drawback using a properly selected dress.
If you have small breasts, thin shoulders and arms, but full legs and hips, the right dress will help shift the focus on the merits of the figure. A silhouette outfit is good in this case. «trapeze». A draped skirt and a slightly high waist of the dress will help to make the figure visually proportional. An elegant bolero jacket or elegant trim will help to emphasize a slim top..
When a girl has a voluminous top, broad shoulders, luxurious chest and hips, but at the same time a very thin waist, experts call this silhouette «hourglass». This figure is close to perfect, therefore, allows you to wear dresses of any styles. A slender waist will be emphasized by a corset. A good choice will be the dress of a trapezoidal silhouette. In this case, there is no need to choose outfits in the style of «Empire», as well as styles of straight cut.
If the bride's sister has shoulders wider than hips, a small breast size, and there is practically no waist, she should focus on the advantages of this type of figure. As a rule, such girls are happy owners of slender legs, which medium-length dresses will help to emphasize. The deep V neckline will look great.
Narrow shoulders, full legs and hips, a lush chest, a high wide waist suggest a choice of outfit with a deep neckline, seductively fitting top. Visually expand the shoulder line will help the bell sleeve. Specialists recommend girls with this type of figure to choose fluffy skirts with vertical assemblies. A good choice - a dress on the smell. Avoid too tight outfits.
If you have wide hips, a back and a neck, a full waist, a magnificent breast, give preference to trapezoid styles of dresses. In this case, experts advise to pay attention to the shirt top. Visually hide the flaws of such a figure will help a fluffy skirt. You should not choose tight-fitting outfits that will visually emphasize the volume of the silhouette.
When the bride's sister has a wide chest and shoulders, a short waist, lush hips and chest, but slender legs, dresses should be chosen that emphasize the femininity of the figure. Perfectly tailored outfits with light drapery. To shift the emphasis on slender legs will help the length of the skirt to the knee. Pay attention to dresses with sleeves or slightly covered shoulders. Bandeau dresses are contraindicated for wide shoulders.
Dress length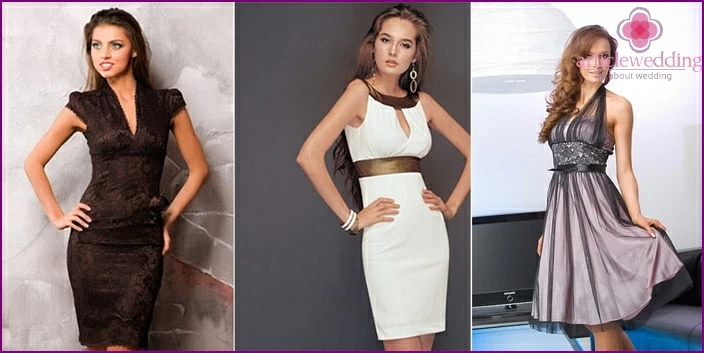 When choosing a dress for a celebration on the occasion of the sister's wedding, attention should be paid to its length. Skirts too long on the floor are more suitable for formal social occasions. Short dresses often look vulgar and defiant. Competitions can be held at the sister's wedding, which will be at least inconvenient to take part in such an outfit. The optimal length is up to the knee. In European society, an elegant pantsuit is considered a sign of good taste..
The choice of outfit depending on the season
The last criterion for choosing a suitable dress for your beloved sister's wedding is based on the time of year when the celebration will be celebrated. In winter, it will be appropriate to choose an outfit made of dense fabric, for example, satin, velvet or satin. To celebrate your summer wedding, choose outfits made from light materials such as silk, chiffon and lace..
If your sister's wedding is planned for the winter, pay attention to the choice of outerwear. Prefer the most elegant options, such as a coat, a classic coat, a fur coat or short fur coat. The fact is that shooting a wedding ceremony often takes place on the street. For this reason, you should not neglect the choice of outerwear for your sister's wedding.
Photo of stylish dresses for the bride's sister