Contents
---
---
The main difficulties that arise when choosing an outfit for a winter wedding are not only in determining the main holiday costume, but also in finding the right outerwear, several pairs of shoes and accessories. Moreover, it is important that all the details are in harmony with each other. With the help of these tips, you can create a vivid and memorable image.
The basic principles of choosing clothes for a wedding
Preparing for the holiday involves choosing a dress, shoes and accessories, creating hairstyles, makeup. In theory, this is easy, but when the time comes for practice, many people have a question: what is the best way to dress for a winter wedding? There are a huge number of options, so you can easily create the image in which you look beautiful and stylish. Here are some important tips regarding choosing a winter wedding dress:
Refuse white dress. Remember that the only girl in white at the wedding should be the bride, so you should not spoil her mood and wear an outfit of the same color. Prefer a bright suit or dress decorated with a floral print or pattern - there are many alternatives.
Please note that for a winter wedding, it is worth taking removable shoes. Since the banquet usually takes place in the restaurant, and wearing warm boots all evening is inconvenient, removable shoes will be a good solution. Match evening dress shoes with heels, such as ankle boots or shoes.
Be sure to wear stockings or tights. Despite the fact that most of the time you will be indoors, there is a risk of freezing and getting sick.
If you were invited to a wedding, which is organized in a certain style, then you need to choose clothes taking into account these topics. Some newlyweds, especially those who like to have fun, prefer a theme party to a standard wedding celebration. Therefore, you need to come to the holiday in a costume that matches the given theme, for example, cowboy or sea.
Pregnant girls are advised to choose something light and flowing. In such clothes you will feel comfortable throughout the evening.
What to go to a wedding for a woman in winter?
For a winter wedding, a girl can choose a dress. It's warm in a cafe or restaurant, which means that nothing prevents you from putting on an outfit of any material. However, it is worth remembering that clothes should be chosen comfortable to feel comfortable all evening. Moreover, you have to dance a lot and participate in competitions. This rule applies not only in winter, but also in any other period of the year. Therefore, the optimal choice would be a dress of medium length. Such a skirt will not bother your legs or look too frank.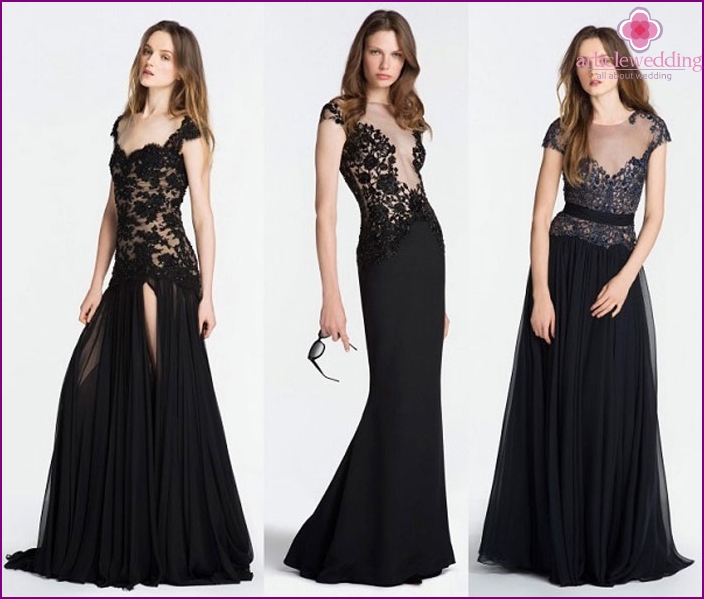 A girl can choose any color for her outfit. Unwanted is perhaps only white. In case the restaurant is cool, you need to stock up on a bolero or jacket. A good alternative to a dress for a winter wedding can be an evening suit. Moreover, it is advisable to refuse a trouser suit - this is more a casual option of clothing than a festive one.
At the wedding, it is better to come in the most beautiful and sophisticated outfit. So you show respect for the young and show that this day is as important and joyful for you as it is for them. The color scheme of the costume can be different: from rich and bright colors to deep and calm tones. Do not be afraid to create a bold look by combining a fashionable blouse with a suitably styled skirt. Having successfully selected accessories and shoes, you will complete your festive look.
Winter wedding dress
Winter wedding dresses can be short or long, cocktail, luxuriant, with or without draping. The choice is huge, but it is recommended to stay on such an outfit that will suit your figure: it will hide all the flaws and emphasize the advantages. Mini dresses should be discarded, not only in winter, but in autumn and in other seasons. This option is impractical, because during the evening you will feel constrained and will not be able to actively participate in the entertainment offered by the host of the celebration..
Since the winter wedding will be held indoors in a cafe or restaurant, you can even afford a short-sleeved outfit, or even without it - a bandeau or straps. But in this case, you should definitely take a bolero or jacket. Choose a dress with a beautiful combination of colors, decorated with lace, fashionable prints. The European tradition of choosing the same outfits for bridesmaids is gaining popularity. If the bride decided to do the same, it is necessary to please her even when she does not like the color or style of the chosen dress.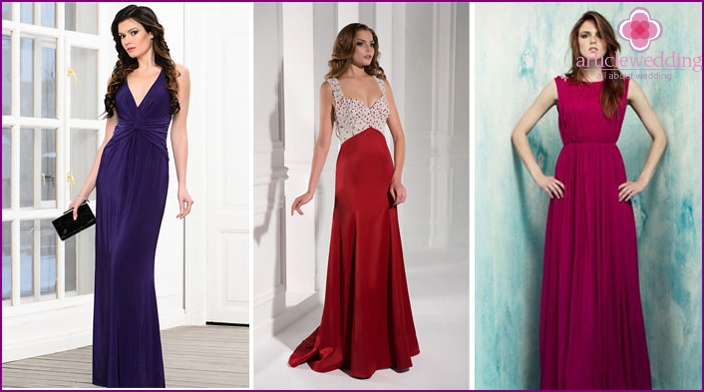 Outerwear
The most successful option that fits any dress, skirt or suit is a stylish fur coat. Its style can be completely different, as well as the length of the product. However, it is better to choose such a model of a fur coat for a winter wedding, which has a large hood. This is necessary so as not to spoil the evening hairstyle. If your wardrobe does not have fur outerwear, then you can wear a classic coat or sheepskin coat. An alternative to a fur coat will be an elegant cloak or vest. Since guests are usually driven in cars, there is no reason to worry that you will freeze in the cold.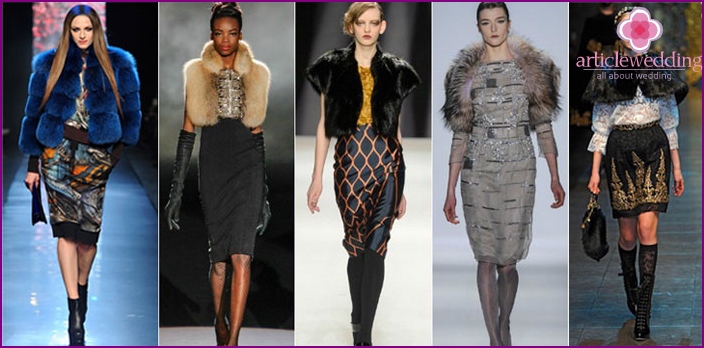 Shoes & Accessories
For a winter wedding, you will need not one, but two pairs of shoes. Warm boots are necessary for the street, and for celebration in the room it is worth taking evening stilettos. Some will find that the sandals option is also suitable for a celebration, but this is not so. Despite the heating, which is probably provided in the restaurant, your feet may freeze. And do not forget about tights. In addition, you will need accessories:
Elegant handbag or clutch bag matching color shoes.
A scarf and gloves that are useful for outdoor activities. And it's better to choose leather gloves, because they look respectable than knitted or other.
For a dress, you can choose a stylish belt that will emphasize the waistline. Universal colors of the accessory - silver and gold.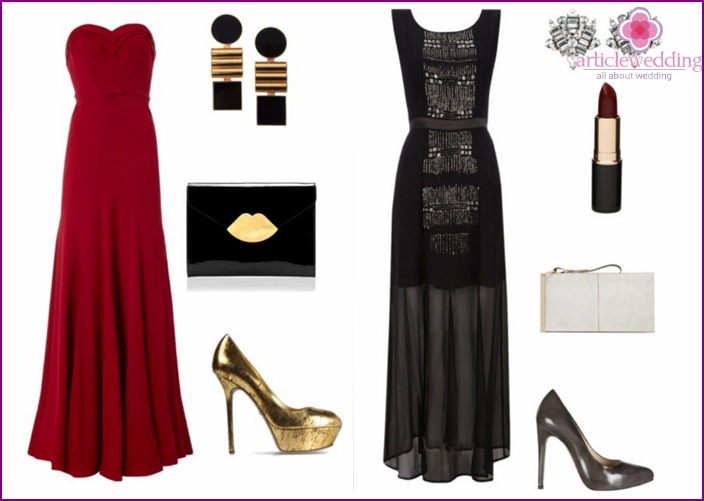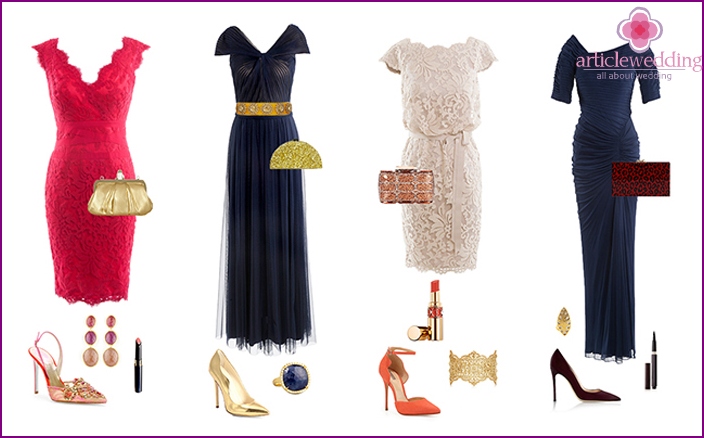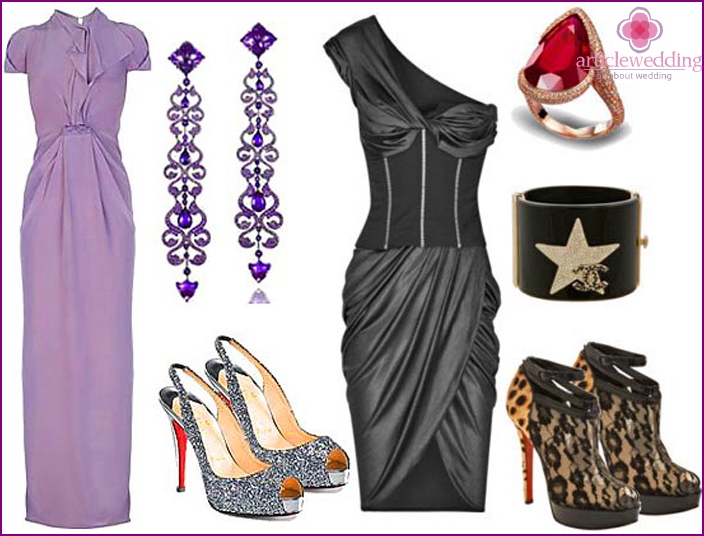 Men's wedding dress code for a wedding in winter
If you were invited to a celebration that begins in the afternoon, then don't wear a tuxedo - this is inappropriate. According to etiquette, this garment should be worn only after 5 pm. Therefore, you must come to the wedding in «morning suit», and by the evening change into a tuxedo. A light suit is suitable for the first half of the day, but it is possible to limit yourself to a shirt and trousers. Do not forget that a short-sleeved shirt eliminates the need for a tie. A dark suit is suitable for the evening, and a tie must be chosen in a different color.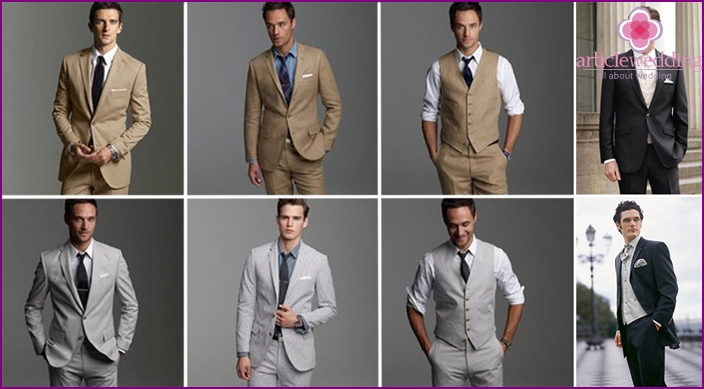 Video tips for choosing a wedding dress
Sometimes guests spend as much time preparing for the wedding as the bride and groom, especially if it is a celebration of their immediate family or friends. And since appearance is a key part of preparation, the selection of a dress usually takes a lot of time and effort. If you were invited to a winter wedding and choosing a costume is difficult, then with the help of tips from the video, you will find out what to wear and can create a suitable look.
Photos of wedding dresses in winter 2016
Going to a wedding organized in winter is not necessary in a warm dress. Most likely, it will be hot in the restaurant. Pay attention to outfits of bright colors or calm colors with decorative floral inserts. If you like a dark dress or suit, then you can always add it with beautiful accessories and shoes. Remember that the decoration that you wear for the wedding should be combined with the overall image..