Contents
---
---
Every woman dreams of preserving an important period of her life - pregnancy - not only in memory, but also in photographs. Often girls hire professional photographers, organize a real photo shoot. Ideas for a pregnant photo shoot can be completely different, it all depends on the wishes of the pregnant woman, season, plans of the photographer. It is important that the photo session brings joy, positive emotions to the participants, then you will definitely get beautiful pictures.
Location
Choosing a venue for a pregnant women's photo shoot is simple, but often the choice depends on several factors: weather conditions, the well-being of the pregnant woman, and the specific concept of the photo shoot. Also, the choice of place depends on the genre, format of the photo shoot, style, image of a pregnant woman.
In a studio
A popular venue for a photo shoot for pregnant women is a photo studio..
The advantages of this choice:
No one will interfere, do not disturb.
Adverse weather conditions will not spoil photography.
At hand all the necessary attributes, accessories.
The room, as a rule, is always warm, therefore it is possible to expose the tummy without fear.
It is possible to realize any ideas here..
The studio always has at hand the necessary, high-quality lighting, due to which the photos come out bright, clear. The photographer will be able to choose the necessary scenery that matches the ideas of the shooting and will create the proper effect.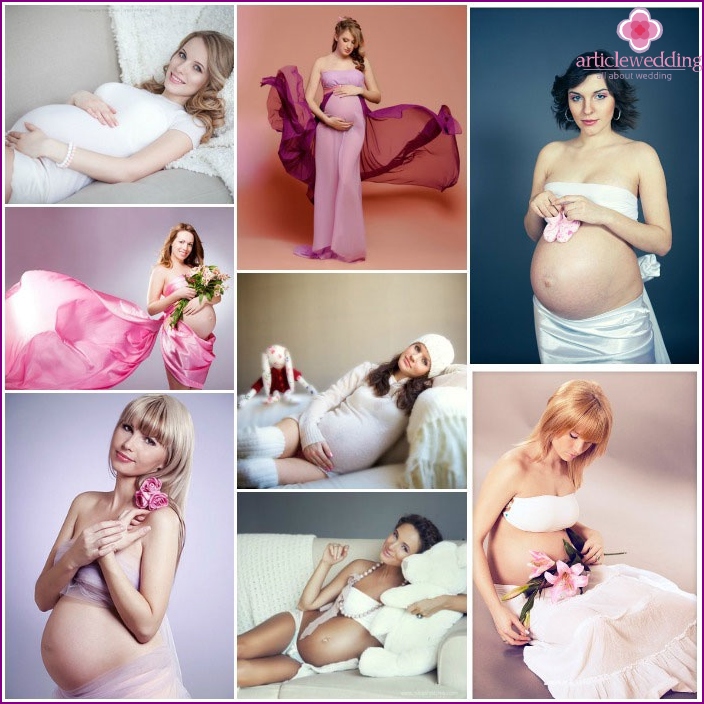 At home
Often a photo shoot is carried out at home, focusing on preparing future parents for a meeting with the baby. Ideas for holding a home photo session of pregnant women are also diverse..
Things for the child, pieces of furniture fall into the camera lens. A girl expecting a baby is photographed in a familiar environment, so she can completely relax, feel relaxed, and the photos will turn out natural, laid-back.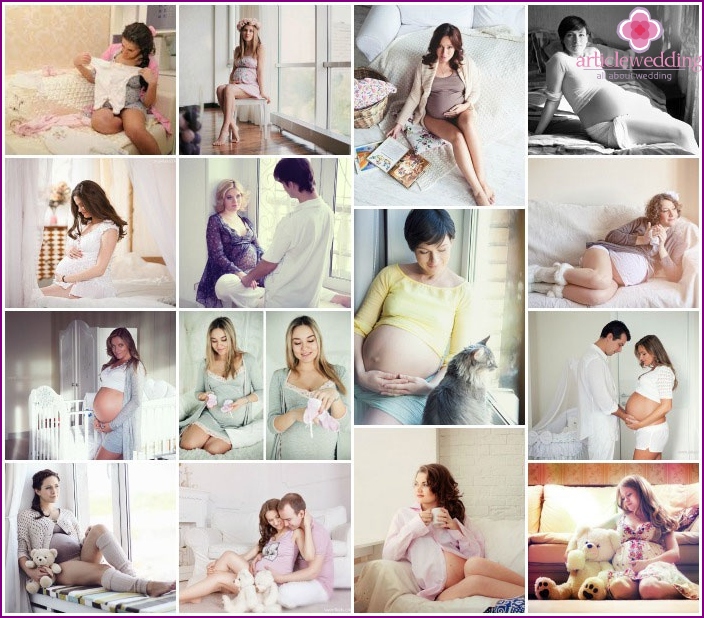 Outdoors in summer
Summertime is a great time for a photo shoot in nature. It can be a forest, park, field, riverbank, sea or other body of water. The undoubted advantage of such photography is the beauty of nature, which cannot be repeated in the studio. Footage shot in nature always turns out to be bright, vibrant and fabulously beautiful. The disadvantage of this shooting can be adverse environmental conditions, because of which the photoset will have to be moved.
A great idea is to shoot together with her husband, future dad, and if the family has an older child, he can also become a participant in the photo shoot, making his contribution - immediacy. These truly family shots are warm, touching, radiating love.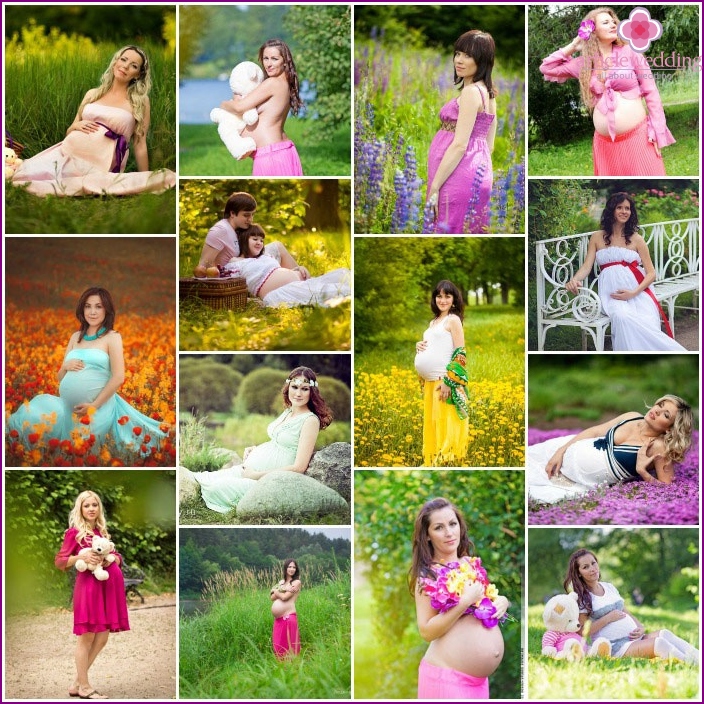 In the park
When there is no opportunity to leave the city, but you want to have a photo shoot in the fresh air, photography in a city park will be a good idea. There is also a lot of interesting, picturesque places, thanks to which you will get a wonderful background for photographs. You can take a picture against the background of historical places, pose, sitting down on a bench.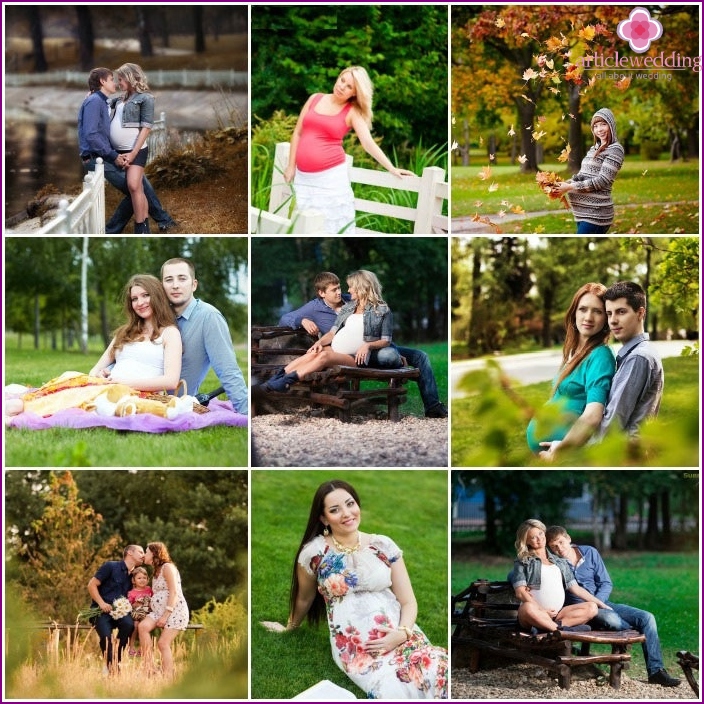 In field
A great idea for photographing a future mother is shooting in the field, among wildflowers, ears of wheat. For such a photo story, a wreath made of flowers will come in handy; additional details will also play a role - furniture, plaid, toys, children's clothes.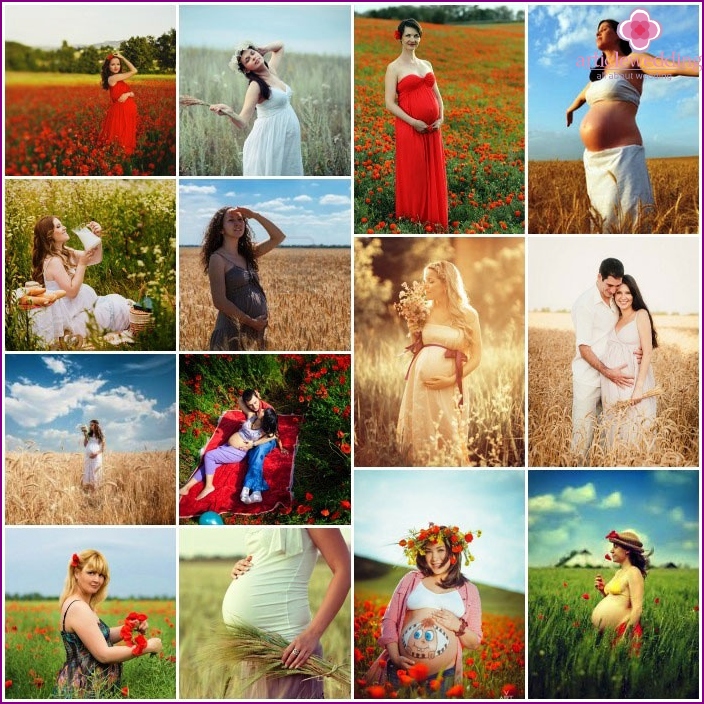 Accessories and props for a photo shoot
For photoshoots of pregnant women often use additional accessories, attributes, props. Typically, this section includes:
Baby clothes, booties, romper, bodysuits, little hats.
Stuffed Toys.
Artificial or natural flowers.
Ribbon to make a beautiful bow.
Flower petals.
Inscription signs.
Paper cut or artificial butterflies.
If you want to make a special makeup or body art for a photo shoot, then you will need special paints that do not cause allergies, as well as (depending on the technique) brushes or airbrushes. The drawing can be completely different, it all depends on the imagination and mood - a smiley on the stomach, a little peanut, butterflies, an interesting inscription. A photographer or an artist who works in conjunction with him can draw an image. The pattern can be covered with a special retainer to keep it longer.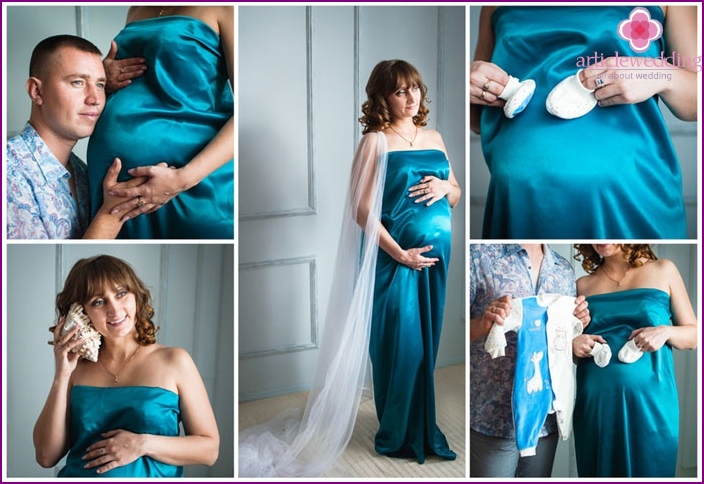 Clothing and makeup
Clothing for a pregnant photo shoot should be as comfortable and spacious as possible. Often used a dress or sundress free cut, beautiful underwear, shirts or blouses that are easily unfastened, exposing the tummy. An interesting idea is to conduct a photo shoot with a naked body, when the girl has only a large stretch of light, airy fabric (for example, silk or chiffon). Such an image of a pregnant woman will be gentle, airy, romantic, and the photos will be simply amazing.
Sometimes women put on tight dresses, emphasizing a convex tummy, creating a clear silhouette. It all depends on the wishes of the woman and the script of the photo shoot, invented by the photographer. If the photo session is thematic - for example, marine - then the clothes should be appropriate - striped vests.
As for makeup, everything here is individual and depends on the wishes of the woman, as well as the image that is created for the pregnant woman's photo shoot. For a delicate look, discreet make-up using natural, soft colors in make-up is ideal - beige, pale pink, light gray.
If you are closer to the style of a female vamp, then you should choose brighter colors, bring your eyes up with arrows, and choose bright lipstick or gloss for your lips. The main thing is that everything looks harmonious and fully consistent with the internal state of a woman expecting a baby.

Favorable postures for pregnant women
To photograph pregnant photographers have certain schemes, successful poses, in which the pictures are obtained as interesting as possible. Advantageous poses are possible both for a pregnant woman (in case of a single shooting), and for a couple, if the shooting takes place together with her husband. When choosing a position, it is worth listening to the advice and recommendations of a professional and the comfort of the woman herself. Examples of such positions look at the photo.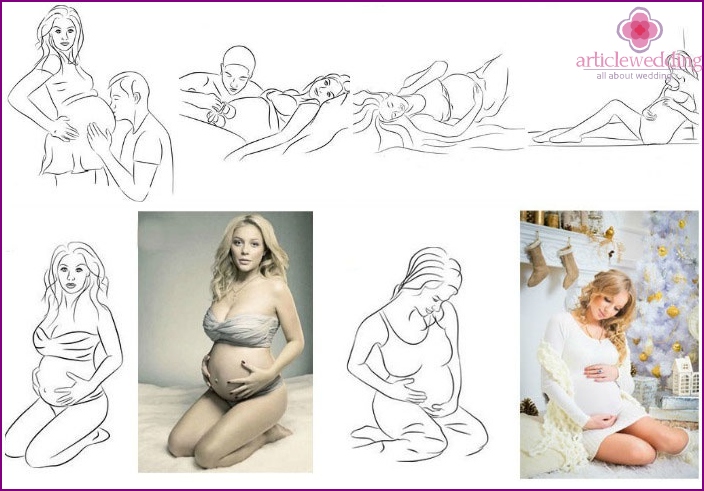 Price for the services of photographers
The price of a photo shoot depends on many factors..
First of all, this is the level of the photographer - for beginners the price will be lower, but the quality is not always perfect. The more famous, more popular the specialist, the higher the cost.
The second factor is the time taken for shooting. Typically, one session lasts 1-2 hours.
The third factor is the number of finished photos processed.
The minimum cost is from 5000 thousand rubles, on average, the services of a photographer cost from 9 to 14 thousand, and well-known photographers ask for 20 thousand for their work. This pleasure is not cheap, but wonderful pictures will be remembered.
To see examples of photoshoots of pregnant famous professionals, watch the video:
Creative ideas for photo shoots and original images
There are a lot of ideas for holding future mothers' photo sessions, you can choose an image that is closest to you, and use various attributes and accessories in addition to it.
Tell your photographer about your ideas, but you should also listen to his professional advice, because he absolutely has several creative ideas..
With watermelon
Watermelon is almost the first idea that comes to the head of a pregnant woman. Yes, and the photographer. Its symbolism is obvious: the watermelon is round, resembles the belly of a future mother. Such a photo session is often accompanied by body art, for which a special master is invited..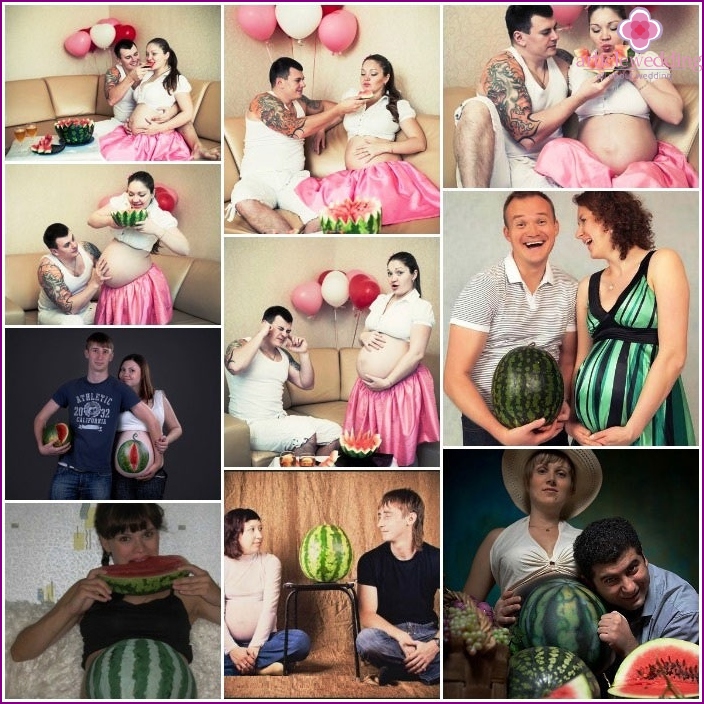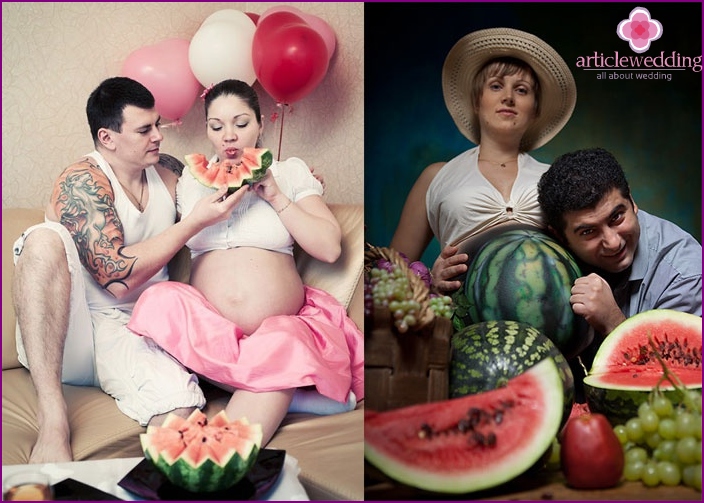 With husband
The husband is a frequent guest on the set of a pregnant woman. There are classic plots and poses in which a family that is expecting a baby looks advantageous. The courageous future dad sets off a romantic mother - what is not the beginning of a new story, which can be continued already when a son or daughter is born?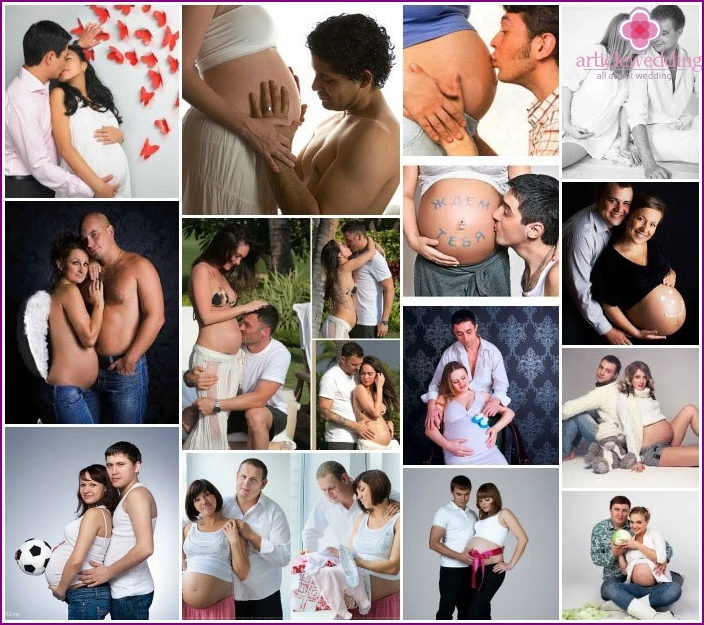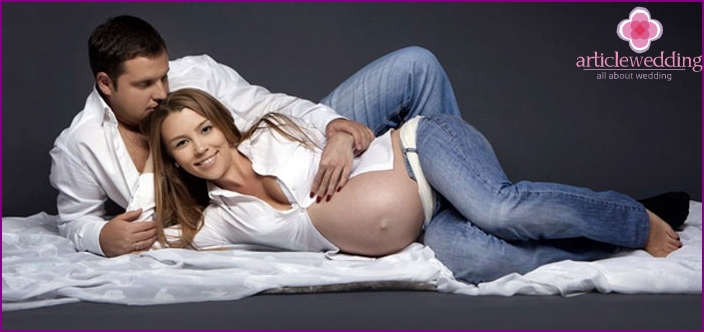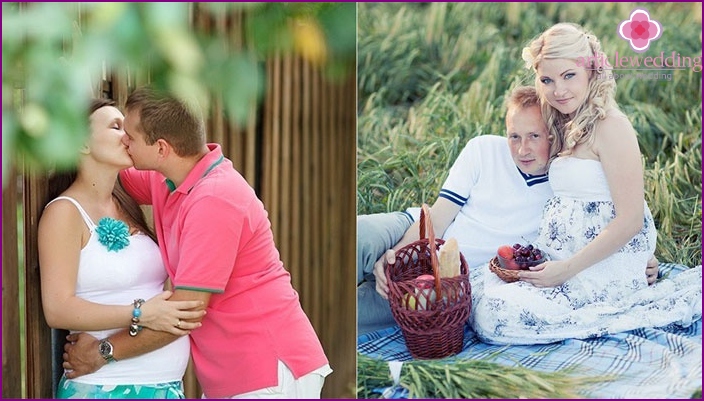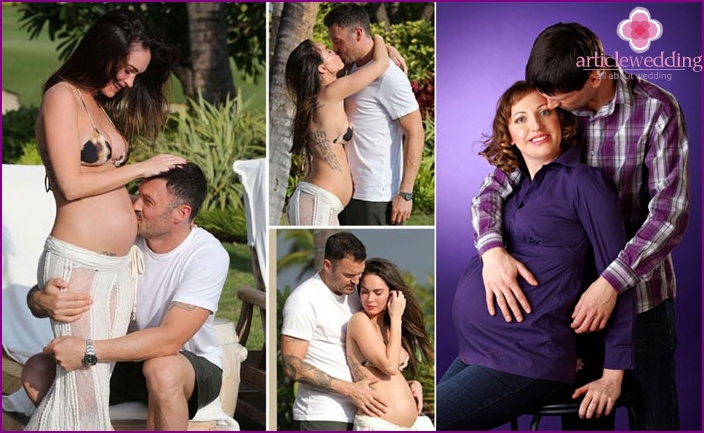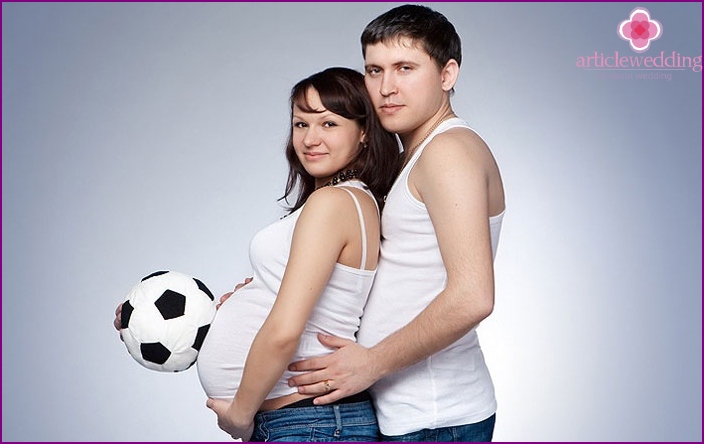 With child
If the family already has children, the photographer will certainly suggest the following story: a pregnant mother surrounded by babies. Such a photo shoot looks amazingly harmonious if you choose the same clothes for all family members - t-shirts, dresses for girls (including mom), hats - hats.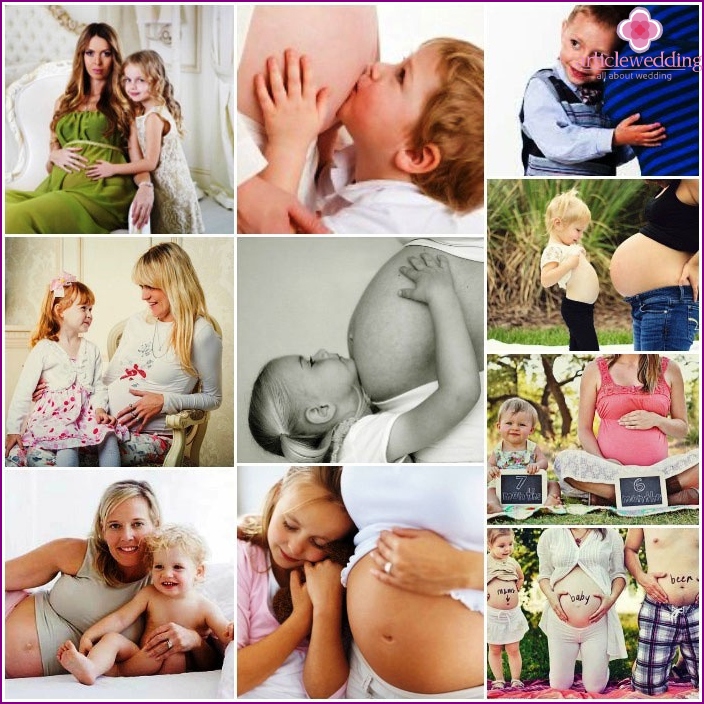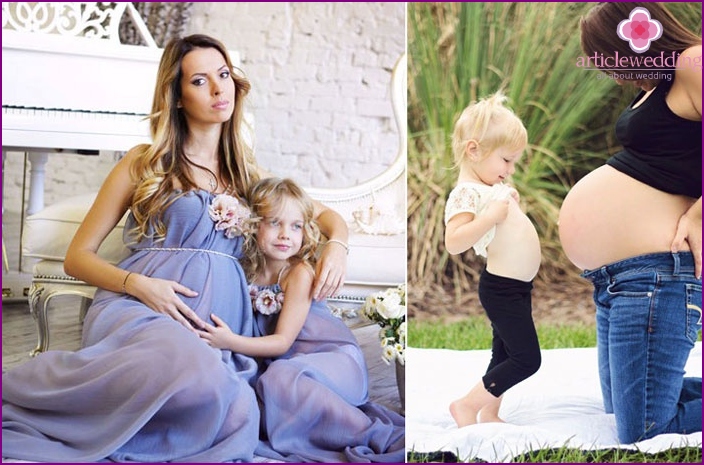 Marine style
The marine theme is very close to many photographers, and in connection with pregnancy it gives rise to a lot of interesting stories. Sailor and sailor, and even with several youngs - a wonderful photoset, leaving behind a memory of fun. Here accessories play an important role - toys, a compass, a decorative helm.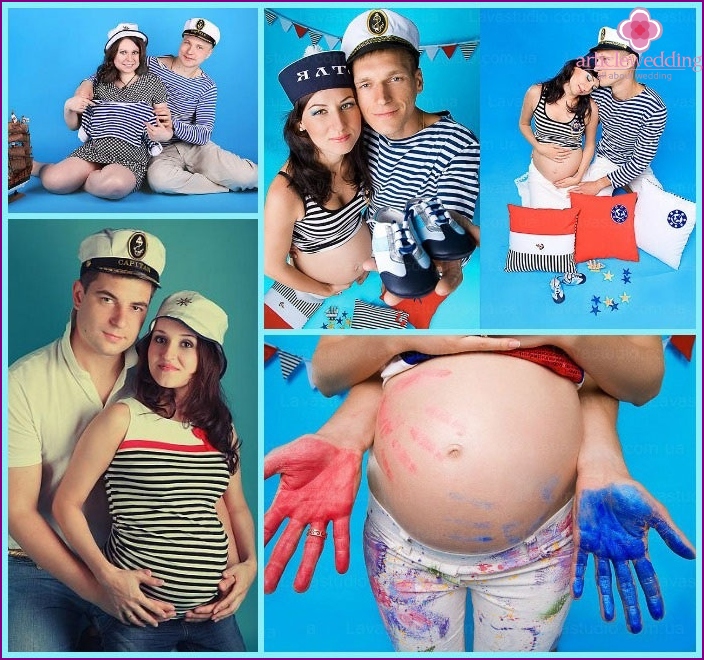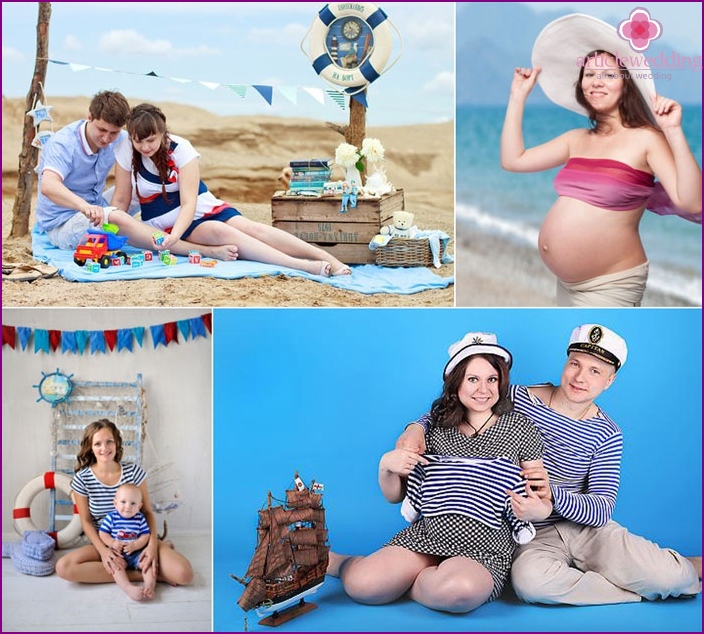 With inscriptions and drawings on the stomach
One of the brightest ways to decorate a pregnant woman is to come up with an interesting pattern decorating her belly. Is there a boy or a girl inside? This will lead the artist to an idea, the embodiment of which the photographer will capture in the pictures. Here the options are considered funny and elegant, plot and mood, because a pregnant woman is sensitive and often tells herself what she would like.