Contents
---
---
Choosing a wedding veil is more difficult than some newlyweds think. Any girl is pleased to go to wedding salons, trying on a large number of long, short, white, color models, but each bride wants to find the perfect style that will be a great addition to the wedding dress. A mini-veil is a universal thing, because it suits girls of any height, age, and also they put it on a bachelorette party with pleasure before the wedding.
The main types of mini-veils
There are four types of short veils:
Blush.
Bird's cage.
Double layer.
Lush layered.
Single layer veil «Blush» covers the face of the bride and groom during a wedding celebration. The groom at the end of the ceremony should throw the accessory off the bride's face in order to kiss her for the first time. After that, the girl no longer covers her face with transparent fabric, but wears it over her hair. The bride's main accessory called «Bird's cage» It is made of woven mesh: a veil is mounted on the head so that it effectively falls on the newlywed's face. Long «Bird's cage» comes to the chin or to the tip of the nose, located asymmetrically.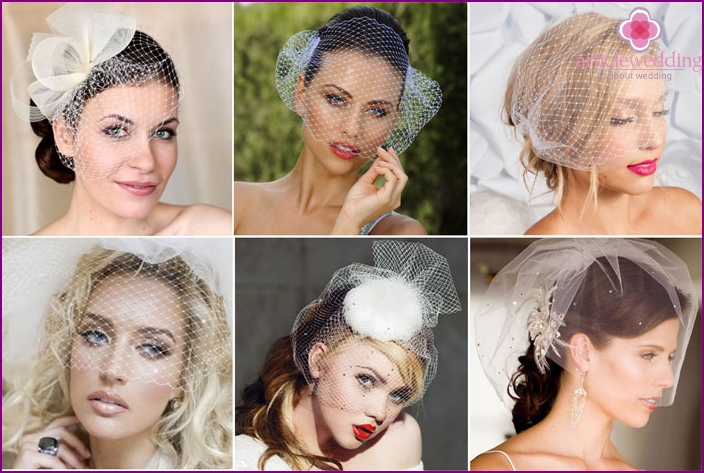 Double layer
Two-layer veil is popular among brides, because it is suitable for dresses with a lot of decor on the waist, back or chest. It smoothly falls onto the shoulders, not distracting attention from the luxurious finish, harmoniously complementing any wedding outfit. The two-layer version of the veil is perfect for a bachelorette party, when you need to focus others on a beautiful evening dress.
Laminated puff veil
A multi-layer mini veil looks great, and its layers can be the same length or different. This is an informal option, so this accessory is perfect for both a bachelorette party and a wedding. A lush veil will be in harmony with the A-line dress, dress «fish» or with a wedding dress with a full skirt. Any hairstyle is made under such a universal wedding accessory, and the length of the hair is not critical.
Why wear a mini veil for a bachelorette party??
By tradition, a bachelorette party is a fun holiday in which the bridesmaids and she take part. A dress code is considered common when all the girls are dressed in the same style or color scheme. Using a small veil will allow you to designate a reason for the party, in addition, everyone will be able to wear it, and not just the hero of the occasion.
Often for such purposes, girlfriends acquire a colored veil, and a newlywed acquires snow-white. Some of this accessory is decorated with artificial flowers, buttons, ribbons or beads, and the most daring friends put on top «devil horns». The veil is selected no more than 50 cm, since with a long product it will be inconvenient to have fun and dance. About what a girl needs a bachelorette party for, the psychologist N. Tolstaya will tell in the video:
For sewing veils almost always use a transparent material: chiffon, organza, tulle, tulle or thin lace with satin sheen. The shape and width of this wedding accessory depends on the density of the decorative fabric. A transparent veil is attached to the bride's hair:
hairpin;
scallop;
worn on the rim;
using studs.

Can I wear a mini veil for the bride's wedding??
A mini veil is able to create an exquisite and sophisticated image of a newlywed, which is why her bride has recently been preferred. The advantages of a short transparent veil are many: it looks great, modern, and in addition, it perfectly fits any style of a wedding dress. This important accessory of the bride is allowed to be worn both in a monovariant and with a hat, decorating a headdress with artificial flowers and pearls, as well as to put on a bachelorette party and any other theme party.