Contents
---
---
For a modern bride, a traditional wedding veil is a thing of the past. Another thing is a veil with a rim mysteriously covering the girl's face. This element of decor can make the bride unique, original, effective, bright. A headband with a veil will favorably refresh the image of the newlywed and give him the necessary zest, for example, a touch of vintage or a drop of creativity.
What style of wedding does the veil suit
Feeling boldly changing entrenched wedding traditions and wanting to look stylish and irresistible on their holiday, more and more young brides are refusing classic solutions in the wardrobe. The standard wedding dress is replaced with costumes, cropped dresses, veils - now fashionable veils. Let's see what type of wedding suits a veil:
Vintage. For a vintage wedding, a great addition to the accessory will be an English-style veil. It is a medium-sized net (below eye level) attached to the bride's hat. The short veil decorated with precious stones looks exquisitely.
Glamor This direction is similar to vintage style. It is characterized by an aristocratic gloss, luxury, wealth, a combination of pastel soft tones with silver, gold, sparkles. The image uses pearls, short haircuts or hairstyles in waves. A hat-veil, generously decorated with rhinestones, beads, feathers, is suitable as a headdress.
Romantic. For a very romantic celebration format, a long lace veil on the rim that completely covers the face is suitable.
Retro. A girl planning to organize a wedding in the style of the 60s will use a French-style veil. The grid covers only part of the face (to the tip of the nose). A round veil with a flower made of fabric in the center is relevant for this style.
Themed weddings. More and more often, newlyweds choose the theme of their celebration, following the style of a certain era, the manner of the heroes of a book or film. For example, a gangster wedding. An original option for the bride is the image of a gangster girl dressed in a lace dress with vintage elements, and the veil is replaced by an elegant hat with a veil.
Variants of a Wedding Veil on a Rim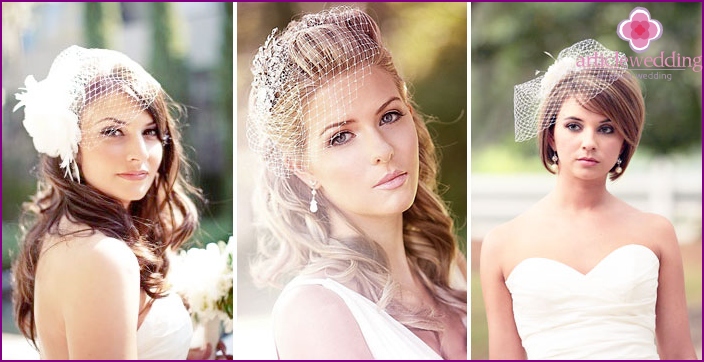 Hoop veils are distinguished by a very individual and special decor. Each accessory is a work of art. They are decorated with flowers, feathers, openwork ribbons, rhinestones, beads, shiny pebbles. The veil itself can also be decorated. For example, white accessories complement black small dots. A veil gives the bride a special charm and mystery.
For the manufacture of veils, as a rule, such materials as organza, mesh, chiffon, lace are used. The mesh veil is either large or small. The larger it is, the shorter the veil. The maximum length for a wedding hoop with a fine mesh is to the chin, and with a large one, only to the nose. As a basis for veils, thin or wide metal rims are used, trimmed with fabric to the tone of the headdress itself or hair color.
Flower rim veil
Flowers are considered a traditional hair decoration at a wedding. Therefore, wedding flowers on a hoop with a veil are very common. Flowers frame the hair and emphasize the fine lines of the face, creating a flowering, delicate look. Large buds give the girl style chic, brightness, luxury. Small flowers express modesty, sophistication, tenderness. Veils, framed by medium-sized flowers, will be an excellent complement to the wedding image of a short girl.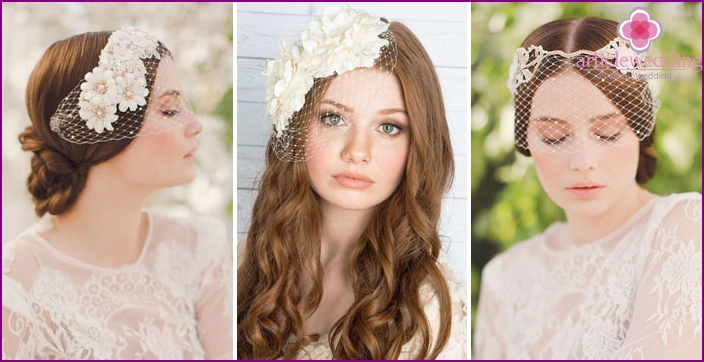 Feather Decorated
Many girls gathering at the crown plan in great detail every detail of their wedding wardrobe. Representatives of the fair sex strive to be the most beautiful and memorable on their treasured day. For this effect, girls use extraordinary and bold accessories in the image of the bride. For example, for weddings in style "The Great Gatsby" large feather feathers are used.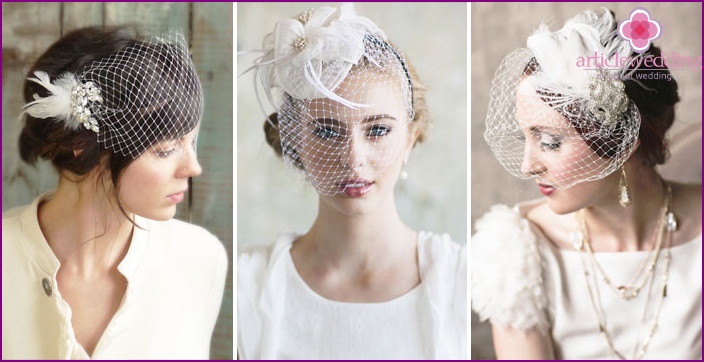 Headband veil with a hat
Designers and fashion designers offer a huge number of stylish wedding hats with a veil for brides. These accessories are large and miniature, elegant and eccentric. They are decorated with ribbons, flowers, beads and feathers. If you complement a modest wedding outfit with such a hat, the whole image will look original and unsurpassed. Miniature women are suitable caps caps. For short girls, the combination of a small top hat, high-heeled shoes and an extravagant dress will be a winning composition.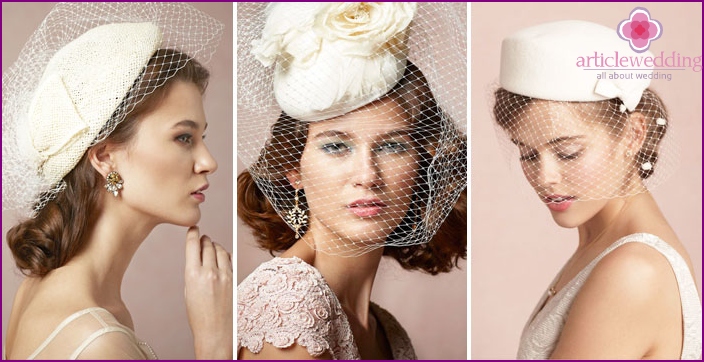 Wedding hairstyles with a veil - when appropriate
The veil on the hoop allows you to make a fashionable accent of the whole wedding image from an ordinary hairstyle. Any hairstyle is appropriate for such a headgear, but some haircuts and hairstyles look especially advantageous with veils, for example:
Short haircuts. It goes well with a hat rim. You can curl your hair a little or comb it.
Hair bundled. Lightly twist the strands to create light waves. Original look hairstyles, collected on one side.
Loose hair under the square. To create a romantic and delicate look, use light curlers or curling irons to make light curls.
Loose long hair. Any veil is suitable here: on the rim, decorated with feathers or flowers. Everything will depend on the type of hair: curly or straight, thin or thick.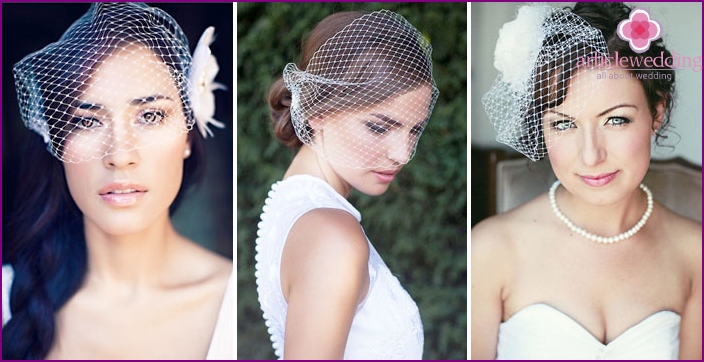 What dress is the veil suitable for?
Now there are many variations of this wardrobe detail - for every taste and even color. But the most common - white veillets symbolize innocence and purity. The veil on the rim can be safely combined with various wedding elements, creating completely unique and inimitable compositions. To get an original and effective look, remember the nuances that will help you make the right choice of dress:
The veil is often used in retro style, so it is best suited to vintage dresses. Veils with short (mini and midi) dresses in the style of the 60s look great. But the tablet caps on the hoop are not suitable for such dresses.
For a pompous wedding dress with many ornaments, a bezel with a veil without an ornament is suitable.
This dress is in perfect harmony with a cocktail or with a chic evening dress.
Great choice - a veil and a short outfit.
A small veil without decor, which completely covers her face, is ideal for a sexy fitted dress.
A composition of a veil on a hoop and a trouser wedding suit looks harmonious.
A simple outfit without any jewelry is combined with a veil decorated with pearls, beads or rhinestones.
Photo of wedding veil with a rim
The convenience of the veil's rim is easily appreciated when during the holiday every now and then you have to remove and put on a hat, for example, during a photo shoot, or when you need to correct your hair. Sometimes girls use several veils at a wedding ceremony: for example, headbands with a double net (on the face and bow) are worn for weddings, so that the veil covers most of the head, and after that they replace the headpiece with a shorter version. Look at the photo below to choose the best option for a veil with a rim.