Contents
---
---
Each future bride carefully approaches the creation of her wedding image. An important detail of it is a wedding bouquet - an accessory that attracts the attention of guests all evening. The task of the hero of the occasion is not only to collect a beautiful composition suitable in style, but also to reflect their character, preferences and tastes. The selection of flowers takes a lot of time. If a girl wants to emphasize the love of her partner, alstroemeria is ideal.
Alstroemeria or Peruvian Lily
Alstroemeria is a unique plant resembling both a lily and an orchid. Sometimes trading companies take advantage of this similarity and indicate on the price tags that alstroemeria is their hybrid, but this is not true. This unusual species was first discovered in Peru. In those days, the Peruvian lands belonged to the Indians, whom the Europeans called the Incas. The Incas worshiped nature, deified the sun, wind, sky, believed in the existence of spirits.
Due to the beauty and brightness of this flower, the Indians considered it a symbol of the deity of the Sun, cultivated, believed that it brings good luck, protects from dark forces, is able to save from predators. Due to the unusual color of the petals, resembling the skin of a wild beast, the Incas had many legends associated with the ability of this flower to make a person invisible in the jungle, turning it into a tiger or leopard. Due to its origin, it is also called «peruvian lily» or «lily of the incas».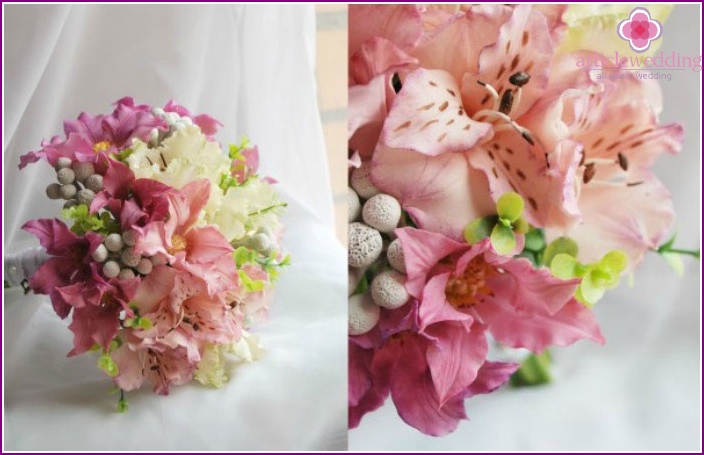 The Spaniards were the first to grow alstroemeria, and later it was brought to Sweden by Klas Alstremetr, who was a student of the famous botanist Karl Linnaeus. Linay decided to name an unusual plant in honor of his protege. These flowers quickly gained popularity, were used as a gift, not only due to their exceptional beauty, but also because of resistance to climatic conditions. It was also found that this plant is able to feel good in extreme heat, cold, and high humidity..
Despite the apparent fragility, the flowers are unusually viable, grow easily, stand for a long time, they are easy to grow and care for. The bride who chooses them for her wedding bouquet will emphasize that their couple's love can overcome any difficulties..
Exotic alstroemeria make up the perfect company for delicate roses. A rich palette of bright Peruvian lilies allows you to create truly unique compositions together with an elegant studded beauty. Unexpected color combinations can highlight the main character, creating her a magnificent background for shine.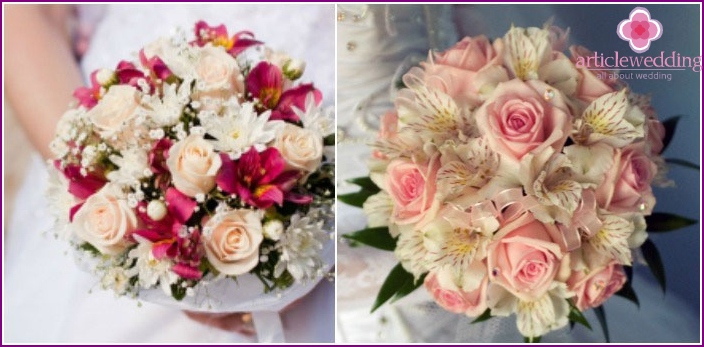 Other options for a wedding bouquet of alstroemeria
Alstroemeria is a universal flower, because you can meet many of its species, which will be an excellent composition for a mono bouquet or will go well with any other plants. The classic combinations that have proven their popularity in the images of brides, we boldly call:
pale pink flowers with white roses will decorate a bouquet of a romantic girl;
bright orange petals with red gerberas emphasize the hot temperament of the hero of the occasion;
soft white flowers will tell about innocence, purity of a girl.
Mono-bouquet of white alstroemeria
Delicate white flowers will be a wonderful decoration of a classic round mono bouquet. This option of a wedding accessory will be perfectly combined with a snow-white dress of the bride, and the green pigment of some types of white alstroemerias will give a refined naturalness to the image. Also, a beautifully white bouquet looks with colored dresses, putting the right emphasis in the image of the bride.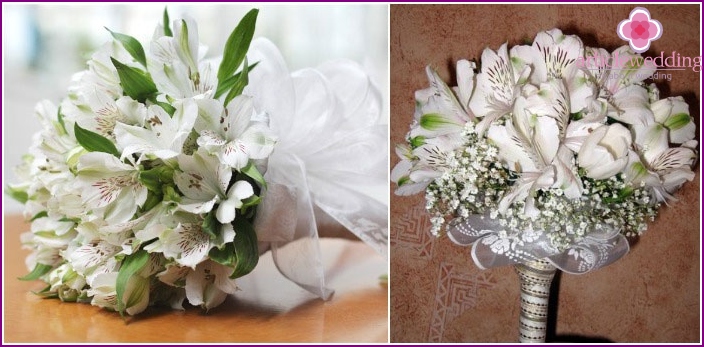 Bridal bouquet of alstromeries and chrysanthemums
The composition of the bouquet with decorative chrysanthemums can look bright, delicate and airy. The rich variety of both types will allow the future wife to create a unique holiday accessory. A girl can combine delicate shades of Peruvian lily with chrysanthemums, or make colorful accents of another plant.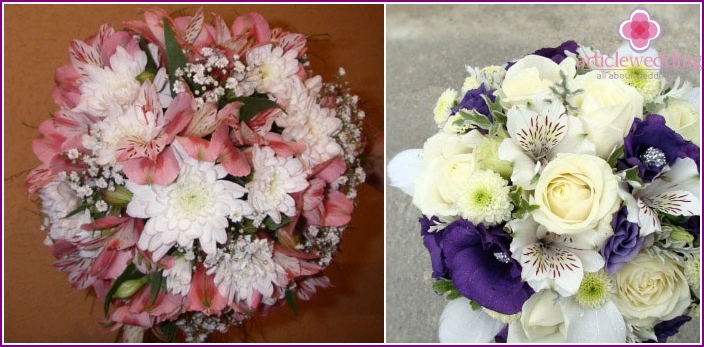 Alstroemeria and Gerberas
Delicate flowers of the Peruvian lily are perfectly combined with round refined gerberas. Such a wedding bouquet looks royal; it perfectly reflects the theme of a grandiose rich celebration. If a girl wants to give loved ones a little good mood, you will need to pick up a beautiful multi-colored palette: red, orange, bright pink.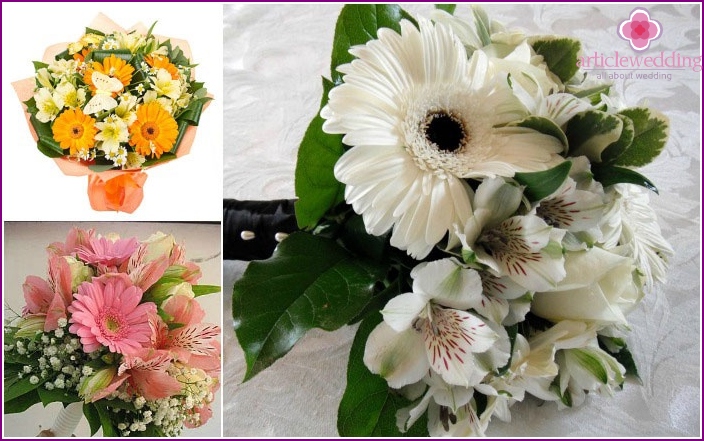 The combination of alstroemeria with irises, lilies and orchids
Charming irises of bright blue and violet colors look great next to the magnificent alstromeries. The combination of these two plants will be able to shade other flower species - small roses, lilies. It should be remembered that, unlike the persistent Peruvian lily, irises are intolerant of cold, lack of water, because of this, their flowers quickly wither, so you need to ask the florist to tap the stems for the wedding attribute.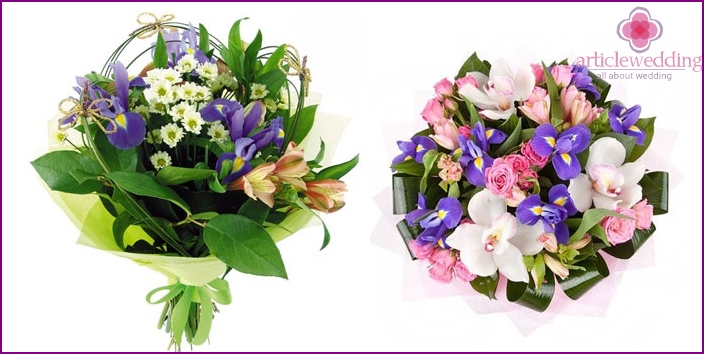 Larger lilies are remarkably combined with alstroemerias due to their external similarity, it may seem from the outside that these are species of the same plant. Cascading wedding bouquets look great with their combination.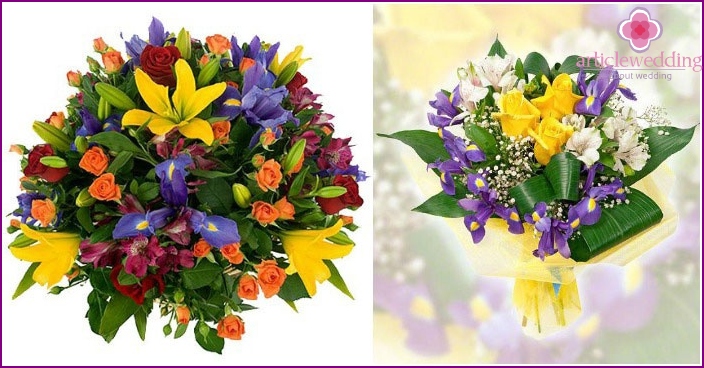 Orchids are gorgeous plants that accentuate the bride's exquisite image, while gorgeous Peruvian lilies shade them and make the composition of the wedding attribute complete.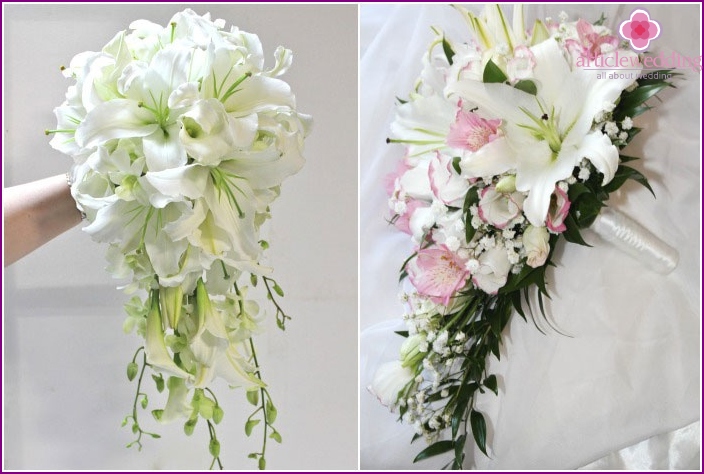 Beautiful bouquets of alstroemerias photo