Contents
---
---
A wedding bouquet is the main accessory in the image of a bride. His choice will tell others a lot about the taste, feelings and mood of the bride and groom. It is best to entrust the creation of this accessory to the florist. This experienced designer will select suitable fresh flowers for the composition, which will be combined with each other in shades and size. A wedding bouquet in bright blue colors will look spectacular in the hands of the bride. Especially it will be in perfect harmony with the snow-white dress of the bride and groom. What subtleties you need to consider when choosing a blue bouquet?
Tips for choosing a bouquet in blue or turquoise colors
Delicate blue flowers in the hands of the bride symbolize the purity and loyalty of the girl. The heavenly shade of fresh flowers in the bouquet will look amazing, especially if the bride has blue eyes. If the dress and flowers are the same blue with a slight difference in shades, the image of the bride will be incredibly effective and beautiful. Have you decided to choose a blue wedding bouquet? Then carefully consider what accessories and details of the outfit will be in tone with him. The groom's clothes should also contain a blue part.
Correctly placed color accents in the image of the bride emphasize the freshness and brightness of the girl. Is your wedding planned in winter? Then imagine how spectacularly a bride with a blue bouquet will look on a white background of a snowy landscape. And what kind of nature will turn out original and bright wedding photos! The contrast of white snow and rich blue details in the image of the young will look just fine in the photo.
Color spectrum
To form the original blue composition, florists recommend adding flowers of white, golden, pink and pale blue colors to it. This palette can be used to design a wedding, and it is also advised to use it to create a unique image of the bride. The blue color will be in good harmony with the blue and white (with the decoration of the outfit in a heavenly shade) wedding dress. It is better to choose jewelry for the bride and groom in the same color scheme. Diamonds, Swarovski crystals, turquoise or sapphires work well..
Size of flowers and bridal bouquet
Vibrant blue flowers look visually smaller. This must be taken into account when creating a bouquet, choosing buds with a larger sky tint than flowers of another palette. Or a blue tint should be dominant in the composition. Do you want to make a bright accent in a bouquet? Then select several flowers with large blue buds and combine them with a large number of small inflorescences of a different tone. Or do you want the heavenly color to be primary in the bouquet? Then, creating it, dilute the buds of a blue hue with single copies of plants of a different tone.
The presence of white color
The combination of white and heavenly shade is a harmonious contrast that evokes pleasant aesthetic feelings. It is important to know that a monophonic bouquet in blue with insufficient lighting merges with green branches. It takes on a swamp hue. You can not allow such an unsightly effect in the image of the bride at the wedding! Therefore, usually blue flowers are combined with white inflorescences or decor. With the choice of the latter, you must be careful not to overdo it.
What flowers to choose for a wedding bouquet (photo)
The following flowers are suitable for creating a wedding composition with a blue tint: chrysanthemums, lilac, hydrangea, irises, hyacinth, eustoma, delphinium, dendrobium, rose, muscari, lavender, anemone, tulip, chrysanthemums and others. Properly choosing harmonious combinations, florists are able to make real masterpieces for brides. If you appreciate the beauty of wildflowers, then using them, specialists will be able to create an exquisite and sophisticated wedding bouquet of the bride in blue tones.
In turquoise colors
The blue palette of accessories for the bride and groom is able to make the whole image of the bride tender and bright, emphasize individuality. Turquoise flowers will look especially impressive in bouquets of a round shape or in the form of a drop - such an accessory looks noble and bright. Blue flowers are combined with green twigs or buds in a light blue or white hue, creating a harmonious combination of shades.
The turquoise tones of the main element of the image of the newlywed are beautifully emphasized by her white dress. Hyacinths, hydrangeas, irises, delphiniums, lavender, cornflowers are perfect for a blue bouquet. These flowers will look great with turquoise decor. Such a bride's accessory with a blue ribbon or with bright crystals will look amazingly solemn.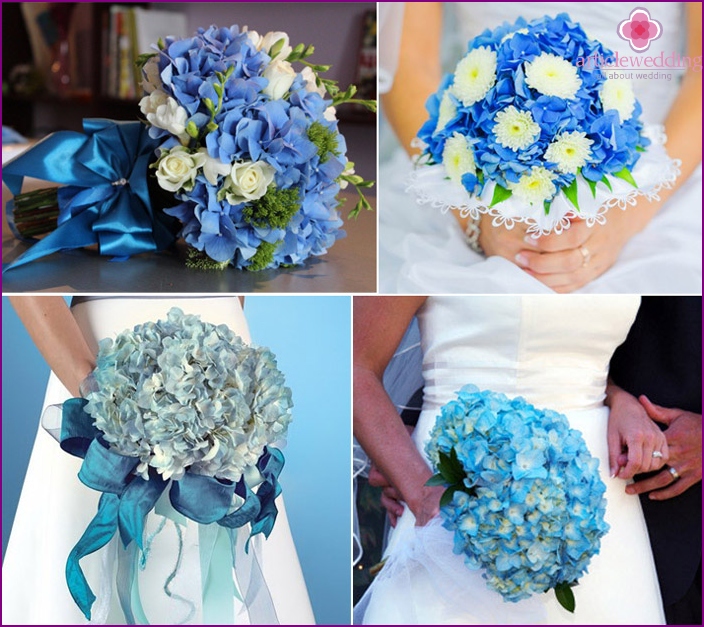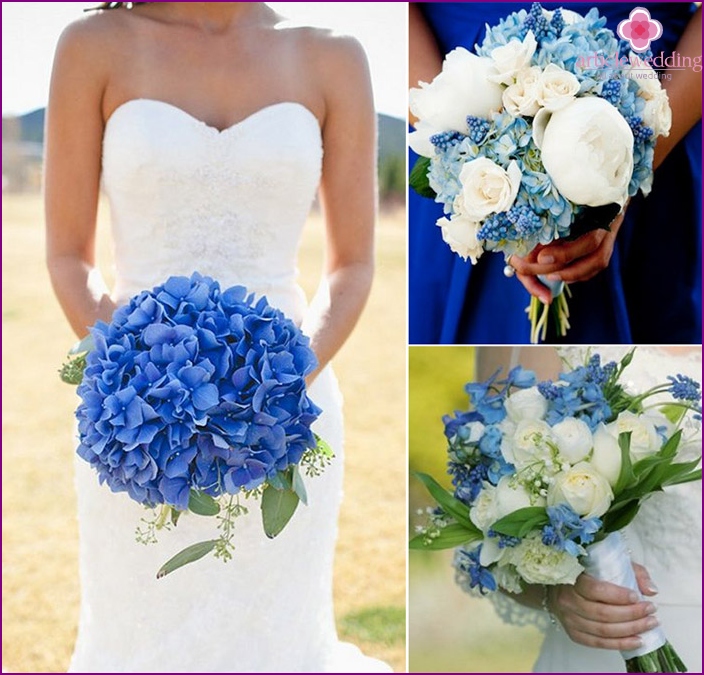 In blue tones
When creating a bouquet with blue tones, florists can also use painted roses, lilies, chrysanthemums or other flowers. Pay special attention to irises. These gentle and vibrant plants will be able to make your bouquet original and effective, and in addition, they have a delicate, pleasant aroma. Hydrangea in the hands of the bride also looks unusually cute. Its inflorescences resemble a light blue cloud and fill the image of a newlywed romance and purity.
Blue flowers exude tenderness and sophistication. Do you want wedding flowers to please you with their appearance for many more days after the celebration? Then give preference to a bouquet with lisianthus. Their swirling shape of the buds is fascinating, and the long-lasting freshness of these flowers will make it possible to fully enjoy their beautiful view. Lovely wedding photos will confirm that the choice was made correctly.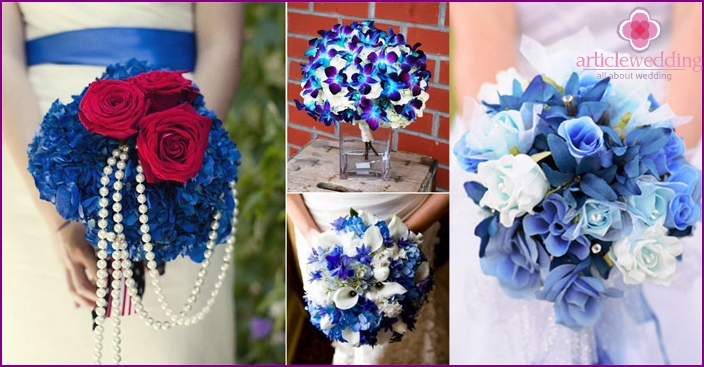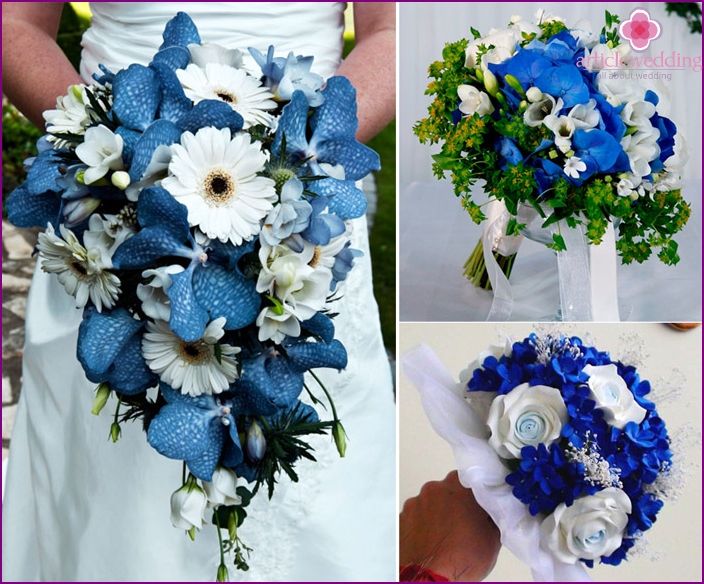 Workshop on making a bouquet of toys
A festive bouquet is made not only with fresh flowers, even soft toys are suitable for its creation. Such a decorative accessory will be a wonderful gift for a wedding celebration. And some brave brides may want to choose it instead of a floral wedding bouquet. Its main advantage is that it will look original and romantic.
Such a bouquet will not fade, like flowers, so it will remind the newlyweds of the wedding day for the newlyweds for many years. How to make a bouquet with toys yourself? It's simple. For such an original craft use 1, 5, 7, 9 or more soft toys. It is best to choose small bears or bunnies for this creative work. For example, soft animals from trinkets. To create a bouquet with five toys, you will need to prepare:
floristic wire - 2.5 m;
corrugated paper, similar in color to toys - 2 rolls;
small soft toys (the size of a palm) - 5 pcs.;
satin or paper ribbon - 2.5 m;
decor (bows, rhinestones, hearts, etc.);
adhesive moment is transparent;
wrapping paper or heavy bag;
scotch tape, scissors, stapler.
Corrugated paper is suitable for this product only Chinese or Italian. The latter option is preferable because it is more elastic. This means that the Italian corrugation stretches well, and this is important when creating this product. It is best to use a satin ribbon, because paper can have difficulties decorating the product. The process of making a bouquet is simple and consists of the following steps:
In turn, we ring all the toys with a floristic wire. To do this, we bend it so that the smaller edge is 5-10 cm, and we twist its ends on the back of the animal. The bend of the wire should fall on the tummy of the toy.
We carry out a similar process with all 5 toys. Ringed animals connect together. To do this, twist the ends of the wires with animals.

We wrap the resulting rod with old wrapping paper or a bag. We use tape for this. The basis of the bouquet is ready.
We take a corrugation of 60-80 cm. We fold its edges and fix with a stapler. It is necessary to make 2 such pipes from corrugations of different colors. Then we put one tube into another. Note that the light corrugation tube should be in the middle and its edge should protrude 15 cm outward.

Then we put the base with toys in corrugated paper. With a ribbon we tie the surface under the animals. Gently spread the edges of the upper part of the bouquet. The edge of the upper part is bent inward by a couple of centimeters in diameter. We use all 2 layers of paper for this process. We make waves by pulling the edge of the paper. Similarly, we do with the bottom of the bouquet and get «full skirt». In conclusion, we decorate the bouquet with decor - satin roses.