Contents
---
---
Fragrant with a unique aroma, snow-white flowers surrounded by their own bright greens look fondly and beautifully in the hands of the bride, not taking all the attention into themselves, but only highlighting the beauty of the bride and her outfit. A bouquet with lilies of the valley looks very stylish, cute. Princess Kate Middleton and Grace Kelly chose these flowers for their wedding ceremony. The floral composition harmoniously looks both with a simple, airy, delicate outfit, and with a royal wedding robe.
The meaning and symbolism of lilies of the valley in a bride's bouquet
Lilies of the valley are a symbol of joy, happiness. Bouquets made up of these plants look simple, unusual and at the same time stylish. The composition, which includes only lilies of the valley, is a real exclusive. Fragrant, quivering, airy, as if just gathered in a forest glade, they perfectly complement the classic white wedding dress, wedding outfit with a train.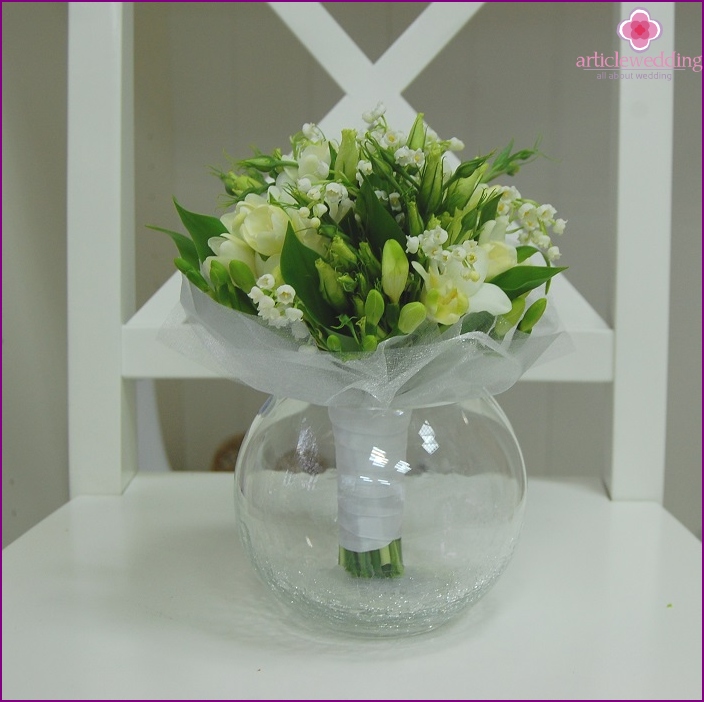 Lilies of the valley tied with a white ribbon are considered a symbol of innocence, touching, purity. Such a composition will successfully emphasize the image of a young newlywed. Additional color in this case is not required, add only a little green. In addition to the traditional snow-white tone, these flowers come with a pinkish tint, double flowers. They are a symbol of spring, the awakening of nature, youth. Symbolism, grace of a flower made it perfect for weddings.
Options for wedding bouquets with lilies of the valley
Florists like to use this flower: its beauty looks great both in the solo version and in combination with other plants. It can be used in a round elegant bouquet, fits perfectly into flower cascades, looks appropriate in baskets. When using greens, the composition becomes lush, bohemian. To get as close as possible to nature, naturalness, do not use any jewelry. As mentioned above, lilies of the valley can be combined with other flowers, for example, with freesia, callas, tulips, peonies, lilacs and wayward roses.
The combination of lilies of the valley with roses
Outside the seasons, there is a universal rose, so lilies of the valley combine well with it. It symbolizes nobility, beauty, royal greatness, gentleness, tenderness. They treat her everywhere in a special way, like the queen of all colors. The wedding bouquet often includes cream, white, pink roses. This composition is an unrivaled classic wedding theme. The mass of shades, shapes, varieties, good endurance make the rose a popular flower for bouquets..
A rose and a lily of the valley are romance, love, passion, innocence. With its charm, such a wedding arrangement wins the hearts of many newlyweds. Ancient Greeks and Romans composed songs, legends, verses about the rose, and the wondrous lily of the valley became a symbol of purity, fidelity. You can complement this combination with other small flowers to bring zest, variety.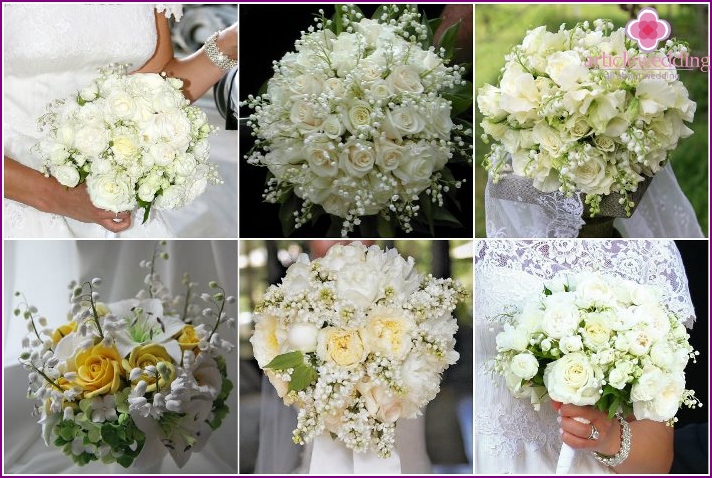 Composition of lilies of the valley and peonies
Peonies are rich in colors. White flowers symbolize the frequency, innocence, in the wedding bouquet the romanticism of the bride is emphasized. Pink peonies mean wealth, prosperity, and burgundy - feelings, passion between future spouses. Such a wedding arrangement can be completely unusual if you combine different shades, textures, for example, loose, openwork, young buds of peonies. The accessory will embody femininity, tenderness, a happy, peaceful family life..
Peony will be perfectly complemented by touching, delicate lilies of the valley, emphasize the splendor of this flower, give weightlessness, lightness. Such a wedding bouquet is an unusual solution that will stand out among other newlyweds. Modern fashion is such that the peony successfully competes with the rose. A bouquet including this flower will be stylish, relevant. Peonies and lilies of the valley will look beautiful in the composition, florists will be able to give it any shape, turning it into a masterpiece.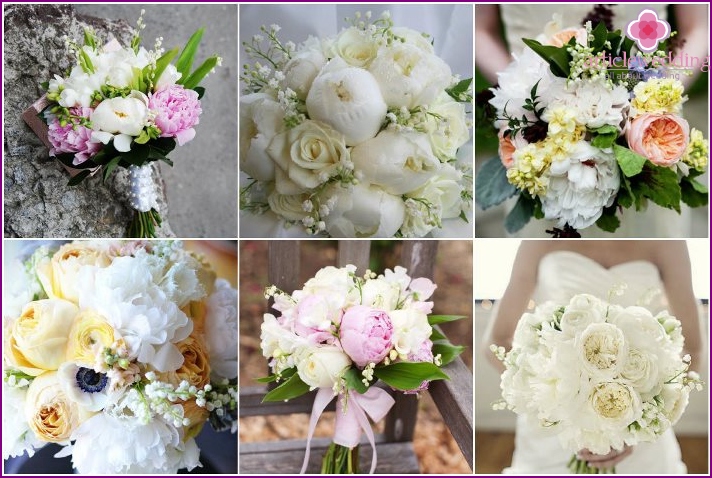 Wedding bouquet with lilies of the valley and freesia
Freesia is considered the patroness of purposeful, hardworking people. Bouquets that include this flower symbolize full confidence in the partner, serious intentions. Therefore, such compositions are ideal for weddings. The aroma of this pair is associated with spring, gives joy, helps to overcome depression. It is believed that freesia also means confidence in the future, calm. And is this not the main thing in the life of a married couple?
When the groom gives his beloved a bouquet of lilies of the valley and freesia, he asks her to trust him. Such a sign is regarded as the entrustment of your beloved heart. The overall mood of the bouquet of freesia adds fragility, sophistication, tenderness. It looks interesting floristic composition, including freesia of different colors, for example, white, red, orange, which will become a bright highlight of the bride. A wedding bouquet with lilies of the valley and freesia of a tiger, purple color will be indispensable at a theme celebration.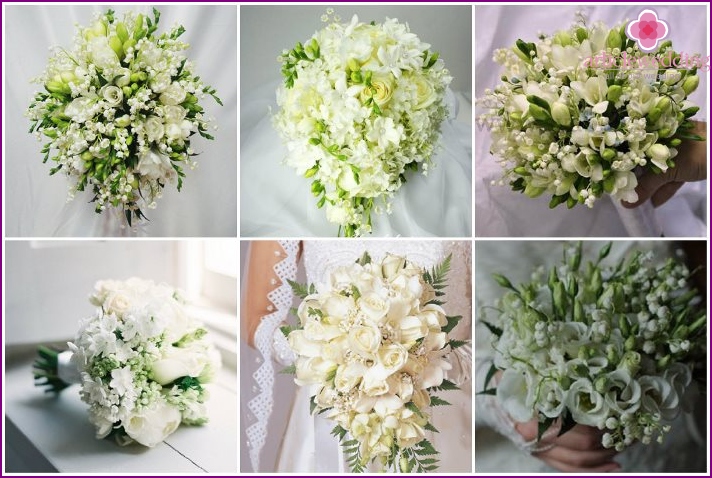 Monobouquet from lilies of the valley
The symbol corresponding to the lilies of the valley is spring. It is impossible not to fall in love with these flowers, as they are associated with the beginning of something new, tenderness, purity. Lily of the valley is an ideal candidate for a bride's bouquet. It adds lightness, romance, airiness to the image. The mono-bouquet looks sophisticated, elegant, suitable for a romantic bride and groom. Adding greens, bandaging the leg with an openwork ribbon, you get an amazing delicate composition.
Lily of the valley as a flower is self-sufficient. Quivering, fragrant, airy, it fits perfectly into the wedding concept. The composition can be round, which looks chic and elegant, refined and bohemian cascading, fabulous basket. If there are few branches, then we get a carved, light spider web, and if there are many, an excellent magnificent composition. This plant retains an aura of cute, natural, natural beauty, which is now very important in wedding fashion. Remember this flower:
It is listed in the Red Book. When buying a flower in a floristic salon, don't worry, it is grown specifically for this purpose. But collecting them in the forest is not worth it.
It has a bright and at the same time delicate aroma, brings a unique charm to the bouquet.
Fades quickly. A torn flower stays fresh for 5 hours. A professionally assembled composition can maintain a decent look for a day or more.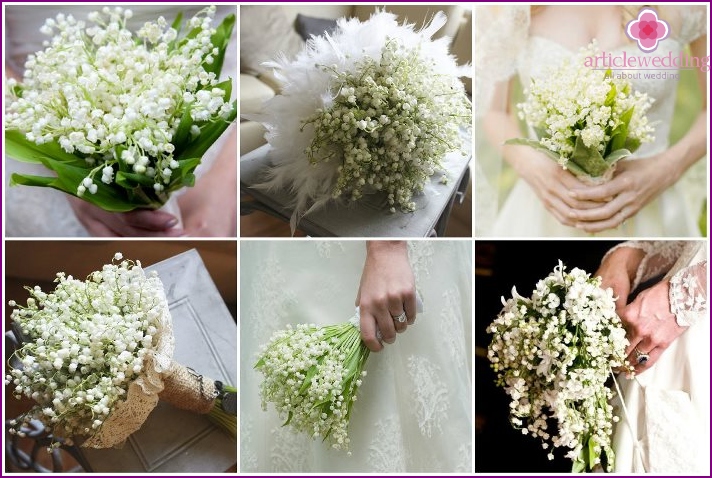 Bridal bouquet with lilies of the valley and callas
Callas are designed for refined natures, and in combination with lilies of the valley they look even more elegant. These South African flowers conquered the European discoverers many years ago with amazing grace, because on the meter-tall stalk a large heart-shaped bud proudly rose that wrapped up an inflorescence. Due to the unique shape of a glass of champagne, callas are often found in a newlywed's bouquet. They come in different shades - yellow, red, pink, maroon. So, you can use not only the usual white color.
Combine black, red, pink callas to your taste and imagination. Minimalist grace, severity of the plant does not require elaborate decorations and decoration. Callas can have different stem lengths: long ones form an elongated composition, and small ones form a round one. A bouquet for the bride with callas and lilies of the valley will harmonize with a dress of a simple cut.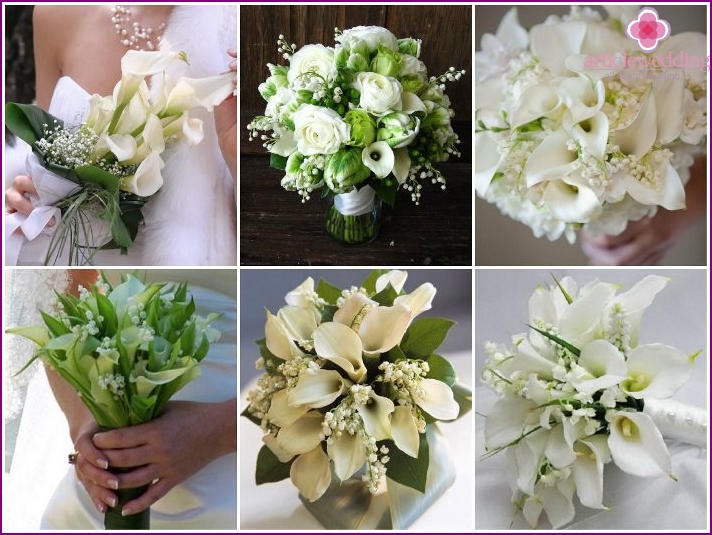 With lilies of the valley and tulips
Due to the simplicity of forms, natural grace, very beautiful wedding compositions are obtained from tulips and lilies of the valley. Delicate flowers, juicy greens - such bouquets do not need additional decor. Plants look great as monochromatic compositions or in combinations of several colors. It is better for a romantic bride to dwell on a snow-white version, and a composition of white, red, yellow plants is suitable for a passionate lady.
A bouquet with lilac and purple flowers looks expressive, bright, attracts attention, stands out in wedding photographs. White tulips symbolize innocence, purity. Violet - personify fidelity. There is an opinion that the more saturated the color of these flowers, the stronger the love of the newlyweds. Bright tulips look very interesting and extravagant.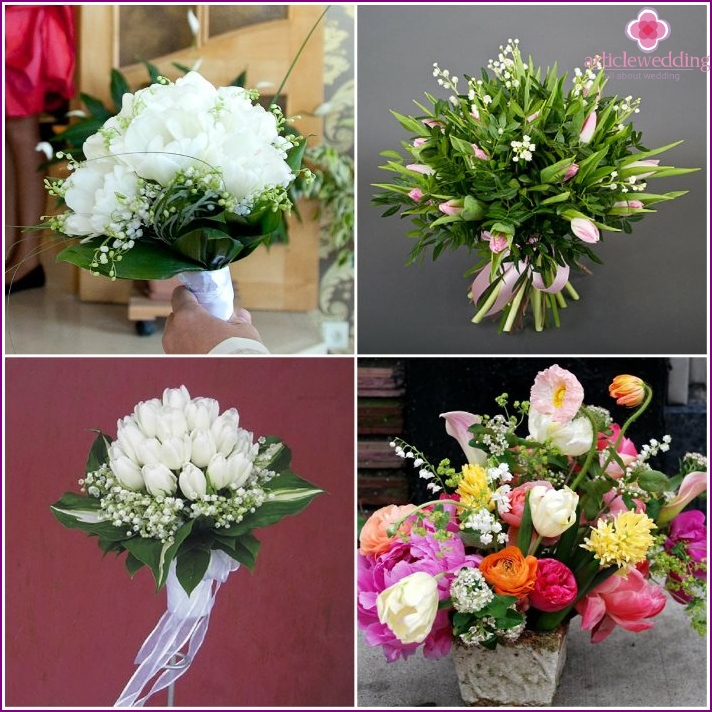 Video: how to make a bouquet of lilies of the valley with your own hands
If you decide to create a bride's bouquet yourself, think about the composition, shape and color in advance. Lilies of the valley collect in parallel to each other and do not pinch their stems with a winding, otherwise moisture will not be able to flow to the flowers, which will lead to death. Take flowers with a margin, as they are very fragile, they can suffer during assembly. For inspiration, watch the video below, which make up a wedding bouquet of white peonies, callas and lilies of the valley. This composition symbolizes youth, innocence and purity. Snow-white flowers fill the bouquet with volume and light.
Photo of wedding bridal bouquets with lilies of the valley
Wedding spring bouquet can be made in a semicircular shape, like a cascade, in the form of a basket or ball. The usual composition without accessories, a hint of solemnity, looks elegant, modest. These flowers secrete harmful substances that may be harmful to other plants. Make sure that the components of such a composition have different capsules with water. This will protect other flowers from premature wilting..