Contents
---
---
A wedding bouquet is an indispensable attribute for a bride on her wedding day. A beautifully composed composition is able to complement the image, convey the mood, emotions of the future wife. Any flowers can be used to create this attribute - daisies, lilies of the valley, roses, orchids. Their choice, first of all, depends on the wishes of the bride and the style in which the wedding is made out. And recently, the bride's bouquet of peonies has been especially popular. It looks gentle, elegant, and beautiful colors and shades can make it unique, in a special festive.
The meaning and symbolism of peonies in a wedding bouquet
The bride's bouquet of peonies has only recently become fashionable, but quickly won the hearts of young girls. Until recently, these flowers were considered too simple, inconspicuous to use them for a wedding. But some future brides were able to discern their charm and charm, especially they like their bewitching, pleasant aroma, which is fragrant throughout the day.
Few people know the origin and symbolic meaning of the peony, but you should approach the choice of flowers for the celebration with all responsibility, having familiarized yourself with their meaning. According to history, the flower got its name in honor of the famous doctor Peon, who was engaged in the treatment of wounded in the war. For a long time in China, peonies were considered privileged flowers, only the emperor could engage in their cultivation. Plants endowed with magical properties that can protect the house from evil. Peony is a flower of the sun, wealth, prosperity according to Chinese treatises.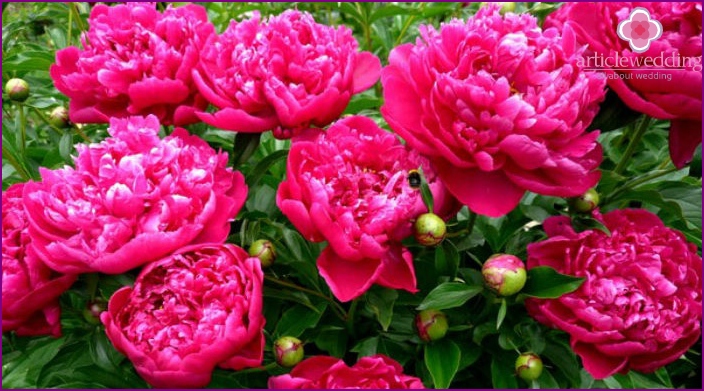 For Japan, a bouquet of peonies symbolizes fertility, untold wealth. And in the Mediterranean countries it is a flower of joy, a beautiful future, hope for happiness. In Russia, a bride's bouquet of peonies is a sign of a happy married life, a strong relationship, family well-being. To date, such a composition is also a symbol of tenderness, sensuality, purity.
A lot of color shades - from snow-white to bright red and burgundy - are amazing, the future wife will be able to choose the color to her taste, or focusing on the overall color scheme of the wedding. For the Chinese people, only bright colors (red, burgundy) are acceptable, it is believed that the brighter the shade, the more positive energy the flower carries. When choosing the color of peonies, it is important to remember that depending on the shade, they carry different semantic meaning and have their own meaning:
White - symbolize purity, innocence, sincerity of feelings.
Pink - a symbol of material well-being, respect in the family.
Red or burgundy - indicate passion, devotion, sensuality of the newlyweds.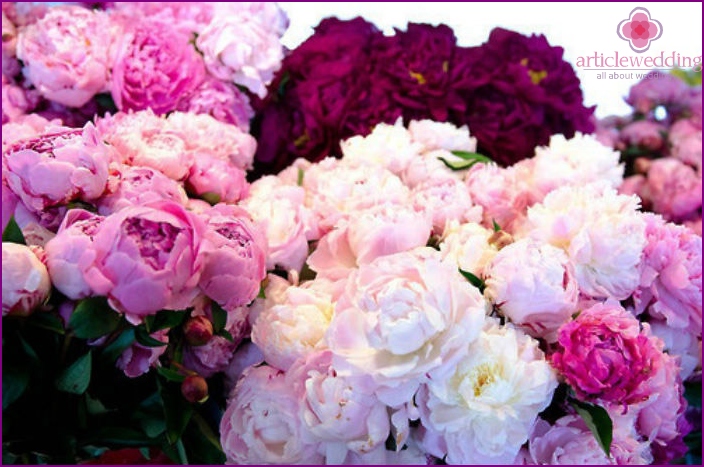 Tips for choosing a bridal bouquet of peonies
Choosing a bouquet for the wedding, which will include peonies, is not so simple, because the variety of shapes and colors is amazing. More than 5 thousand varieties of these flowers are known, differing in the shape of the leaves, the size of the buds. Depending on the season, the flowers may be of local or Dutch origin. In our area, the period of flowering peonies falls in mid-May - early June, and the rest of the time, flowers are imported into Russia. Dutch varieties are characterized by small bud sizes and fewer color shades..
To create a bride's bouquet of peonies, you should not only decide on the variety of flowers, but also solve many more important problems. You need to choose the shape of the wedding bouquet, as well as additional accessories or elements that will be used to design it, and understand - these will be some peonies or other flowers will complement them.
A variety of forms of wedding bouquets:
In the shape of a ball. Ideal for slim, fragile girls of short stature.?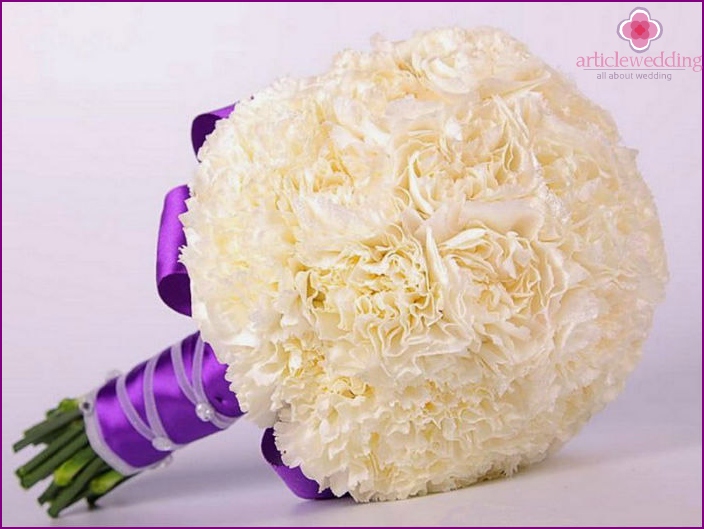 Classical form (Biedermeier). As a rule, such a bouquet of small sizes is rounded, and the flowers in it are arranged in the form of rings. Such compositions are collected on their own stems or in a portbuketnitsa. This option is suitable for slim short girls with a magnificent dress.
The elongated form of the composition. To create it, flowers on long stems or a special base - frame. This option is suitable for tall girls, and also goes well with a straight-cut wedding dress.
For tall girls with a slim figure - a drop-down shape is suitable, flowers with long stems are used to create it.
Round form. To create such a wedding attribute, the flowers are tightly attached to each other, forming a hemisphere. This form is perfectly combined with any style of dress and suits brides of any physique, i.e. almost universal.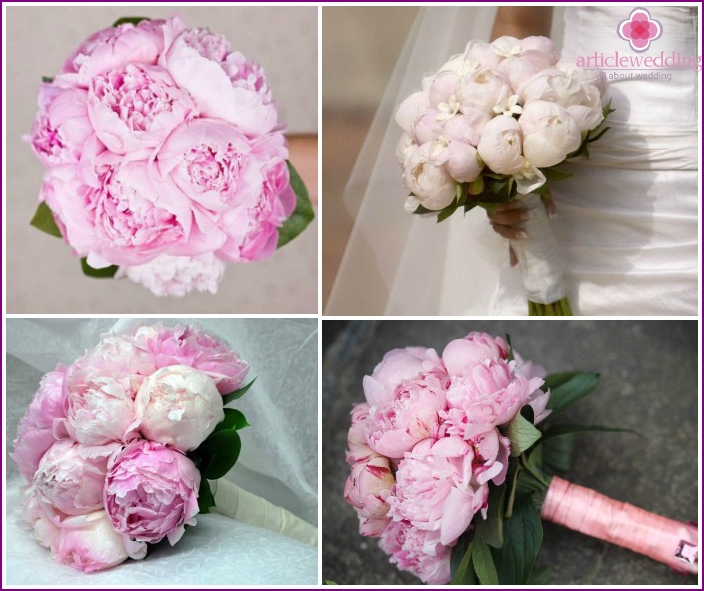 When choosing a wedding attribute, it is worth paying attention to its color, so that it harmonizes in combination with the outfit of the bride and additional accessories. With a snow-white dress, a bouquet with pale pink or red peonies will look great, since white «get lost» against the background of the dress. But for the outfit of ivory, ivory or with a silver, golden hue - white flowers will look amazing.
When choosing a floral attribute, the bride, first of all, should be guided by her own wishes. It should be a bouquet that she had dreamed about since childhood or painted in her fantasies from the moment of engagement. If the future spouse finds it difficult to make a choice or if she has any doubts, then you should seek the advice of a professional florist. The specialist will help with the choice, dispel doubts, and also tell you how best to create the perfect composition for your holiday.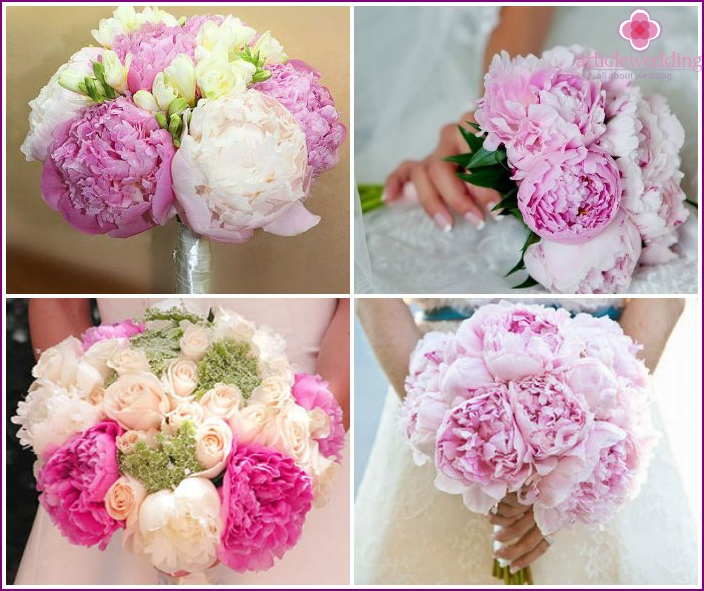 Options for wedding bouquets of peonies
Peonies are self-contained flowers, so the wedding arrangement with them will look amazing. Especially if the florist correctly selects shades, sizes, combining the blossomed heads and only the buds that have arisen (barely opened). But often the bride wants to dilute the bouquet with sprigs of greenery, decorative elements or other flowers. Roses, poppies, orchids or freesia are usually used for this..
Arrangement with roses
Peonies and roses are two of the most beautiful flowers, so they are often used in pairs to create and design a wedding bouquet. The combination of these two colors of the same shades magically looks, they harmoniously complement each other, creating a common tandem. To create contrast and give the composition a special zest, roses are often used a tone brighter, but only so that they do not overshadow the beauty of the main colors. In such a bouquet, both small roses on the branches and large, blossoming buds will ideally look.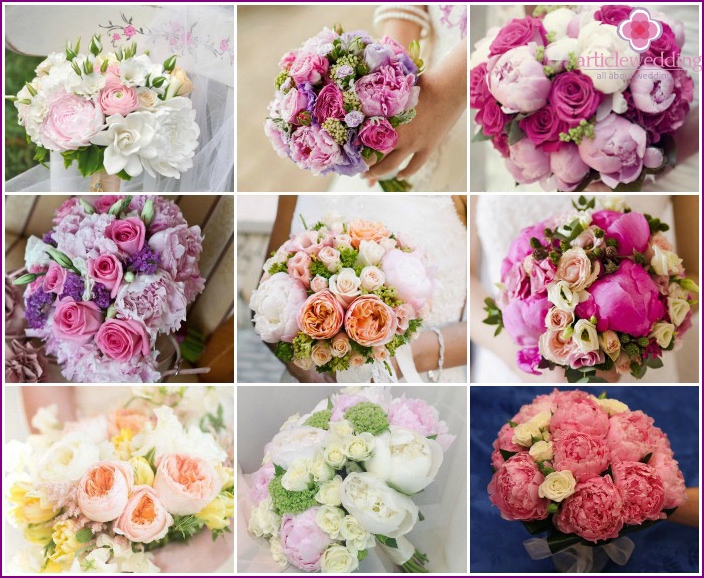 Mono-bouquet of pink or white peonies
The bouquet, consisting of only peonies, looks tender and sophisticated in the hands of the bride. To create floral arrangements of this kind, white or pale pink flowers of different varieties are used. The ideal form is a hemisphere, ball or classic. The elegance, charm, airiness and simplicity of such a bouquet will make many look with admiration at it, riveting all the guests' attention to the bride. As a decoration it is possible to use satin ribbons, beads or a brooch.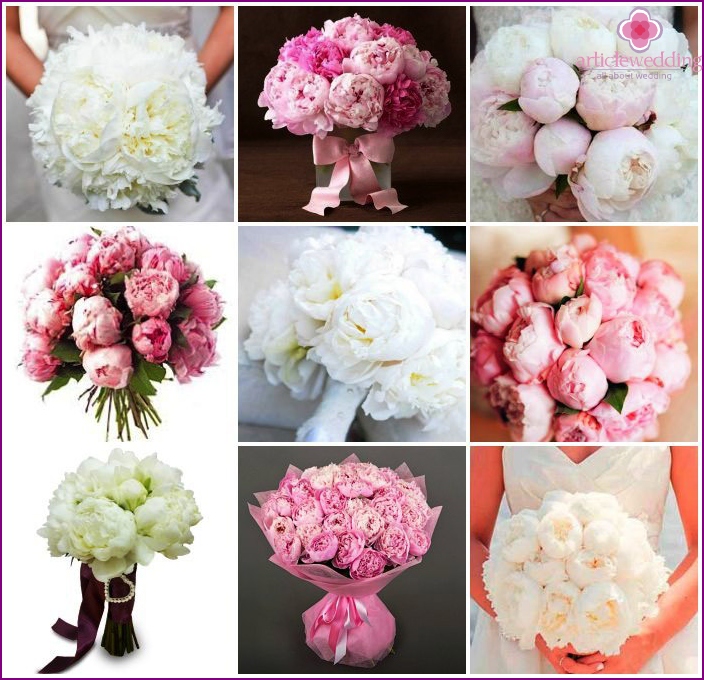 Combination with orchids, freesia and rancus
For girls who want to make an unusual wedding composition, in addition to peonies, it is worth adding flowers such as orchids and freesia. They are able to add a bouquet of elegance, to make its appearance more refined. The wedding arrangement will also look beautiful, where peonies and rancus are harmoniously combined (they are remotely similar to peonies). This combination is ideal because the flowers complement each other, creating a beautiful tandem.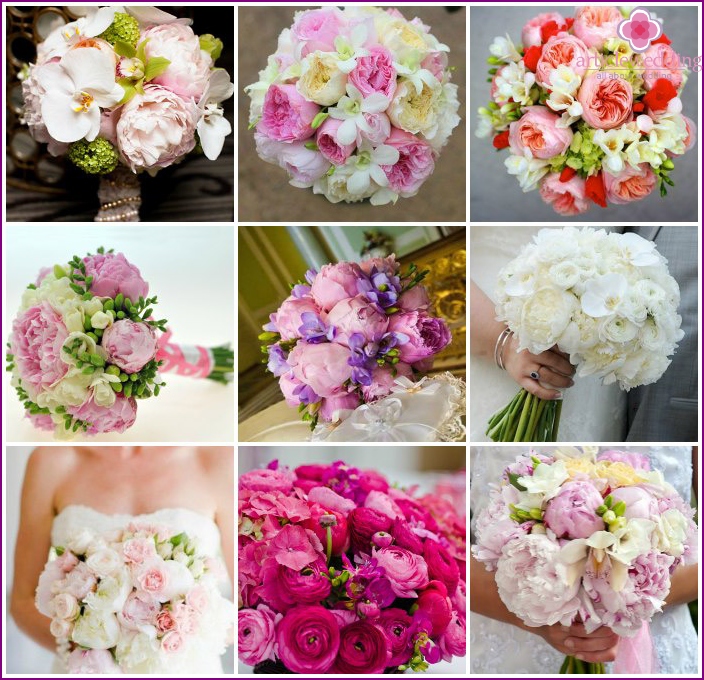 Video: a workshop on composing a bouquet
Experienced florists will always help to make a wedding bouquet, they will do it on time. But there is an alternative - to learn how to make this attribute. You only need to find time among the pre-wedding efforts to pre-train. You will put special meaning, feelings, emotions in a bouquet made by your own hands, which will favorably affect family life (according to Chinese teachings). To help you, a detailed video master class on composing a bride's bouquet of peonies:
Photo of beautiful wedding bouquets with peonies