Contents
---
---
If the bride is a bright, individual person who wants to move away from existing stamps when creating a wedding bouquet, then the lilac will be a wonderful solution. These flowers are natural, simple and at the same time very beautiful, unusual look in the hands of the bride and groom. Delicate flowering branches are associated with spring and have a rich range of colors: white, saturated purple, pink, pale lilac. A stunning soft aroma makes the flowers an ideal option for wedding floristry.
The meaning and symbolism of lilac in a wedding bouquet
Lilac color is a symbol of mystery, femininity, new beginnings. It is considered a shade of the spring-summer range, however, bouquets come in a variety of colors and look great at any time of the year. As the branches begin to bloom in April, this plant is most suitable for spring weddings. The lilac bouquet looks beautiful, original, and its heady aroma is delightful.
In the language of flowers, such a bouquet means the birth of something new, the love and excitement associated with it. These values ​​are ideal for a wedding flower arrangement. Flowering branches emphasize the individuality of the bride, adding to her image of femininity, tenderness. There is a belief that an amulet made using lilacs attracts happiness and mutual understanding to the family. This variety of flowers is also suitable as a decor for a banquet hall - the festive room will immediately be filled with a pleasant fresh smell of spring.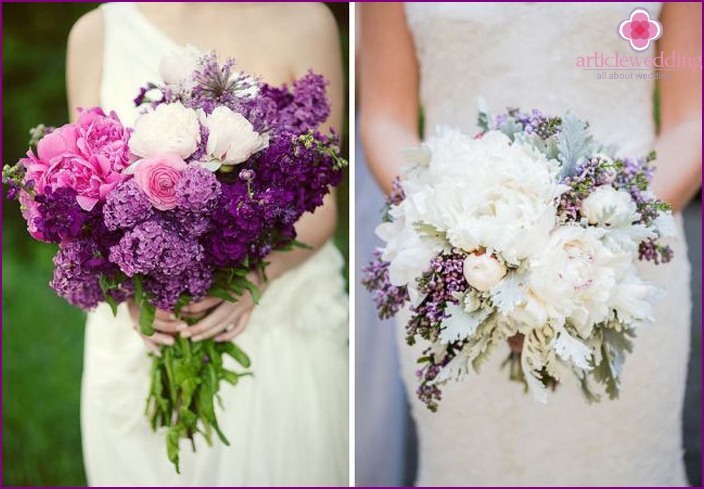 Options for bridal bouquets with lilacs
What flowers should I choose for a bride's bouquet of lilacs? Lilac twigs perfectly combine with large buds of roses, orchids, tulips, carnations, lilies. No less charming, simple and effective looks in the bouquet of the newlywed only lilacs. This plant owes its noble bright violet color not to scientific selectors, but to nature itself.
The range of shades is striking in its wealth, offering florists a large space for creative thought. The combination of tones can be absolutely anything, however, when creating a bouquet for a bride and groom, it is worthwhile to maintain a harmonious color scheme for the wedding. The combination of types of buds can also be different. Include other tender spring flowers in the bouquet or complement it with large, bright roses, ranunculi, orchids.
Composition of lilac and peonies
Beautiful peonies are suitable for summer and spring weddings. Due to the variety of shades, compositions with peonies are especially delicate. Many brides dream of seeing these wonderful buds in the design of their ceremony, or at least placing them in the bride's bouquet. However, Dutch inflorescences are expensive, they are available only until August, and plants grown in the homeland bloom in May. Therefore, if your wedding falls in the spring, do not miss the opportunity to create a composition with charming lilacs and noble peonies.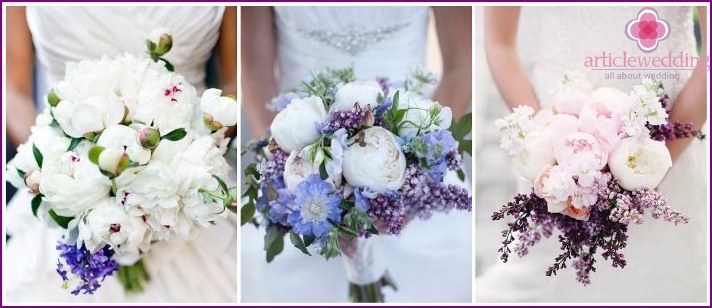 Wedding bouquet of lilac and roses
To create a gorgeous image of a newlywed, you should choose a combination of roses with lilacs. To make the composition look richer, play with tones or color saturation, add buds of other shades, for example, white. Roses of muted purple or pink color will add an image of tenderness and romance. In a floral language, such roses mean strong love.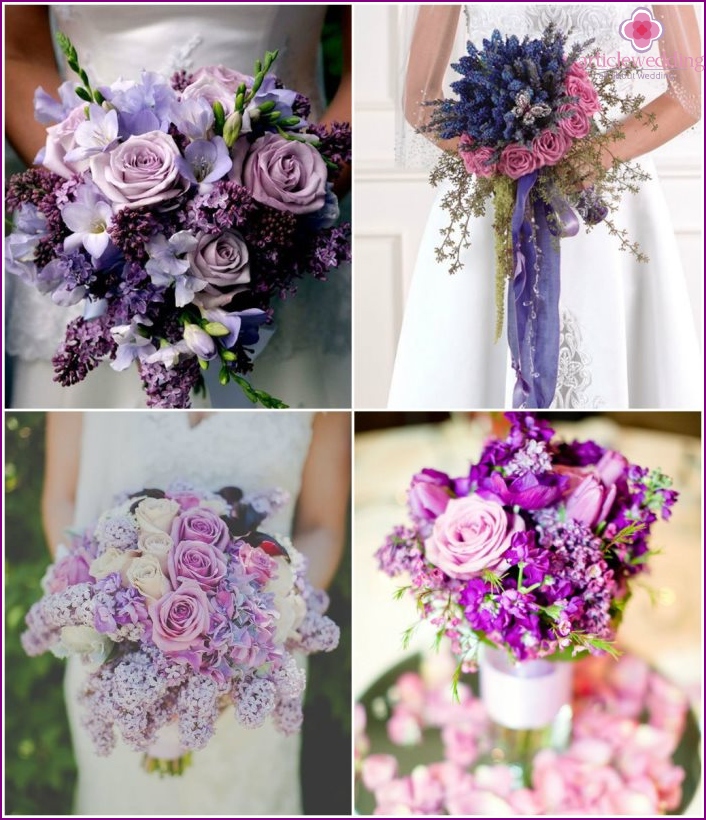 Combination with tulips
Tulips are bright messengers of the arrival of spring. The bride's bouquet can be either bright or delicate, depending on the tone of the tulips chosen. Tulips of the same shade are perfectly combined with lilacs. Moreover, buds of a deep purple hue or bright pink color harmonize equally well in the composition. Place the tulips in the center or disperse them, combining with lilac branches - both options look amazing. However, remember that tulips are very fragile, which means that they require special care at the holiday.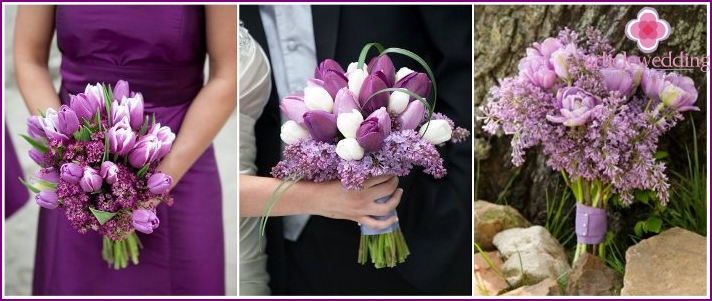 Lilac mono-bouquet
Flowers are perfect for brides whose weddings are decorated in purple or pink. However, even if the bride does not have other attributes of such a color, the bouquet will look magical and give her a gentle, pleasant aroma. The mono-bouquet will be the highlight of the image of the bride and groom, who prefers an unusual combination of simplicity and beauty. If you are not a fan of other spring varieties of flowers, a lilac mono-bouquet will be the best choice. Complete it with fresh herbs or decorative details..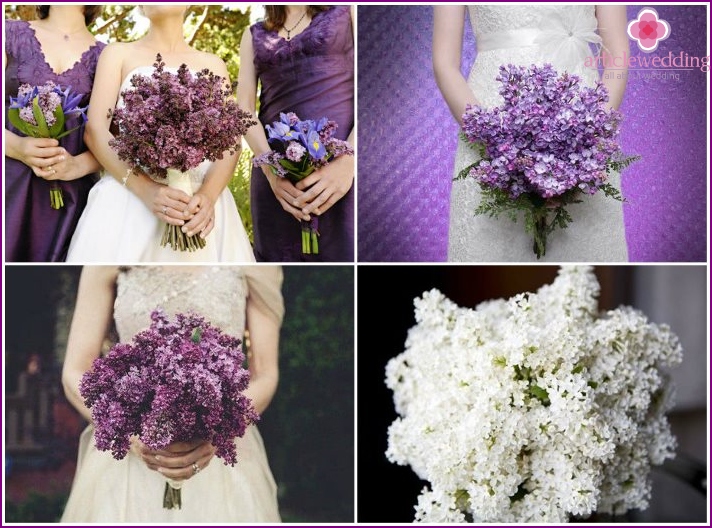 How to make a bouquet of lilacs with your own hands
Some girls entrust the creation of a wedding bouquet to experienced florists, since young people already have a lot of pre-holiday troubles. But some newlyweds prefer to make a wedding flower arrangement with their own hands, despite the fact that the work takes up a lot of time and effort. It's better to do this in advance, practice floristry a few months before the wedding, so that at the last moment you do not have to turn to specialists for help.
To create a lilac bouquet with peonies, you will need:
20 branches of lilac.
15 not very large peonies.
Vase.
Decorative greenery.
Decorative and teip tape.
Secateurs.
Instruction:
Place peonies in a vase, placing them as you wish.
Add greens to the composition.
Distribute the lilac.
Move away a little from the vase and see how the composition looks from the side. If you are satisfied with the result, fasten the buds using tape tape.
To give an aesthetic appearance, decorate the composition with decorative ribbon. She will help hide the teip tape and give the bride a bouquet of tenderness. It is better to use material in blue, pink or white..
The choice of colors depends on the dress of the bride, her complexion, style and color scheme of the holiday. Remember that the bouquet should complement the image of the bride and groom, and not distract all the attention of guests to themselves. A chic, richly decorated dress needs a minimum of modest, simple accessories. While the modest outfit looks organically even with bright, strewn with stones, decorated with ribbons or other decorative elements bouquet.
Photo of beautiful wedding bouquets of lilacs
What other flowers look as magical and smell as beautiful as lilacs? If the bride likes these delicate, beautiful flowers, then the bouquet must contain them. Lilac gives us a huge variety of shades - from white to purple, this allows you to choose the shade that is best in harmony with the overall color scheme of the celebration. Combine lilacs with hydrangeas, roses, tulips, sweet peas - these combinations look great.