Contents
---
---
Gentle harbingers of warmth - bright, colorful, extremely elegant tulips attract the eye of buyers in the flower market. And not in vain, which blossomed among the first in the spring, these beautiful plants fascinate with their appearance, smell, give us joy, cheer up. The bride, choosing a wedding bouquet of tulips, will look amazing, because they have an amazing ability to emphasize the grace and beautiful figure of a girl.
Options for bouquets of tulips
The natural grace and simplicity of the shape of this plant allow you to create unusually beautiful compositions. Succulent leaves, bright flowers - bouquets of them do not need additional decorations. Plants look great in the form of a one-color composition or a combination of several colors. It is better for a romantic bride to opt for a white wedding bouquet, and a passionate girl may choose the option of yellow and red flowers. Someone chooses mono-bouquets, others prefer tulips surrounded by other plants - roses, orchids, lilies of the valley.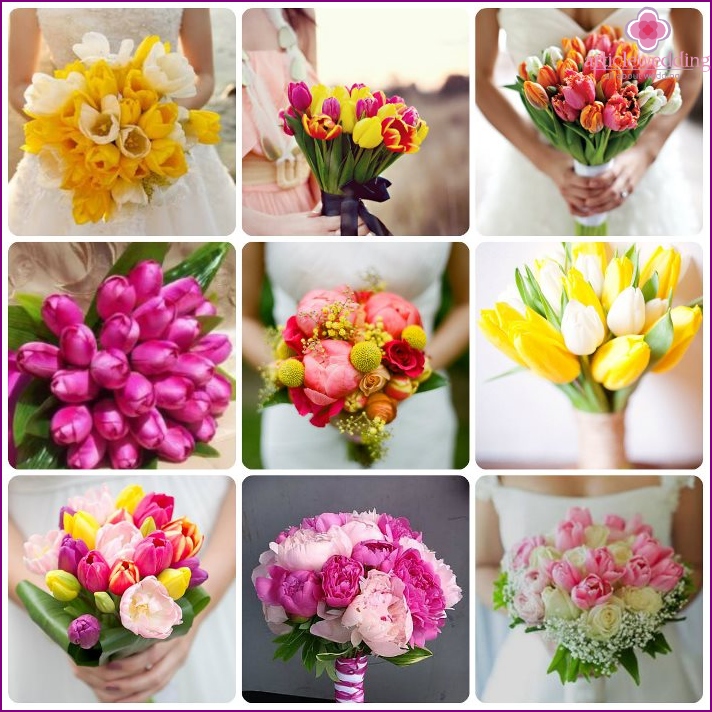 Mono-bouquet of white or purple tulips
Even an inexperienced florist can create a composition using plain tulips. Monobouquets perfectly express their divinely beautiful shape and color. White flowers are a symbol of purity, innocence of the bride. They will be in perfect harmony with her white dress and give tenderness to the image. No floristic devices needed to make the composition.

Purple tulips are a symbol of fidelity. There is an opinion that the richer the color, the stronger the love of the young. The bride's bouquet, made using purple or lilac flowers, looks bright, expressive, attracts attention, stands out in wedding photos, fits perfectly into the pictures. Photos of newlyweds will be picturesque, lively, pleasing to the eye.

To create a composition, you need an odd number of tulips. Choose flowers with large, tightly closed buds of the correct form, long elastic stems and fresh leaves. To get a beautiful bouquet, there must be at least twenty pieces. Fold the flowers so that the central ones protrude slightly. On the outer edge of the composition, you can insert leaves of bergrass. Tie your masterpiece from the bottom with a wide colored ribbon or lace, trim the stems with a knife.
Bouquet of tulips and roses
In the market, these flowers are sold separately, but if you wish, you can successfully combine them. Tulips take on a particularly solemn appearance in combination with roses. Among brides pink flowers are in demand. Take soft pink tulips and add dark red roses to them, dilute the colors with greens. Against the background of white roses, red-orange or delicate pink tulips will look chic. Use roses as the basis of the composition, and let tulips act as accents (they should be evenly distributed among roses).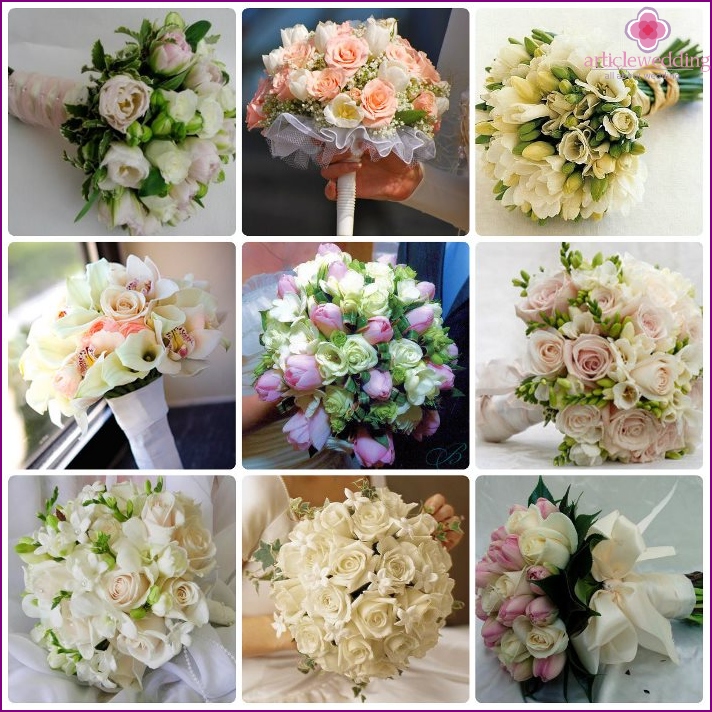 The combination of tulips and irises
A simple but original and sophisticated bouquet will be obtained with a combination of no more than three different shades. When composing the composition, keep in mind that plants with smaller corollas and pale shades should be placed closer to the edge, and large and bright flowers should be left in the center. In our case, in the center there will be irises, and on the edges - tulips of soft colors. Perfectly complement this composition of tropical orchids, decorative sunflowers.

DIY tulip bouquets
Tulips have long stems, this allows you to independently create beautiful wedding bouquets of any shape - round, cascading, linear. These plants in mono-bouquets, which are made both monophonic and multi-colored, are striking in their beauty. The good news is that the range of their colors is huge, you can create all kinds of color combinations.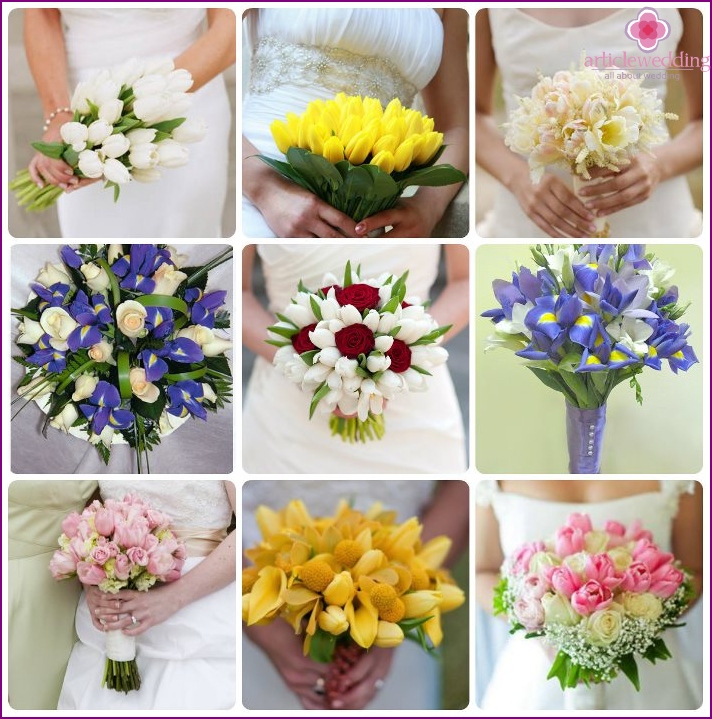 In addition to flowers with the familiar corolla shape, there are many more varieties that amaze with their sophistication. Lilies colored tulips in the form of petals resemble lilies, terry - like lush fragrant peonies, fringed - at the edges as if decorated with fluffy braid. There are also parrots, which with their variegated petals-feathers are similar to small parrots. Using all this variety of shapes and colors, you will create a bridal bouquet pleasing to the eye for the bride.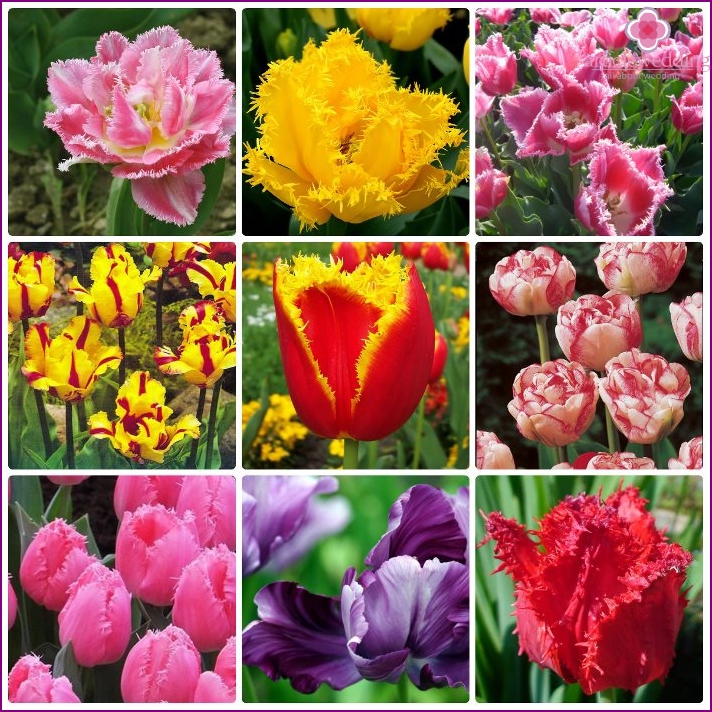 A perfect look will be the combination of tulips with roses, callas, lisianthus. Having chosen colors with taste, you will form a bouquet worthy of attention. Garnish it with greens, for this purpose a gypsophila is quite suitable. In its absence, do not worry, your creation will be delightful without any decorations. The only condition: if you want the bouquet to last longer, avoid combination with strongly smelling plants (hyacinths, daffodils, lilacs).

How to keep a bouquet fresh
Tulips are resistant to bad weather. In the cold, they will not freeze, they will only close their petals more strongly, and in the heat they will be opened again.
When choosing flowers in the market, make sure that their stems are obliquely cut and the buds are not open.
If the selected bouquet needs to be stored for some time, wrap it in paper and put in a normal refrigerator.
To give the tulips a fresh look, cut the ends, wrap the flowers tightly in paper, pressing them together, and place them in water. They will quickly come to life and get the necessary shape..
The meaning and symbolism of the tulip in the bride's bouquet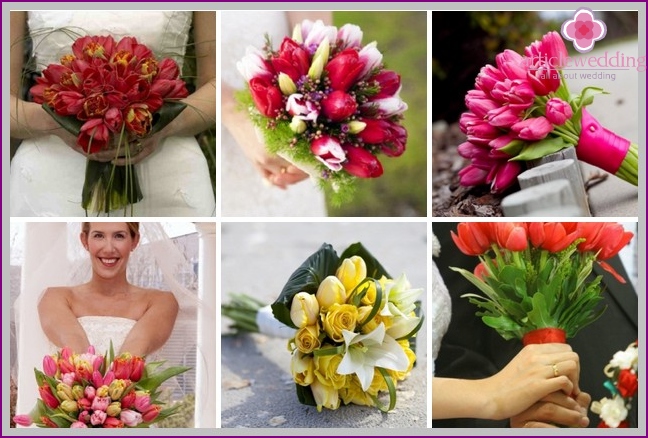 An ancient legend says that once human happiness entered a tulip bud and hid there. Many dreamed of seeing him, but happiness did not show to people. Only when the bride and groom loving each other with their hearts asked the flower to open, did he open his petals and release happiness for the young. That is why this flower is considered to be wedding, all over the world they treat it with special trepidation. In Turkey, this beautiful plant symbolizes marital fidelity, in the east it is equated with a royal flower.
Beautiful bouquets of tulips photo