Contents
---
---
With the summer heat coming, in May-June poppies bloom in the fields, and the eyes of those passing by run away from such beauty! In the middle of the green spaces, large bright red flowers attract the eye, enchanting with unusual colors. For brides planning a wedding these months, a poppy bouquet may be the best solution. A festive composition made with the help of these simple but so sweet heart flowers will decorate the wedding and make the bride an original, irresistible, stylish. They are good both in a separate bouquet, and together with other flowers..
Options for wedding bouquets with red poppies
Have you ever looked at the shape of a poppy? It looks like a magnificent, elegant ball gown. The advantage of this flower is that it emphasizes the natural beauty of the girl. A poppy bouquet will suit any bride, regardless of age, dress or type. Red poppies will look gorgeous in the hands of a brunette with a bright appearance, as well as a red-haired beauty. They will give an image of passion, unpredictability. Add a little green to the red tint, you get a fresh, festive bouquet.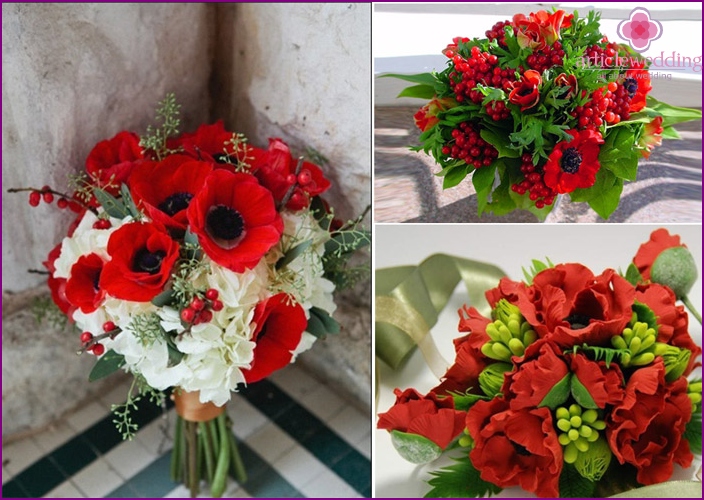 To complete the style, decorate the bride's hair with red poppies, add some suitable accessories, and then the flower arrangement in the girl's hands sparkles with new bright colors. To prevent the groom from feeling hurt, decorate his buttonhole with a small poppy. These flowers are not only red, their color scheme is diverse. Blondes can use cream, white or orange colors for a wedding bouquet of poppies - they will create a delicate, romantic look. To decorate the interior, you can make paper poppies with your own hands, this process is shown in the video: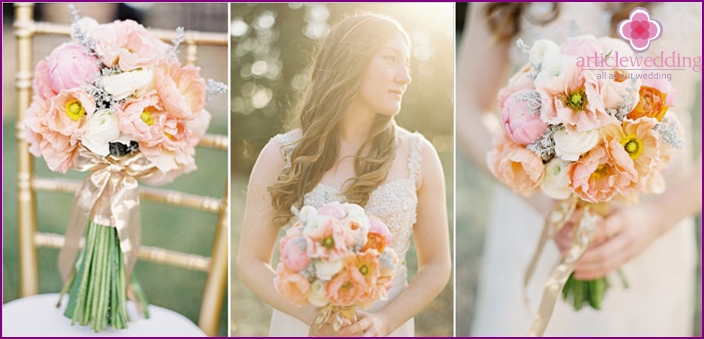 Composition of poppies with daisies
Remember what a flowering field with daisies looks like in summer - a huge snow-white expanse with yellow spots. A beautiful sight warms the soul, returning us to childhood. At first glance, a simple and innocent chamomile, together with bright red poppies, creates a wonderful elegant composition. A white cloud resembles a bride's dress, and colored splashes of poppy give sophistication and charm. Looking at this piece of summer, we are as if drowning in meadow grass, smiling at the sun, breathing in the aromas of field plants.

Combination with wildflowers - cornflowers
Blue-eyed cornflowers that have absorbed the blue of the sky, resembling the clear eyes of a loved one, often become the object of attention of girls when choosing a wedding bouquet. It's hard not to be seduced by such beauty. Terry petals with huge blue inflorescences will decorate any outfit of the bride. And along with the red poppies, cornflowers will create a fresh, rich composition. Such a wedding bouquet looks elegant, solemn and at the same time simple, elegant. Large poppies burn with bright spots on a blue background, favorably shading the bride's natural charm.
Unusual, winning its natural beauty, liveliness and natural charm, a typical summer bouquet of poppies with cornflowers reflects the blue of the sky, sunlight, uplifting, pampering with a delicate smell. Breathe in this aroma - and pleasant memories will immediately pour over you. These flowers grow together in the field and miraculously combine with each other in one bouquet..
Bouquet of poppies and sunflower
Young people dream of making unusual, colorful photographs as a keepsake of the wedding, and for this it is necessary to choose the appropriate flowers. Wedding bouquets of poppies and sunflowers involuntarily attract the eyes of guests, concentrate on themselves. Balls of fire in the bride's hands will become the central object of any photo, because a large, bright yellow spot with red splashes gives young and guests sunny warmth even on the coldest day.
For a long time, sunflowers were not used for wedding bouquets, they remained in the shade, yielding popularity to other flowers. But their time has come. Sunflowers with red poppies can decorate both a traditional wedding and a theme one. This bouquet is especially suitable for a wedding in a rustic Ukrainian style. He will also decorate and revitalize an ethnic, folklore, green, yellow, red wedding. Traditionally, yellow is considered a symbol of a strong family, and sunflower seeds are associated with fertility - young people will have many children.
The meaning and symbolism of poppies in the bride's bouquet
Compositions with poppies are beautiful, unique, exclusive. They are not easy to buy, except by order. And if you find time to study a little history, you will learn amazing facts about poppies:
An interesting tradition has existed since ancient times among the inhabitants of Provence. French called poppy «flower of angels», attached great importance to him. During the procession, small children threw scarlet petals under the priest's feet.
The Chinese consider poppy a flower that brings success, peace, peace of mind. They identify his beauty with the charm of a woman.
Ancient Greek women gave the poppy the nickname «love spy». Our modern tradition of fortune telling on a camomile has ancient Greek roots, but in those days girls were divining on a poppy flower. They made a ring with the thumb and forefinger of one hand, laid a flower in the middle, and slammed the palm of the other hand from above. If a loud bang sounded - the groom loves.
Poppies included in the modern wedding arrangement are considered a symbol of youth, purity, eternal beauty.

The coloring of the poppy also has a certain meaning:
Red color symbolizes true, passionate love..
White poppy is suitable for dreamy beauties who are optimistic about the future.
Yellow or orange flowers will certainly bring success to a young couple.
Pink will give peace of mind, grace.
The girl has something to think about when choosing poppies for a wedding arrangement.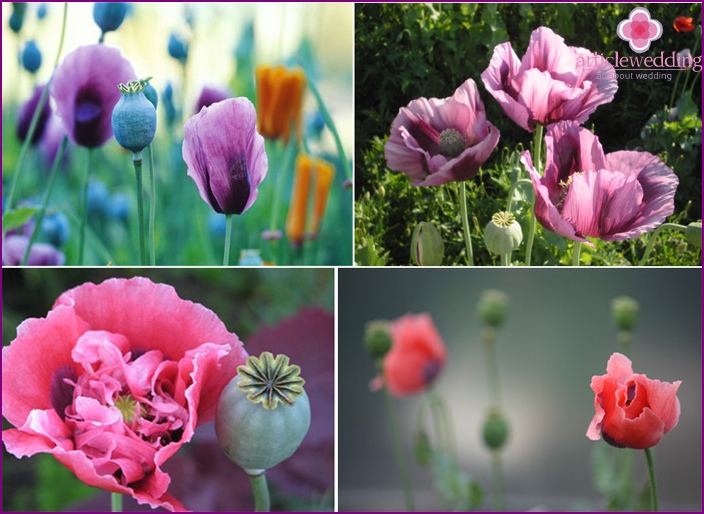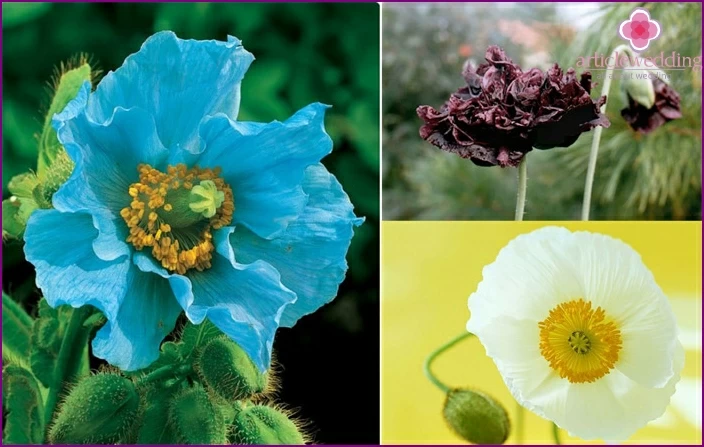 Photo of beautiful bridal bouquets of poppies
Bright and interesting in shape and composition, bouquets with poppies are impressive, leaving no one indifferent. Brides and grooms like them, but photographers especially like them. The wedding charm of poppies in a bouquet will decorate photos, remaining an accent and bringing a special atmosphere to the wedding extravaganza. Take a look at the photo and choose which bouquet you like.