Contents
---
---
Fresh flowers at a wedding in a bride's bouquet - until recently it was an integral attribute of the celebration. But progress does not stand on the meta, girls are increasingly resorting to original solutions in the design of their bouquets. Sometimes originality goes so far that there is not a single living flower in the bouquet. From that it does not get worse, because all the flowers take their place, only they are made of delicate, beautiful fabric.
Fabric bride's bouquet as an alternative to fresh flowers
Fabric bouquets have recently entered wedding life, but immediately gained fans around the world. The advantage of such bouquets is undeniable, they are beautiful, original. Each such composition is a masterpiece of applied art, it is unique, created with a soul, it allows you to endow the wedding image with special features. Tactile such items are pleasant, cozy, sophisticated - this is conveyed to the image of the bride.
They can be created in different styles, options, enhancing or diluting the overall surroundings. There are many style solutions, the most popular when creating fabric wedding compositions are as follows:
Classic - minimalism, romance, rounded homogeneous form of the composition, decorated with silk ribbons, pearls, glitter.
Retro - replete with decorative elements (brooches, stones, beads of golden hues «antique»), with interwoven fabric colors.
Vintage - romantic retro, teeming with lace, vintage brooches, muted pastel.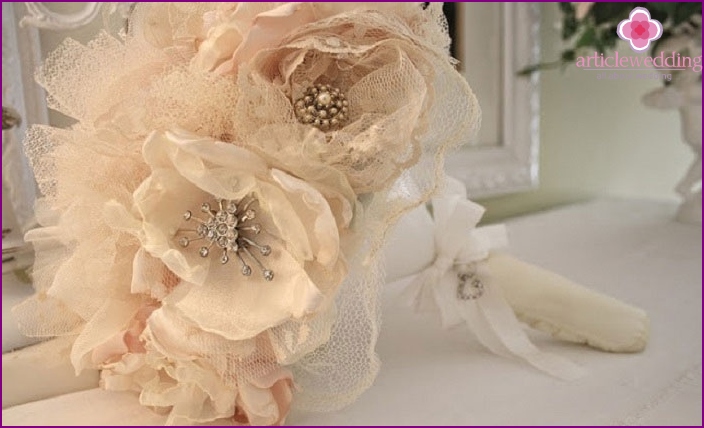 Bohemian - textile flowers, combined with natural elements (branches, berries, cones, feathers).
Marine style - stripes stripes imitating a sailor suit, delicate blue, white tones, free execution.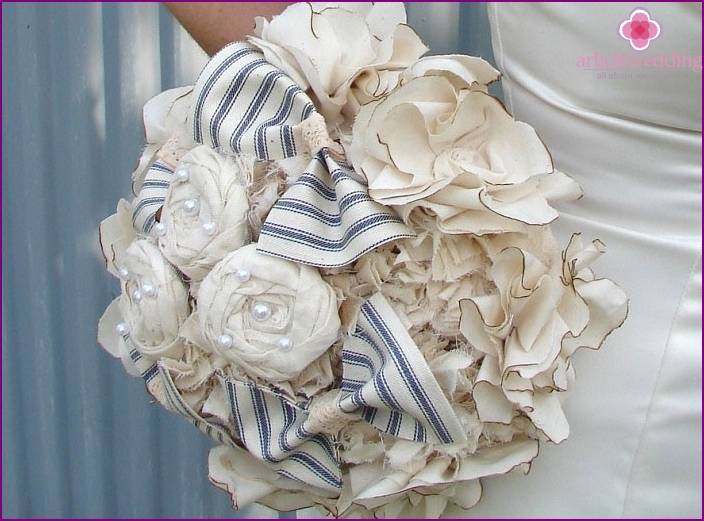 Art Deco - stylish products, complemented by bright accessories (pearls, feathers, brooches) that blend perfectly with fabric solutions. They have prominent elements (feathers, decorative branches) or asymmetric.
Country - wedding products created using denim, materials in blue, red colors. Variegated composition, often decorated with burlap, twine, imitation of field plants.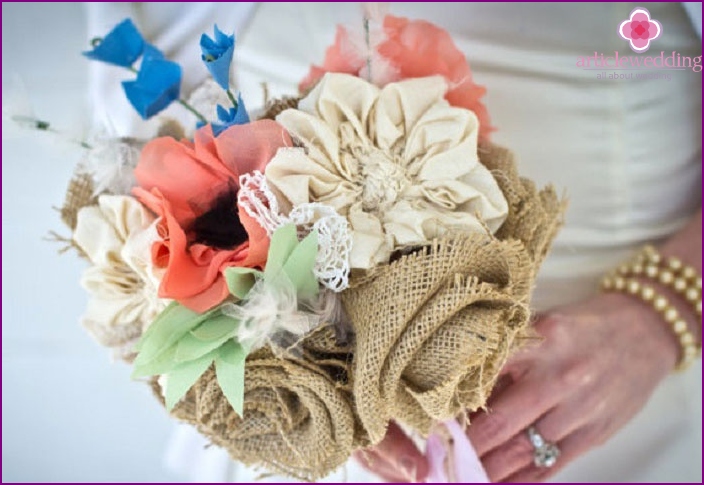 Popular materials for creating textile masterpieces for a wedding are organza, chiffon, satin, polyester, silk, felted wool, lace, felt, and kanzashi flowers. All kinds of ribbons, buttons, beads, other decorative elements that may be difficult to include in a natural floral arrangement may appear in them. Unlike the latter, textile wedding bouquets are an endless field for the application of fantasy, which will make the bride's image not unique and boring, but unique and interesting..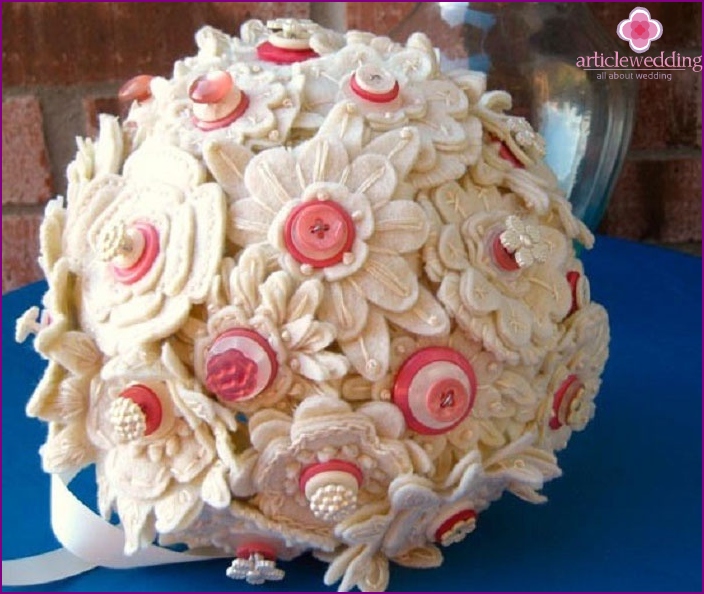 The charm of fabric bouquets and their advantage
Fabric wedding bouquets have noticeable advantages over floral arrangements:
They do not fade, they can still remind you of the celebration for a long time after the wedding.
Will not be damaged, will not dry out at the wedding itself.
Lungs - the bride will not tire of wearing them all over the ceremony.
They can be varied, because the chosen style, appearance, color, configuration, flowers to imitate, jewelry depend exclusively on the bride's imagination.
They allow you to combine the properties of different plants, for example, the appearance of a gerbera bud with lily pestles, or create a completely new, exclusive flower.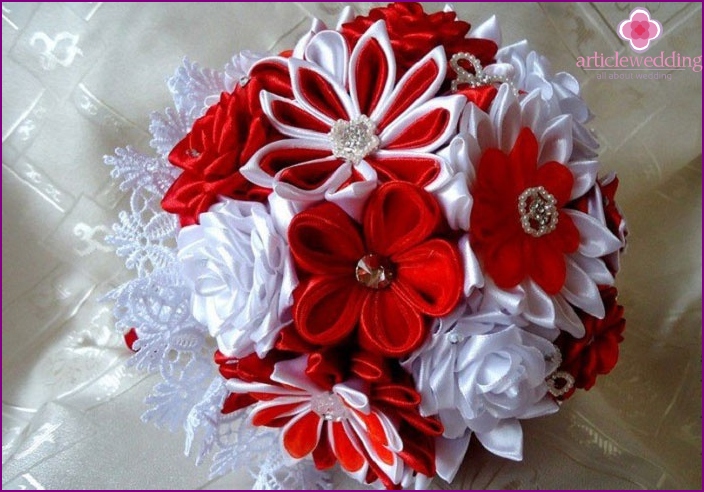 Inexpensive, in comparison with compositions from fresh flowers compiled by florists, as it takes a little material, needlewomen can use the one that is already at home, they can use trimmings, and they cost an order of magnitude cheaper.
Such compositions will contain a piece of the bride's feelings, if created by her personally. They will reveal the talents, imagination, craftsmanship of the bride in front of other participants in the ceremony and the future husband.
They can be perfectly matched to the dress, be matched to it, suitable in shape, appearance.
Universal - with the right selection of options, suitable for any look.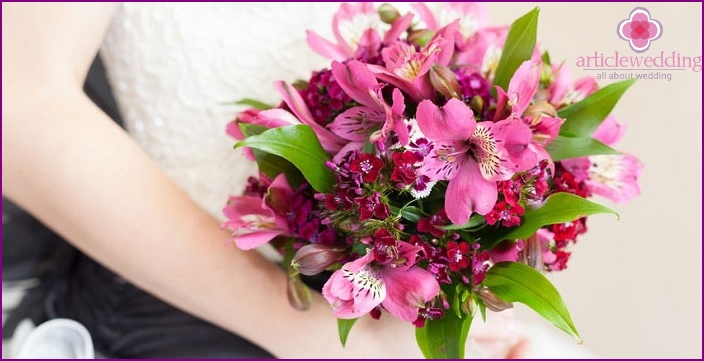 Products are beautiful, sophisticated, soft, pleasant to the touch..
They can be created long before the wedding - this removes unnecessary excitement before the celebration.
Using matter, it is advantageous to make understudies that the bride will throw to unmarried girls, because such compositions are light and do not injure anyone.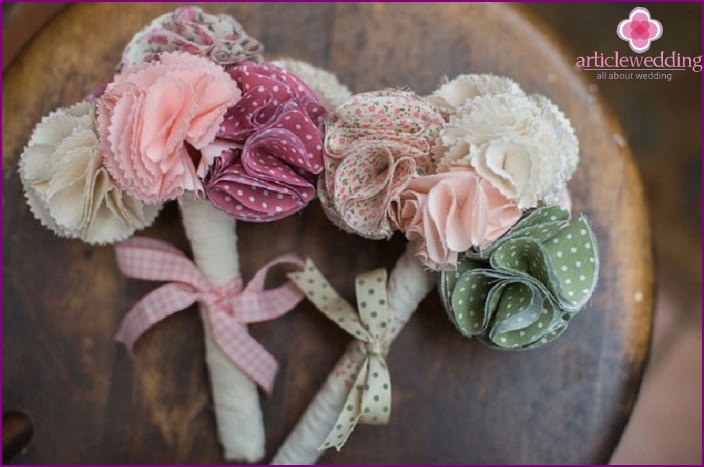 Bouquets of understudies from fabric
Today, wedding understudies are increasingly using double bouquets. An understudy is a bouquet that the bride will throw to unmarried girls after the ceremony, so that «share your happiness with them». There is a sign that warns the girls to throw their bouquet, which was given to them by the groom, so that «don't give up your happiness». Throwing a wedding bouquet is a mandatory part of any wedding, resourceful newlyweds have thought up throwing a wedding bouquet-understudy, reminiscent of the main, but not being.
Doubles are made of fabric, without the participation of fresh flowers. This gives the bride the opportunity to make it as light as possible, similar to the main one, but less intricate; to postpone it to the right moment, without fear for its safety, to manufacture or order in advance. But most importantly, the fabric understudy will not fly apart, will not break due to the throw, like floral arrangements that are fragile, not intended for such a use of force.
The doubler is usually made smaller. Sometimes such bouquets are replaced with small wedding bouquets for friends. There is no need to throw a wedding bouquet if each unmarried female friend already has her own personal flower arrangement. Such wedding accessories are best made from matter, which will allow friends to feel freer, if necessary, laying aside a bouquet or hiding it in a handbag. Using the fabric, you can make many of the same compositions, which is what is required in this case.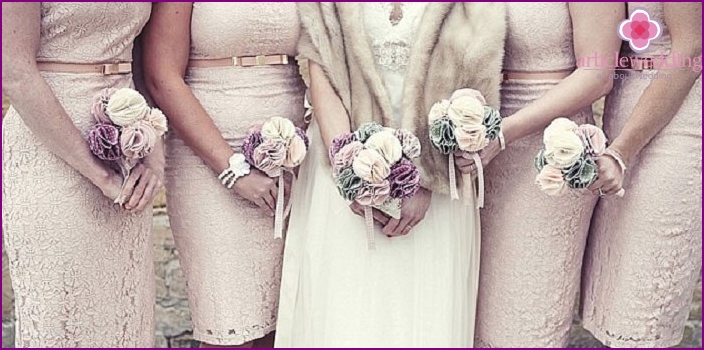 See a master class on making a understudy bouquet from fabric:
DIY fabric bouquet: master class
It's easy to make a fabric wedding composition. Any person, even unfamiliar with needlework, can easily cope with this. With the help of a fabric, it is possible to make absolutely any flowers so that they will differ little from the original. The hardest thing to do is fabric lilies and feces, because they need to make special frames. It is easiest to make roses, violets, chrysanthemums, forget-me-nots using silk, satin or any other fabrics, because the latter are easily fastened with thread, glue or a stapler.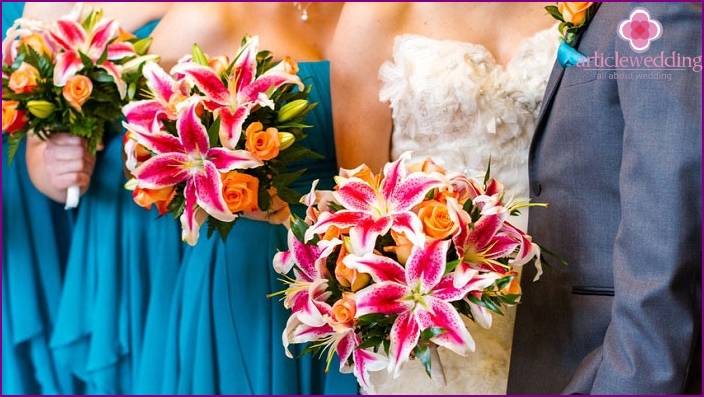 To create a wedding masterpiece, as in the photo below, we need the following tools and materials, the amount of materials will depend on the estimated size of the product: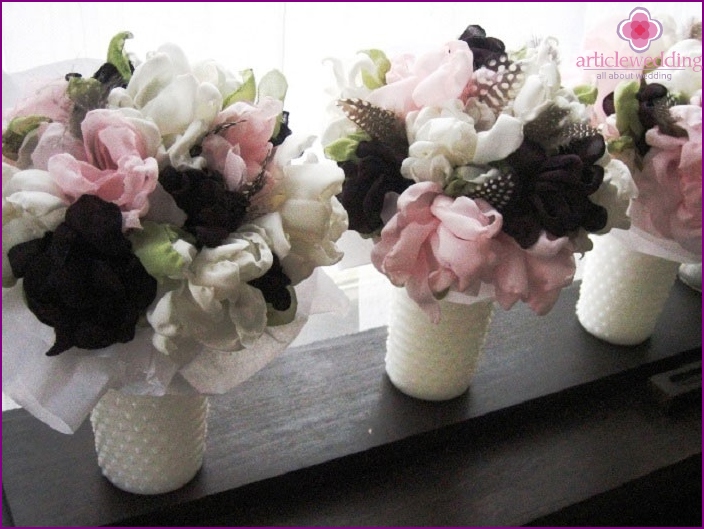 Polyester;
Beautiful wrapping paper;
Styrofoam;
Ribbon, braid, felt, felt, feathers or other decorative elements;
Flower wire;
Thread, needle, scissors;
Pins
Candle, matches.
The steps of a fabric bouquet master class:
Take polyester, cut four shapes resembling a flower. The shapes should be the same, 4 or 5 petal, not necessarily perfectly flat at the edges.

Light a candle. Bring each shape to the fire, not close, only the edges. The fabric wrinkles a bit to give the flower a natural look..
Fold the shapes together so that the center matches and there is no edge.
Make a hole in the middle of each mold, thread a floral wire into it, bend it, securing it on the inside of the mold. Leave a loose end about 10 cm long on the back..
Fold the shape twice, make a few stitches on the solid side so that through all its layers so that the bud takes shape.

Make a few more of these buds (the larger the more magnificent the product).
Make leaves from felt, attach a wire to them with tape. Prepare decorative feathers. All this is done at will..
Cut a foam cone (or buy one ready). It will serve as a flower bag.
Stick buds, leaves, feathers, and other decorative elements at its base..

Wrap the cone with wrapping paper, glue it carefully with invisible.
Wrap the flower mass in a circle with a wide ribbon.
Add sparkles, pebbles or other decorations..
Beautiful fabric bouquets photo