Contents
---
---
The final and integral attribute of the bride's outfit is a bouquet. Performed in the style of dresses or themed ceremonies, he puts an end to the creation of a common image. His choice is an art that shows the taste and reveals the character of the bride and groom. The tenderness of wedding bouquets of anemones makes them popular among brides with a sense of style. This flower composes perfectly with others and looks exquisite in mono compositions. A wide palette allows you to create the necessary bouquet of colors.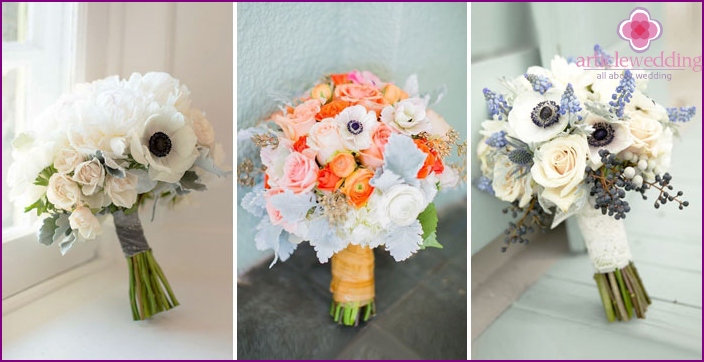 Options for bridal bouquets of the bride with anemones
Anemone or anemone is a beautiful flower that looks like a mixture of poppy, peony and rose. The bud, strung on a thin stalk, has several large petals that frame a dark or light center with many stamens. They react to the slightest breath of wind, from which came the name of the plant. Flowers are incredibly fragile, which should be considered when assembling a bouquet for a wedding.
White, pink, cream, peach, blue anemones look contrasting against a black core, but retain a certain tenderness. Anemones of bright shades - red, blue, purple, are suitable for elegant wedding dresses with an emphasis on dark colors. Black and white colors are in greatest demand. There are two-color anemones in which the petals turn from white to pink or lilac. A variety of textures makes the plant a favorite when choosing brides.
Ranunculus Composition
Anemones are the closest relatives of ranunculi. The latter belong to the ranunculaceae family. The homeland of ranunculus is Asia Minor and Southeast Europe. A plant that looks like a peony or a rose has its own unique charm. Romantic ranunculus combines with freesia, English roses, creating touching wedding compositions, and designed in the same color scheme they look very elegant.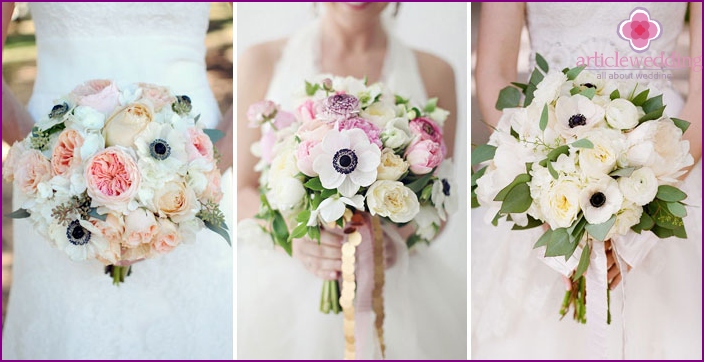 Delicate bouquet with anemones and peonies
A bouquet of anemone always looks elegant. They are not combined only with daffodils. A stylish solution for the bride will be a combination of fragile anemones and lush peonies. Bright midpoints of anemones will add captivity and charm to the composition. Lilies of the valley are used in the frame, clusters of chokeberry, complement with orchids and ranunculi. Seasonality of plants is suitable for the autumn-winter period of weddings.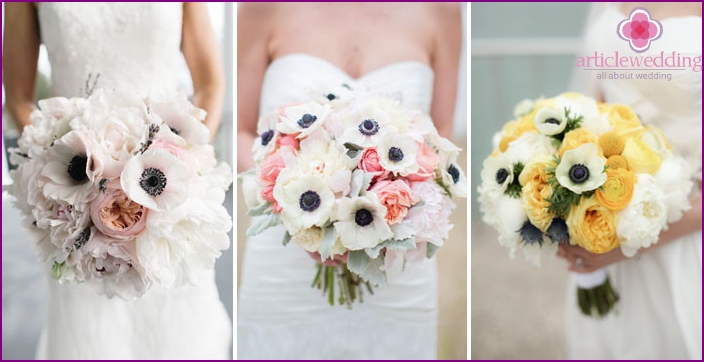 The combination of contrasting color anemones
A bright two- or three-color floral arrangement accentuates attention during a photo shoot and wedding. For the bride, such a choice would be extravagant if the dress is not decorated with a dark accessory, for example, a satin ribbon. A tandem of pink and lilac anemones is perfect for a wedding ceremony, designed in one color scheme. If this is not the case, and the bride wants bright colors, then the emphasis should be placed in the design of the hall, the outfit of the groom and other details. So, a bright bouquet harmoniously fits into the overall concept of the holiday.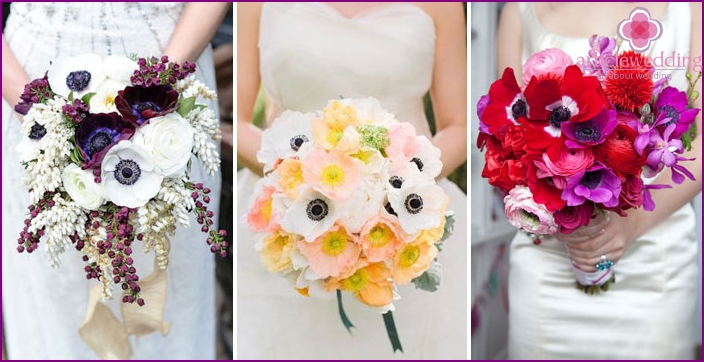 Wedding bouquet with roses and anemones
A classic rose is an absolute favorite and a true trendsetter in bridal bouquets. She is beautiful in a duet with delicate petals of anemones. When these two flowers are combined in one composition, incredible bouquets are born that inspire beauty. Pastel roses and delicate colors of anemones, decorated with green leaves, catch the eye, surprising with its splendor. This is achieved using pink, peach, white, pale yellow shades..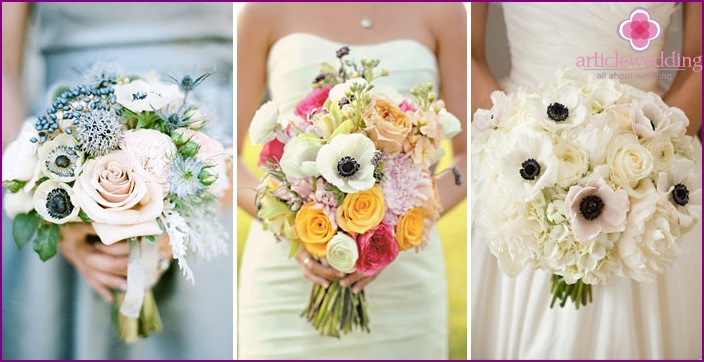 Monobouquet from anemones
Due to its appearance, anemones can be used without adding other colors, forming mono-bouquets for classic-style wedding ceremonies or Provence. Monophonic flowers are taken as a basis or several different color schemes are combined. In any version, they create a colorful composition, which is decorated with a string of pearls, feathers, grass of a bergras or simply bandaged with a bright satin ribbon.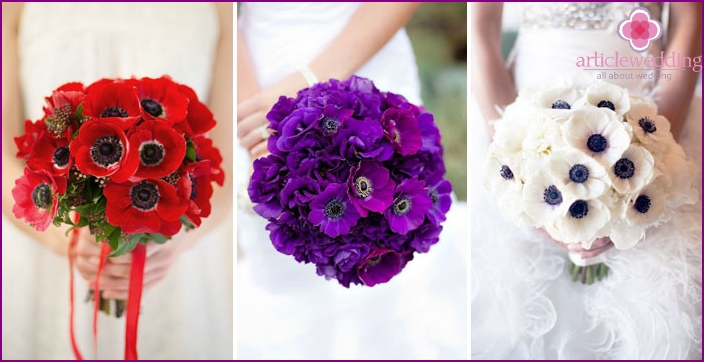 Video: how to make a bouquet with anemones with your own hands
How to learn how to create compositions using anemones to decorate an interior or a celebration is shown in the video below. It reveals the basic tricks that you need to follow to preserve the freshness of the bouquet, teaches you to give it shape, combine colors. This workshop is instructive for beginners. After it, you can delight your guests with beautiful compositions.
Photo of wedding bridal bouquets with anemones
Anemones as a part of the bride's bouquet favorably emphasize her femininity and fragility. The flower itself evokes tenderness, associated with the bride and groom. Any bride on her wedding day resembles a touching, beautiful bud of anemone. A symbol of purity and virginity, it will become the main violin in the bride's bouquet. Newlyweds choose these flowers due to their extraordinary colors, excellent compatibility with other details of the outfit and interior, excellent photogenicity..