Contents
---
---
Succulents are plants that came to us from the zone of the tropics, subtropics. They are able not only to accumulate moisture, but to store it for a long time in their leaves, stem. From this group, until recently, aloe and cactus were most familiar to us. Succulents that are gaining popularity can be used to decorate a wedding of any style. Especially these plants look good in bouquets of the bride or girlfriend. Willingness to experiment with exotic plants and an extraordinary approach to the composition of the composition is rewarded with special attention from the guests.
Options for the bride's wedding bouquets of succulents
Wedding fashion does not stand still, it applies not only to dresses or shoes. Extravagant bouquets with tropical plants are becoming increasingly popular. A wide range of colors of succulents, from silver-green to purple, allows you to combine them with almost any color. Bizarre forms «stone rose» perfectly in harmony with brighter plants.
A positive quality of succulents is the ability to maintain a fresh appearance of flowers for a long time due to the thick fleshy leaves that store water. The absence of pollen makes the plant hypoallergenic. The unpretentiousness of the succulent even allows you to independently grow flowers for your bouquet, if you plant the plant in soil in advance. After the celebration, if you want to extend the memory of the wedding, sprinkle the root of the plant with earth so that it begins.
Bouquet of craspedia and succulent
Bright balls of craspedia of sunny yellow or juicy green will perfectly complement the bride's bouquet with succulents. Such a cheerful style will add to the triumph of uniqueness and fun. Especially organically floral compositions of craspedia and succulent look in spring or summer, charging everyone around with positive, positive emotions. Funny yellow balls will be a wonderful addition to the classic young flower accessory.

Combination with garden and peony roses
Each bride wants to have her own unique floral accessory. For the composition to be remembered, it must be not only beautiful in appearance, but original in content. If to a rose - «Queen of Flowers» - add exotic succulent, you get a gorgeous composition for the bride. White rose gives tenderness, pink or red - invigorates with its brightness. Along with popular traditional colors, unusual ones with juicy contrasting colors are increasingly found. This will be a combination of roses and succulents.

Bouquet with peonies and ranunculus
The second name for the garden buttercup is ranunculus. The flower looks much more noble and chic than its meadow counterpart. Wedding floral accessories that contain inflorescences of saturated colors are extremely popular among brides. Different shades of peonies, ranunculus, succulents create a beautiful color scheme that looks with a bright accent on the background of a snow-white wedding dress. The resulting volumetric bouquets of flowers of different textures will not go unnoticed at a wedding celebration.

With vegetables or fruits
A bouquet with succulents in combination with berries, fruits, vegetables, is not often found. However, these edible ingredients look beautiful in the hands of the bride. The uniqueness of such an accessory is sure to be remembered by all the guests present at the wedding. The main thing is to maintain the correct proportions. The accessory should be small in size and harmoniously combine color shades.

Composition with succulents and dahlias.
Dahlias bloom from July to December, so they can be called one of the universal flowers for a wedding bouquet. Spherical bright hats look wonderful against the background of green succulents, complementing each other. Dahlia, by nature, is a very beautiful, elegant flower. Having a wide color palette from pale white and peach tones to dark purple and burgundy, it looks great in a variety of variations.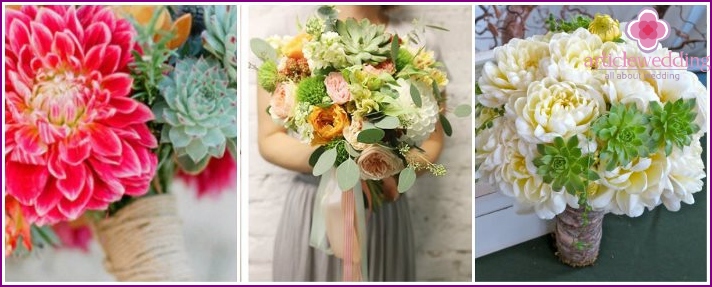 Wedding Bouquet with Proteus and Succulents
Successfully look bouquets with protea, supplemented with various greens. Although some people compare this exotic flower with a vegetable for some external resemblance, it looks unusually beautiful in the hands of a newlywed. In combination with succulents, the exoticism of such a wedding flower accessory increases several times. If the bride wants a unique wedding experience, this flower is just for her. When creating a bouquet with Proteus, the florist should be especially careful. Massive protea flower should not become the center of bulky decor.

Bouquet of different types of succulents
A creative newlywed bouquet can include only one succulents, but of different species. Leaf colors range from light green, with a grayish tinge, to dark purple and almost black. Such a bouquet will not fail, will not fade during the wedding celebration, and even a couple of days after it. The idea of ​​creating compositions using succulents is still new, but in the very near future it will be widely recognized among wedding florists and will become a hit for decoration of wedding celebrations.

Photo of wedding bouquets using succulents
To say that the succulents in the hands of the bride look unusual is to say nothing. This composition is creative, beautiful, bizarre and shocking. The choice of truly brave girls! Succulents can be base or added in small quantities for originality. Such floral arrangements have not yet received widespread recognition, but they do an excellent job. Often succulents are decorated with jewelry, feathers, branches. Leg decoration should be concise: maximum is a narrow silk ribbon.