Contents
---
---
A wedding bouquet is an important attribute for a bride and groom. Each girl who marries puts a special meaning in the flowers donated by the groom. This attribute will decorate any bride, add notes of romance, vitality. In order not to miscalculate with the choice, you need to know what types of wedding bouquets are. The solemn floral arrangement gives the bride an image of romance, emphasizes the beauty and uniqueness of her outfit..
What bouquet for the bride to choose for the wedding
Going to a meeting with a wedding florist, prepare your jewelry, take a full picture of the outfit: dress, shoes, accessories. To compose a flower ensemble, you need information about you - the shade of hair, eyes, and skin. He will also want to know what your character and habits are. After all, a wedding bouquet should harmoniously fit into the image of the bride and groom. An experienced florist will be able to pick up flowers after seeing you or even your photo. If you decide to buy a finished product, use the following recommendations:
Choose the size, type of wedding flower arrangement according to your figure. For girls who are taller than average, an elongated bouquet is suitable. A lean bride will look better with a round or teardrop-shaped floral accessory. For woman «in body» a good option would be round, lush or made in the form of an arc.
Take into account the shade of the hair. White-haired white is not suitable, in this case, give preference to pink tones, lilac and lilac. For dark hair, bright white colors, shades of red will do, purple, even yellow, would be a great choice. For brown hair, a coral shade is suitable.
Varieties and forms of wedding bouquets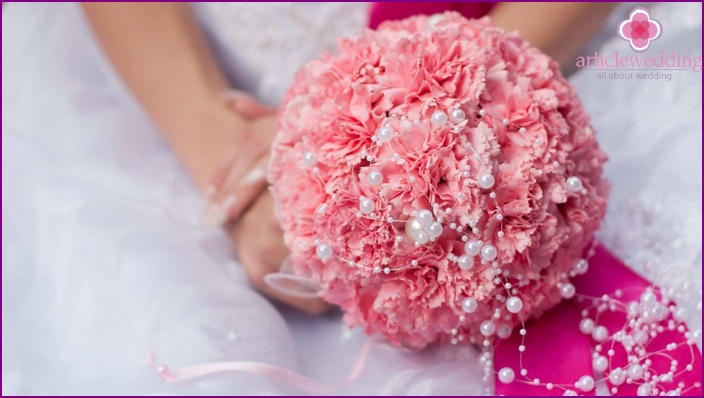 Florists note 3 types of wedding bouquets: in the shape of a ball, drops and extravagant. Based on traditional forms, compositions of various types and styles are compiled. Choosing the gifts of flora for the celebration is easy to get confused: modern florists offer a large number of floral arrangements. A professional will make a real work of art.
Brides are all different: there are romantic natures and very purposeful, athletic ladies. The nature of the flower bunch should be in tune with the personality of the bride and groom. The more types of exotic flowers a wedding bouquet contains, the more expensive it will cost. If you use traditional flowers - roses, chrysanthemums, carnations, the cost will be lower. We will deal with this issue:
The most popular flower accessory is made in the shape of a ball. It is suitable for a short girl.
The composition in the form of a cane, umbrella, clutch, handbag will decorate the bride in an unconventional wedding dress, such as a trouser suit.
Wedding flowers, collected in the form of a drop, visually emphasize the harmony of the newlywed.
A bouquet with flowing stems and leaves will complement a very magnificent dress.
If the flowers are designed for a slender tall girl, they should be collected in a vertically teardrop shape (it is universal, suitable for almost any type of bride).
Biedermeier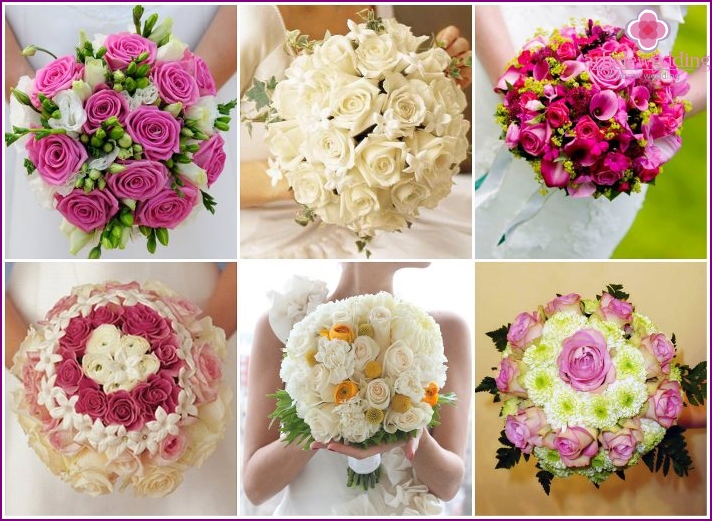 A round floral arrangement created by layers of different colors is called a Biedermeier. The central flower is entwined in a circle with plants of various colors and structures. Here not only flowers are used, but also greens: feather grass, fern leaves, spikelets. Such a composition is wrapped with a variety of materials (cellophane, lace napkins, felt).
Glamelia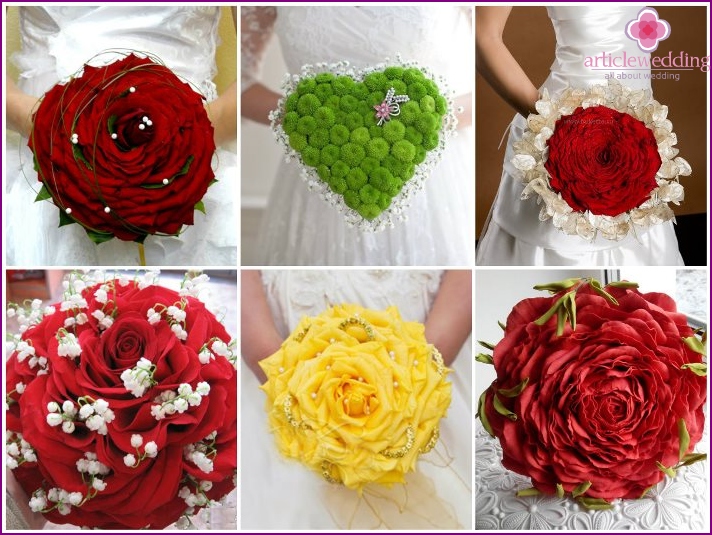 In wedding floristry, a composition resembling a large flower is in demand. In fact, this is an ensemble made up of petals of different shades. The buds of lilies, gladioli, peonies, large roses dissolve into parts from which the composition is assembled. The petals are fixed with hot glue, the handle is decorated in the style of the bride with a cloth or ribbon.
Round bouquet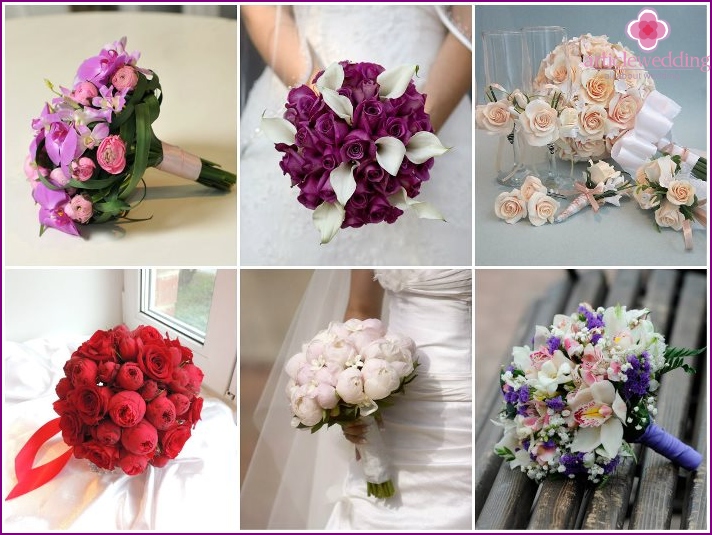 The flowers in the shape of a circle are made using a spiral technique. The stems are arranged so that they have the shape of a spiral, then they are tied with a ribbon. A round floral bunch will suit stately, tall girls in a classic, strict outfit. For this composition, different types of roses, carnations, peonies, lilies are used. Buds are decorated with beads, rhinestones. If by the evening the bride and groom get tired of holding flowers, they can easily be hung on the wrist with the help of a ribbon loop attached to them.
Structural Bouquet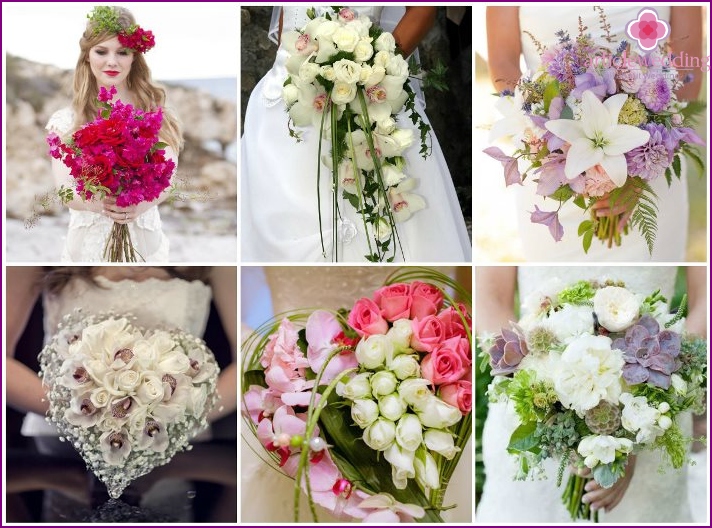 This type of decorative bundle is made up of different types of plants, which at first glance are not compatible with each other. Flowers are arranged at different heights. Due to its multi-stage, color saturation, the bouquet has an extravagant character. This type of wedding accessory is suitable for newlyweds planning an extraordinary celebration.
Hemisphere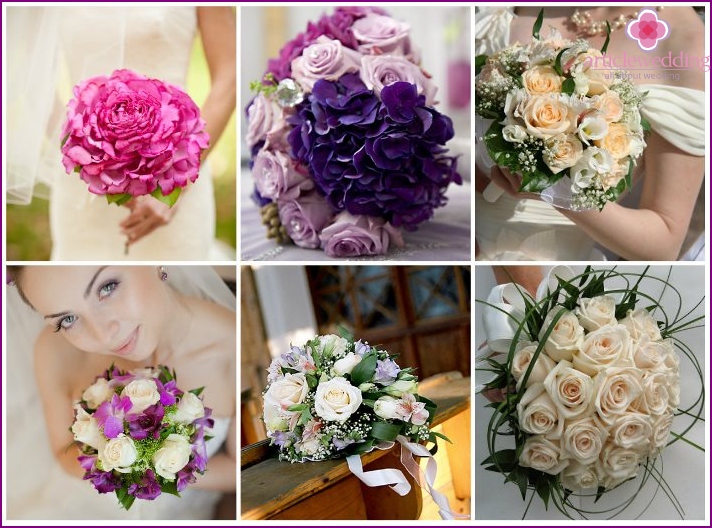 A hemisphere-shaped wedding bouquet looks so mysterious that it looks round at the top, and on the side it has the shape of a half ball. They make it from buds of roses, lilies, carnations, which are placed tightly to each other. In addition to this technique, various materials are used: greens, fabric, feathers, ribbons. The floral bundle should be lightweight, comfortable to wear over time. All stems of the wedding arrangement are decorated so that the leg does not cut the arm.
Bouquet in the shape of a ball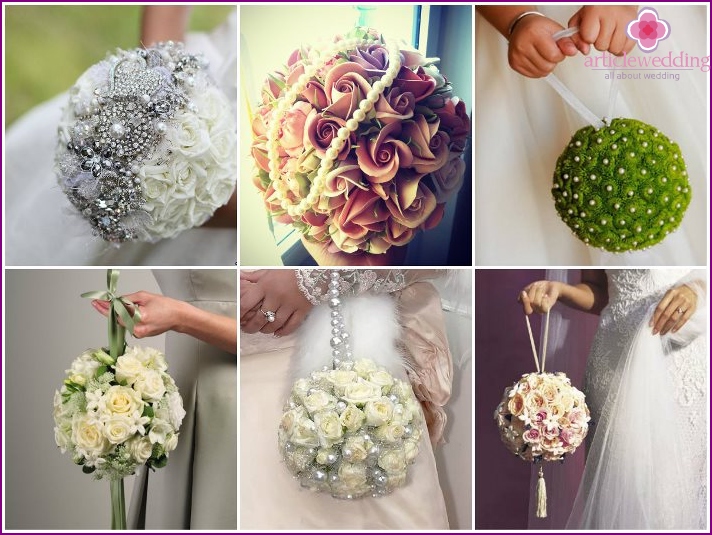 The most popular wedding flower accessory is in the form of a ball. For its production, florists use a portbasket, inside of which is placed a sponge saturated with moisture and minerals. So it remains fresh for a long time. Small flower buds on short legs are inserted into the portbasket, so that a shape without a beginning and an end is formed, in the form of a ball. The handle is decorated with a ribbon to match the tone of the bride's dress.
Cascading bouquet or drop-down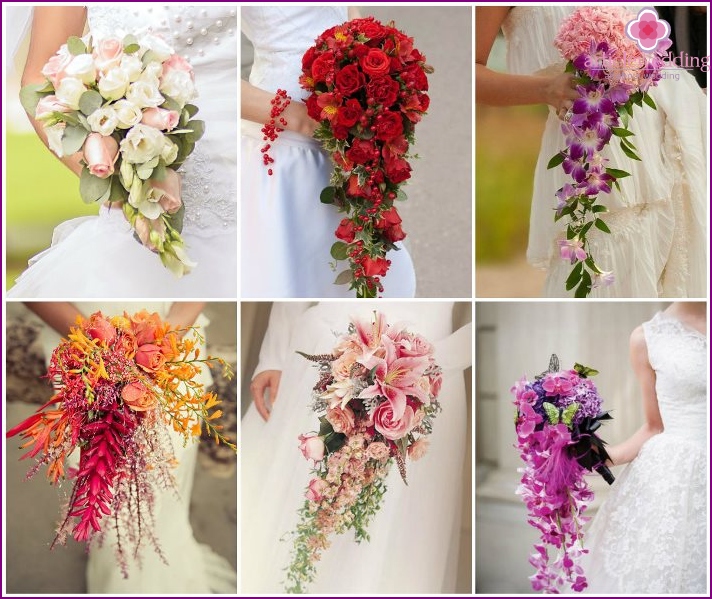 A wedding flower ensemble in the form of leaves falling from a waterfall is called a cascade. Get his romantic natures. The accessory emphasizes the grace and harmony of a young girl with its shape. Thanks to the combination of different shades and shapes, he favorably emphasizes any part of the bride's outfit. For cascading composition, additional materials are used: fern greens, ivy stems.
Tussi moussi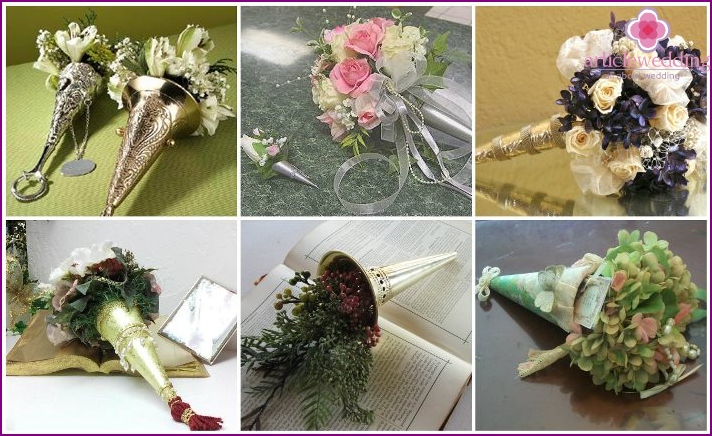 The most sophisticated and original wedding accessory is by all means, tussi-moussi. This French mini composition is formed by a cone-shaped vase made by hand, which is decorated with rhinestones and beads. Roses, daisies, gerberas are suitable for such an ensemble. Tussi-moussi captivates with its brightness and cheerfulness. This work is perfect for the bride in a tight dress.