Contents
---
---
A wedding bouquet, along with other accessories, completes the image and emphasizes the individual style of the bride. Modern floristry, unlike in the old days, is on a new level. Now more and more alternatives are offered to the traditional bouquet, created using not only fresh flowers, but also ribbons, soft toys and other materials..
How can I replace a traditional wedding bouquet of flowers?
If you want to replace the standard bride's wedding bouquet with something, you can safely turn on your imagination, try something original and new. Complete the composition with chili peppers or berries - so you can make an unusual, alternative bouquet, without much departing from tradition. Also will be appropriate: bracelet, hairpin, ring and many other products that replace the standard accessory. For a winter wedding, you should not spend money on fresh flowers at all. Replace them with a beautiful fur clutch adorned with a jewelry brooch, it is more practical because it gives warmth to your hands.
If the wedding is planned for the summer period, then a handbag or a fan can act as an alternative to a floral arrangement. Do not be afraid to be individual and create a wedding bouquet with buttons, beads, sea pebbles, shells, ribbons or sweets. This is your day, and it is up to you to decide how it will be. It doesn't matter whether you get a masterpiece or not - the main thing is that the bouquet will be made with your own hands, which means that no one in the world will have this.
Wedding Glamelia
This is a wonderful voluminous bud created using rose petals, gladioli, lilies or other flowers. Glamelia usually comes out small, which, as an alternative to traditional colors, is perfect for miniature brides. However, if desired, such a bouquet-bud can be made large so that it harmoniously looks in the hands of girls of model growth.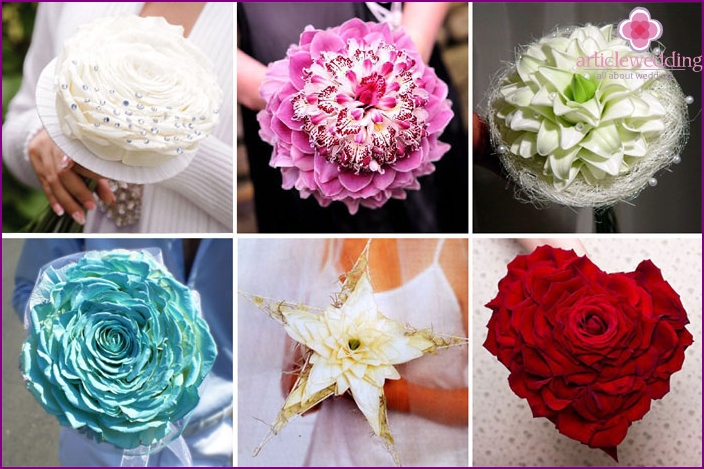 Creating glamelia requires certain skills, so it is best to contact an experienced florist. Different petals are attached to each other using special glue, thread or wire. After that, the assembled bud of a pre-selected shape is punctured on the frame and decorated on the outside. Please note that such an alternative to the standard bouquet will be fresh only for one day, which means that it should be done in the morning on the wedding day.
Umbrella from fresh flowers
Umbrellas created using fresh flowers, as an alternative to a traditional bouquet, look very romantic and original. They give the bride charm, tenderness, enliven the wedding photo shoot. Umbrellas are used not only as an accessory for the bride and groom, but also as a decoration for tables during banquet design. You can cover the entire upper part of the umbrella with flowers or partially decorate it. Combine large feathers, beads and satin ribbons with live buds - this will create a stylish accessory that will decorate the wedding.

Bouquet in the form of a handbag
Extravagant bridal handbags-bouquets have recently become popular. So florists took care not only of the attractiveness of the bride's image, but also of giving the standard accessory an original look. They decorated the purse with fresh flowers, which looks very elegant. Such an alternative option to a wedding bouquet will definitely not be left without attention of the audience. Despite the fact that such handbags cannot be called practical, they have no competitors as a decorative element.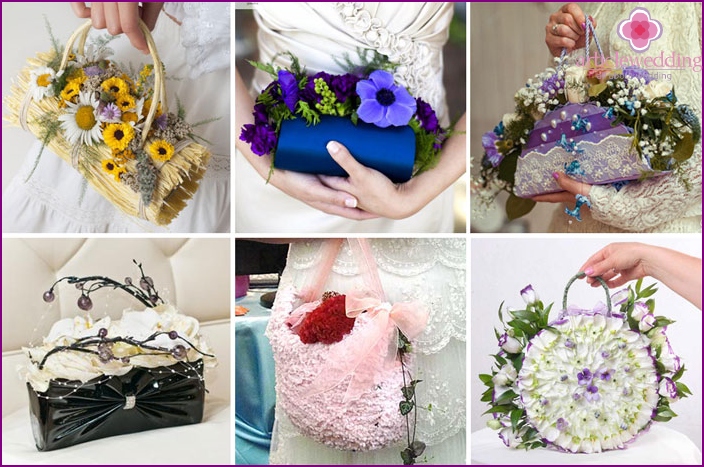 In exceptional cases, the handbag bouquet can also be used for its intended purpose, fulfilling its usual role. However, the main decoration of such an alternative bouquet is still flowers. The girl should choose them in accordance with her image, then they will harmoniously look not only with dress, shoes and jewelry, but also in the general concept of a wedding celebration.
Fan
A wedding bouquet in the form of a fan would have seemed a very strange attribute of the bride before, but not now. Such an alternative to a traditional accessory gives the girl the opportunity to be original. Therefore, many newlyweds prefer that at the wedding in their hands was a fan of fresh flowers. It is possible to order this jewelry from a florist or create it yourself - decide for yourself. It doesn't matter which option you choose, the thing will look spectacular and will surely be remembered by the guests.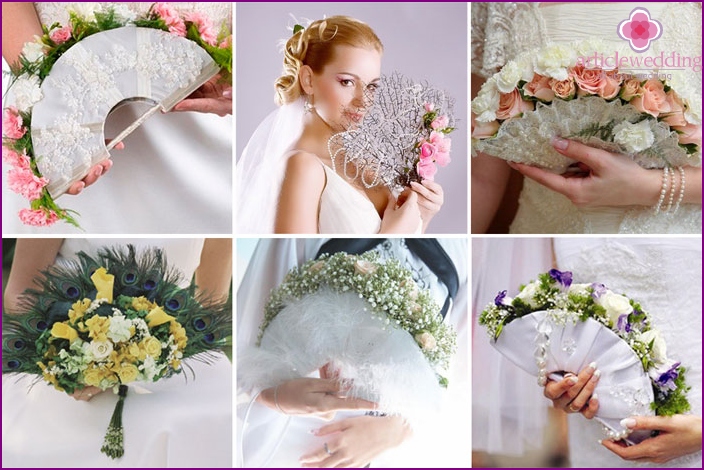 Bouquet of feathers and ribbons
Gentle, romantic and original looks a wedding bouquet of ribbons and feathers. It perfectly complements the image of the bride and attracts the enthusiastic looks of the guests. If you decide to create such an alternative to the usual flower arrangement, boldly decorate it with a beautiful brooch, beads or beads. Such a creation, be sure, guests are unlikely to have seen at another wedding. A big plus of the bouquet is that it will not fade the next day or even after a few years.

Composition of soft toys
Traditionally, the bride should have a wedding bouquet, but after all, it is not indicated anywhere that it must be floral. Young people can choose an alternative option and create a composition using other materials, for example, soft toys. Such a thing is a guaranteed way to excel and attract everyone's attention. Cute teddy bears in newlywed costumes will become a kind of symbol of your wedding and future family life..

Is there an alternative to the tradition of throwing a bouquet?
The transfer of bride's bouquets using ribbons, as an alternative to traditional flower throwing, has gained popularity recently. If you also want to hold such an event, stock up on long ribbons of different colors or plain in the amount equal to single girls at a wedding. The bride should tie one ribbon to the stem of the bouquet, the rest freely squeeze in her hand. Each girlfriend let him choose a tape, and after you give a special signal, all the girls should pull the ends. The one whose ribbon will be tied to a bouquet will become its owner.
Ask your friends to write their names on pieces of paper, put them in an opaque container and remove one. That girl, whose name will be written on the selected piece of paper, will receive flowers. This will be a great alternative to a traditional wedding bouquet toss. Instead of leaflets with names, you can use personal items of unmarried girlfriends.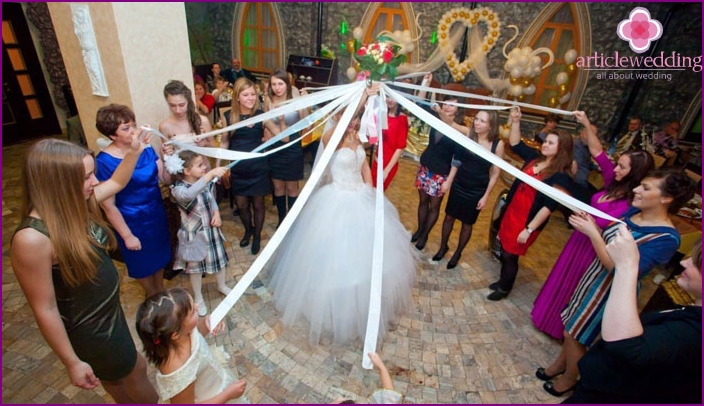 Auction among single girls
The bride can hold an auction - this is another alternative to throwing wedding flowers. To do this, you need to pick up the traditional attributes of the wedding, including the bouquet that the bride and groom will present for sale. The newlyweds can spend the money earned during the competition at their own discretion: give it to charity, go on a honeymoon, get cute gifts for relatives and friends.
Bouquet under the castle
This contest is sometimes used as an alternative to transferring the right to marry from the bride to girls without a second half. The fun is that wedding flowers are locked in a chest or drawer. Free girls are given the keys. That unmarried woman, whose key is suitable for the lock, can pick up the bouquet for herself. The second option - you can prepare as many chests as you have girlfriends (if the material condition allows). Then everyone can open a certain box and get a bouquet.