Contents
---
---
To complete the festive look, the bride needs to think about her future wedding makeup. It should suit her face type as much as possible: correctly applied make-up details will highlight advantages, as well as smooth out, make imperfections invisible. Different colors will suit dark-haired girls - dark, bright, light, and a selection of descriptions and photos below will help you decide on the style in advance.
Wedding makeup for brunettes with brown eyes
The eyes of this color have a natural expressive depth, so the only thing that should be done to brown-eyed ladies is to frame them with the right colors:
The basis - powder and foundation - choose based on the color of your skin. It should be natural tan tones - beige, tobacco.
The depth of look will be emphasized by a two-color gradient makeup, when from the inner corner of the eye to the outer one, dark and then light colors are applied. Shadows can be in golden, green, chocolate..
Dark skin is favorably tinted by dark eyeliner.
To the hair of a shade of chestnut it is better to choose a nut-colored pencil.
Matte dark pink lipstick is ideal for brown-eyed brides..
With blue eyes
Cold blue eyes and a rich shade of dark hair look majestic. To give blue eyes tenderness or vice versa - icy royal austerity, pay attention to suitable cosmetics:
Calm peach, pink, coral gamut will refresh your face, add lightness. A make-up that uses shades of blue, shiny silver, gray will create a fabulous look a la «The Snow Queen».
Blue-eyed brides should be careful about blush. It is best to choose light, dull blush - otherwise the image may turn out to be vulgar.
With green
A playful green eye shade is suitable for special makeup that can emphasize its beauty:
All make-up colors should favorably shade the eyes - this is emerald, brown, pink..
Spectacular lips will decorate the green-eyed brunette. Choose a bright ruby, berry lipstick, but avoid the classic red. With such a strong accent, brighten your eyelids with calm shadows..
With fair skin
To make-up on pale skin look natural, carefully select a tonal foundation. In fashion, a popular new makeup, implying an even, radiant tone and light shades of shadows, blush, which will not create the feeling of an evening look. However, if you want to create a bright festive make-up, blue, green, brown scales will suit you. Remember that eyebrows do not have to be too much down. The most natural look of the face will elegantly look. The final touch for the face - black or brown mascara.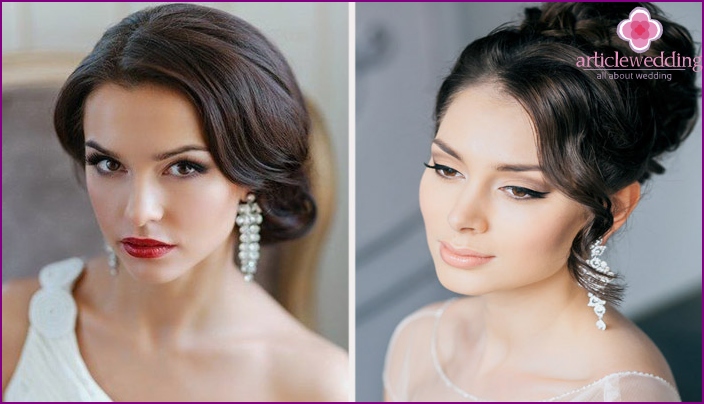 With dark skin
Dark-skinned brunettes should not be afraid to use rich, catchy tones of makeup. Pick a tonal basis for the skin, and for blush, the colors of coral, peach are suitable. If you are the owner of bright eyes, blush is best to choose a brown tone, and lipstick will be adorned with a warm saturated palette. Keep track of the amount of makeup on your face - if you overdo it, it will not help you emphasize the merits, but will add several years.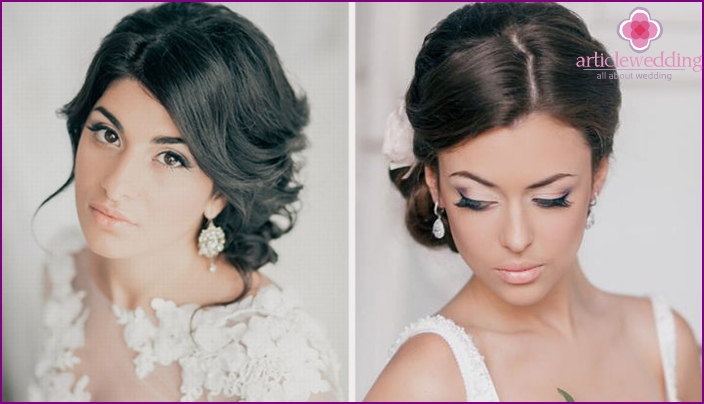 The basic rules of wedding makeup
Remember the main rules, observing which, you will look great at a wedding celebration:
If you do not know how to handle brushes, sponges, liners - entrust this work to the master. Skillful make-up will surely amaze guests.
Trial makeup application is a useful event. This will help you understand if the chosen option suits your facial features..
The cosmetics that will be on you all day should be resistant so as not to be smeared at the most crucial moments, and of high quality, so that your skin feels good after removing makeup from the face.
Remember that an experienced makeup artist will make your face the most appropriate ideal forms. By applying paint around and on the area of ​​the dimples of the cheeks, wings of the nose, under the lip, he will be able to visually reduce the nose, correct his lips, smooth «sharp» cheekbones.
Combine the make-up with the colors of the wedding dress - then you will look harmonious.
Wedding makeup is different from evening makeup. You will have to wear it in the morning, afternoon, evening, so do not abuse the bright colors.
Video master class will help you learn how to apply universal makeup yourself:
Cosmetics selection
High-quality cosmetics are the key to beautiful makeup that will stay with you all day. Choose products of well-known, trusted brands - even if their persistent options are more expensive, but you will love your reflection in the mirror, and wedding photos will delight you with a radiant even complexion, eye-catching shadows, and exquisite lipstick.
Basics
A correctly selected foundation is the most important element of a wedding make-up. It should be combined with the natural skin tone as much as possible so as not to create a sharp contrast with the neck, hands. Test the base on the hand.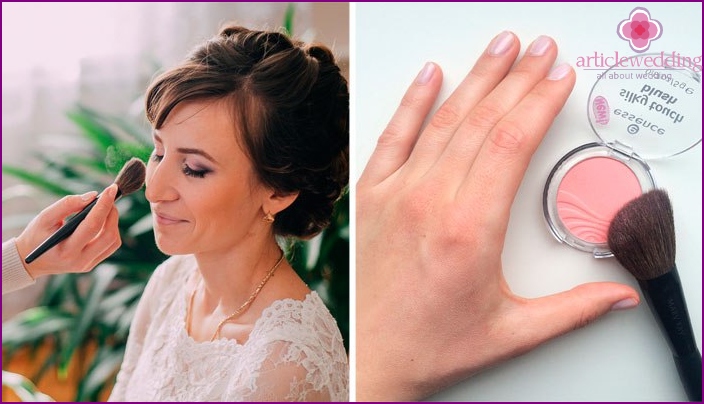 Blush
To swarthy girls it is better to give preference to blush of a shade of peach, coral. Fair-skinned brides can use delicate pink colors. Almost all dark-haired brides fit the bronze tone of the blush.
Lipstick and lip contour
Instead of flashy shades of lipstick that may suit an evening event, give preference to lighter options. Dark saturated shades will make the lips thinner, and a matte texture can visually give them a flat look in future photos. A neat pencil line will add volume to the lips and prevent lipstick from smearing. Do not buy cheap indelible lipsticks - they will create a feeling «varnish» on the lips.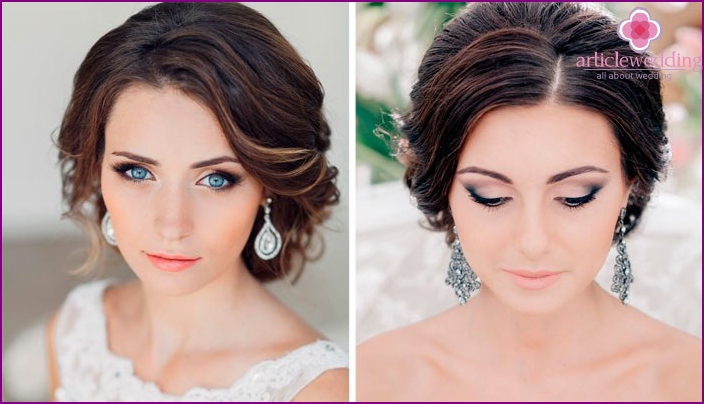 Using eyeliner and false eyelashes
Choose black, brown color eyeliner and eyeliner - they will favorably shade the skin, add expressiveness. Many brides refuse false eyelashes, but on holiday photos, this makeup item looks good.
«Correct makeup» - the key to a perfect image and comfort
To make your wedding day feel free and comfortable, turn to light makeup basics that won't make you feel «masks» on the face. Excessively bright details can surprise those present, in addition, they require increased attention. Perfect make-up - one that corrects the face, emphasizes the natural colors of the skin, will look beneficial against the background of the entire outfit.
Every bride needs to think about make-up long before the wedding. This will give her the opportunity to try several options and choose the one that fits perfectly. What makeup for brunettes did you like? Tell us in the comments.