Contents
---
---
Wedding makeup is the creation of a solemn image of a girl, which is used far from every day. If you want to look perfect on a wedding day, then it is important to understand the correct methods, women's tricks so that you shine with beauty, femininity and irresistibility. Wedding makeup for gray eyes is one of the simpler ones, but it should be noted that the make-up is selected according to the shade of the hair. If you are a happy owner of mysterious gray eyes, then there are subtleties that must be observed during the evening makeup.
Gray Eye Wedding Makeup Options
Gray eyes act in a neutral color, so the variety of wedding makeup will pleasantly surprise you. Due to its variable property, gray eyes perfectly reflect any color and absorb its shade, so you can look completely different every time: now blue-eyed, shoot green eyes tomorrow, and the day after tomorrow surprise everyone with the deep blue depth of his gaze.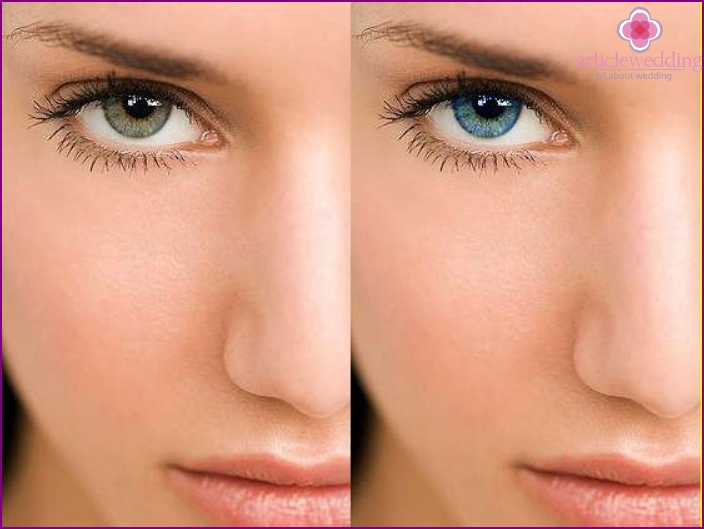 «Smoky» makeup
Smoky makeup will help you create a mysterious look with a wig that will make you look different than in ordinary life. This technique is used today very widely in a wedding image, however it is not new and has come to us since the beginning of the last century, which makes it even more appropriate in retro style. The subtlety of this makeup is to create a haze shadow using cosmetics:
Shadows are applied, moving from dark tones to the lightest, carefully blending each shade so that it smoothly transitions from one to another.
To achieve a result «smoky» Traditionally, three shades of eye are used: the main (base), light (closer to the inner corner) and dark (outer side of the eyelid).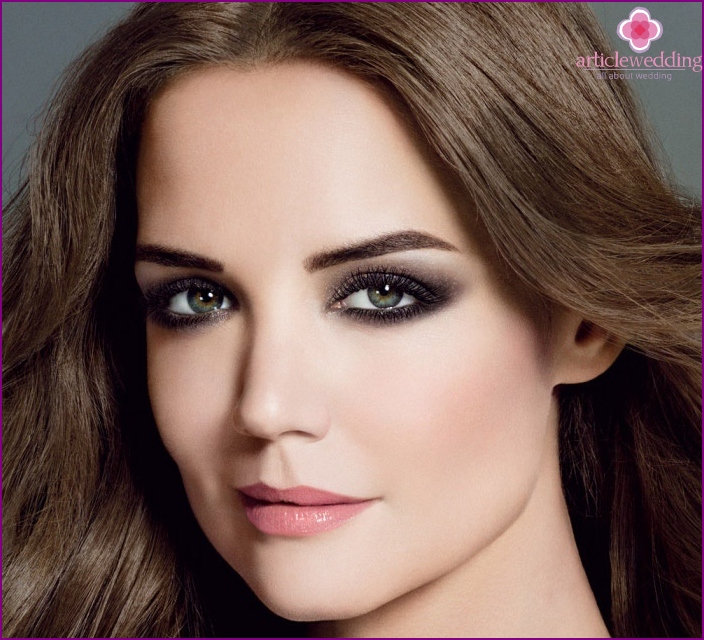 Smoky eyes technique
Using the Smoky eyes wedding makeup technique as an example, let us examine in more detail the process of highlighting your eyes with cosmetics, starting with the most basic steps, ending with some features, following which you will achieve the desired result. Follow the tips below step by step and you can easily depict the Smoky eyes technique yourself, without resorting to the help of a specialist.
Align the overall complexion by applying tinting products: concealer, concealer, cream, powder. The main thing is not to overdo it with the layer.
Take a dark soft eyeliner pencil and generously draw around the outline, extending a straight line to the outer corner. After, thoroughly blend the applicator.
Apply shades of beige over the entire area of ​​the upper eyelid, without affecting the inner corner of the eye, blend.
Then take a light shadow palette and apply it on the inner corner of the eye and the area that is under the brow.
Start creating haze from dark shadows by applying them to the outer corner of the eye, shade it well so that there are no sharp transitions between different shades.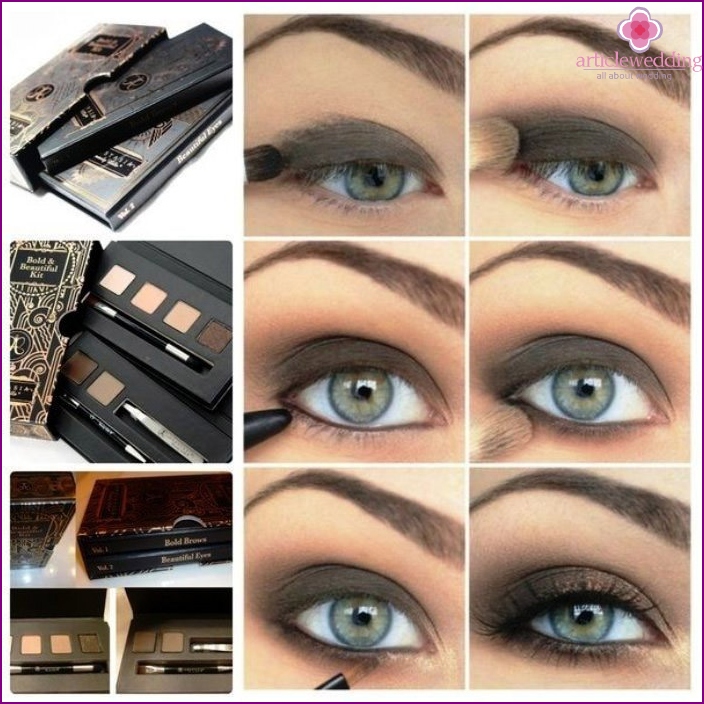 Features of makeup depending on hair color
To make the look complete, perfect and not argue with some features of the girl's appearance, for each shade of hair there are recommendations for evening and wedding makeup. In order not to look ridiculous and emphasize all your beautiful facial features due to wedding makeup, follow the recommendations, depending on your hair color.
For dark hair
Those representatives who have dark hair and gray eyes are incredibly lucky, because in the choice of wedding makeup they have a lot of variations, for example, tones of dark blue and copper shades. However, do not clutch at the idea that literally everything will suit you, in which case you run the risk of looking tasteless. Check out a few tips to help you create the perfect look for a beautiful bride:
If you want to visually increase your beautiful eyes, use cosmetics in purple or steel palette.
In evening makeup, use bronze or gold shades for a brighter look.
Avoid dense shading of green on the upper eyelid - so you risk losing the expressiveness of your eyes.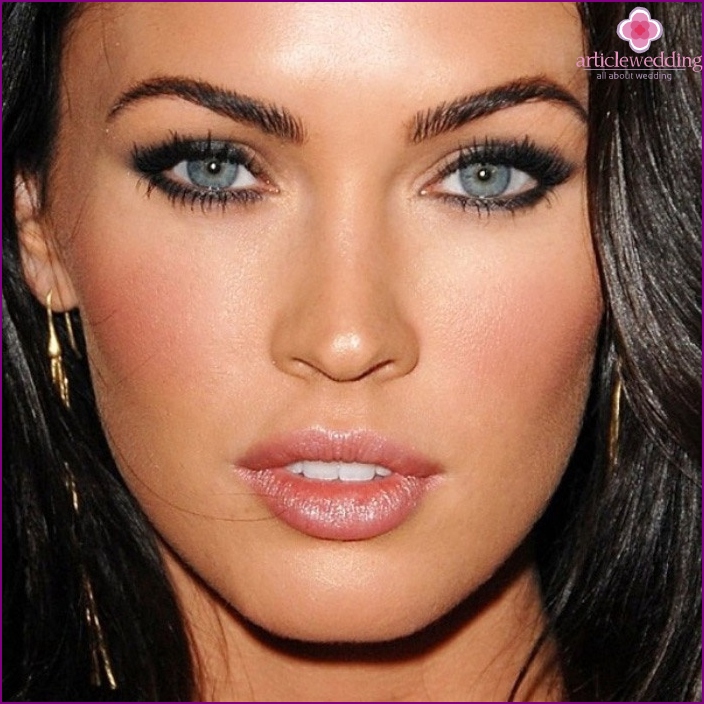 For light
Girls with green-gray eyes and blond hair have a dizzying appearance, however, the general positive impression is easy to spoil using the wrong technique for applying evening makeup. Here it is worth considering the many points and subtleties that must be applied to achieve an effective result. See below for more on this:
Forget about the existence of ash, blue colors, delicate pink and strawberry in your makeup. Because during the application of these shades on fair skin, you will only achieve a vivid effect of sick sore eyes.
Shadows for make-up, for example, bronze color, delicate peach, lilac are able to emphasize the look and give it even more expressiveness and depth.
Coffee, lilac, gray-brown shades will look insanely advantageous with your appearance..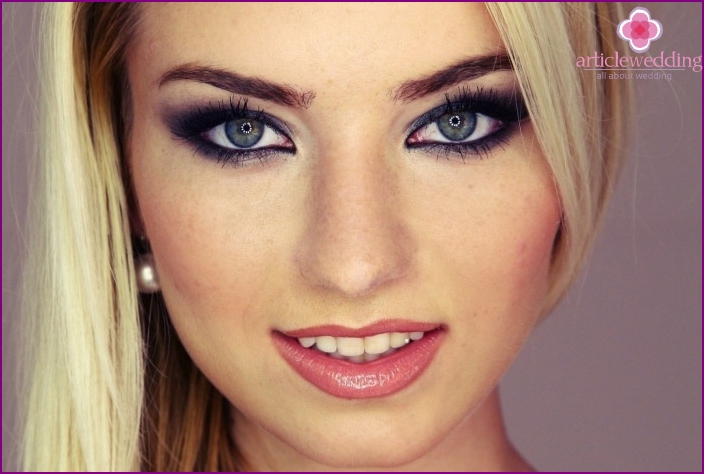 For redheads
For a sensual red-haired beauty - brightness, this is her motto in life. Therefore, in this case, the secrets of evening makeup are no longer aimed at highlighting and giving expressiveness, but simply at a slight underline of the already beautiful lines of your face. In this case, the main attention is paid to the skin, its color, condition, because thanks to the perfect radiance of the skin of the face, red-haired brides will look perfect. See below for recommendations to achieve this..
The very first thing that redhead girls need to follow and fight is the dark bags under the eyes, as well as puffiness. Regularly perform refreshing compresses with swabs dipped in tea, cucumber discs.
For evening makeup, you can safely use even the most unexpected bright images and colors, this will never create a provocative or inappropriate image for you.
The main point in wedding makeup for red-haired brides is to eliminate lower eyelid accents with liquid eyeliners. In such a situation, you run the risk of appearing vulgar and unnatural.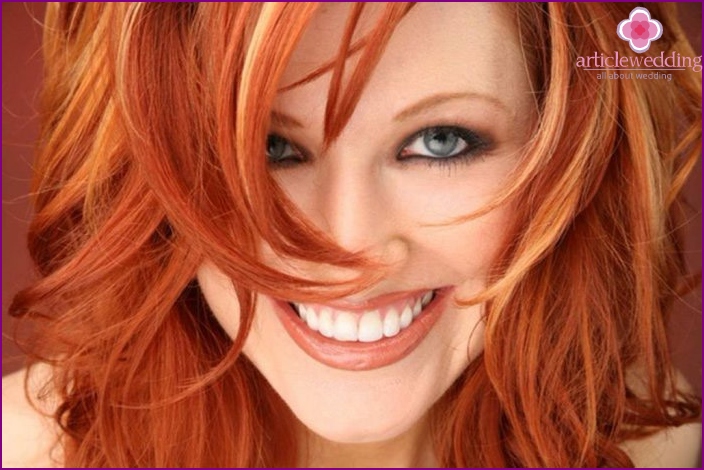 DIY step-by-step photo tutorial on make-up
Wedding make-up is really possible to do yourself, without resorting to the help of a professional makeup artist. The result will be a beautiful wedding look with an expressive look, fresh blush and radiant skin:
Step one. Skin preparation. In order for the wedding make-up to fall evenly and without flaws, it is necessary to first cleanse the skin of the face with a tonic, and then moisturize it with a light day cream for the face. Wait 20 minutes until the cream is absorbed into the skin, and then remove the residue with a napkin..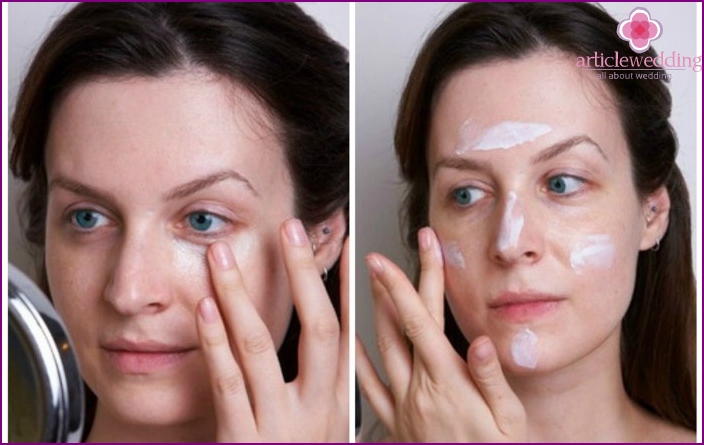 Step Two Alignment of the overall complexion. The main stage of a beautiful wedding make-up is flawless matte skin, the effect of which is achieved using tinting agents. They should not be a dense consistency, so give preference to tonal creams light, with a high percentage of water content, so as not to create the effect of a mask and unnaturalness on the face. At the end, fix the tone of the face with powder.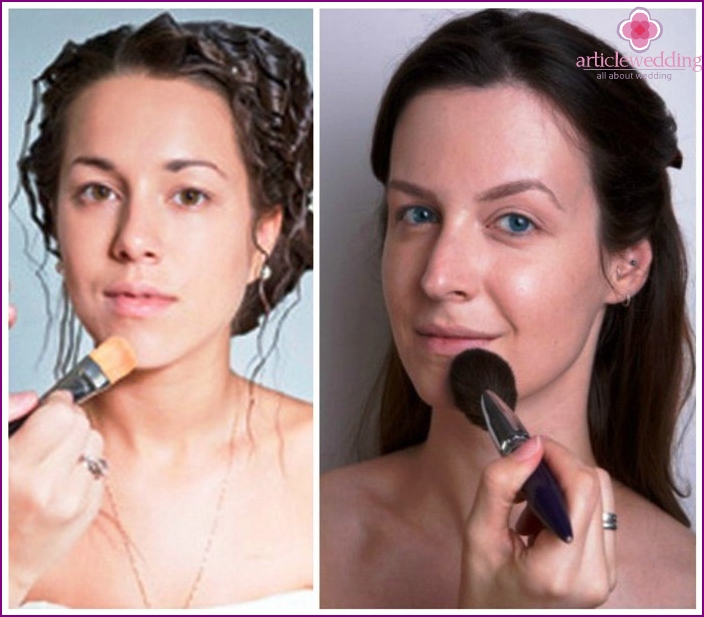 Step Three Emphasizing the eyes. For wedding makeup, use shades of smoky shades of gray, honey, beige, delicate pink, turquoise, olive. Use a white pencil for eyeliner of the lower eyelid, and brown and dark gray to draw the line of the upper eyelid. Apply beige shadows on the eyelids, and then arrange the colors: light to the inner corner, and dark to the outer. Then apply mascara in several layers of dark expressive color.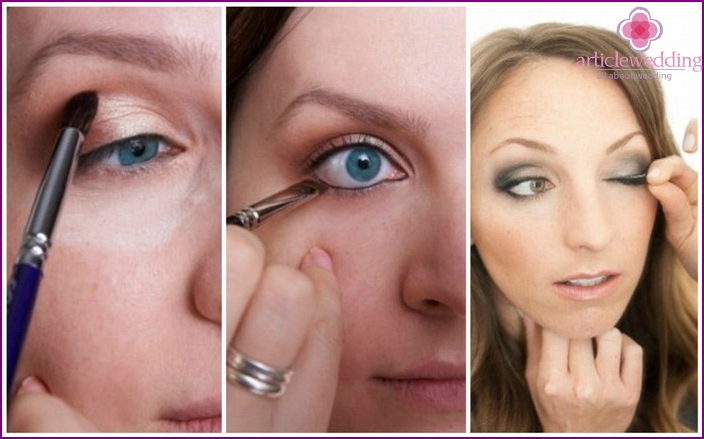 Step Four Eyebrow correction. Eyebrows should be in perfect shape, so pre-plucked eyebrows, comb thoroughly with a brush and draw with a special pencil that matches the color of the hair.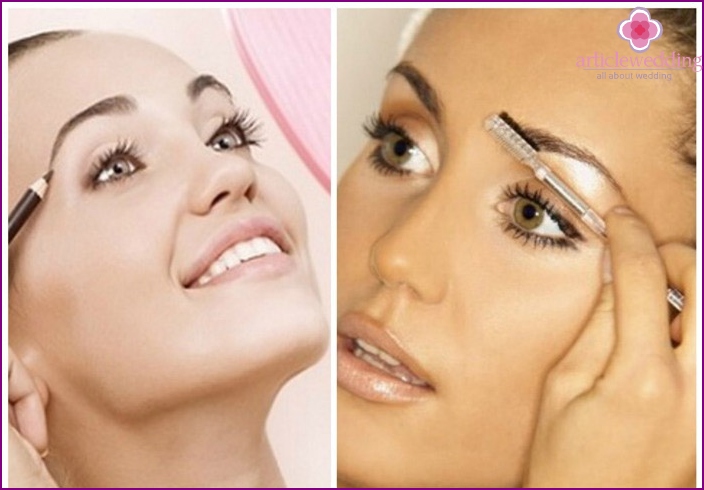 Step Six Perfect lips. The main emphasis of makeup is already ready - it is expressive eyes, so the lips should not stand out with some contrasting bright colors. Just use a dull matte lipstick or a transparent sheen of a delicate shade. Beforehand, so that the lips have a neat appearance throughout the day, apply a tinting agent, and the lipstick will not lose its firmness.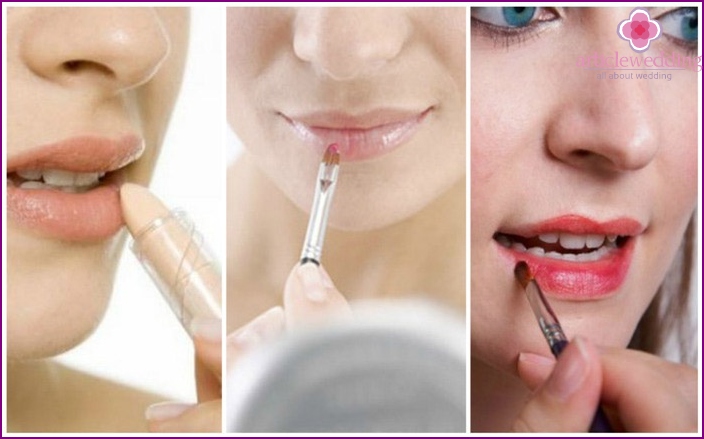 Seventh step. Application of blush. Choose blush matte, peach hue. Apply them with a wide brush on the cheekbone area with feathering movements..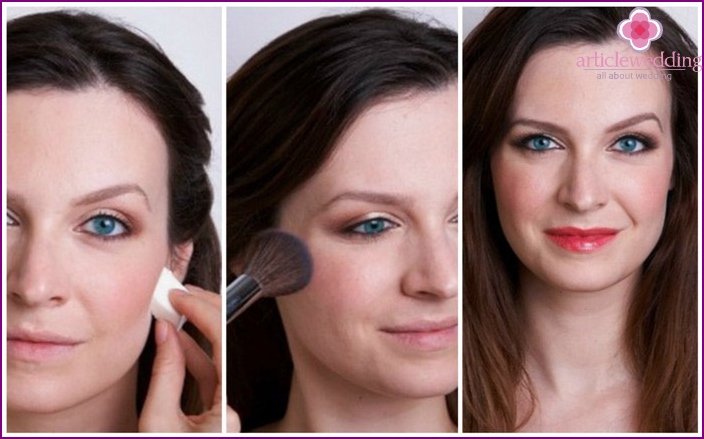 Video: Wedding make-up workshop for gray eyes
As you have already seen, gray eyes give their owners a lot of interesting ideas for creating an expressive image on a wedding theme. Through the use of interesting techniques, make-up artists achieve ideal beauty results, which they masterfully emphasize. Below is a video tutorial that explains in detail how to properly create a bride's makeup for gray eyes: