Contents
---
---
Wedding makeup is one of the important components in the ideal image of the bride. The face should shine with health, beauty, impeccability, and so that the eyes could not be averted. The wedding day is always filled with various feelings - excitement, joy, happiness, tears, so the evening make-up for the bride should be stylish and stable at the same time. If you are a blonde girl, then you need to consider that wedding makeup for blondes has many of its nuances. What should be the make-up of a blonde bride, read on in the smallest details.
Features of wedding makeup for blondes
The beauty of blondes has long impressed the male half of humanity, they always admired the spectacular appearance of such women, their flawless radiant skin and bright expressive eyes. It is believed that blonde girls can always look confident, stylish, stunning. And they are always willing to use it in any situations, not paying attention to conventions.
So that the zest of your appearance does not lose its charm and unearthly beauty during special occasions, you need to choose the right wedding makeup for blondes. Its task is to emphasize the merits, to achieve an ideal image, highlighting the face in golden or platinum hair dress. Follow the advice of makeup artists - and you can easily achieve this goal.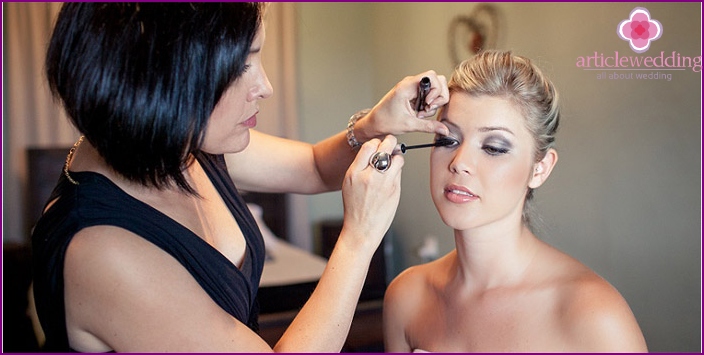 Perfect tone
The first thing you should start with is creating the perfect complexion so that not a single skin flaw is visible. If you choose the right shade of tinting products, apply them to all areas of the face according to a certain method, you will achieve the effect of freshness of your appearance throughout the holiday. So, recommendations for creating the perfect complexion and color:
If you are the owner of a dry skin, then you should choose creams with a thicker, denser consistency, but if on the contrary, then a cream with the most light texture, with a minimum liquid content is suitable for you.
Blondes who have fair skin are usually recommended to apply light pink, pink-flesh, pinkish-white cream tones.
Previously, when you apply tone to your face, mix it with a regular day cream that moisturizes your face. Take the proportion as follows: one part moisturizer and two parts tinting cream.
Best to apply, use your own fingertips to evenly distribute the cream over the entire surface of the face. At the end, use a cotton sponge to make a corrective effect and rub the cream to the neck area with a top-down movement..
The final stage of creating the perfect tone in wedding makeup is applying with a wide powder brush.
Make sure that the tone comes out uniform and does not differ in color from the neckline.
Blush
The next step is to create a beautiful blush on your tender face. Wedding makeup for blondes provides a slight blush effect, which is achieved using pinkish-coral or peach tones. This will allow you to naturally emphasize the natural beauty and revitalize your eyes. Use dry, friable and creamy blush at the same time to create the correct shade of blush. The application method is simple: by movement from the temple to the lips we produce light brush strokes in the cheekbones.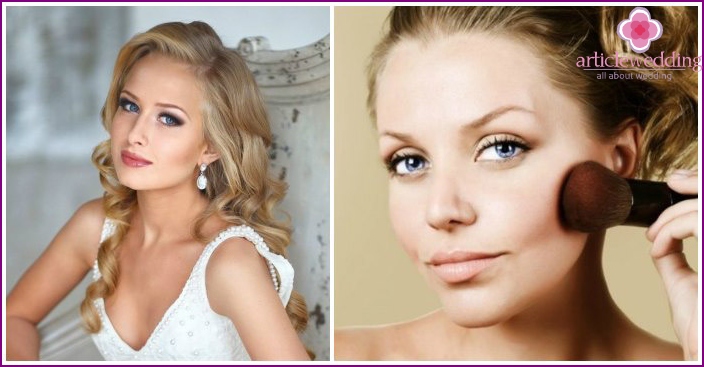 Lipstick and lip contour
It is important for the blonde to choose lipsticks from shades of the cold gamut (pink, purple) so that the light tone of the skin of the face does not argue with the color of the lips. Before you paint your lips, be sure to moisten them with cream. Use the contour and eyeliner to emphasize and adjust the perfect line of beautiful lips. For a lasting lipstick effect, be sure to apply powder on your lips. And here are the necessary tips on how to color lips with lipstick:
Use a special brush to evenly apply lipstick.
First, apply lipstick to the center of the lips, then carefully smear the tone with a brush over the entire area.
After this procedure, blot the lipstick with a napkin, then apply lipstick a second time..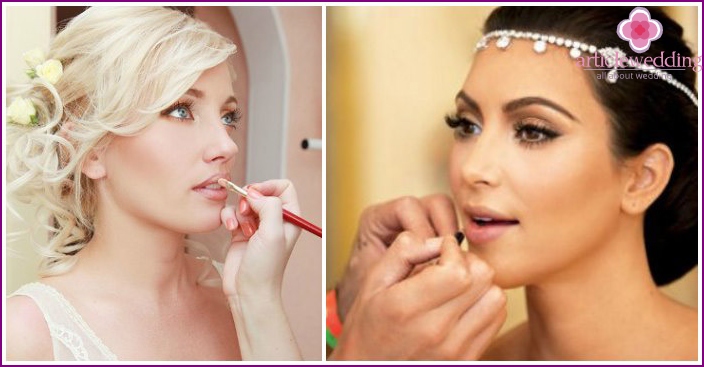 Eye Makeup Rules
Wedding makeup for blondes provides for strict eye make-up rules, according to which the lines should look expressive. Withdraw each eyebrow diligently, apply eye shadow and eyeliner underlined beautifully, evenly, blend it if necessary. To achieve such a very difficult task, there are some recommendations of professionals that you will find below:
In order to bring out beautiful eyebrows, take a pencil from light brown shades.
With intermittent movements, starting in the middle, apply strokes with a pencil on the outer and then on the inner edges of the eyebrows, which will then need to be carefully shaded.
To beautifully shade your eyes, use blue, gray, light blue, silver, chocolate, bronze shades.
Highlight your eyes using a liquid eyeliner or a pencil of dark colors (for example, black).
In evening make-up, light shades of shadows are applied to the inner corner of the eye and under the eyebrows, and moving towards the edge - darker.
Dye your eyelashes with black mascara, use artificial eyelashes and special forceps to curl the ends.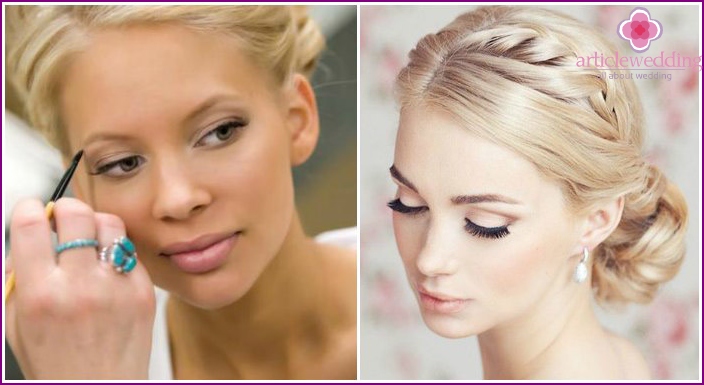 We select the appropriate makeup for eye color (PHOTO)
Eyes are the trump card in the appearance of any girl, so it is important to choose the right make-up. Wedding makeup for blondes is always selected with an emphasis on the color of the girl's eyes. There are rules that must be taken into account when making-up for blue, gray eyes, gray-blue. Separate recommendations for brides with green eyes, as well as owners of brown. Further you will find more detailed makeup information for each eye shade..
Makeup for blondes with blue eyes
Wedding makeup for blondes that have blue eyes should visually emphasize the radiance of the skin, beautiful eye color, make the look as expressive as possible. Eyes of this color will require effort, and as a result will be even more attractive. To do this, you must follow all the steps recommended by makeup artists as the right make-up. Some tips for you: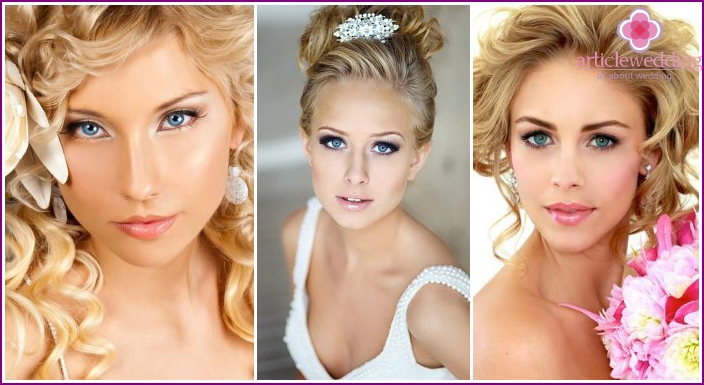 The first thing you should start with is choosing the perfect tone for your skin with a light shade (as a rule, blondes with blue eyes have such skin). Choose shades of powder with a flesh or light pink tone. It's best to take a clear powder or foundation with a light texture and moisture..
Eye shadows choose blue, gray, blue, purple.
Eliminate all bright pink and green shades from your makeup bag.
Prefer either brown or blue mascara.
You can use saturated lipstick with bright pink, coral tones in wedding makeup.
Use lip glosses of different colors or just colorless, with a flicker effect.
With gray eyes
Recommendations for wedding makeup for blondes with gray eyes meet the tips that are given for blue-eyed. Therefore, use all the tricks and subtleties of a wedding make-up to look perfect and irresistible at your own wedding. Just take advantage of a few extra points that professional makeup artists give. You will find them below: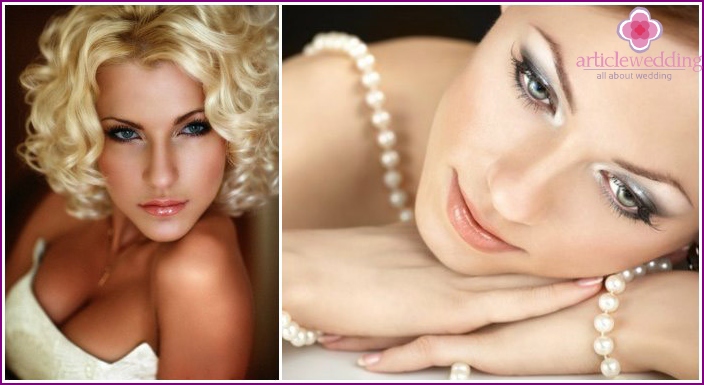 Choose a pinkish powder for the perfect complexion.
Take shades of blue, blue or gray tones..
Brightly emphasize the eyebrow line.
With gray blue
Wedding makeup for blondes with gray-blue eyes, which are sometimes compared by makeup artists with a chameleon, is different in that it does not accept shades of pink and green. It is also not recommended to bring your eyes too much into black, which will make them more expressive in the evening, but in case of daytime color, your face will simply overload. Make the main emphasis on your beautiful eye color or on your lips, then the eyes will be just gentle.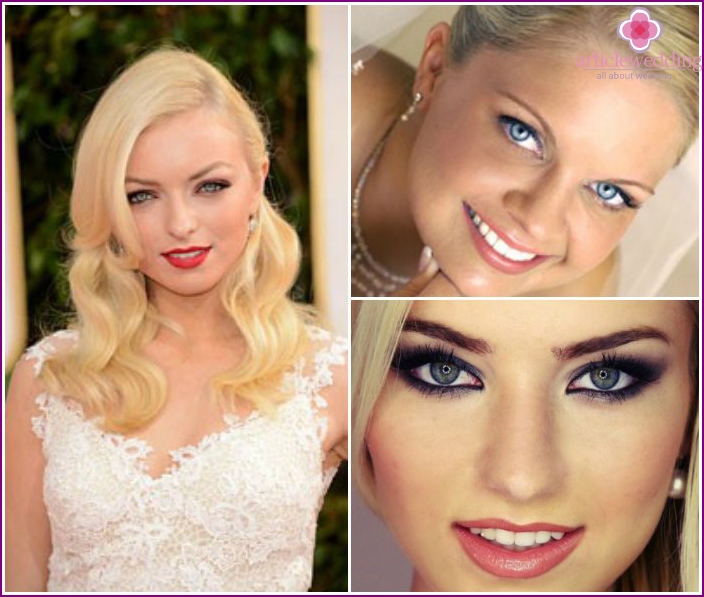 With green
Wedding makeup for blondes with green eyes is one of the most beautiful and unusual, because the natural beauty of such girls is already eye-catching. All the recommendations of professionals should be carefully observed to emphasize and highlight the right accents in this makeup. Follow the competent advice that you will find below and get the perfect look of a beautiful bride with a rare green tint of the eyes.
It is important to choose the right blush, paying attention to your natural skin color. If you have tanned skin, then a blush with a brown tint will be appropriate, and if the skin is light, then with a peach.
Prefer shadows from warm colors: brown, golden, taupe.
Exclude shades from the range of blue, blue and pink shades from the personal arsenal of cosmetics. An accessory of this color, worn around the neck, will also divert attention from the eyes..
Dye your eyelashes with brown mascara. The same goes for eyeliner with eyebrow pencil.
In bridal makeup, lips made up with bright lipstick will look very appropriate.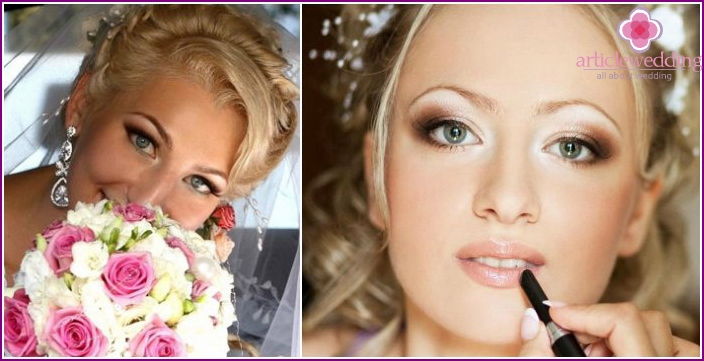 With brown eyes
Brown eye color creates a very beautiful contrast with blond hair. It is also considered a very rare natural phenomenon. These eyes look very expressive and attract all attention, emphasizing the mysterious depth of your gaze. When performing wedding makeup for blondes with brown eyes, it is important to accentuate the eyes as much as possible, and everything else should not be catchy and bright. Read in detail below the rules of make-up that will help you competently create a flawless image..
Tone for a perfect and even complexion use only natural shades with a light texture.
For a base forever, shades of peach shades are preferable, it is also nice to use golden brown. In wedding make-up, shades of pale lilac, golden green, chocolate or olive tones are ideal for you.
Use brown or black mascara.
Do not highlight lips strongly, choose colors from pink shades.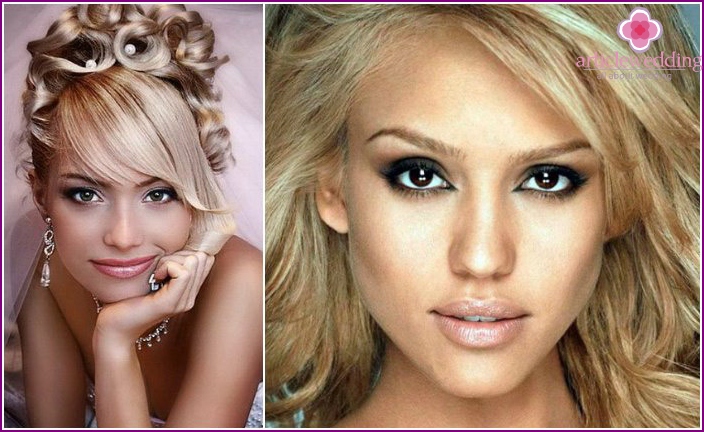 Blond bride make-up video tutorial
As you already understood, wedding makeup for blondes has its own rules and subtleties, thanks to which you can create the perfect image of unique beauty. Yes, the task is not an easy one - to skillfully use the secrets of makeup artists who create a make-up professionally and ideally, but the video tutorial is attached below to help you do it yourself. And let the wedding day be perfect in everything from makeup.