Contents
---
---
At her wedding ceremony, the girl should be the embodiment of innocence and beauty. Add flowers to the image of grace with a touch of tenderness, neatly woven into the hairstyle. At first glance, it might seem that it is difficult to lay them. But with our help, you will learn how to choose flowers, keep them fresh, and also fix on your hair in many ways. Knowing all the subtleties, you can choose the right flowers for the bride's hairstyle to create a beautiful, wedding look.
Fresh flowers for a wedding hairstyle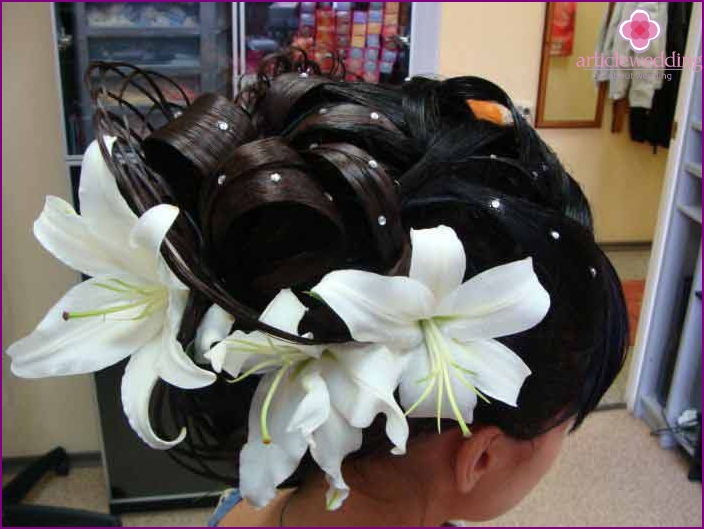 Laying with fresh flowers is a new trend that has already gained popularity. Almost all stylists first of all offer to decorate the bride's hairstyle with flowers, making her irresistible.
In order for the whole image to look harmonious, you need to carefully select the variety of colors based on the shade of the dress, its style, and characteristics of the girl's character. Only persistent varieties can be kept fresh for a long time, the buds of which have not yet had time to blossom. If you have to purchase flowers in advance, place them in a glass of water, putting them on the shelf of the refrigerator.
It is better to choose flowers for a hairstyle together with a stylist or a florist. The first will tell you how to fix them, and the second will help you choose, taking into account the features of the outfit and the image as a whole. Let's see what the main types of flowers will help to emphasize the tenderness of the bride's image, making her hair style unique:
Roses - a symbol of love, innocence - a classic version of the decoration of the bride's hairstyle. Without them, not a single wedding takes place. Romantic roses are loved by all girls. Choose a variety, the color of the rose is necessary based on the color of the dress or its decor.
Freesia is an exotic flower, which is also often used to decorate a wedding hairstyle. Various shades of freesia will help you choose the right variety, which will make the image harmonious. Use buds or sprigs of freesia, securing them to the veil.
Alstroemeria - reveals a beautiful bud, the middle of which is dark, and on the sides are charming, white petals. There are other shades, even quite bright. Alstroemeria will look great on highlighted hair.
Orchid is a classic. Amazing aroma, combined with a delicate look of a flower, will make the bride's hairstyle incredibly beautiful. The size of the orchid allows you to use only one bud for decoration. It looks equally good on long as well as short hair..
Lily has a pronounced smell, large size. This must be taken into account when using it in hair styling. If these are your favorite flowers, feel free to use them at the celebration. Lily will give the image charm, tenderness, emphasizing the individual characteristics of the newlywed.
In order for the buds to maintain their freshness already in the bride's hairstyle, you need to cut the stem of the plant with a sharp knife. Then wrap it in a small piece of cotton moistened with a nutrient solution.
The hairdresser can place the flowers in a styling on the side, in the center, with a wreath or diadem. Hairpins, hairpins, invisibles or hairspray are used for fastening. The buds in the bride's styling should be in harmony with the details of her bouquet, the groom's boutonniere and accessories.
Artificial and Silk Flowers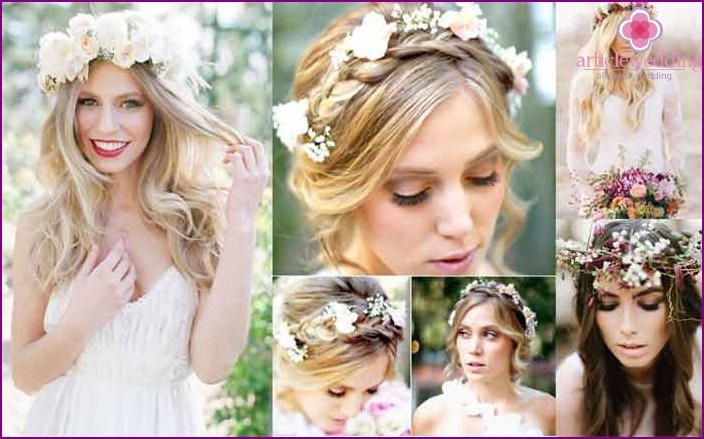 In addition to fresh flowers, artificial or silk buds can be used to create a unique image. Choosing them is much easier. They do not fade, have a bright color and cost a little less than living.
You also need to choose artificial flowers based on the image, the color scheme of the dress, the individual characteristics of the bride. For blondes, gentle scales, soft shades are more suitable, but brunettes can choose bright, rich colors to create a chic look.
Rhinestones, pearls, curls will help to complement the beauty created with the help of artificial flowers. Thanks to this, even with short hair, you can create an excellent hairstyle.
Silk flowers of white, cream and peach shades remain a classic, with the help of which you can give the image femininity, and if you wish, make a strict look.
How to choose flowers for hairstyles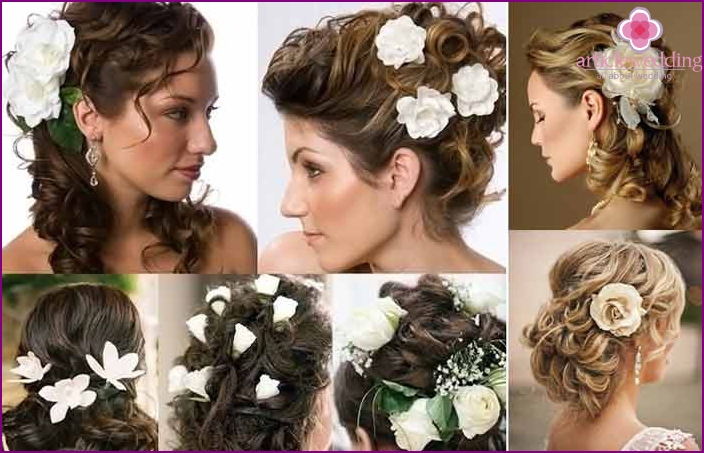 When choosing buds, you need to consider their color: white and red are considered classics. Please note: if the image does not have red details, and the bouquet is exclusively white, then hair decorated with red roses will look ridiculous.
If you really want bright buds to complement your hairstyle, then use them to create a bouquet or to decorate a room. Then the image will be holistic. To understand how they will look and how to pick up flowers in the bride's hairstyle, watch the video master class. You will see how to fix them on your hair..
Video: how to fix flowers (workshop)
How much and where to buy flowers?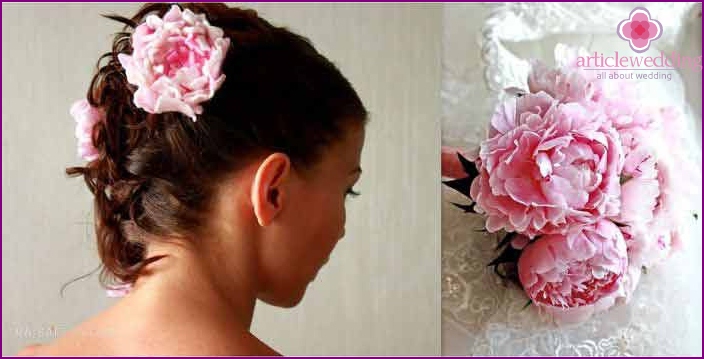 To decorate the bride's hairstyle with fresh flowers, order only those that are grown in your area. Flowers bought by season will cost you less, and choosing the right buds will be easier, because this time has a variety of varieties.
Average price for one bud:
peonies from 300 to 600 rubles;
roses from 150 rubles;
orchids from 200 rubles.
It is best to order fresh flowers from florists, since such a bud will already be processed and prepared, and your master will only have to decorate his hairstyle. Live buds can be bought in specialized stores in Moscow - flower salon «Super flora», Design Studio «Studio de fleurs», while artificial ones are sold in bridal salons - "Elflorangel", «Flowers-da».
And one more tip: if you have already decided to focus on the hair, you should take care of their appearance too. Hair should be clean, shiny, healthy..
What flowers would you like to decorate your wedding styling? Maybe you already had experience, and you know how to keep the flower fresh for a long time - leave comments.
Photo of hairstyles with flowers