Contents
---
---
At the wedding ceremony, the girl should be gorgeous. A white dress embodies innocence and beauty. Add flowers to the image of tenderness and grace, carefully woven into the hairstyle. At first glance, it might seem that it is difficult to lay them. But we will tell you which flowers to choose, how to keep them fresh, and also how to fix them on your hair. Knowing all the subtleties, you can create a unique bride's styling.
Fresh flowers for a wedding hairstyle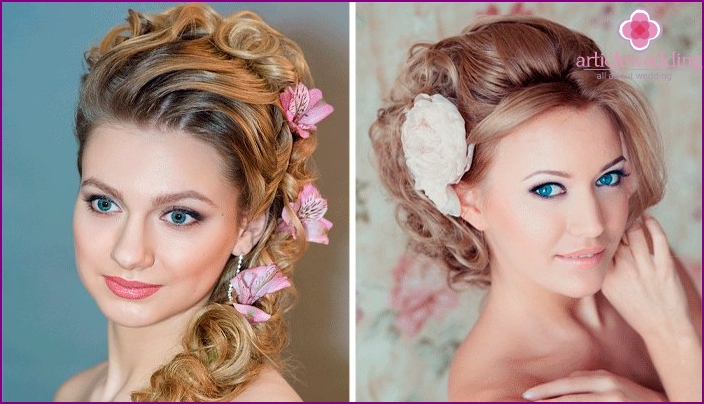 Living flowers in styling is a new trend that has already gained popularity. Almost all stylists are the first to propose inserting flowers into the bride's hairstyle, making her irresistible, as well as giving a special charm. In order for the image to look harmonious, you need to carefully select a variety based on the shade of the dress, its style, and the characteristics of the girl. To keep them fresh for a long time, it is recommended to choose persistent varieties whose buds have not yet had time to blossom. If you have to purchase jewelry in advance, then install them in a glass of water, putting it on the shelf of the refrigerator. Next, you need to choose the decoration itself, that is, flowers for a hairstyle. This is best done with a stylist or florist. The first will tell you how to fix the flowers, and the second - which will be appropriate in your particular case. We offer you the names of the primary colors that will help emphasize the tenderness of the bride's image, and also make her hairstyle unique:
Roses are a classic option. Without them, not a single wedding takes place. They are considered a symbol of love, innocence. This is a romantic flower that all girls love. Roses can be white, red, pink or any other. You need to choose a variety based on the color of the dress or its decor.
Freesia is an exotic flower that is also often used to create hairstyles. A variety of shades will help you choose the right variety, making it look perfect. This is the best choice for the bride. You can use it buds or twigs, fixing them on a veil.
Alstroemeria is a beautiful flower with white petals and a darker center. It should be noted that there are other shades, even especially bright. It will look great on highlighted hair.
Orchid is a classic. The wonderful aroma and delicate appearance of the flower makes the bride's hair incredibly beautiful. The size, shape of the bud allows you to use only one bud. It looks equally good on long as well as short hair. The same goes for shade.
Lily has a pronounced smell and especially large sizes. Therefore, this must be taken into account when creating a styling. If these are your favorite flowers, then feel free to use them at the celebration. He will give the image of charm, tenderness, emphasizing your features.
How to keep fresh
In order for the buds to maintain their freshness already in the bride's hair, you need to cut the plant stem with a sharp knife, wrapping it in a small piece of cotton wool moistened with a nutrient solution.
How to make fresh flowers in a hairstyle
As for the fixing method, the hairdresser can mark the flowers in the hairstyle from the side, in the center, with a wreath or diadem. Hairpins, hairpins, invisibles or hairspray are used for fastening. Also note that the buds must match the bride's bouquet, accessories and groom. To do this, for the latter you can fasten on the jacket lapel a small boutonniere of exactly the same colors.
Artificial and Silk Flowers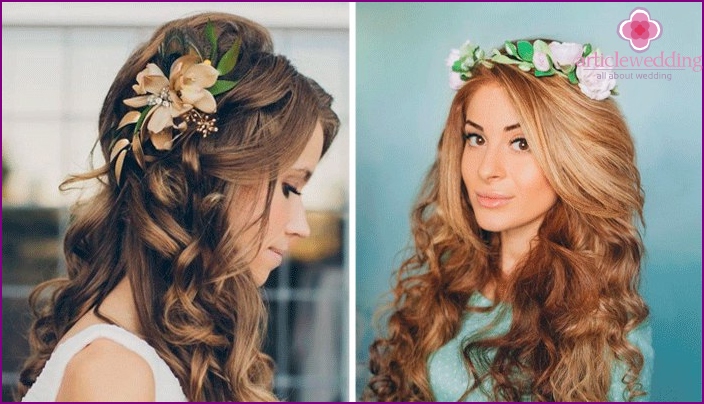 In addition to fresh flowers, artificial or silk buds will help to create a unique image. They are represented by a huge number of species. Choosing them is much easier. It is not faded, have a bright color and cost a little less than living ones. Artificial flowers should also be selected based on the image, the color of the dress, and individual characteristics. For blondes, gentle scales and soft shades are more suitable, but brunettes can choose bright, juicy shades to create a chic look. Rhinestones, pearls, curls and so on will help complement the beauty created using artificial flowers. Due to this, even with short hair, you can create an excellent hairstyle. Silk flowers of white, cream and peach shades remain a classic, with the help of which you can give the image femininity and tenderness, and if you wish, make a strict look.
How to choose flowers for hairstyles
When choosing buds, you need to consider their color. White and red are considered classics. Please note: if there are no red details in the image, and the bouquet is excluded white, then the red roses in the hair will look ridiculous. The same goes for other shades. If you really want to see bright buds in the hairstyle, then use them to create a bouquet or to decorate the room. Then the image will be whole. In order to understand how these or those flowers will look on your hair, you can look at the photo and make conclusions, what kind of flowers do you like best and the video of the master class will help you fix them correctly.
Video: how to fix flowers (master class)
How much and where to buy flowers?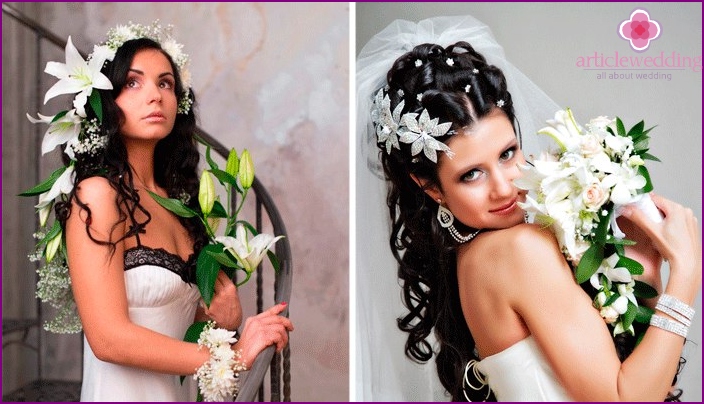 Fresh flowers cost a lot of money. In order to create a bride's hairstyle with flowers, you can order only those that are specific to your region or the current season. They will be cheaper and presented in large numbers, which will facilitate the choice. You can buy artificial buds in specialized stores, as well as wedding salons. Remember that there are traditional hairstyles, such as Aphrodite, where only white flowers are used, made using silk with rhinestones. And one more tip: if you have already decided to focus on the hair, then their appearance should also be taken care of. Hair should be shiny, healthy, beautifully styled with small curls or tight curls.
Photo of hairstyles with flowers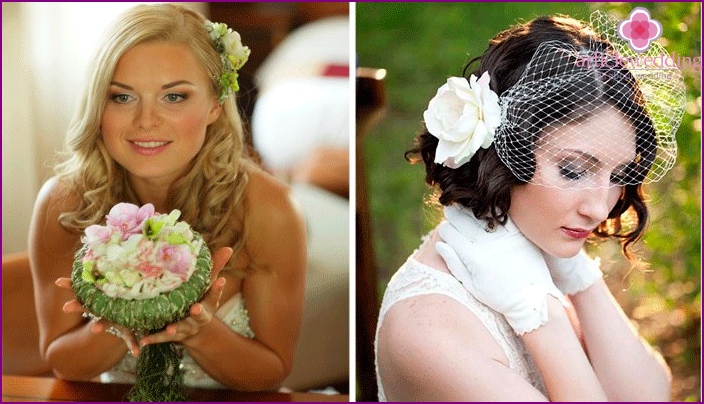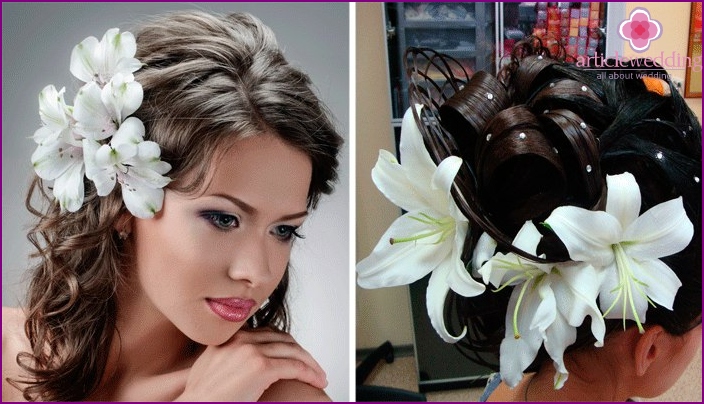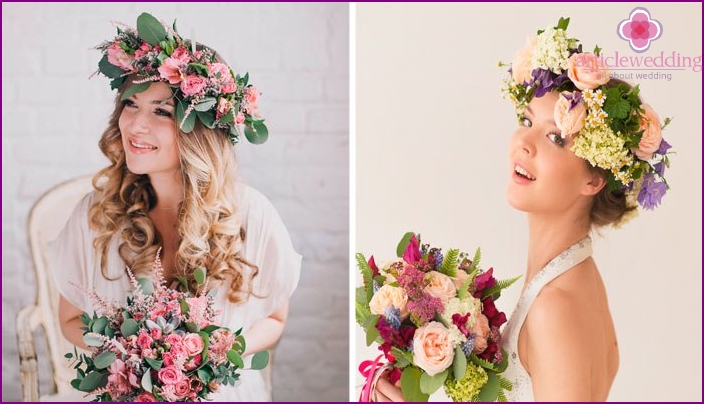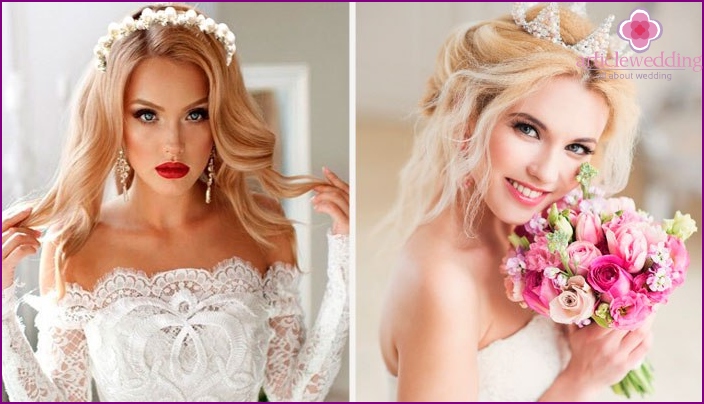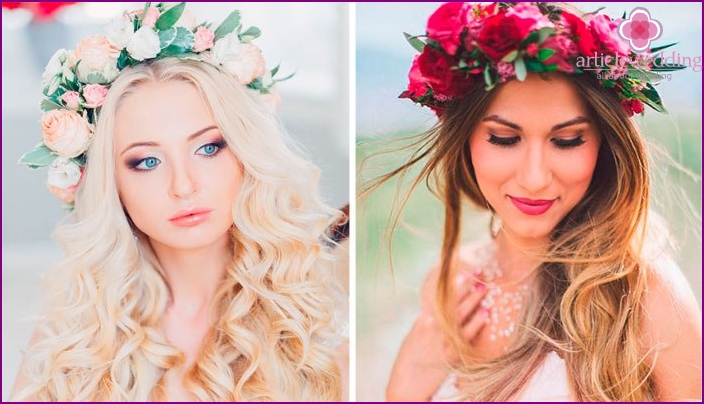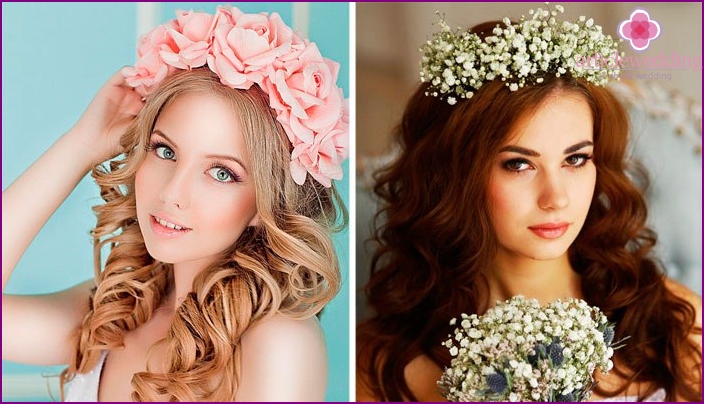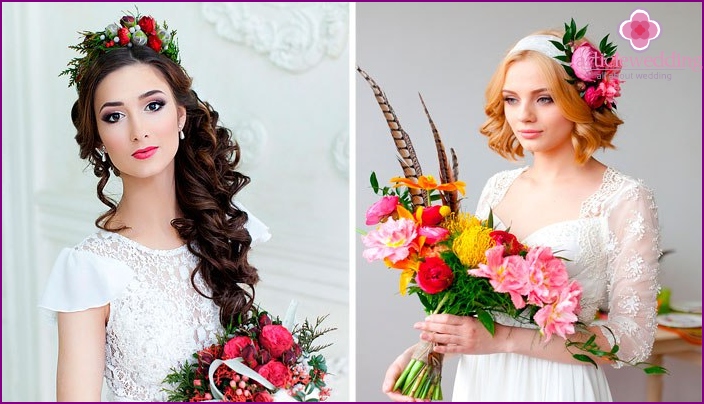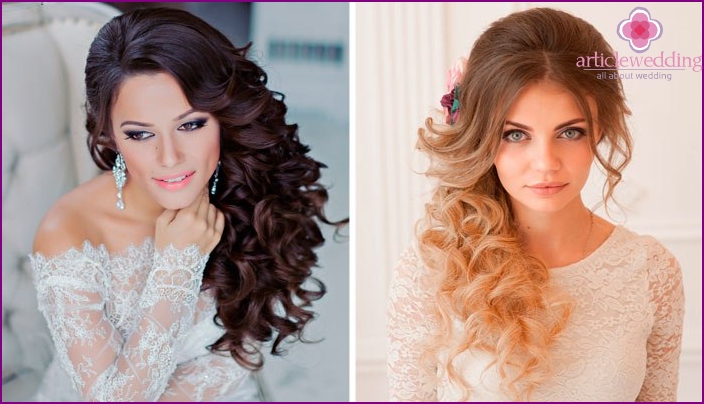 A.