Contents
---
---
During the creation of a graceful, modern and elegant image of the newlywed, one cannot do without details that will add a few magical notes to the overall picture. Such a supplement can be a comb. In modern times, this is not only a decoration, but a whole trend of wedding fashion. A comb-style wedding hairstyle is the easiest way to decorate the bride's head. These accessories can be decorated with flowers, appliqués, rhinestones, crystals, beads, beads and other materials..
Options for Scallop Wedding Hairstyles
The comb in the wedding hairstyle is designed to effectively, luxuriously and at the same time succinctly complement the created styling. Depending on the image being created, an accessory is selected:
For a formal and strict style, a sophisticated accessory with an elegant design and iridescent stones is suitable. The shape, execution of the accessory can be varied.
An accessory that depicts leaves, plants, dragonflies, and butterflies is suitable for a romantic look. They can be inlaid with rhinestones..
A comb with stones is a modern, excellent solution for creating an original wedding hairstyle, as they harmoniously complement the veil and look magical.
A scallop with floral design is very popular among the bride. It will easily decorate any hairstyle, adding interesting notes to it.
Accessories that look like tiaras look very nice. They are easily fixed on short, long, medium hair, make any look a little brighter.
Pearl-trimmed scallops are perfect for significant dates. They allow you to look beautiful, feminine and elegant. With this accessory, it is better to comb your hair back or on one side.
Bridal Hairstyle
A bride of any type of appearance can create a bunch for herself as a wedding styling. This hairstyle is universal. If your hair is very thick, long, then any bun is available for you in shape and size. If the volume is not enough, then you can put a roller. In addition, the bride can always use false locks to make her hair longer.
A bundle is ideal for hair that does not care about holding a curl. In addition, this is a real salvation in inclement weather. After all, the collected hair is fastened with hairpins, varnish, pile, so the bride can be sure that the styling lasts all day, does not lose its magnificent appearance. However, the bride and groom should be prepared for the fact that to create a beam, you will need a lot of invisibles and hairpins, which make styling harder.
The bundle can be smooth, voluminous, high or low, it all depends on the style of the outfit, the shape of the face. For example, for dress style «mermaid» or a fitted one, a high bundle assembled from curls is suitable, for lush robes or an A-silhouette, it is better to prefer a voluminous low one, the Greek outfit looks ideal with a low beam for elastic. This wedding styling, decorated with a beautiful scallop, gives the image of elegance, femininity, freshness and an interesting twist.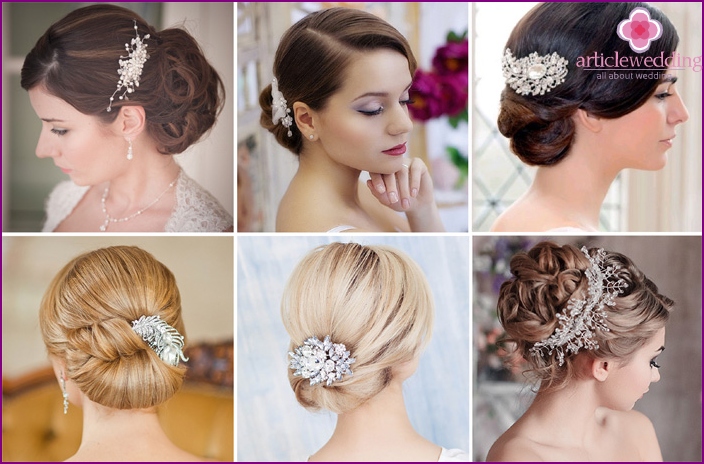 With collected curls on the side
Laying with collected curled curls on the side with the help of a comb makes the image flying, delicate and airy. This hairstyle looks good on long hair. However, if you are the owner of medium ones, then go for a little trick and attach overhead locks, the length of which should not differ from your own by more than 10 cm. The comb makes the image more interesting. Laying with curls is suitable for brides in an outfit with an open back, neckline, A-line dress and magnificent.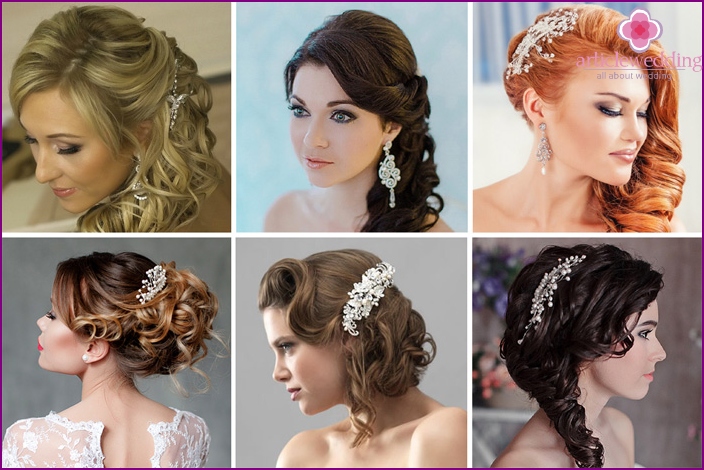 Hairstyle with roller and comb
The styling, decorated with a roller and a comb, is a classic based on the babette, which was popular back in the 60s. She came into fashion thanks to the popular actress of the time Brigitte Bardot. Such a wedding hairstyle helps visually stretch a round face, look slimmer and taller to the bride. The scallop looks very beautiful and harmonious in such a styling. If your own hair is not enough to create this hairstyle, you can use the false hairpiece.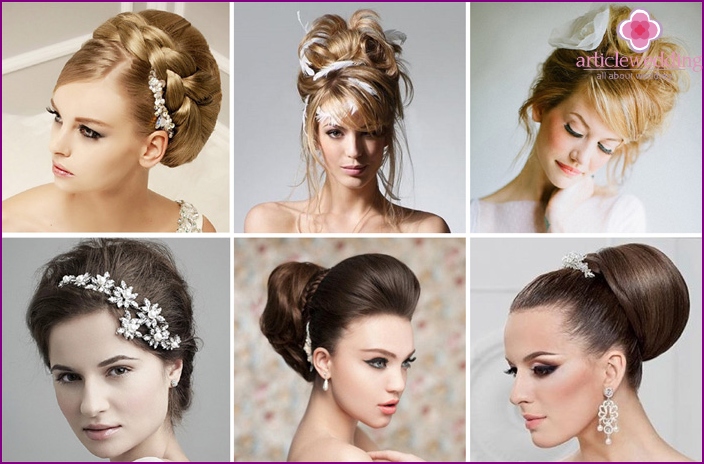 Crested curls on the back
Downward curls give the image of the newlywed femininity and romance. Such a hairstyle can be performed in different variations: natural waves, removed curls, Hollywood curls, with weaving, combing, tail, braids. One of the most successful options is fixed locks on the back with a comb. This visually reveals the bride's face, does not burden the image, at the same time giving it a touch of romance.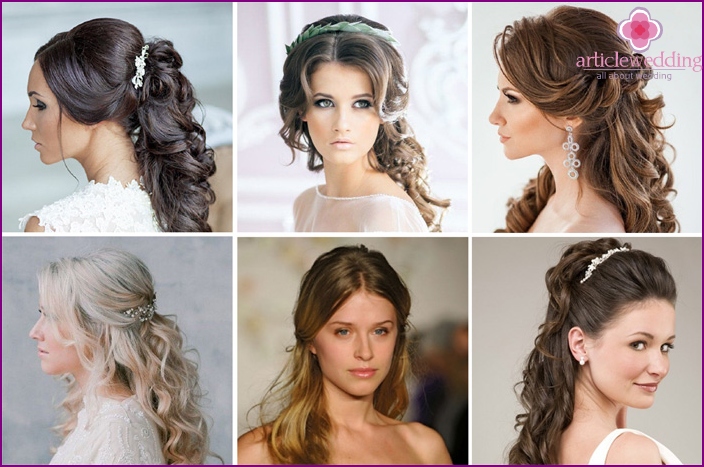 Hairstyle shell
This styling has many names: banana, twist, shell, French bunch. Its shape resembles a sea shell. Originating at the beginning of the last century, it still does not lose relevance. For a solemn image, a shell with a comb is a great option. It is easy to perform on hair of almost any length. And do not think that such a wedding hairstyle is too strict, because it can be given the effect of disheveled.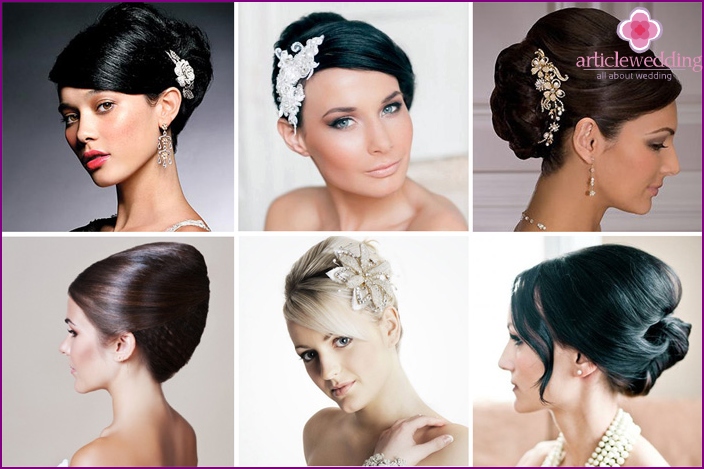 Photo of wedding hairstyles with a comb for hair
The comb for wedding hairstyles is not only an exquisite, beautiful decoration. This accessory performs a sacred function for the bride and groom. It stores female energy within itself. In Russia, the comb was considered a talisman, as well as a strong magical item. It is no accident that modern brides, decorating their heads with such an accessory, feel like luxurious queens.