Contents
---
---
Salons offer many models of wedding dresses, but, as a rule, they are sewn on classic figures. Brides of non-standard forms are constantly plagued by the problem of choosing the right model. Wedding dresses for short girls need to be selected, taking into account certain rules, which will visually stretch the figure. Such an effect is achieved, for example, by the predominance of vertical lines in the outfit. It is important to pay special attention to the shape of the wedding dress, shoes and even accessories, so that you look perfect on the occasion.
Tips for choosing a wedding dress for low girls
It is advisable to purchase wedding dresses for short girls in specialized salons. You should not take a future husband to such establishments, because he will not feel too comfortable there, and it will be better if the outfit remains a secret for him. Miniature girls look great in high-waisted styles, a horizontal seam and a long veil. This contributes to the visual extension of the silhouette and will make you a little taller. The following accessories are suitable for low brides:
cuffs;
long gloves;
small collars.
For more information on choosing a style, check out this video:
Color scheme and silhouette
To look amazing at the holiday, choose a dress that emphasizes a slender camp. For example, a one-piece straight wedding dress is perfect. It is important to focus on the waist, but not on the chest and hips. If your shapes are not too proportionate, avoid hoodie dresses. Better look at models like «case», which emphasize the silhouette. Use a wide ribbon instead of a belt as an accent. Choose shades that make you slimmer, like dark matte tones.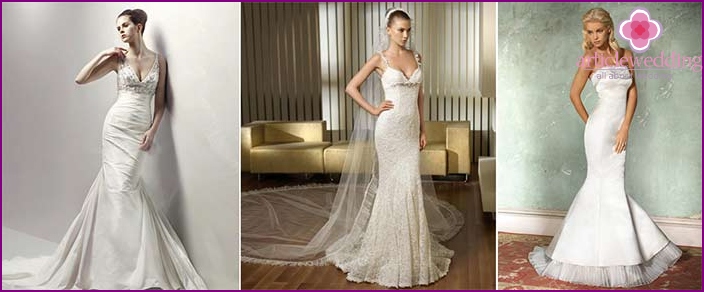 Dress length
Consider how long your wedding gown should be. If you prefer dresses to the floor, then let the skirt end somewhere at the level of the ankles. A shortened style will look perfect on a miniature girl, he will focus on your attractive legs. This advice is relevant if the figure allows you to wear such an outfit. Wedding dresses for short girls with a hemline to the middle of the calf visually shorten their legs, avoid such clothing.
What style of dress suits short girls?
There are many styles of wedding dresses, but not all of them will suit miniature girls. Take a look at the outfits of the A-silhouette, models in the style of empire. For a visual increase in growth, a short bride should choose a wedding dress on the floor, which allows you to wear high heel shoes. A good solution to the problem of small growth will also be a model with a train. An additional plus will be the presence of straight lines in the outfit and details facing up. Particularly noteworthy are shortened wedding dresses for short girls. Here are some additional tips:
If a small bride wants to look taller, she should look at wedding dresses with a high waist, a deep neckline, a long train. Complete the image with gloves with a length above the elbow. It is not recommended to choose ballroom models.
In order not to focus on the magnificent chest, choose an outfit with an oversized V-neck. High-waisted models have the opposite effect..
Tight-bodied girls are not recommended to choose outfits saturated with lace and ruffles. It is better to focus on the chest. The hem should ideally be straight or slightly gathered.
If you have a royal posture, this must be emphasized. Take a look at models with an open back.
For pregnant brides, unfortunately, the choice is not so rich. Most often, in such a situation, suits with high waist or trouser suits are suitable.
To hide the flaws of your figure, highlight your advantages. If the hips are the problem area, focus on the original bodice. It is worth complementing it with various decorative elements..
Wide shoulders are easy to hide, abandoning the style with a volumetric neckline on the bodice.
Do you have large breasts and bulky hips? These features of the figure will help to hide models with a low waist and an expressive neckline. It is not recommended to buy dresses with a high waist and excessive pomp.
Brides without a waist are better to choose a dress in style «Empire», so as not to focus on her.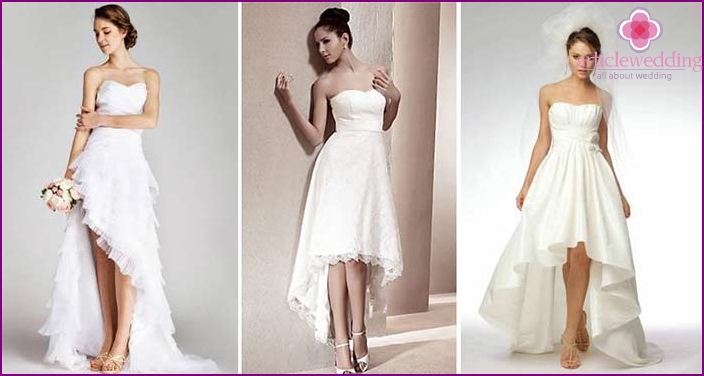 A-line Wedding Dress
Dresses of this style got their name, because they visually resemble a capital letter «AND». They emphasize the chest favorably. These outfits usually have a one-piece fit with a full skirt. However, sometimes there is the possibility of a separate choice of top and hem. This will make the image of the bride unique. Due to the versatility of the style, such outfits are very popular among the bride and groom..
A-line wedding dress visually makes a miniature girl taller and successfully hides figure flaws. A wide range of fabrics is suitable for models of this style. A natural skirt will add a skirt made of silk. But if you want to add pomposity, it is desirable to use heavy fabrics for the main skirt, for the upper layers - light ones, for example, taffeta or tulle.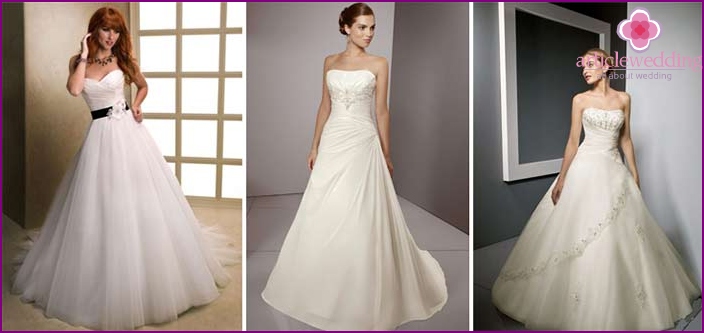 Short dress in style «Empire»
The main feature of the wedding dresses of this style is the high waist. As a rule, the skirt of such a dress begins after the bust line. She can gently fit the silhouette or airy flow, making your image light, elegant. A wedding outfit in this style is ideal for ladies with small breasts. Focus on the bust, embroidering the bodice with stones and other decorative elements. Style dress «Empire» successfully hide the flaws of the pear-shaped figure and distract attention from the belly of the future mother.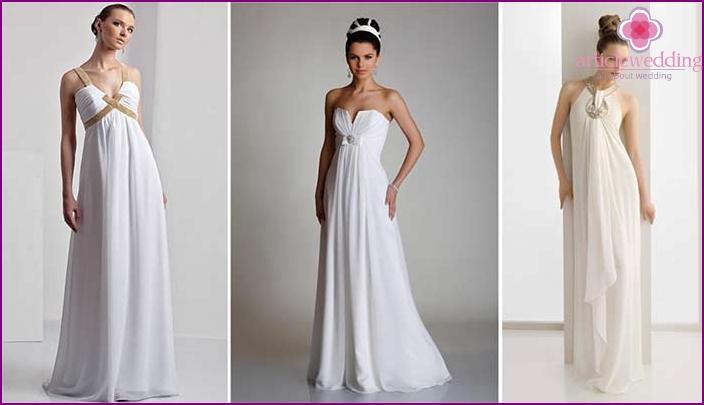 Long-fitting figure
Among the long dresses that tighten the figure, the most common are models in the style of «case» or «mermaid». They have an elongated bodice and tightly fit the silhouette of the bride to the middle of the hips. The outfit is richly decorated with exquisite lace, coupon designs, which will make your look more feminine. This type of wedding dress is well suited for low girls, provided that they have a narrow waist.
In wedding salons, you can find models of long bodycon dresses with a train and without it. No need to be afraid that the presence of the latter will disturb you. It is only necessary to ask the employees of the salon that the end of the loop is attached to your hand. So, if necessary, you can always lift it, saving yourself from unnecessary inconvenience. Models of this style do not go out of fashion for several years.
With asymmetric skirt
Wedding dresses for short girls do not have to be long at all. If the young lady is the owner of slender and attractive legs, then an outfit with an asymmetric skirt is perfect for her. It will look very original, focusing favorably on the merits of your figure. Now fashionable short wedding dresses with a straight hem, having a neat train. If you have wide hips, choose a style with a full skirt and a corset. This will hide some of the figure flaws and visually increase the bust..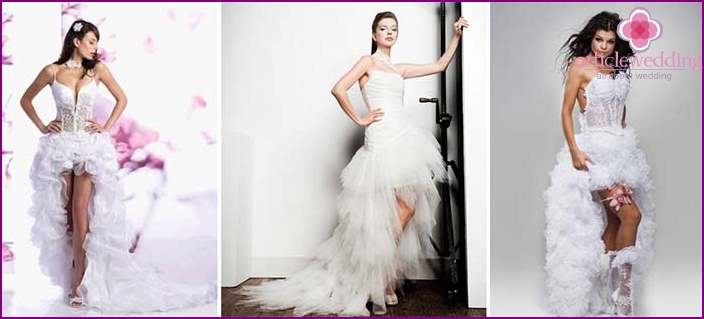 Photos of models of dresses 2016 for low girls