Contents
---
---
Choosing a dress for the bride is always an important matter, especially if it is to be sewn. Dresses of the same style, sewn from dense or light flowing fabrics, look completely different. Each material gives an individual effect along with it. Any girl wants to look luxurious at her wedding, even in the cold season, so manufacturers offer a wide range of dense fabrics for sewing wedding dresses.
Models of wedding dresses made of thick fabric
Choosing the right wedding dress model is not an easy task. Several factors need to be considered:
Figure Features.
Season.
Wedding style.
Ceremony official.
It's difficult to navigate even because a huge selection of models is offered, therefore, before ordering a dress in an atelier or buying a ready-made one, it is advisable for a newlywed to stand in front of a mirror and determine the type of her figure. After that, the bride will know exactly in which place she needs to visually reduce the volume, and in which - to add. Look at the video how to choose a wedding dress, taking into account the type of figure:
Straight A-Line Dress
A-line dresses made of thick material visually look like a regular triangle. This style is derived from the model. «trapeze», which was fashionable in the last century. As a rule, these are one-piece dresses with a deep neckline and long sleeves. A feature of the cut is that the narrow top visually stretches the figure of the bride. Glitter material fits the silhouette, focusing on the elastic chest and thin waist.
It is very convenient to stand in the wedding dress of the A-silhouette, because the style corrects the posture without effort from the bride and groom, providing support for the back. Many models for the cold season are sewn in combination with delicate lace, which emphasizes grace, adding a little sensuality and femininity to the image of the bride. This outfit is surprisingly suitable for a church wedding. In a tight A-line dress, the newlywed will look like a Hollywood star.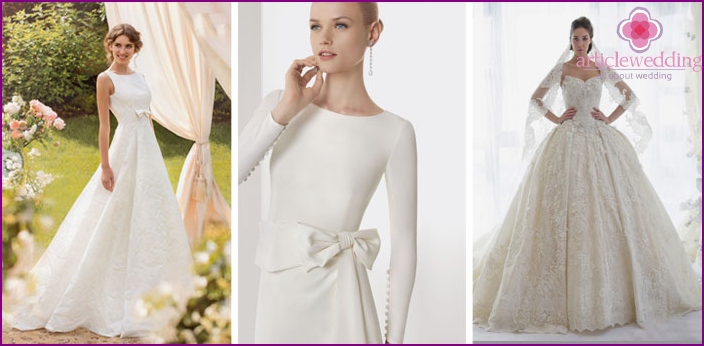 Princess style dress
Traditional cut «Princess» - This is a narrow top and flared bottom. This style is universal, so brides with different skin types and body types choose it. A dense dress will look great in a snow-white version or a color version, the texture of the fabric or its pattern will easily become an expressive element. Wedding dress trim «Princess» any applies. The bride can choose from:
lace;
rhinestones;
embroidery;
beads;
tapes.
Heavy materials that hold a trapezoidal shape, such as taffeta, satin or satin, emphasize the beautiful A-silhouette of the model «Princess». And to make the dense material look weightless and magnificent, the designers complement the skirt with magnificent organza, airy tulle or light lace. In a dress of this style, any bride will feel like a fabulous princess who can be cute and romantic or tender and playful..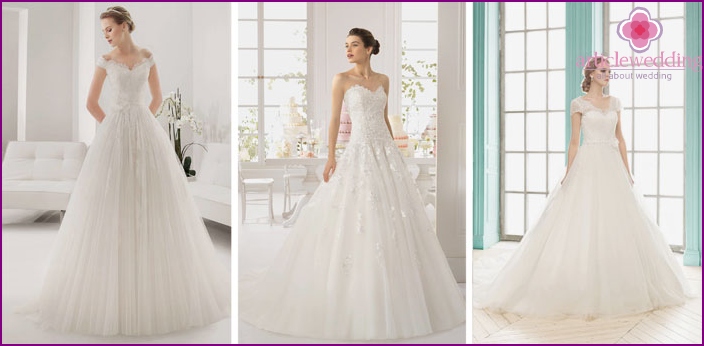 Short wedding dress with a long train
For those brides who want to demonstrate slender legs, designers offer a huge number of wedding styles in a short cut. But such a dress is more suitable for a warm time, since it is unlikely that the bride will be comfortable in a cold winter. Short models with a train are the trend of wedding fashion in recent years. This is a universal solution for those who in a short skirt do not feel very confident, because the back of the outfit extended with a train will give the girl comfort, allowing her to demonstrate beautiful legs.
Short models with a train give the newlywed individuality and mystery. The dense material will allow you to make a very tight-fitting style, which many brave girls like to wear, showing a chiseled figure. A light tulle decorating the product will transform the short model into a 50s style that will look good on any woman, regardless of age, build and height.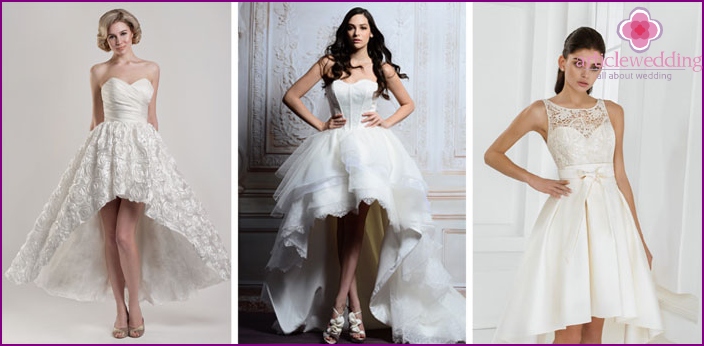 What are the dense fabrics for a wedding dress?
A wedding dress is, first of all, a product of sewing production, for which material is important. At the heart of the garment are two things: fabric and cut. It depends on the choice of these things whether wedding clothes will eventually become a dream come true or will bring disappointment. The general characteristic of this or that material does not guarantee the quality, which is critical for the finished dress of the bride. Therefore, the choice of a dense fabric is best entrusted to a professional.
Brocade
Brocade wedding dresses are the most expensive dresses that attract attention with their brilliance and high quality material. Brocade is a dense patterned fabric with interwoven silver or gold threads. This fabric has been valued since ancient times, when rich brides walked down the aisle only in brocade clothes decorated with pearls, gems and rich embroidery.
Not every style is sewn by a master using brocade, because the density of the material, its extensibility and type affect this. Brocade fabric is mainly suitable for tight wedding models. The shine of expensive material is an independent decoration, so it makes no sense to choose intricate and elaborate styles - a simple A-silhouette model without additional decor will be extremely effective, and will make the bride a queen at her own wedding.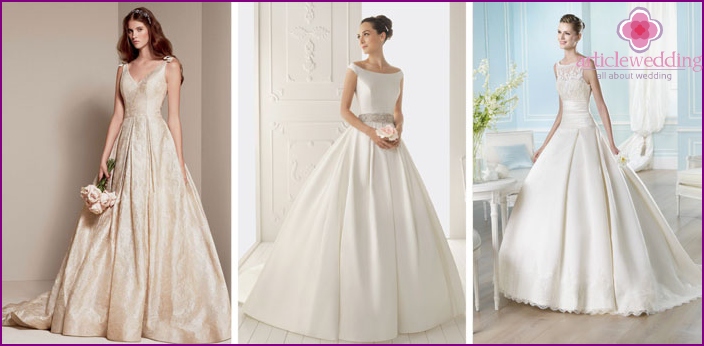 Velvet
Velvet is a dense material based on silk, cotton and viscose. The advantage of tight velvet wedding dresses is that the fabric successfully emphasizes the luxurious chest, neck and buttocks of the bride, turning the figure into the ideal of any man. Velvet goes well with the New Year theme, so if the wedding is planned for the New Year, then the newlywed's best choice is a dense velvet dress.
Thick velvet has excellent heat-saving properties, so it should be chosen for the cold season. In the wedding fashion, it is successfully combined with other materials, for example, with satin, chiffon, guipure or lace. The rich palette of this fabric provides the opportunity to sew an outfit for the bride and groom in any color and style. It should be remembered that velvet does not iron, and creases are very striking, therefore it should be transported carefully.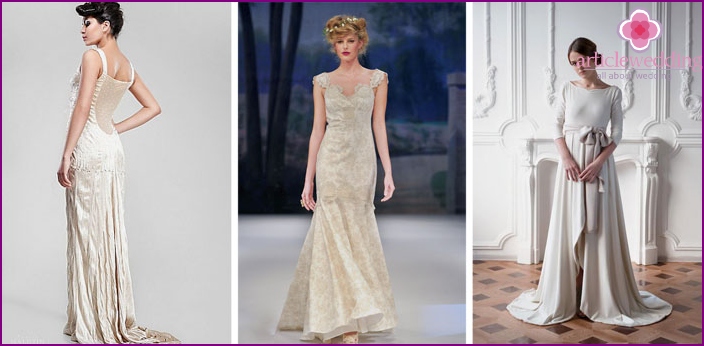 Crepe
Crepe is a special technology of twisting threads, and crepe clothes are silk, cotton, synthetic. A special effect on the fabric is achieved by fine-knitted weaving, due to which the material becomes dense, elastic and does not wrinkle when worn. Common crepe for wedding wear:
crepe chiffon;
satin crepe;
crepe de chine;
crepe georgette.
The more twisted the thread, the more shiny the fabric. Often crepe satin is confused with silk, because both materials are of high quality. Wedding dresses made of dense crepe satin are pleasant to the touch and very beautiful. This is an ideal choice for a bride and groom: unlike silk, a wide skirt will not be remembered, because the girl will have to actively move all day. When choosing a crepe for a wedding, you should remember that it looks restrained and strict, therefore it needs additional decor.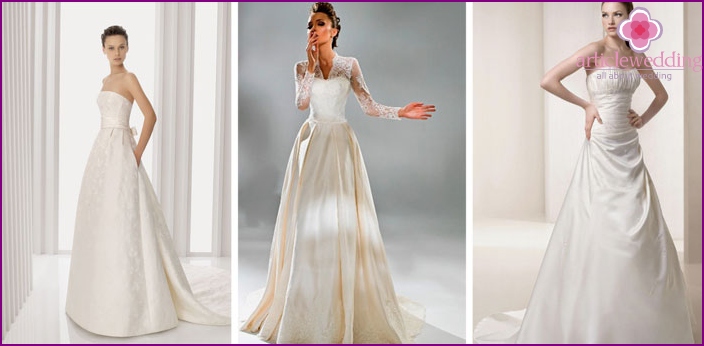 Photo of wedding dresses made of thick fabric
A newlywed woman, by choosing fabric for a wedding dress, subconsciously expresses her emotions. If a girl adheres to traditions, then her choice falls on such form-resistant fabrics, such as brocade or satin, which have a dense structure. A bride free from the rules will choose flowing fabric from crepe or sexy velvet, from which it is easy to create an intricate cut. But no matter what dense fabric is chosen, the main thing is to guess with style, size and style, only then the image of the newlywed will be perfect.