Contents
---
---
A wedding is one of the most striking events in life. And besides this - a great occasion to have fun and enjoy. For the realization of this occasion is perfect wedding script in the style of "Alice in Wonderland".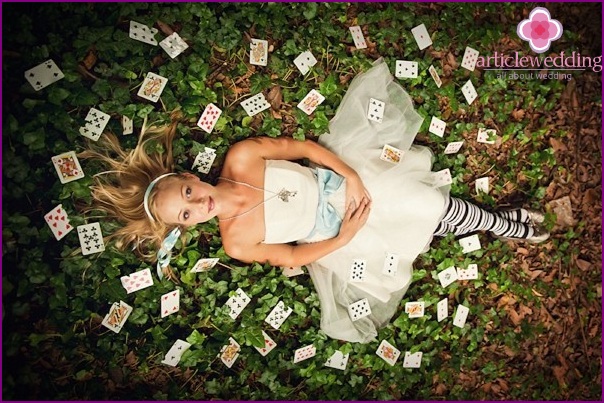 Mad hatter invites!
Thematic invitations unobtrusively hinted to guests - the holiday will be unusual. And there are an incredible number of options. You can issue invitations in the form of playing cards, or you can make miniature scrolls with a white rabbit. A great idea would be the design of invitations in the form of multi-colored tea bags. After all, a tea party with a mad hatter is the red thread of Alice in Wonderland..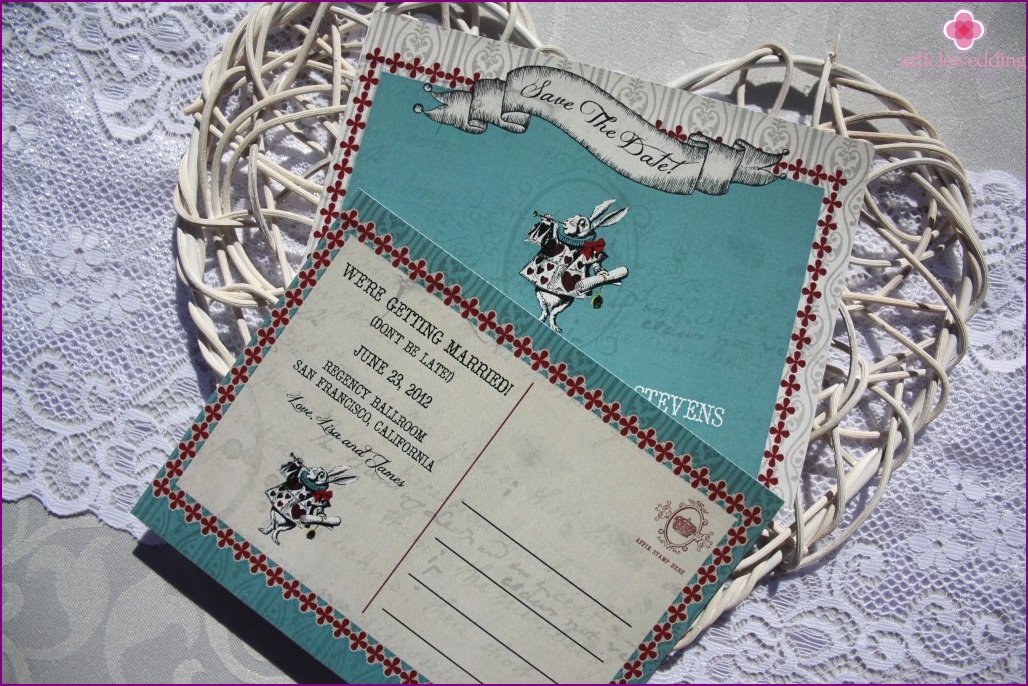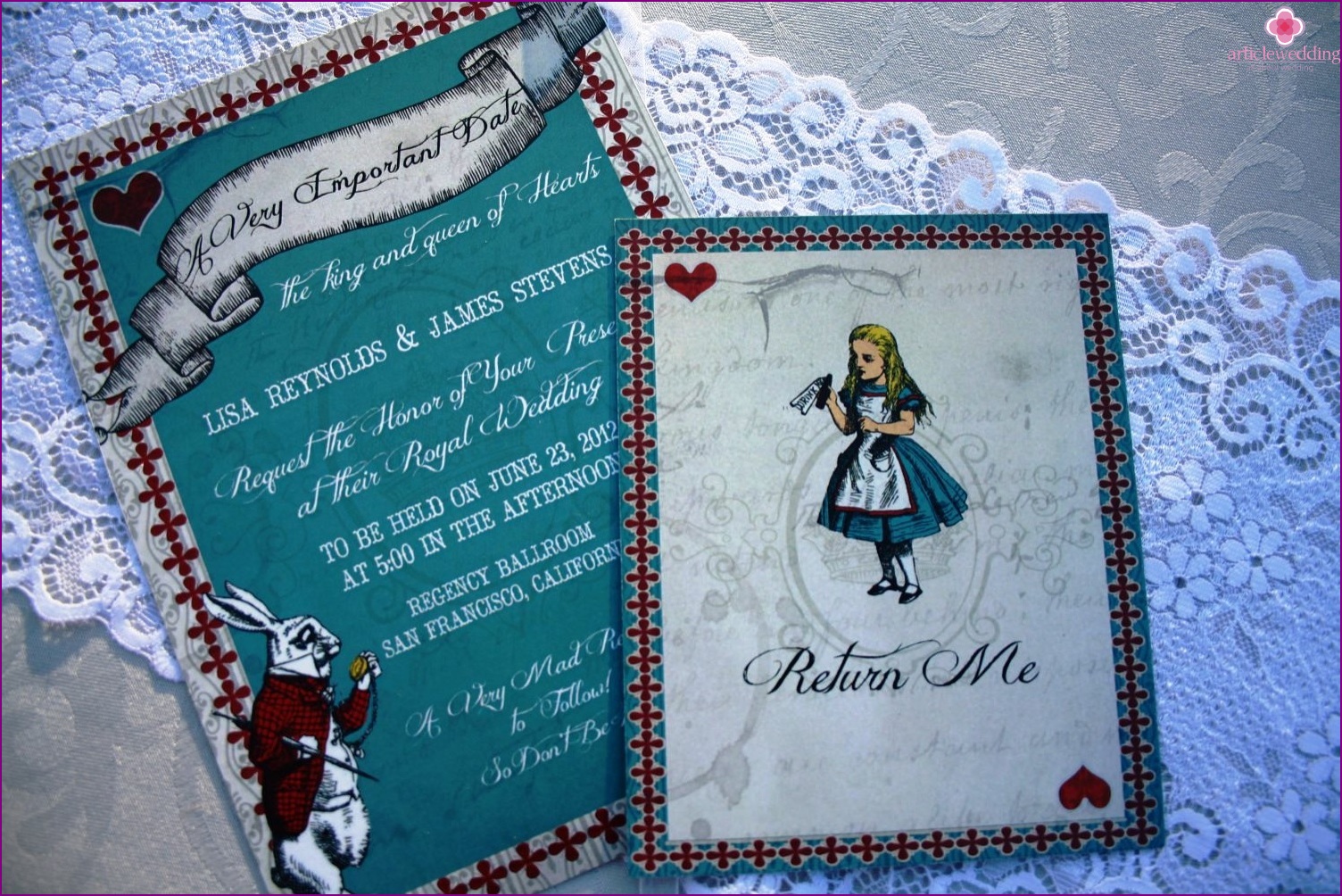 Wonderland Images
What a themed wedding without the appropriate outfits? The image of Alice's bride is bright, mischievous, with a weirdo. You can even fully enter the image, dressed up in a pale blue dress with a lace apron. Or you can simply choose a dress of heavenly color and gird yourself with a snow-white ribbon. At such a thematic wedding, the portal www.articlewedding.com considers even short, if not asymmetrical, appropriate Wedding Dresses.
Bridal veils should be "exchanged" for the famous ribbon in the hair. True, the color is better to choose not black, but, for example, in the color of the dress. You can complement the image with a flirty cylinder.
As for shoes, a la Victorian shoes are a great option. And for completeness, you can add to them daring striped leggings.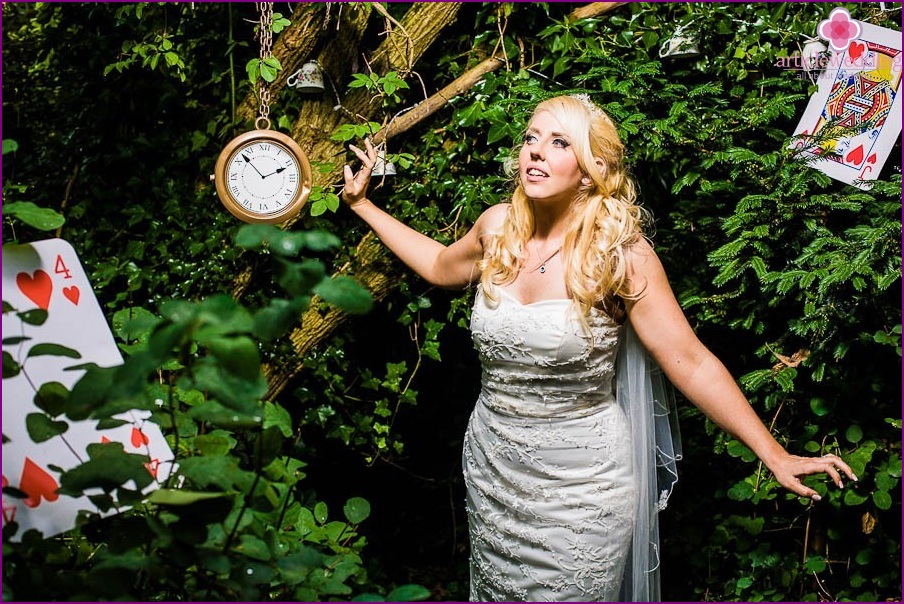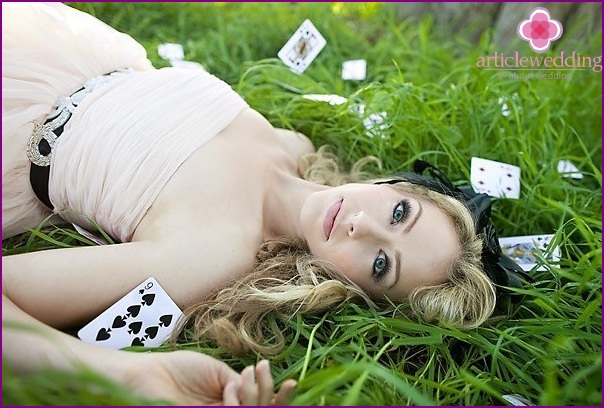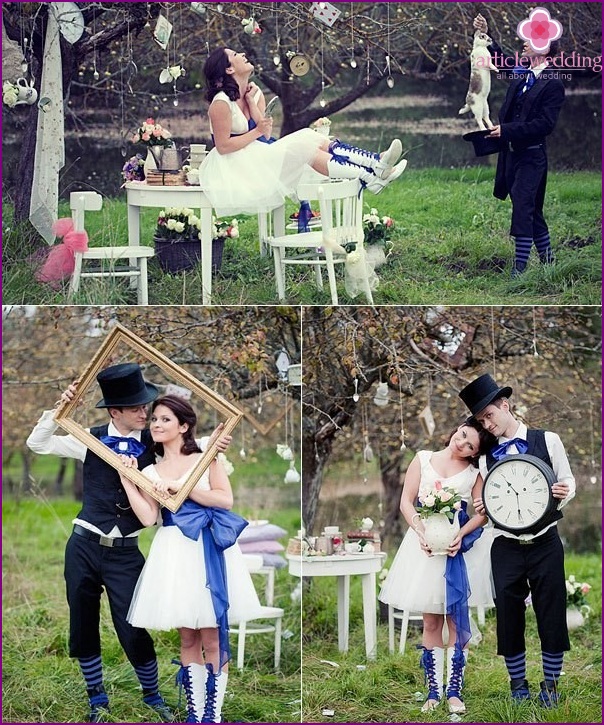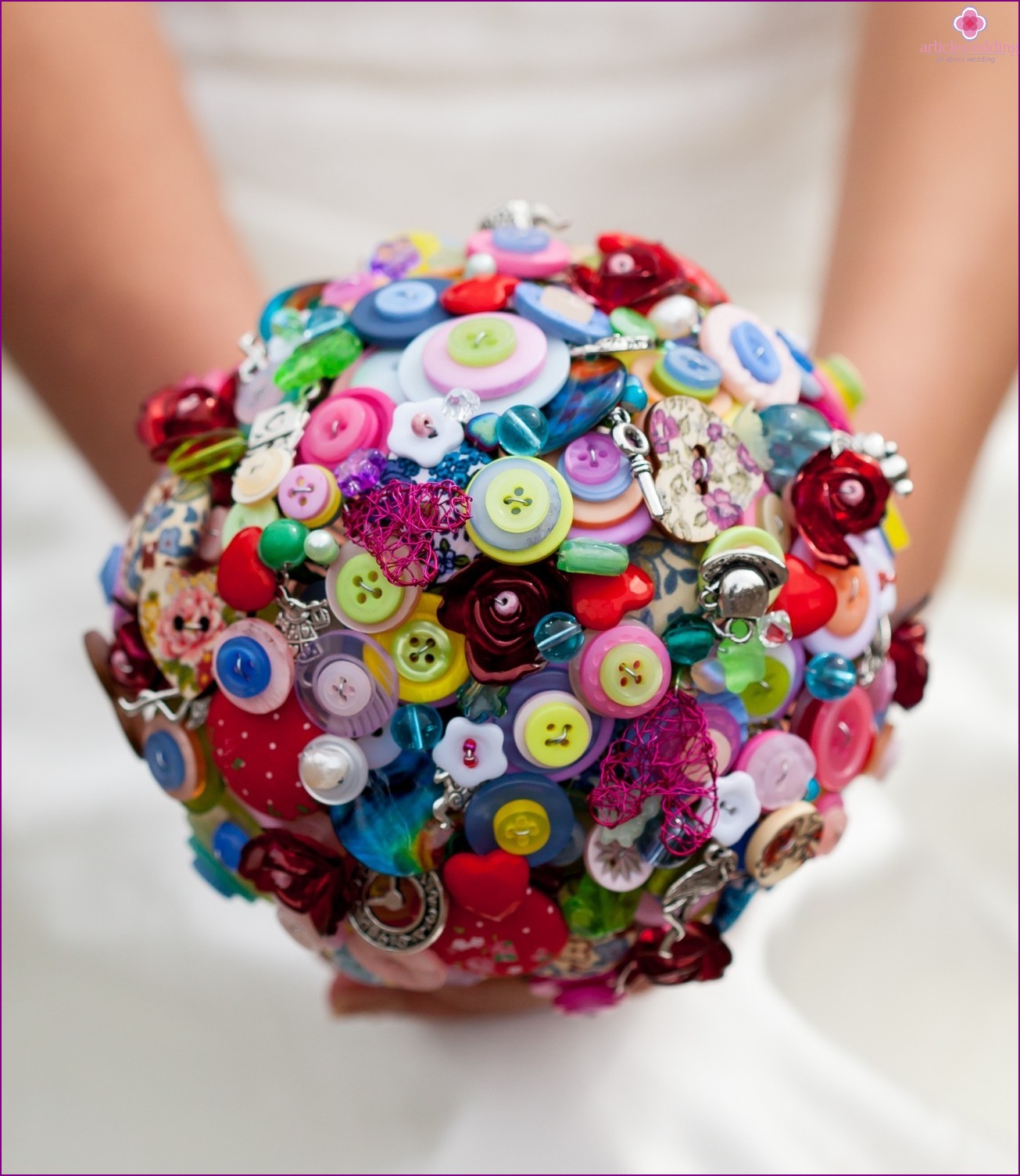 The most important thing in the image of the groom is to determine who he is with you. Mad Hatter? Or maybe a purebred Cheshire cat? Or still a mysterious white rabbit?
Elegant English trousers, a frock coat with long floors, a famous top hat, a fashionable neckerchief, a vest, always with a pocket watch on a chain, striped leggings. This list can be supplemented, but, even from the presented, it is easy to dazzle a fabulous image.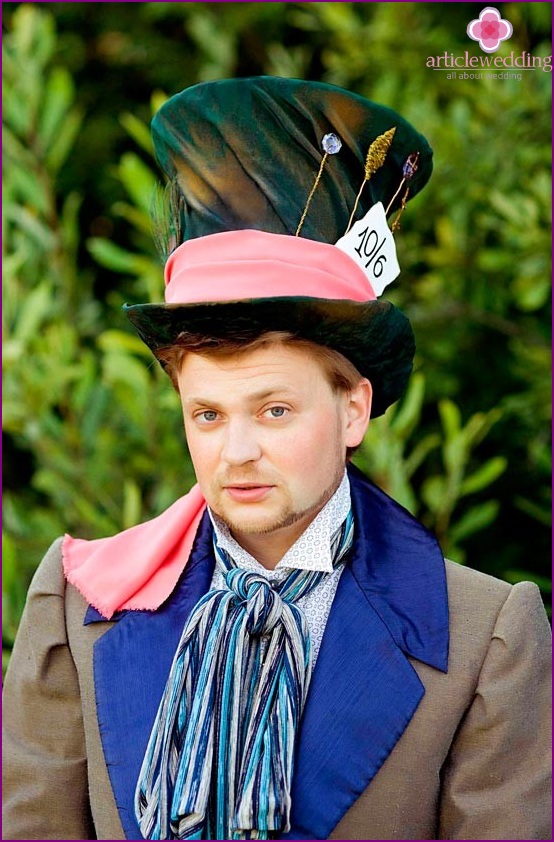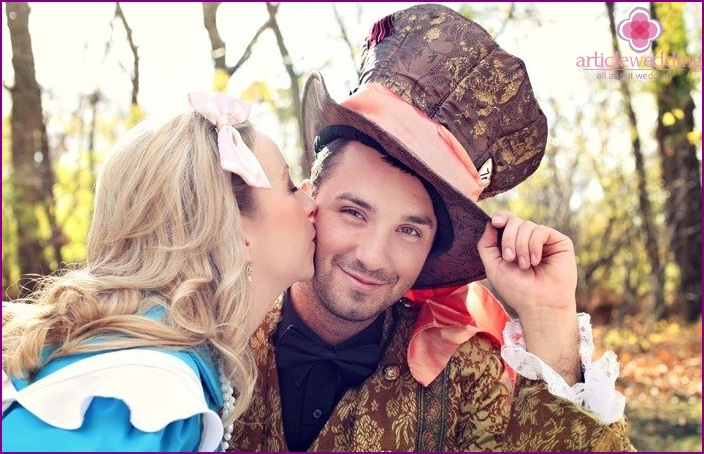 a guest room
It is logical that guests will also have to try on fabulous images. Card heroes, duchesses, rabbits, Cheshire cats and cats, cheery brothers Tru-la-la and Tra-la-la.
Of course, not everyone has the courage to put on a flamboyant costume. In this case, it is worth providing thematic accessories - masks, rabbit ears, card fans, miniature cups in buttonholes, cheshire smiles on sticks. And guests are not required special victims, and everything in the subject!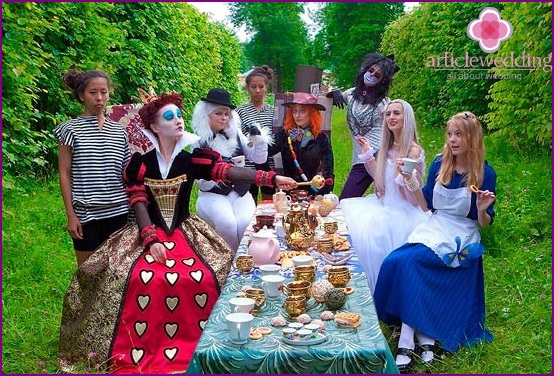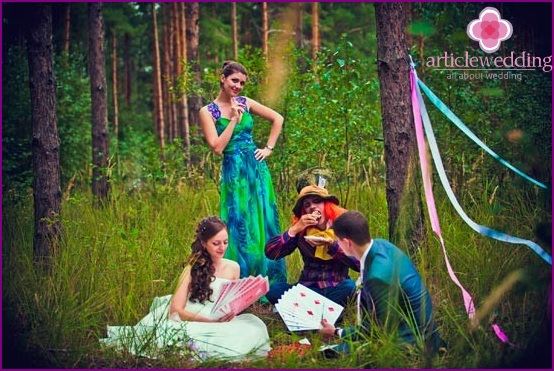 Fairytale banquet and accessories
The best place for a wedding in the style of "Wonderland" is, of course, nature. Outing holiday in a forest glade or at least in a city park. But the banquet room can easily be original and fabulously stylized. As they say, the main desire!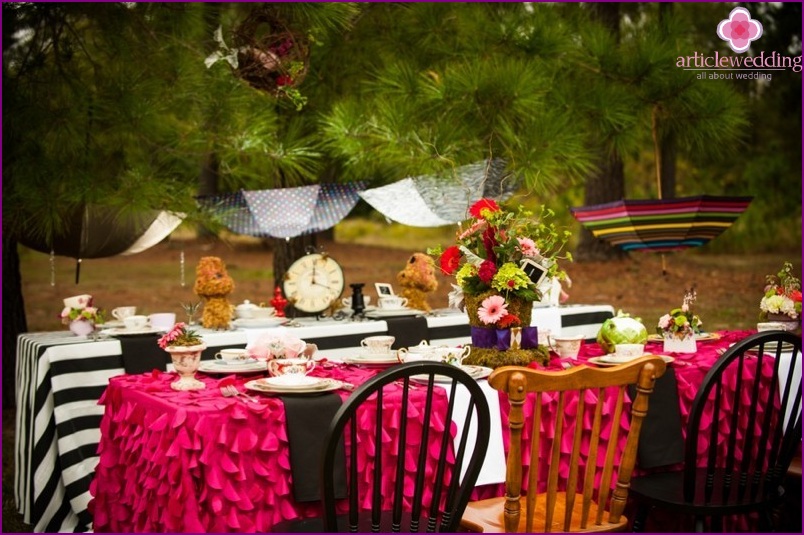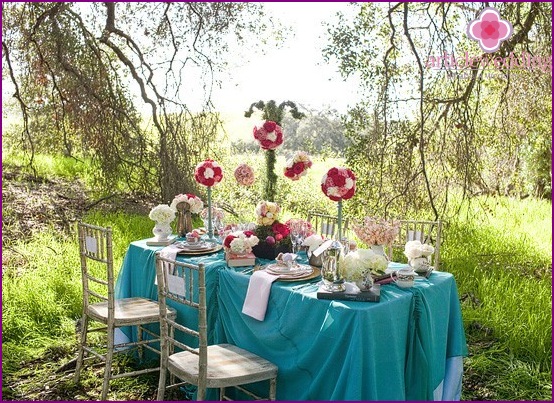 The most popular option is, of course, a tea party with mad hatter. A lot of tables with cups of various shapes and sizes, a creative "pile" of dishes, figures and images of hares. As you remember, the fabulous tea ceremony was held in the house of the March hare. Many bouquets in multi-colored glass vases, fabulous names of dishes. Decorate the walls of the banquet hall with watches of all stripes and sizes, images of fairy-tale heroes from Alice. Balloons, bright ribbons, house of cards are welcome.
Chairs of different sizes will be a great idea. By the way, the fabulous "madness" can be supported not only by different-sized chairs, but also poufs, stools and even large oriental pillows. Wonderland is a wonderful power, and the more inadequate wedding decoration - all the better.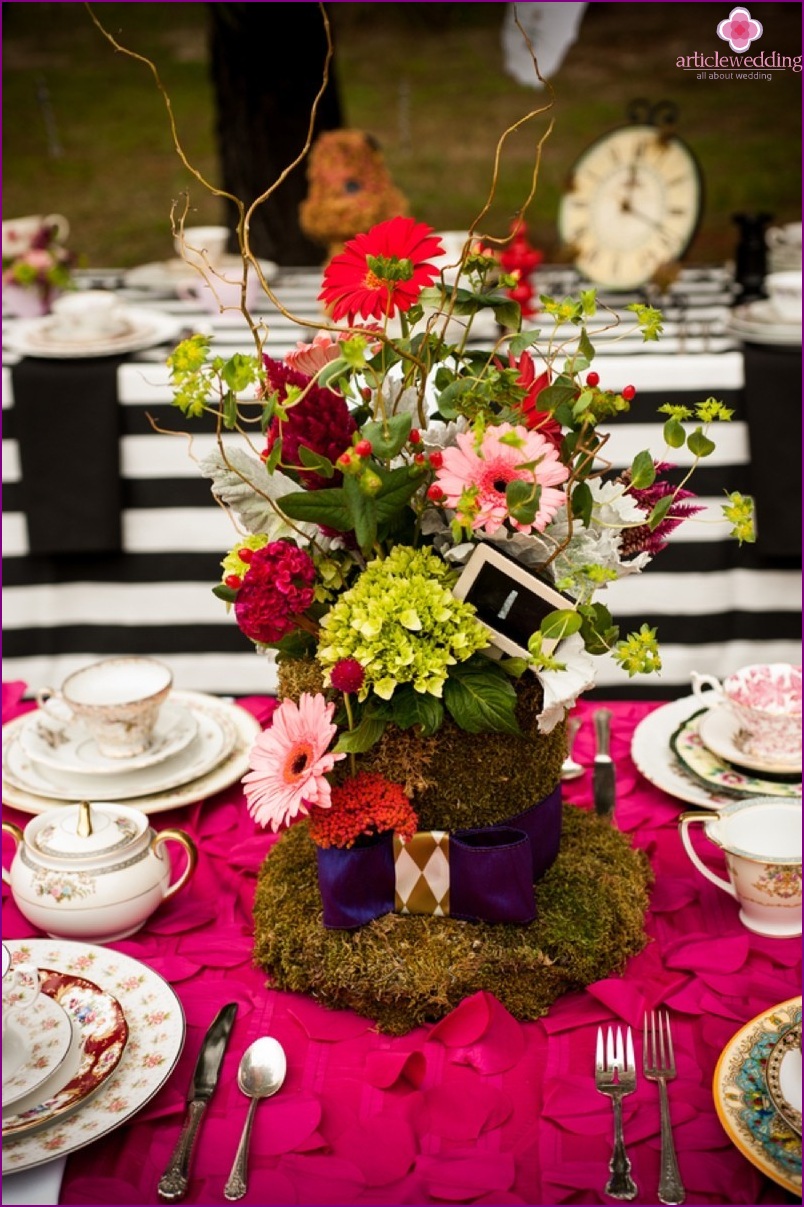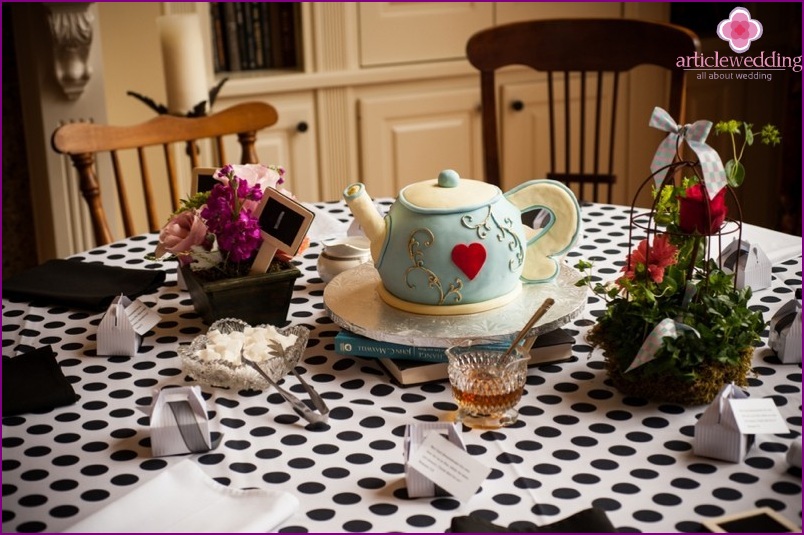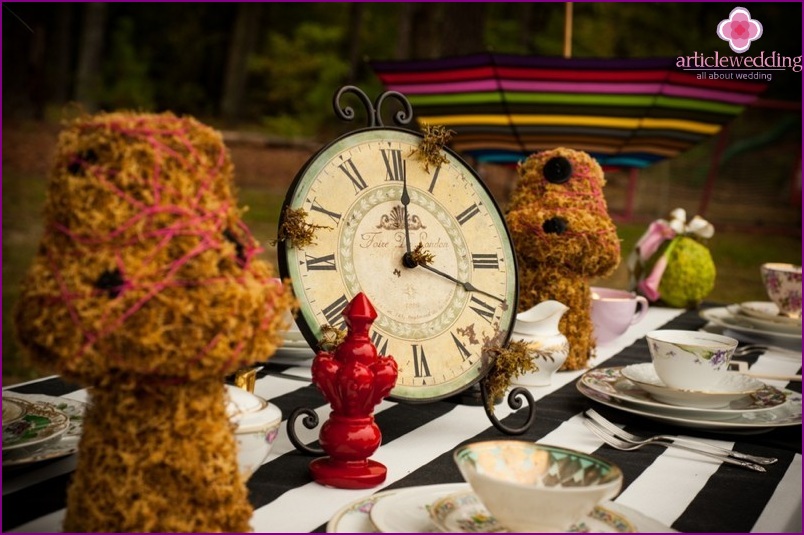 The location cards www.articlewedding.com recommends presenting cups with cups bearing the names of guests. Thus, you will kill two birds with one stone: avoid confusion, and present those present with original presentations. By the way, these same cups can also be made with bonbonnieres, filled with sweets. Or use drinks in cans as bonbonnieres.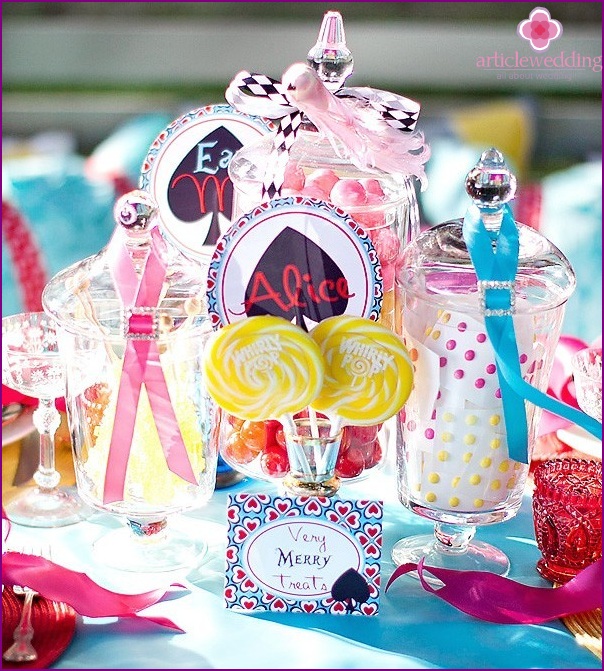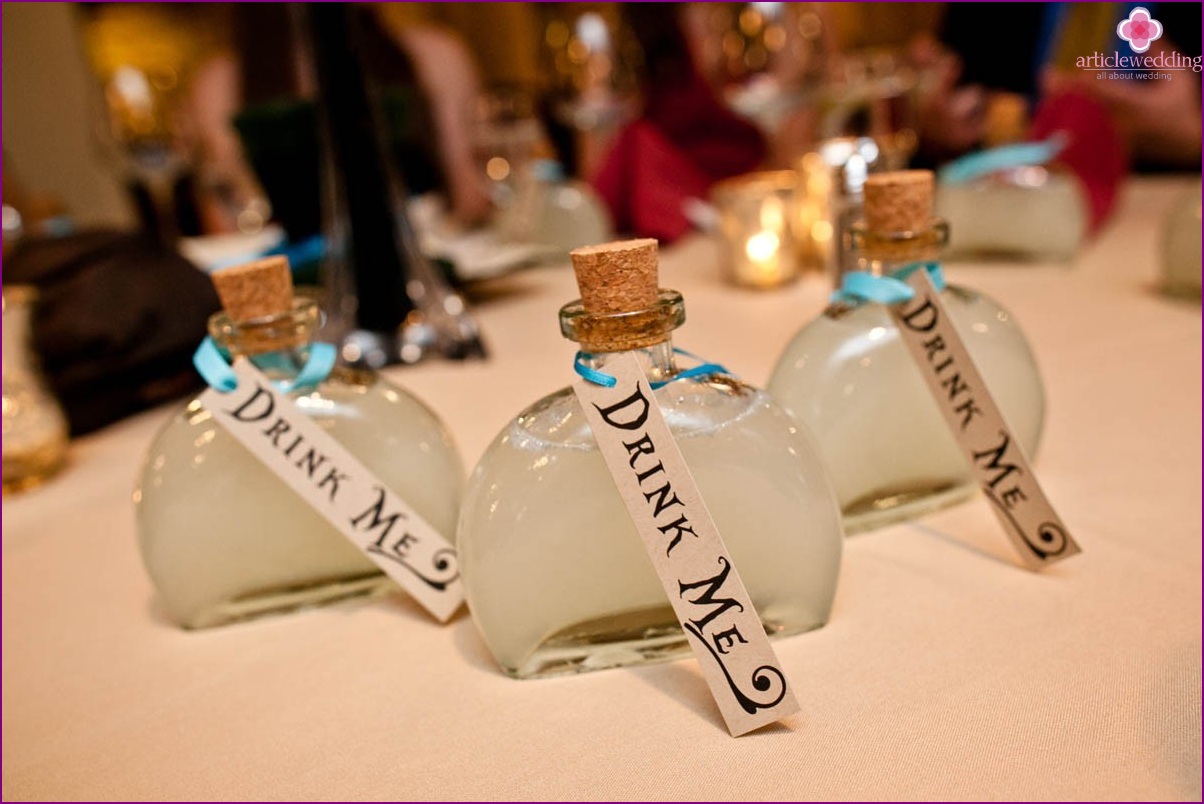 In addition to the famous tea party, the room can be styled as an episode with a rose garden. Then the main emphasis will not be on watches and cups, but on card suits and chess pieces. By the way, the general stylization of the room under a chessboard will look original. And to paint black and white "society" will help bouquets of magnificent roses.
Do not forget about themed sweets, which should have the most futuristic shapes.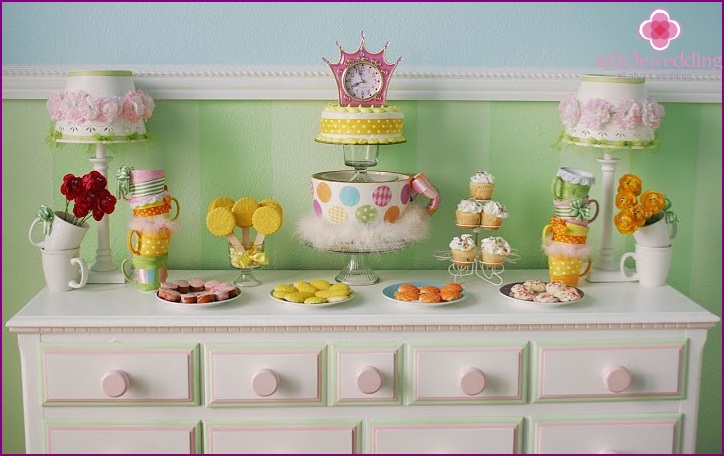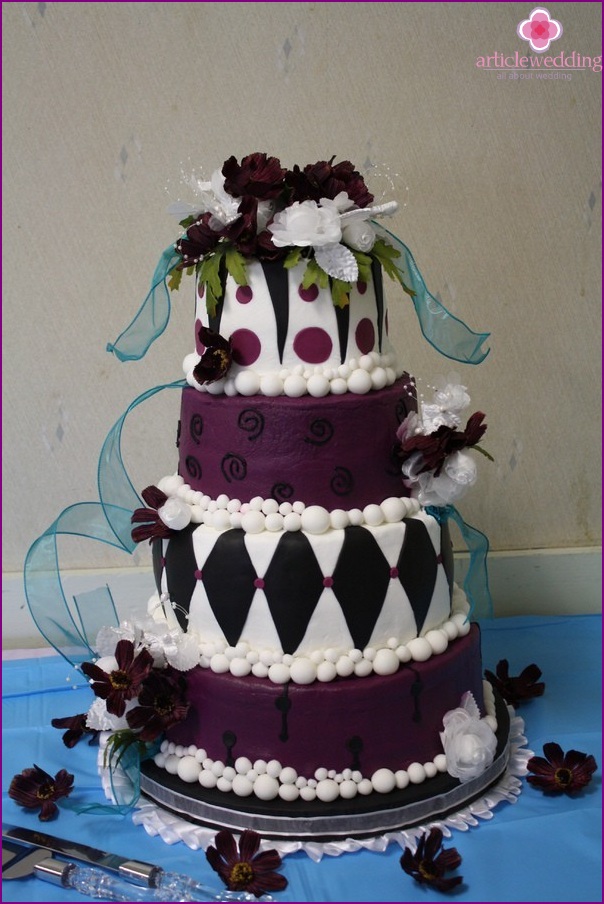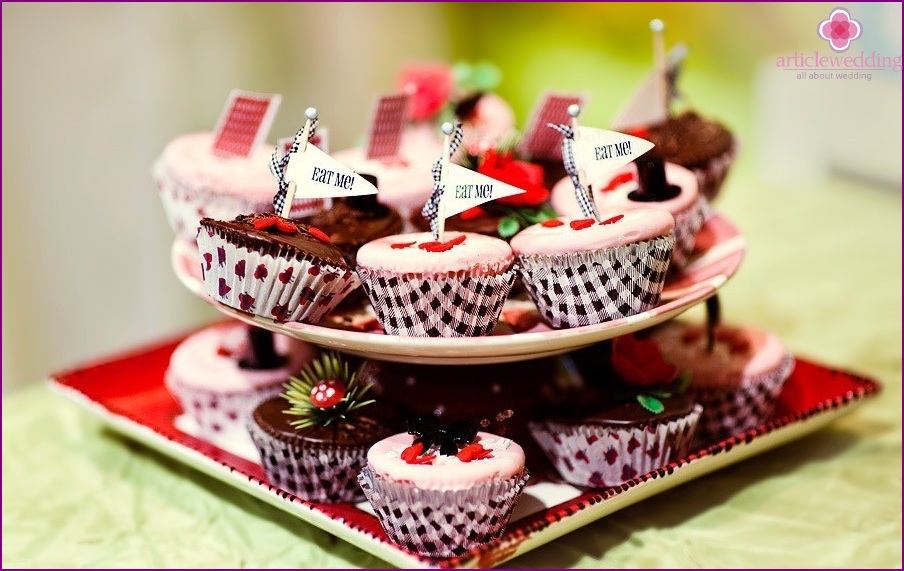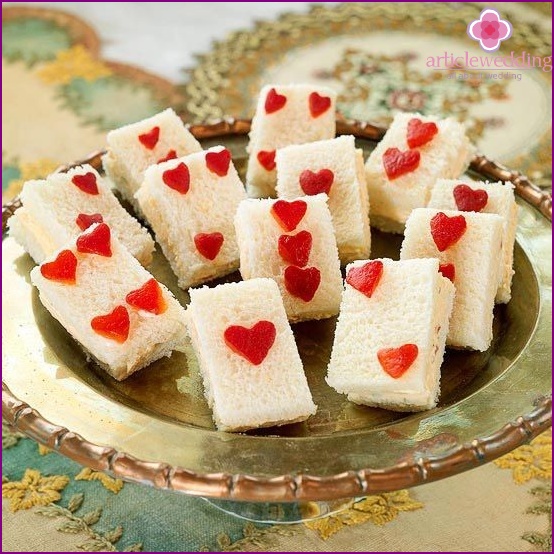 Fairytale photo shoot
A wedding photo session is best done outdoors with a cup of tea or surrounded by playing cards.