Contents
---
---
Tales are what our first principles of life and morality were based on, our first adventures and ideas. A wedding in the style of your favorite fairy tale will not only become a bright and colorful event, but will also allow you to plunge into your favorite fairy tale for another day, acting as its main characters. Book «sleeping Beauty» can be an amazing foundation for your wedding idea.
A bit of history
Before proceeding with the design of the wedding hall and creating the image of the bride and groom in the style of a beloved fairy tale, it is necessary to remember its main characters, remember the plot and the main idea. In a fairy tale «sleeping Beauty» we are talking about a beautiful girl who was cursed. Once she pricked herself with a spindle and fell asleep for a hundred years. Only the kiss of the handsome prince could remove the strong spell.
The plot of the tale is very simple and romantic. To make all the details of your style correspond to reality, just re-read the book or watch the cartoon.
Fairytale bride image
You will have to work hard on creating suitable fairy-tale images, because you will probably want to get as close as possible to the image of the real heroes of the book. It must be remembered that the fabulous style involves lightness and flight of imagination. In some little things, it is not necessary to adhere to a very strict line. You can dream about your own style..
Of course, the main detail of the bride will be a magnificent wedding dress. The dress should be white, long and very beautiful. Ruffles, lace and a long train are welcome. You can choose a dress that resembles fabulous outfits. The shoulders may be slightly open, the image should be gentle and insanely romantic..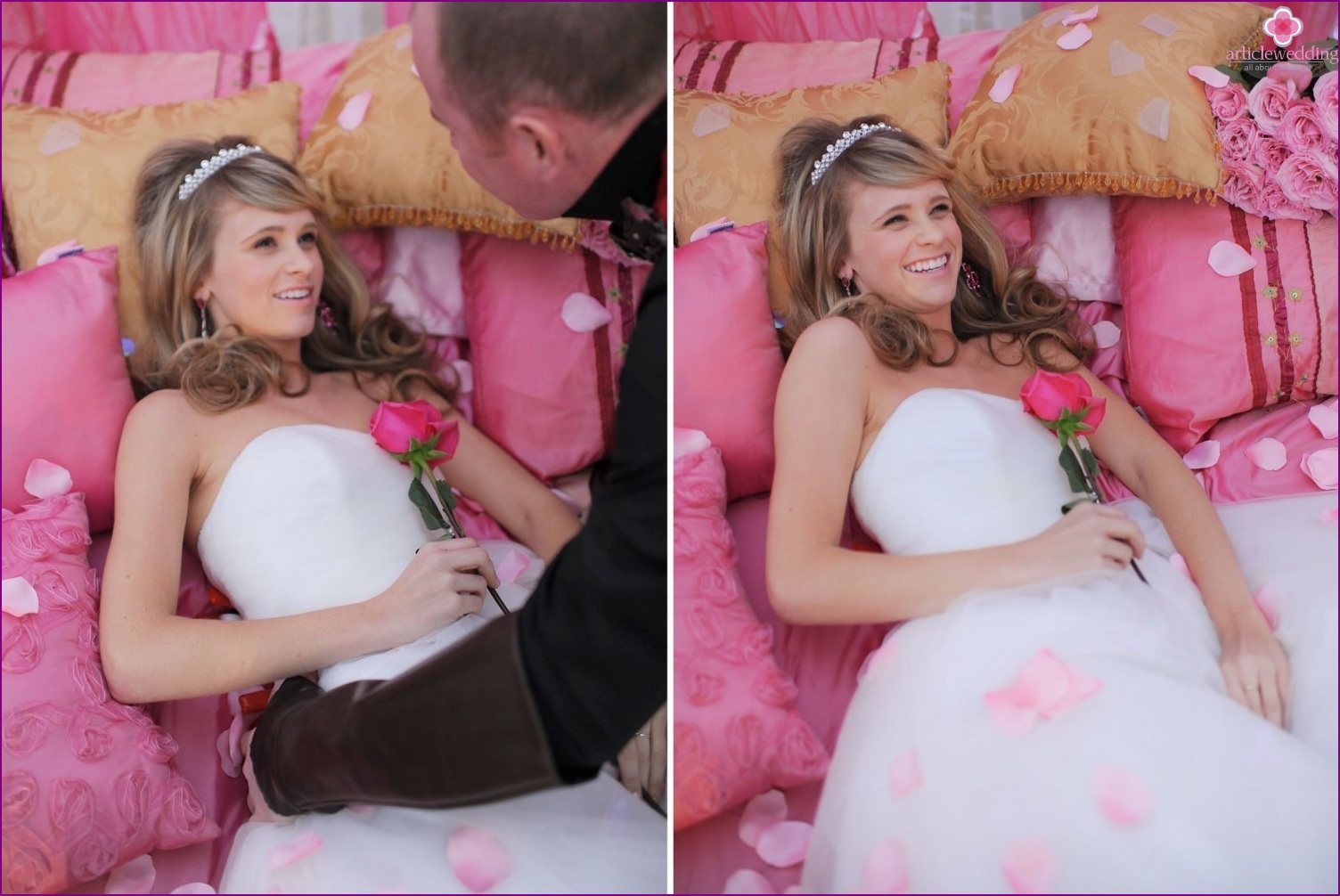 For the dress, pick up beautiful shoes and accessories, as well as a bouquet. It is best to pin fresh flowers into the hair to make an image «princesses» even more gentle. You can also use a diadem to look like a real princess from a fairy tale..
In wedding makeup, use bright eyeliner and scarlet lipstick. It is best not to use tanning because the princess in the fairy tale had light pale skin. You can read many more tips on creating a fabulous bride's look at www.articlewedding.com.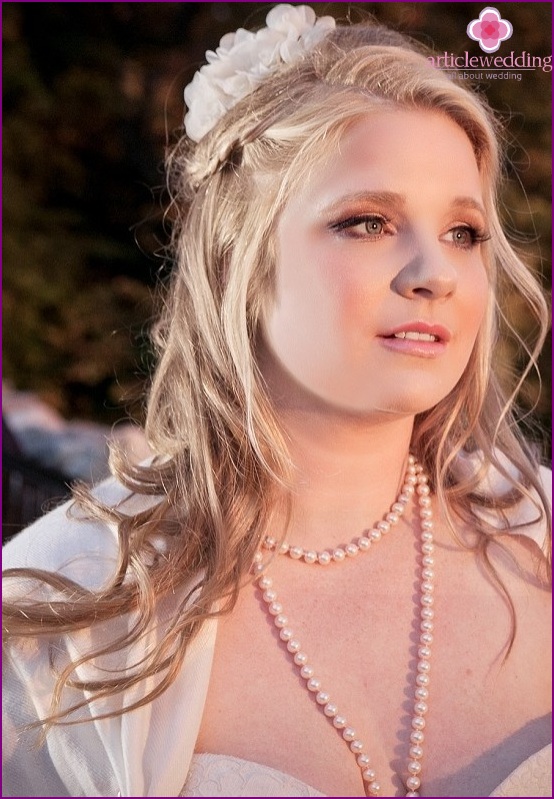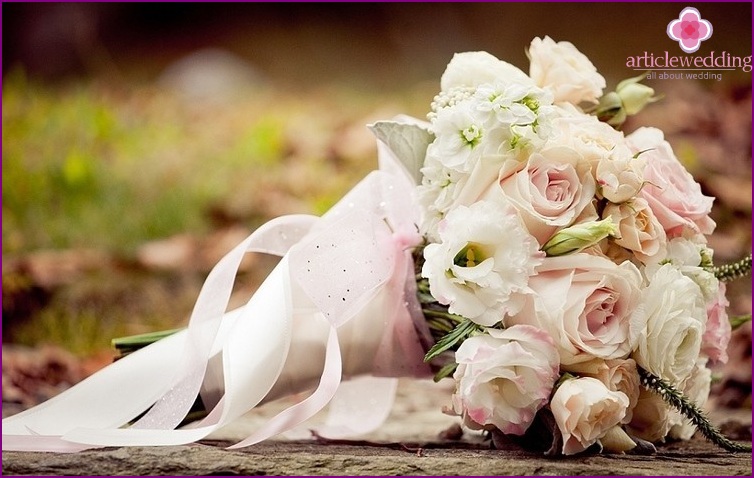 Fairytale image of the groom
You probably remember that the sleeping beauty was saved by the prince, who kissed her and thereby awakened him from a hundred-year-old sleep. The image of the groom must correspond to the hero of the tale. For the groom, you can pick up a shirt and a suit with a painting, you can with velor or velvet. This combination will remind you of fabulous times, it will look very original. Gold cufflinks and lace shirt sleeves look unusual.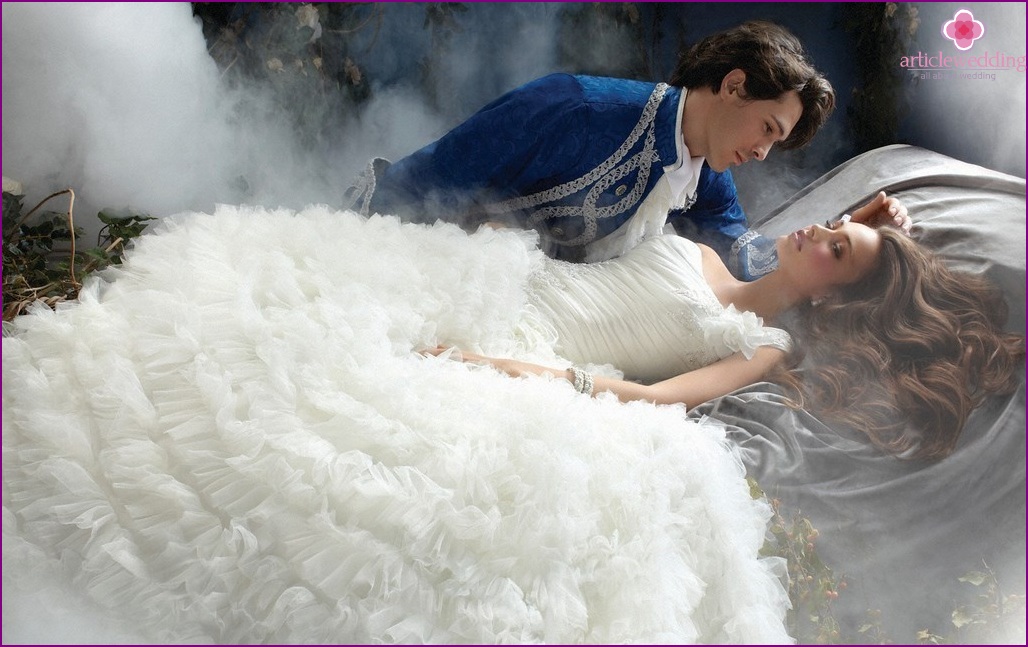 Wedding decor and accessories for a wedding
To decorate wedding tables, use flowers and beautiful old details: cups, candlesticks, etc., as well as natural decorative elements (wood, moss, etc.) or images of animals and trees.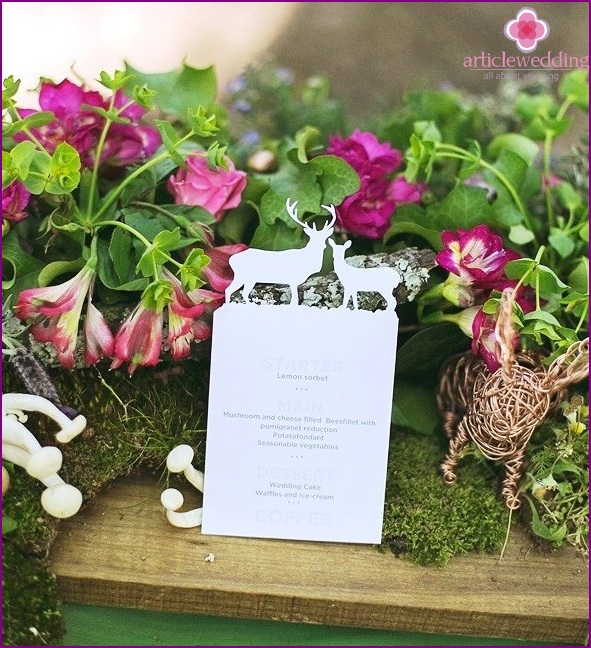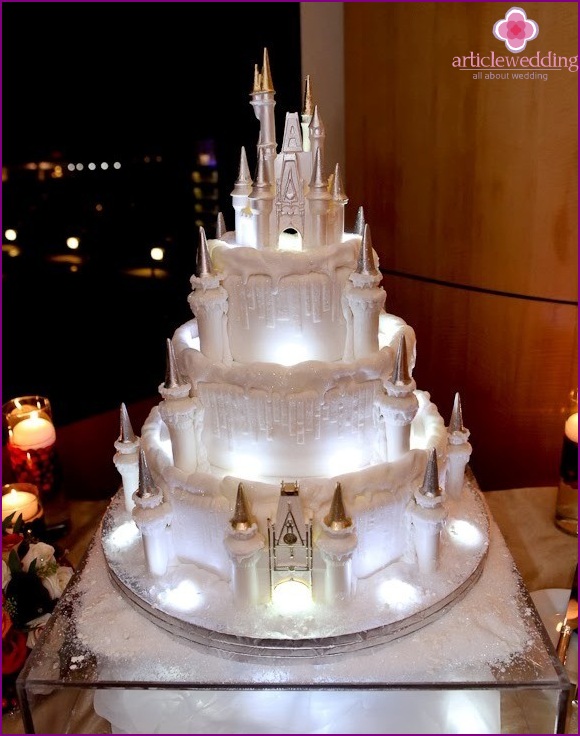 Style photo shoot «sleeping Beauty»
Wedding photography will capture your efforts to create the wedding of your dreams. When choosing a place for photography, pay attention to places with a picturesque landscape. It can be a park or a forest, the main thing is that it is full of greenery. As you stage a fairy tale «Sleeping Beauty», it is necessary to take several shots of the sleeping bride and the groom awakening her in the role of a prince, as well as a photo of the bride with a spindle.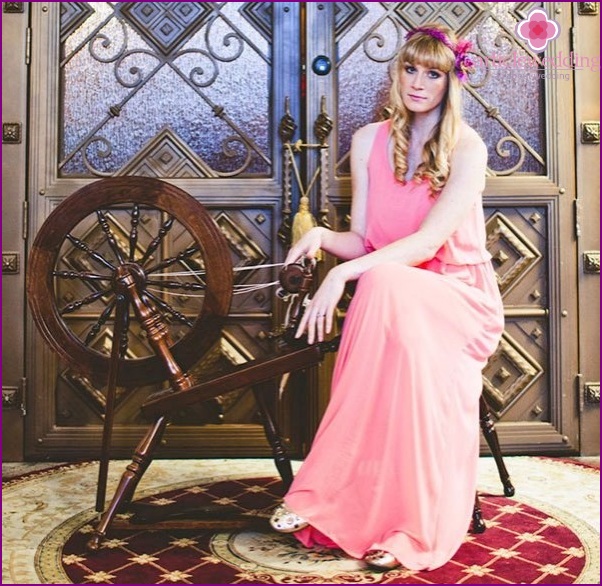 Fairy-tale images make the wedding a little playful and wonderful. Perhaps recreating a fairy tale at the wedding «sleeping Beauty», you will believe in miracles. Enjoy the beauty of the wedding style, enter the role of a prince and a beautiful woman to plunge into the wonderful world of fantasy!