Contents
---
---
In this article, the www.articlewedding.com portal will tell you how to apply luxurious cherry blossoms and perky berries to your wedding..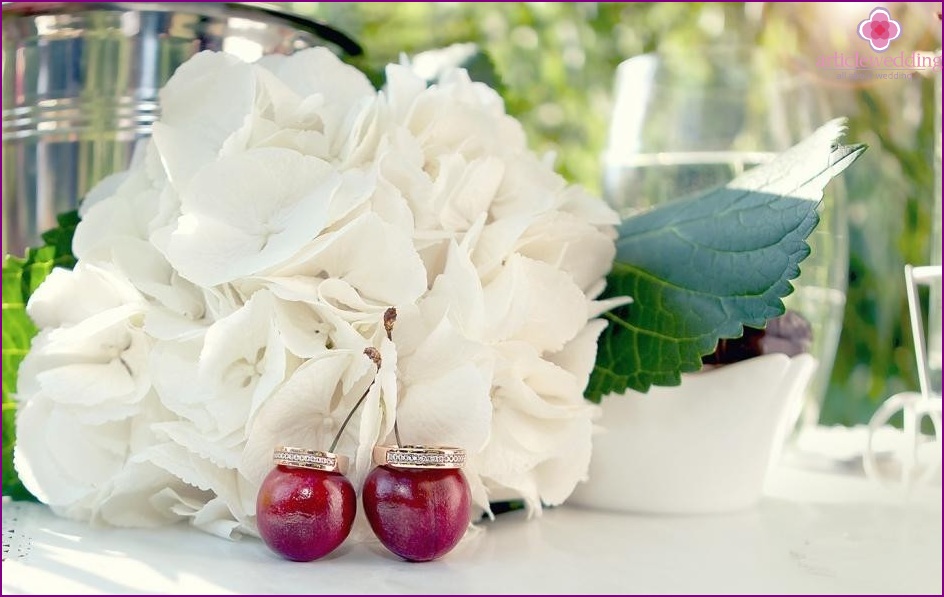 Celebration Style
Cherry theme can be applied with wedding organization in a simple and classic style or in a romantic country style. Naturally, the best option for a cherry wedding would be a free atmosphere and a relaxed atmosphere..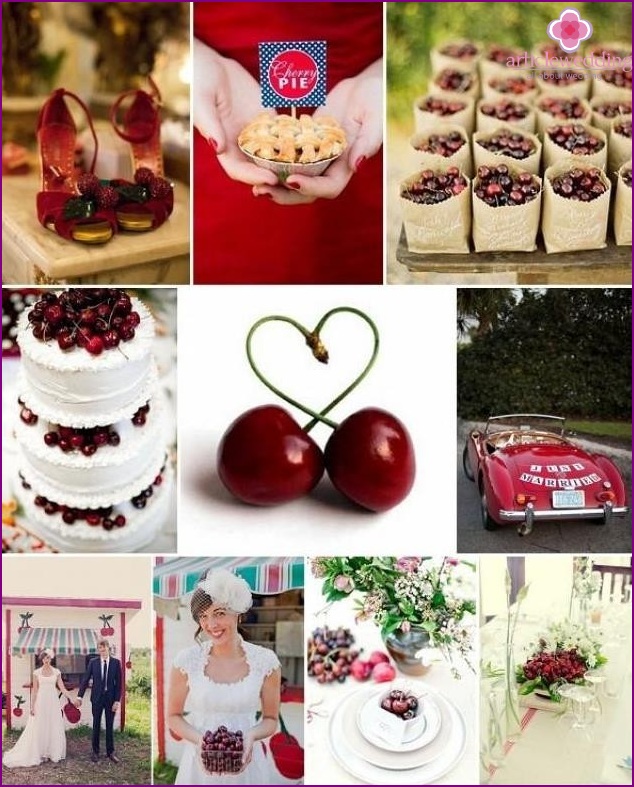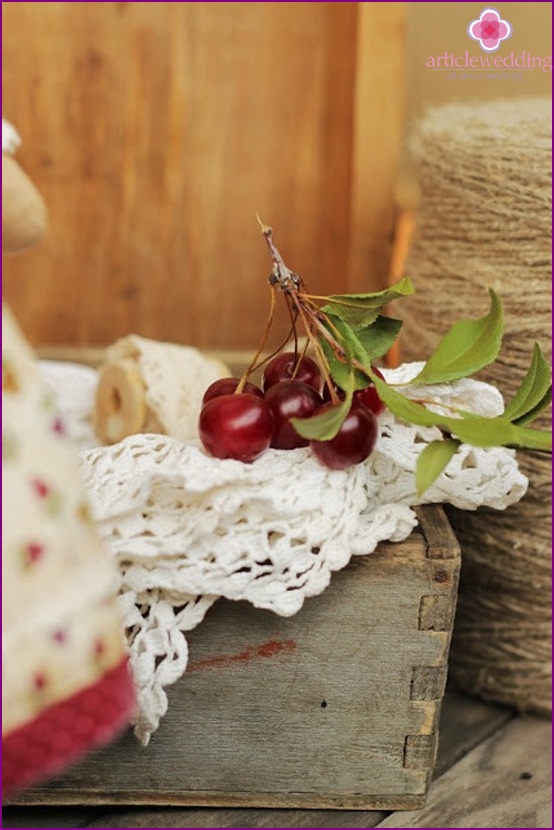 Juicy colors
The main shades of a cherry wedding can be several colors. If you are planning a classic wedding, then choose a dark cherry shade, closer to the burgundy color, which will contrast with white. The white scale can be replaced with milk, then the shades of the wedding celebration will become softer and warmer.
Soft pink, deep pink and white shades will be the perfect solution for a romantic wedding. Adding a couple of juicy cherry blotches and greens, your wedding will acquire the features of a country style.
We draw your attention to the fact that the cherry palette is in harmony with such colors as blue, sand and chocolate.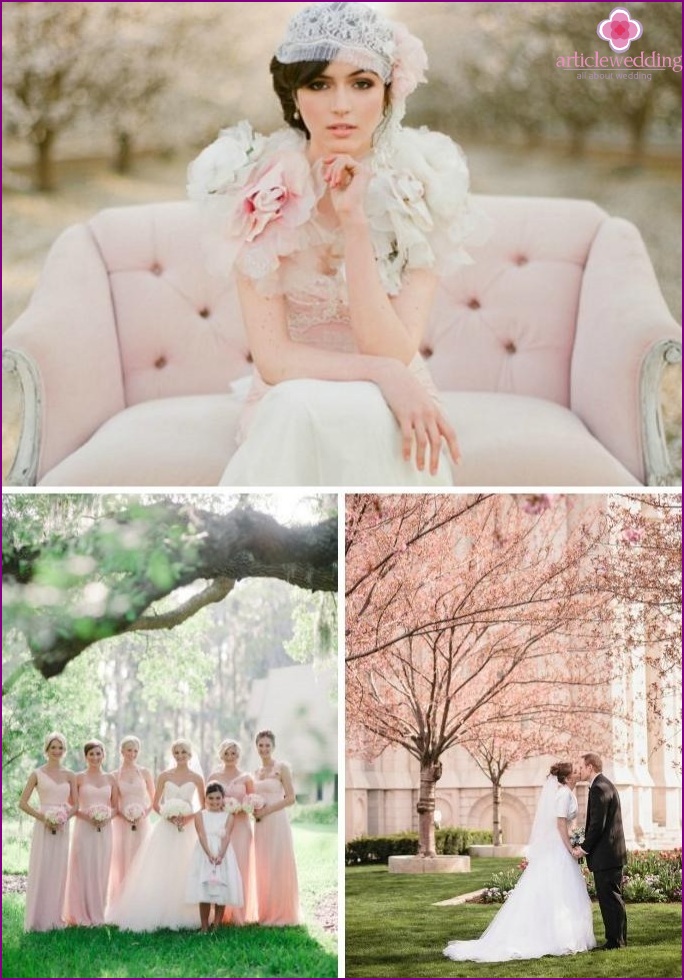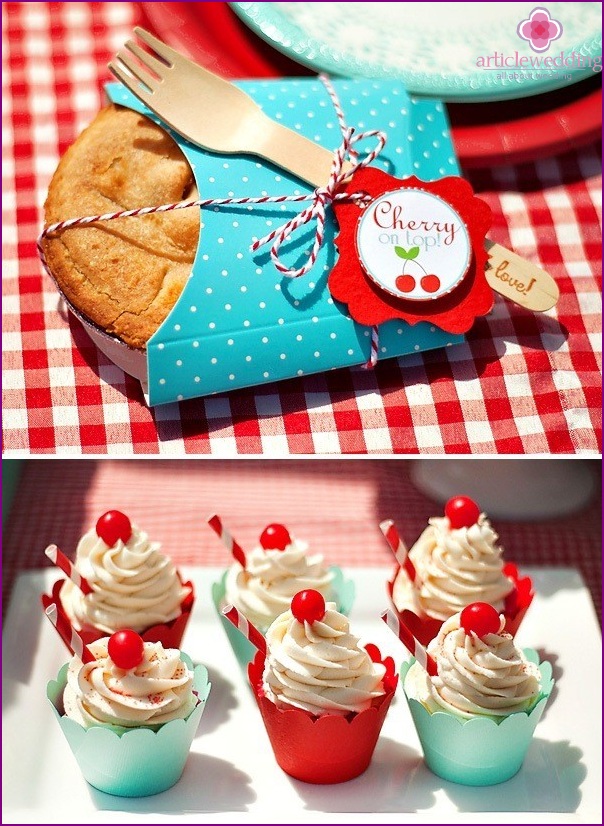 Components of wedding decor and accessories
Start your wedding preparation with design invitation. For a rustic wedding, invitation cards made in the style of scrapbooking are suitable. For a more formal ceremony, choose thick white paper with an embossed pattern and a burgundy ribbon decoration with decorative cherries..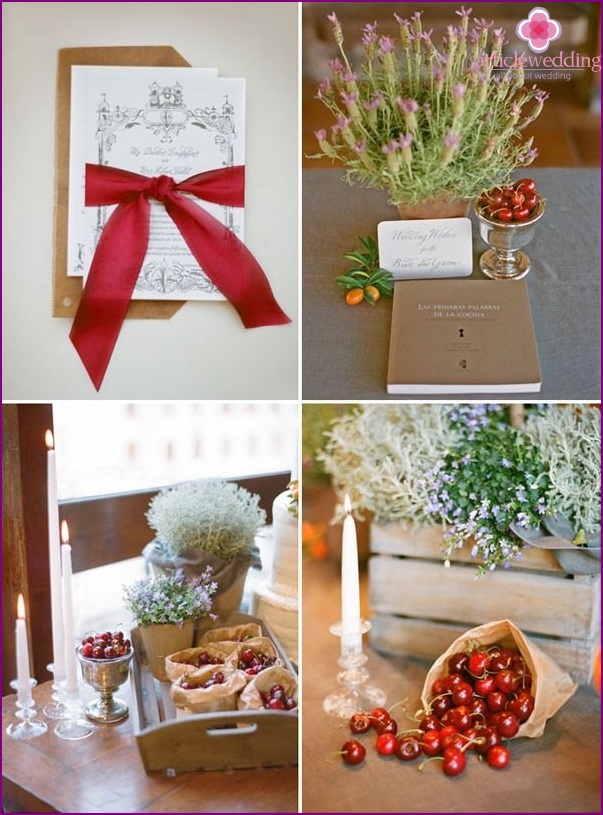 A great idea for a cherry wedding is to set up a stand in the shape of a cherry tree or a stand reminiscent of a blooming garden where guests can leave their congratulations and parting words to the newlyweds. Think about a thematic banner that will act as the backdrop for the photo shoot..
Please note that the layout of guests, plates for a photo shoot, balloons and lush paper pompons should be designed in the same style.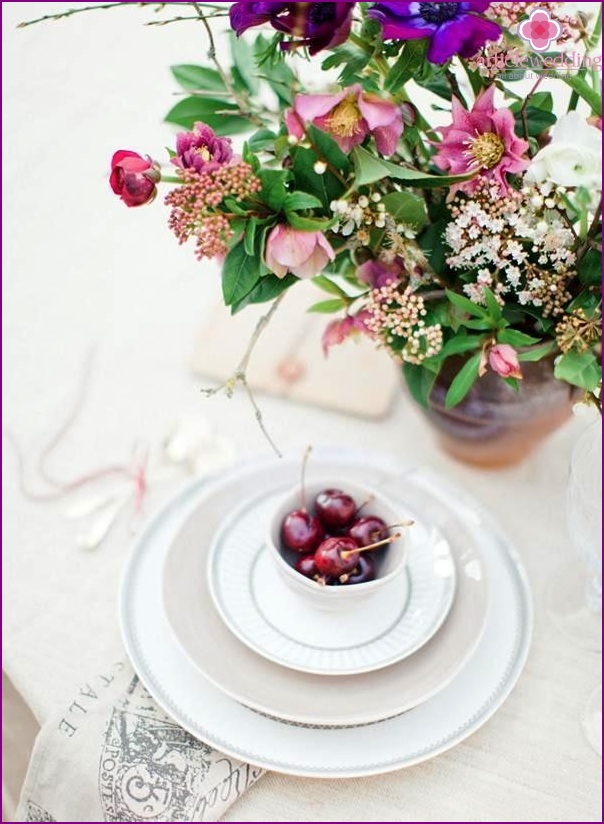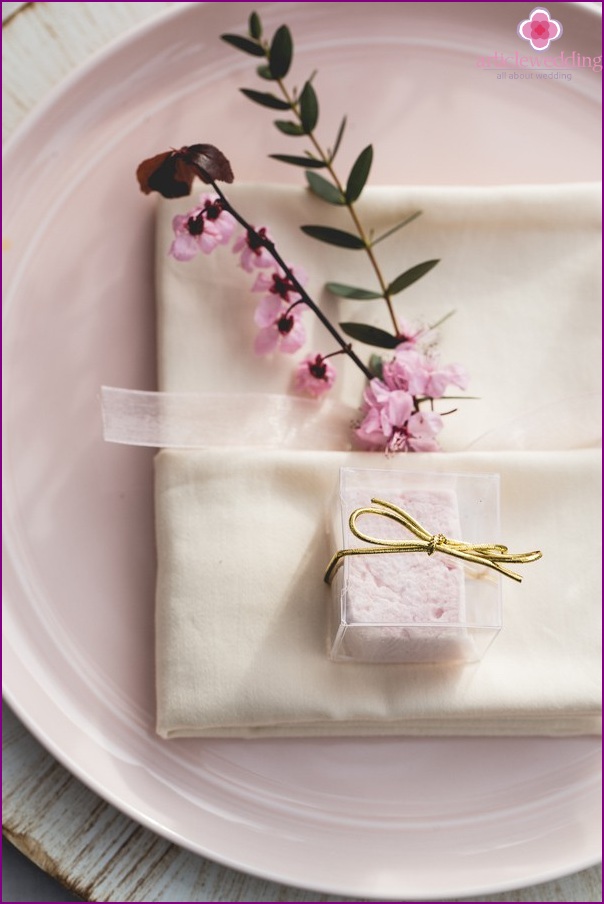 Cherry-style wedding decor
On the territory where the festive feast will take place, arrange beautiful baskets filled with cherry berries.
In the decor of a cherry wedding, the main thing is to make the right accents. For example, choose white tablecloths as the basis of tables, and you can highlight and emphasize attachment to the topic with the help of floral arrangements with cherries, decorative candles with the aroma of cherries, etc..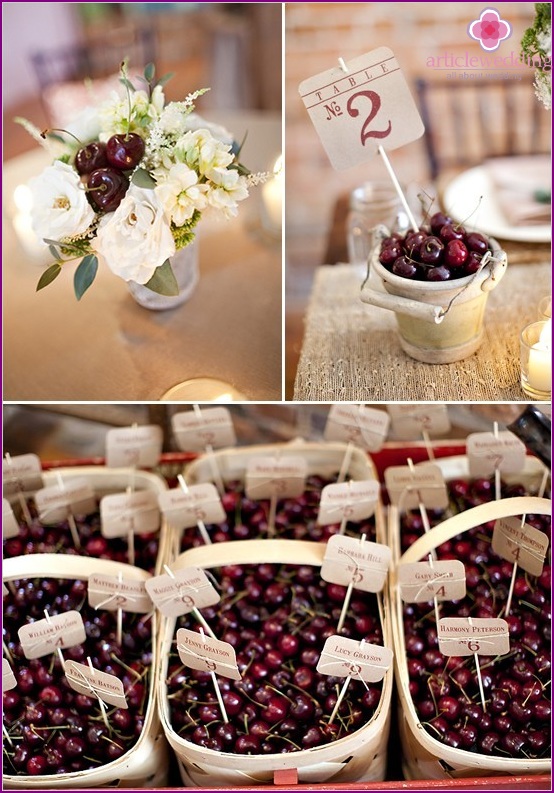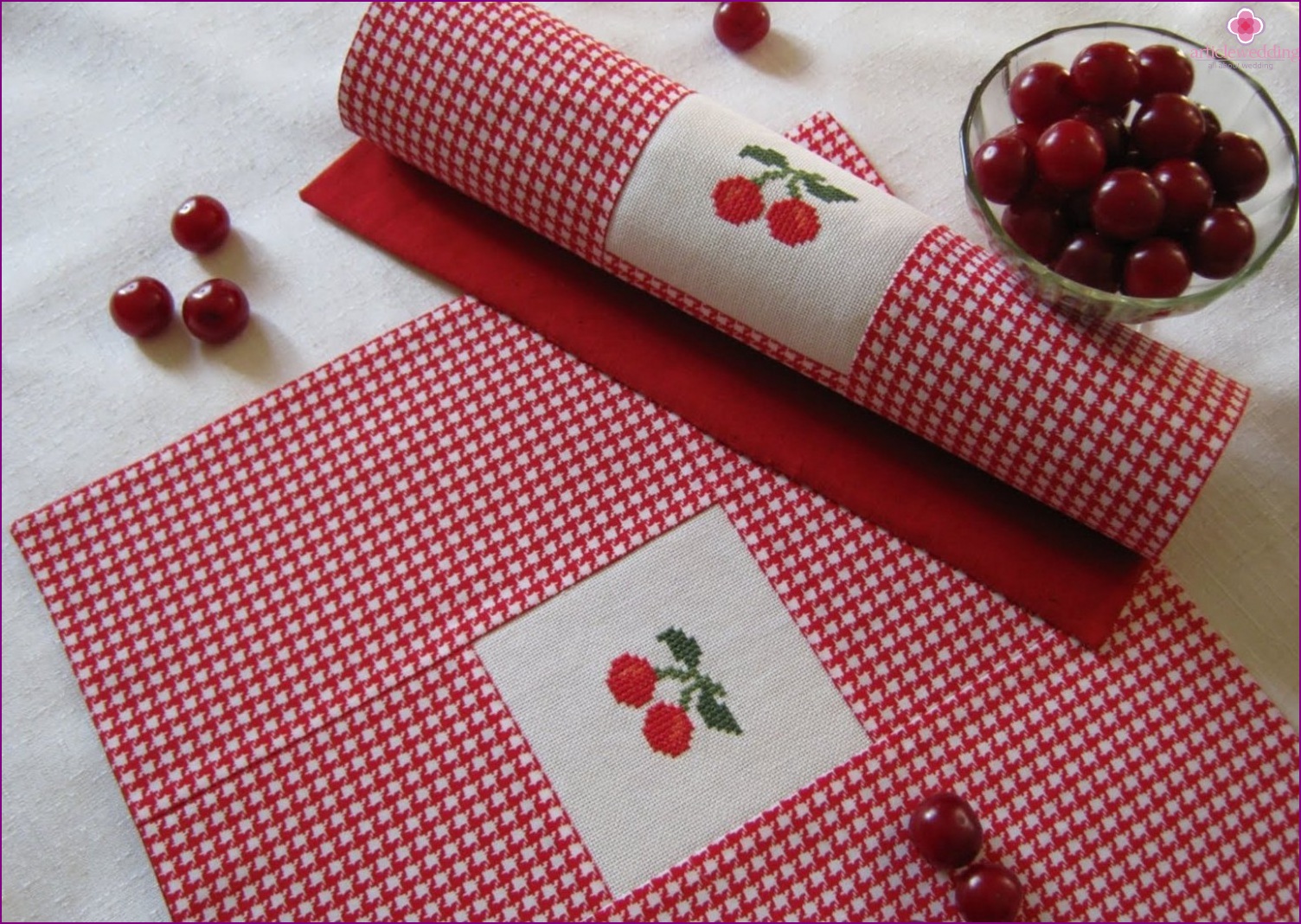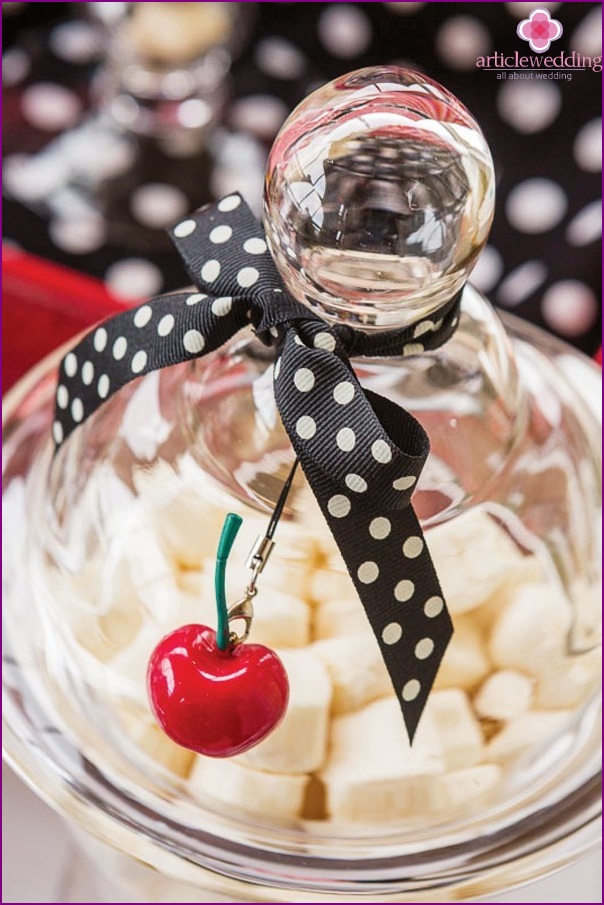 Glass vases and other transparent vessels filled with ripe cherries or cherries will look very beautiful on tables with snow-white tablecloths.
Cherry Wedding Floral Solution
A delicate cherry aroma that will spread throughout the district will present floral arrangements in the form of flowering branches of cherries placed in glass vases with water. Cherry tree flowers and berries can be immersed in a container of water, creating a decorative aquarium.
If there is no way to admire the beauty and aroma of delicate cherry blossoms, then choose a mix of pink flowers as floral arrangements. Be sure to complement the floral arrangements with cherry berries.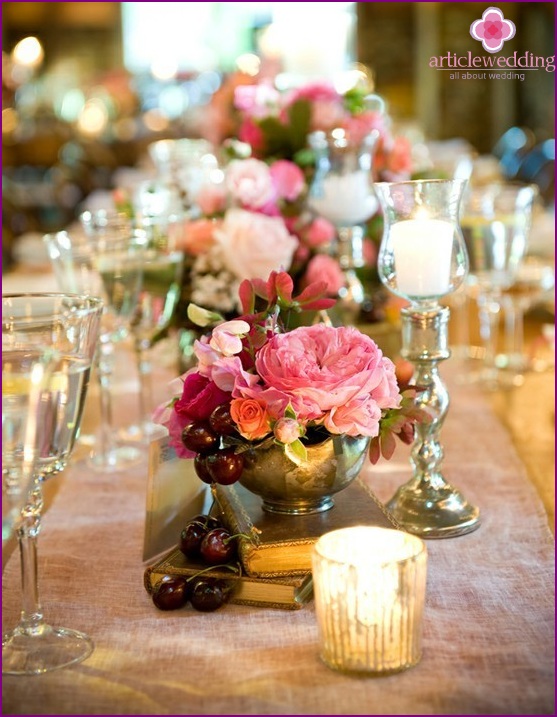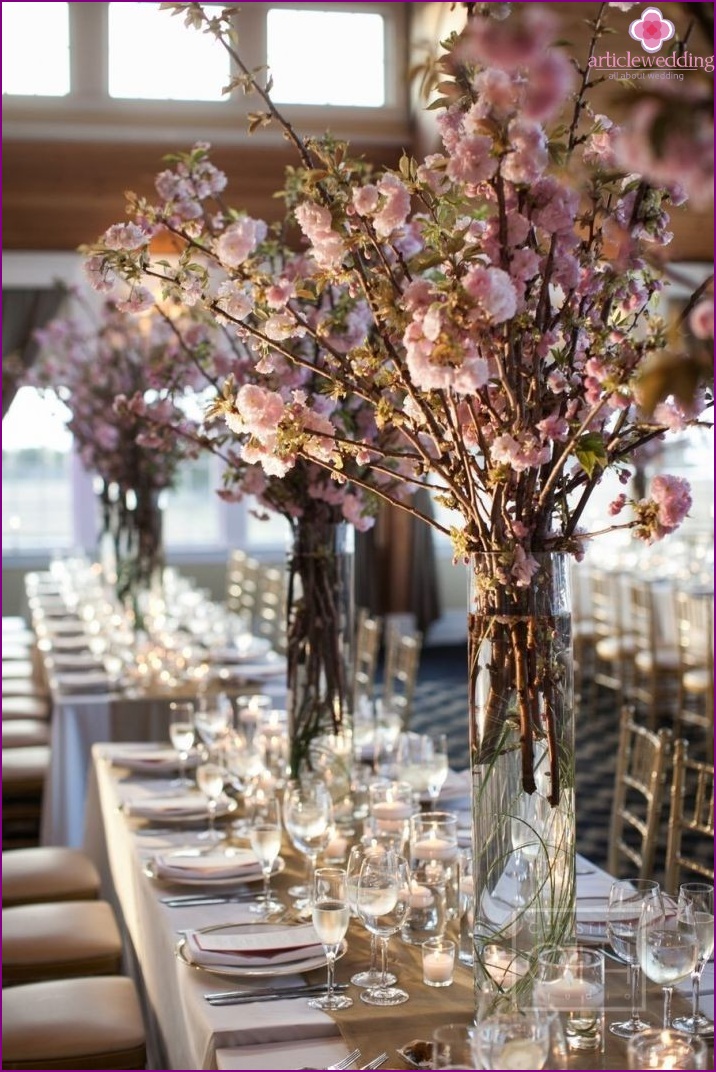 Themed bridal bouquet
For creating bridal bouquet saturated cherry colors will do. For example, your bouquet may consist of burgundy-violet hibiscus flowers or elegant burgundy tulips. Hydrangea flowers, scabiosa flowers or traditional purple roses will perfectly fit in the image of the bride. The main element of the wedding bouquet will be cherry berries.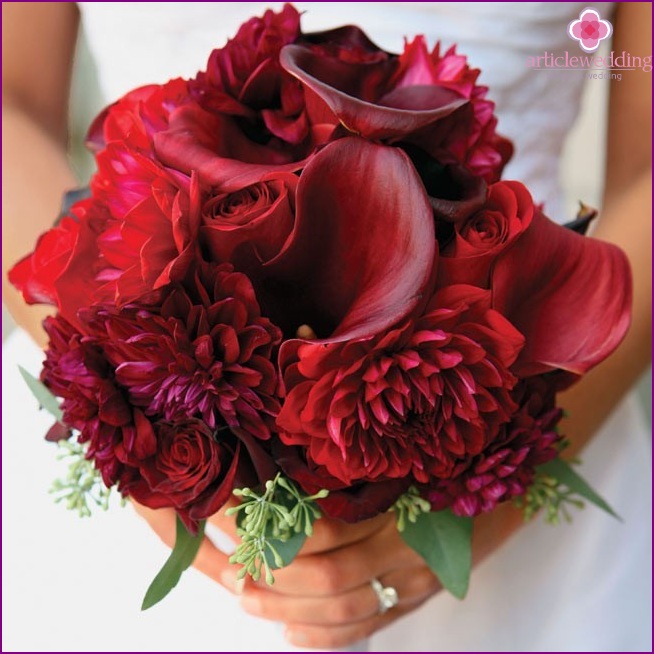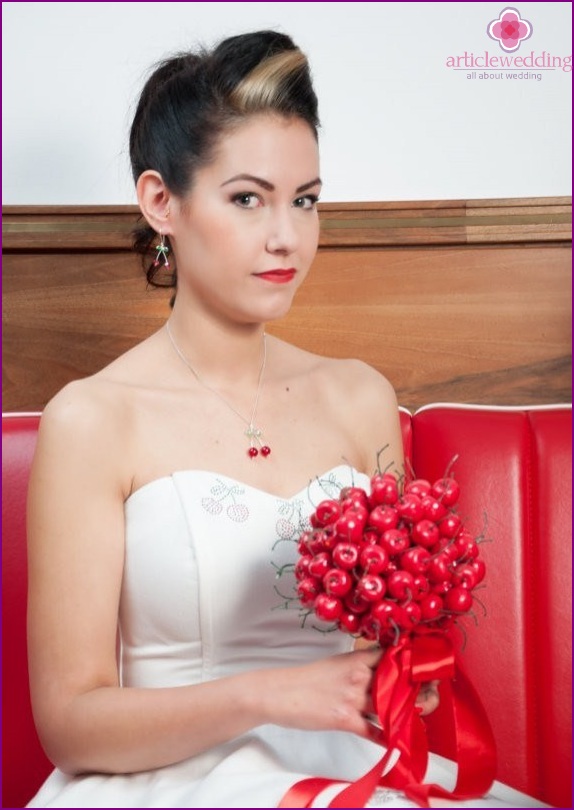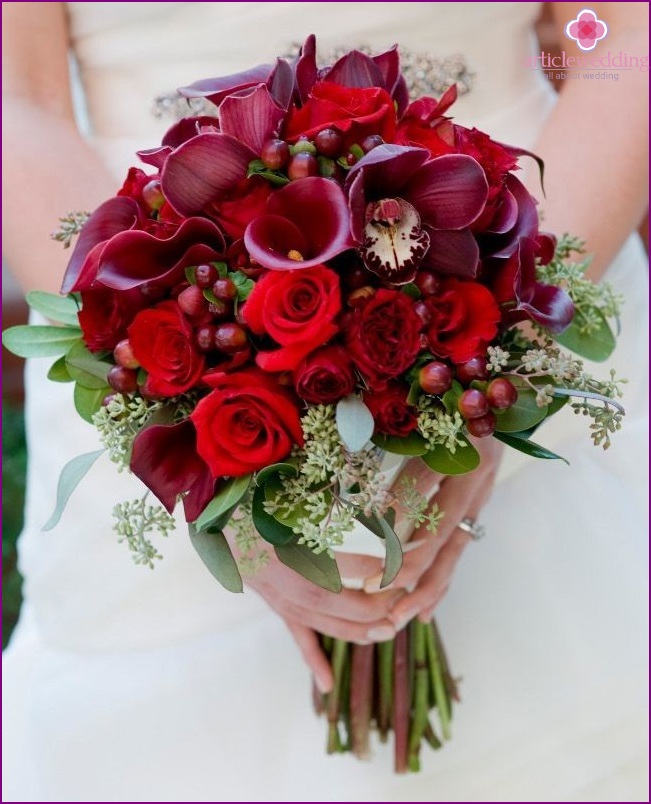 Images of the newlyweds in a cherry style
For newlyweds, the portal www.articlewedding.com advises you to choose classic outfits. A white bride dress can be complemented with bright burgundy shoes, an elegant edging or exquisite corset finish. Do not neglect the accessories in cherry colors..
The groom in his outfit will have to play with accents. Bright shoelaces on shoes, a burgundy tie or cufflinks in the form of cherries can complement the wedding image of a young man.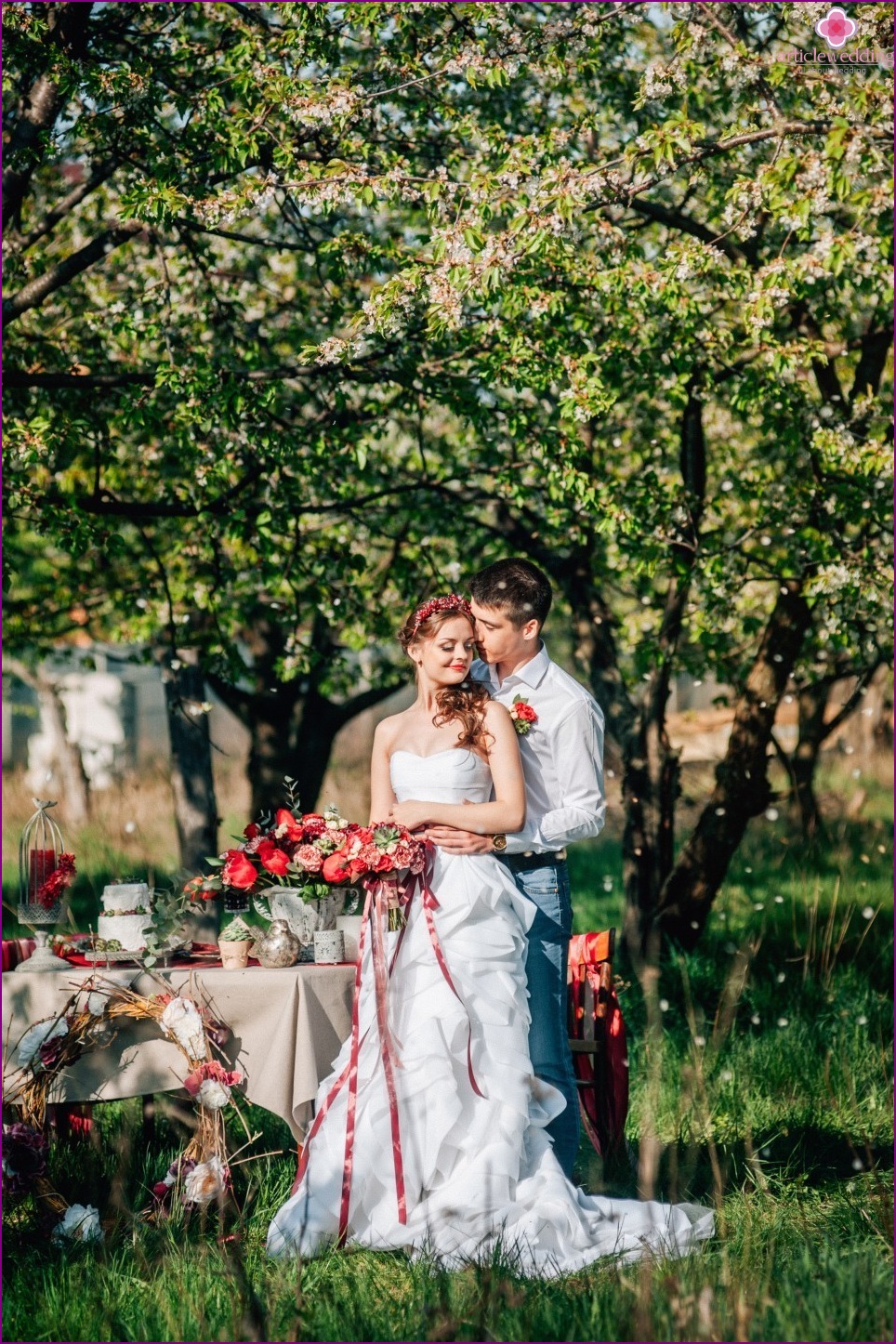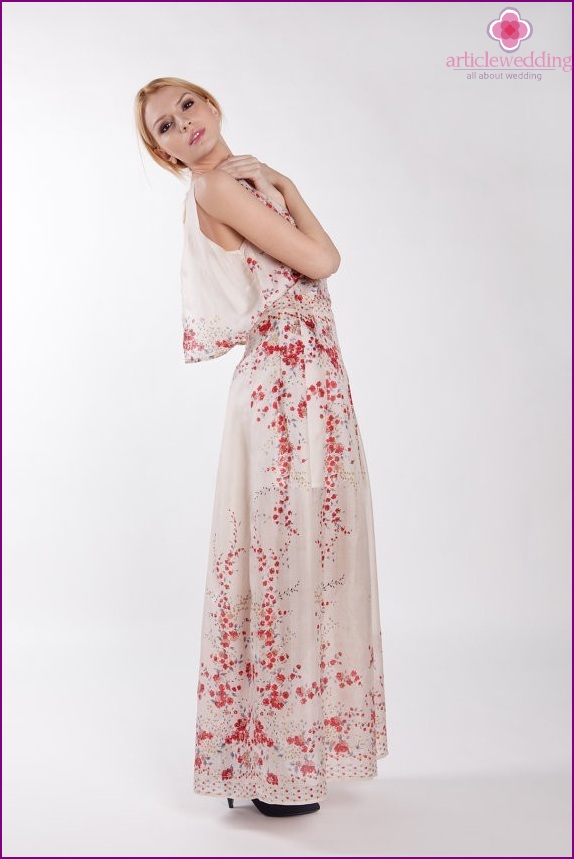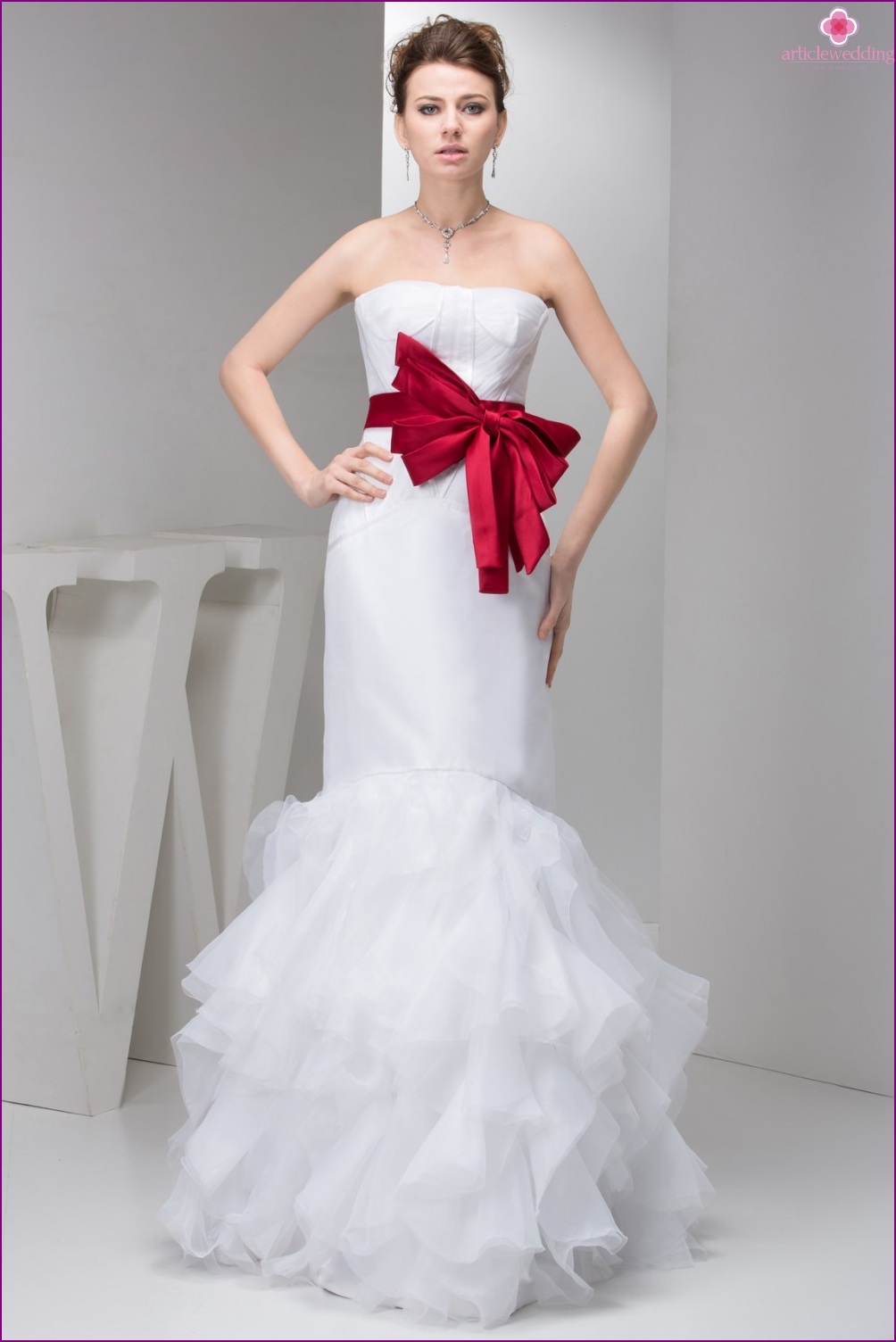 Harmony of images
In order for the wedding to have a single style, it is important that even the images of the guests meet the requirements of the holiday. Invite guests and bridesmaids to wear dresses with elements of a cherry palette. If it is impossible to implement such a plan, offer guests accessories in the form of cherry hairpins, brooches and bracelets with cherries.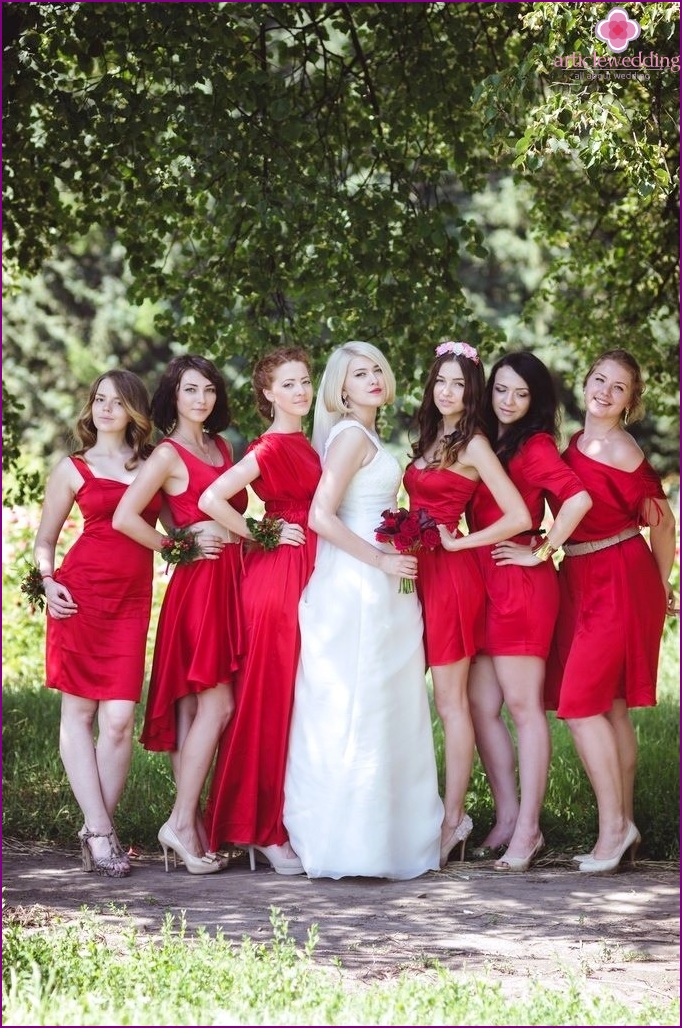 Treats for the Cherry Wedding
Different sweets with fresh or canned cherries will be the preferred treats for the cherry wedding. Cherry pies, buns with cherry jam, cherry ice cream, milkshakes, cookies in the shape of cherries, cupcakes with cherry topping. Make sure all the treats are stylized..
The main solemn delicacy should be a wedding cake, garnished with cherry blossoms or fresh berries.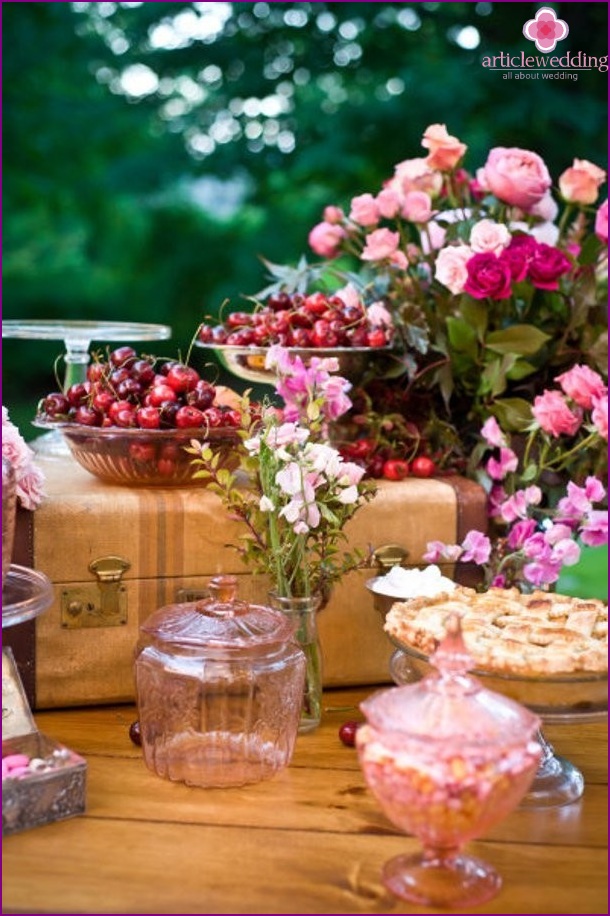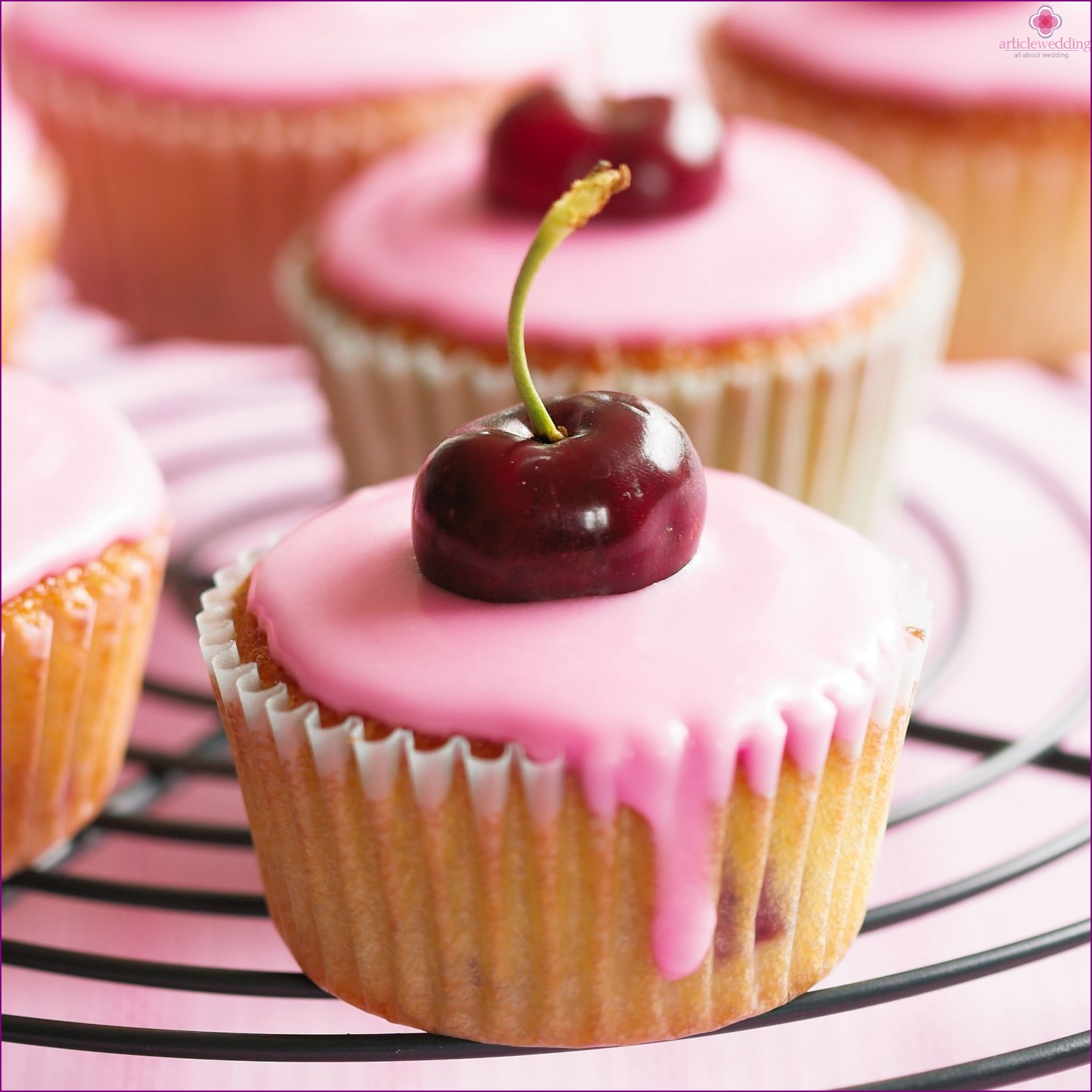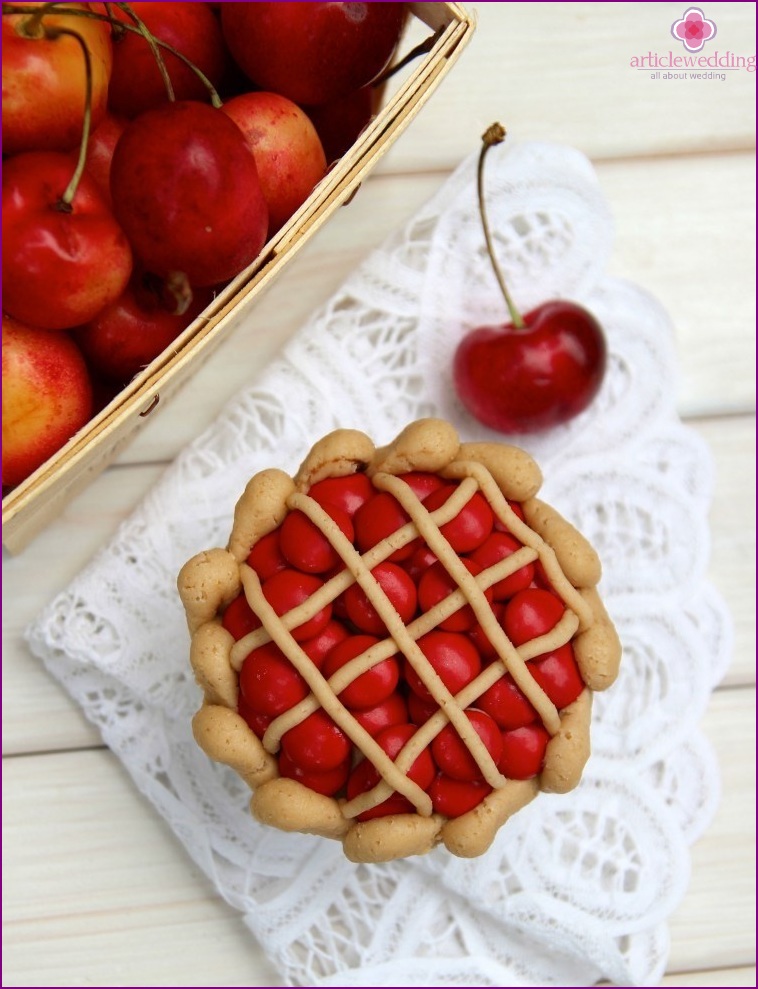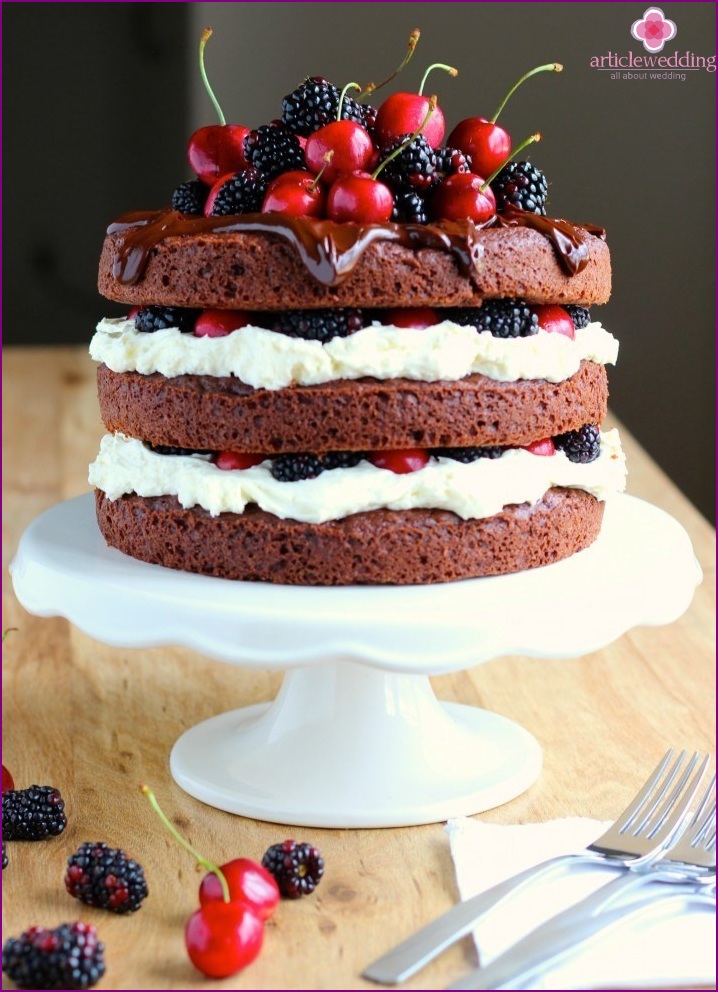 Bonbonnieres for a cherry wedding
You can thank the guests with cute jars of cherry jam, portioned baskets with fresh cherry berries or envelopes with slices of cherry pie.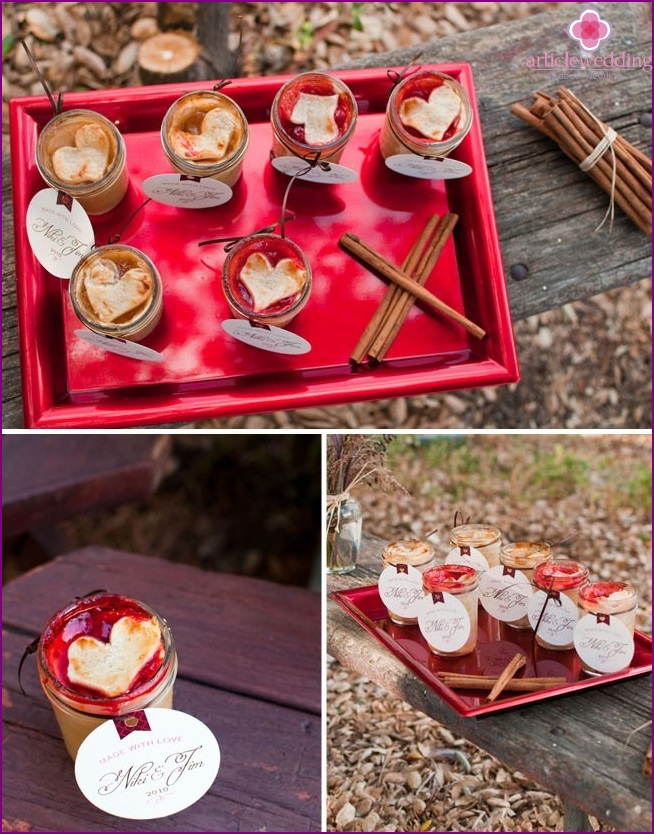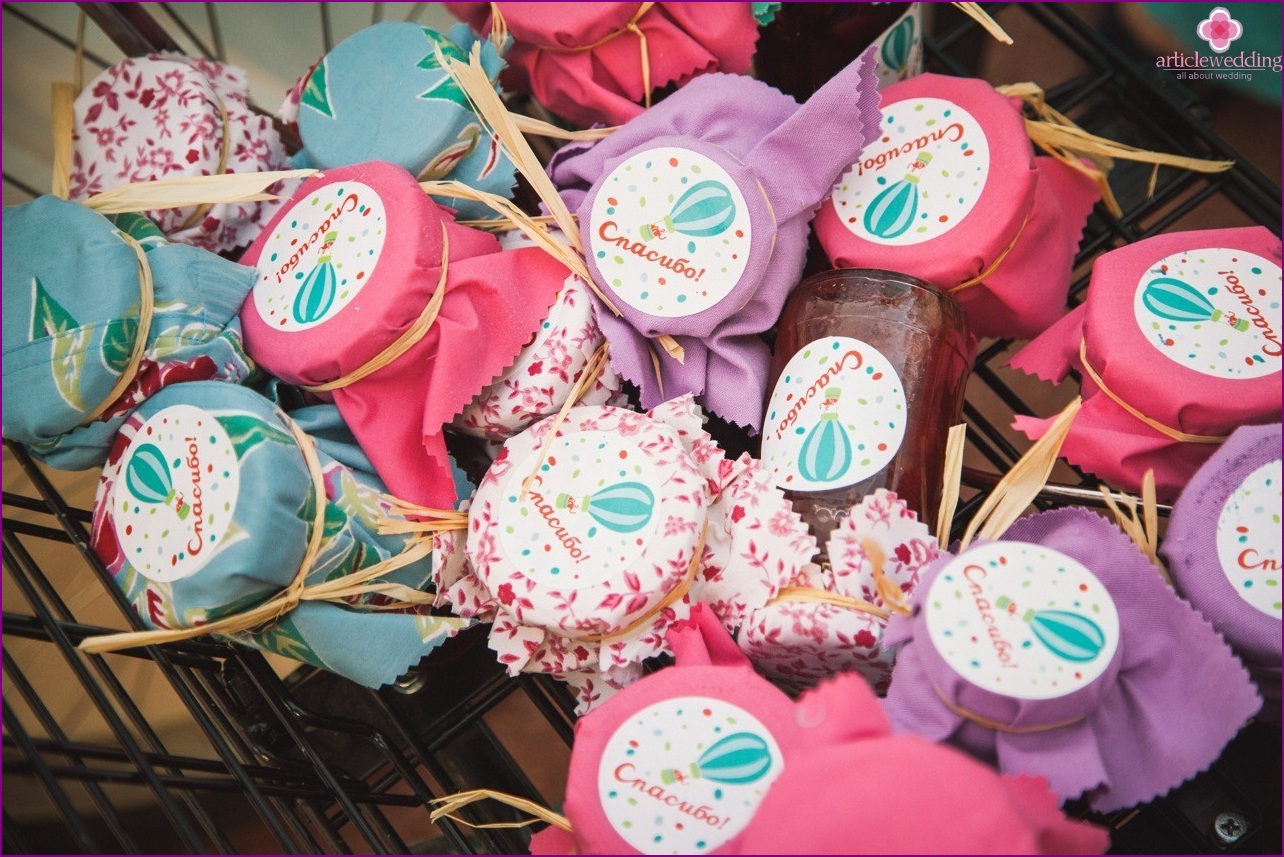 Use the beauty of nature to the maximum, and then your wedding will be unforgettable!