Contents
---
---
Over the past ten years, the practice of organizing themed weddings has firmly entered into fashion. Various stylistic solutions make this event more «alive», to draw guests into the game through thematic contests and a dress code, but the main thing is to realize an old dream, having been in your favorite image. There are many interesting ideas for organizing a wedding celebration, but if the newlyweds want to make it truly fun and fiery, then there is simply no better option than a disco-style wedding. How to make a disco wedding stylish and harmonious?
Where to organize a wedding in the style of 80's disco?
When organizing a disco-style wedding, you need to start by choosing a room. Since this direction has a dance connotation, an ideal option for a wedding would be a cafe or a mini club, originally decorated with a disco style, having sufficient capacity, a dance floor (podium, stage or separate dance area), color music (disco ball) and other equipment for discos. If an institution available for rent does not have the above advantages, then you will have to compensate for this with competent decor and technically equip it on your own.
The image of the bride and groom in a disco style
Having thought through the design, scenario, and features of the event, the newlyweds can go on to choose their wedding dresses, which should combine two main areas: the attributes of disco style and a classic wedding costume:
For the bride. Good ideas for a newlywed outfit would be a short, puffy wedding dress, worn with shiny leggings and a color blazer, a cocoon hairstyle lifted up, and massive massive jewelry. Another option is a long white jumpsuit with a skirt, trousers and shoes on a high platform.
For the groom. He will suit a white suit with sequins on the sides of the sleeves and flared trousers, a shirt with two top buttons not fastened, shoes with heels. You can use wigs, for example, round African-American, like disco dancers. However, the image should be unobtrusive, preserve the naturalness inherent in the personality of the groom, since this costume is designed for a wedding, and not for a carnival.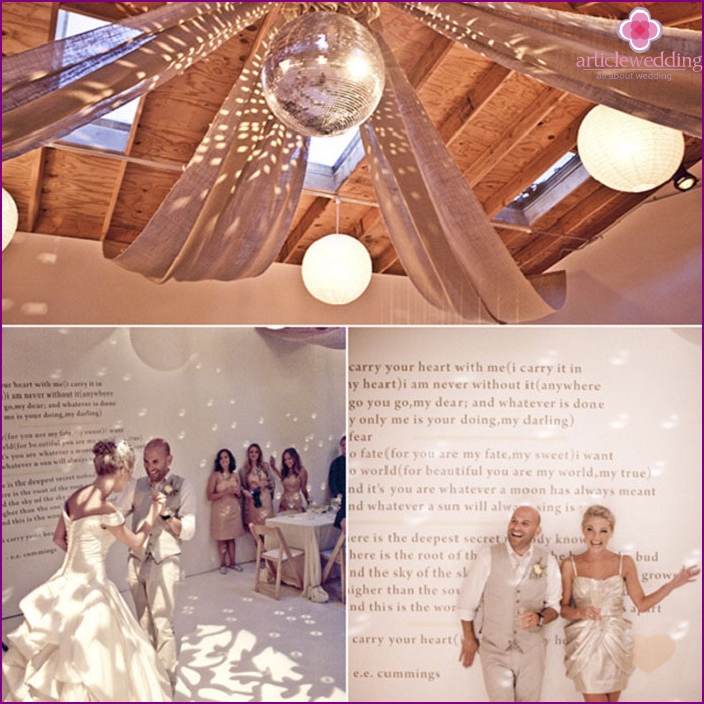 Guest Wedding Dresses
In order for a disco-style wedding to be beautiful, harmonious, it is necessary to consider the costumes of the guests. It is better to invite a professional stylist, but if this is not possible, then you should pay attention to the following important points:
The degree of identity to the disco style. Decor can completely recreate the surroundings of a disco party, or only remotely resemble it, while maintaining an abstract color scheme or combining with another style solution. So, guests can wear costumes that completely repeat the fashion of the disco of the 80s, as well as formal clothes with the attributes of such a decor. Ordinary holiday things of the color scheme or style of those years will do..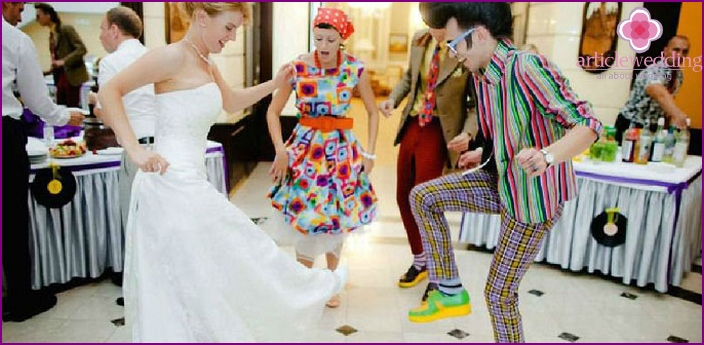 Dress code. Decide whether all invitees are required to adhere to a disco-style dress code or whether this will affect only witnesses of newlyweds and close friends.
Decorative attributes, stylish solutions. To make guests look like 80s disco fashion, use the following elements: wigs, flared pants, platform or high-heeled shoes, bright jackets casually opened with your shirt, body chains, original glasses with frames that follow the shape of hearts, stars, bands (for men); straight cut trousers or flared hips, shiny or bright leggings, tops, blouses, short dresses embroidered with sequins, rhinestones, bandages on the forehead, long or massive jewelry, high boots, colored blazers or jackets, glasses with bright frames, sequins (for women).
Balance. When choosing costumes for the participants of the celebration, do not forget about the sense of proportion, because otherwise the outfits will look tasteless and ridiculous. They should not be too variegated, mottled, individual elements should not be discordant with each other. In all costumes there should be a common line, creating a harmonious picture from different decorative nuances. This can be achieved through tones, colors, lighting, creating hairstyles and costumes by one designer and others..
Quality. It is better to abandon suits and wigs of acid shades, as well as from cheap synthetic materials. Use more expensive, high-quality fabrics - they will give the outfits good quality, will look natural, spectacular, like a festive costume, and not a circus uniform.
Style. When choosing an outfit for guests, pay attention to the style of products so that they all emphasize the advantages of the figure, and not the flaws. Therefore, it is better to invite one designer who will work with each of the guests separately, perform the necessary measurements, select the suitable suit option for everyone.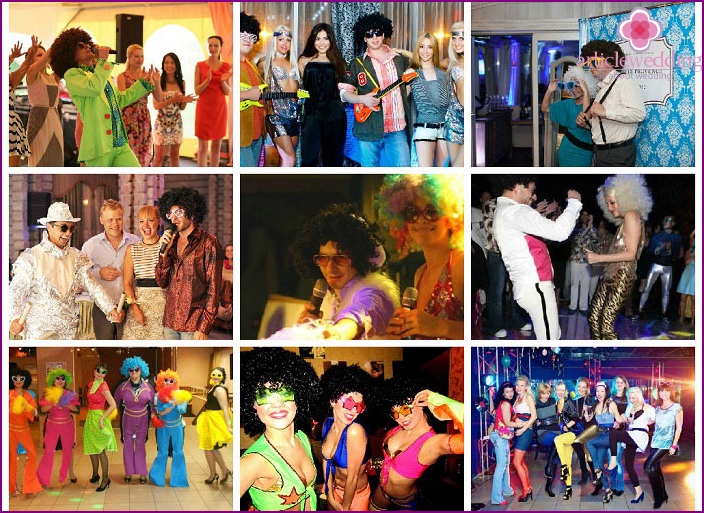 Disco wedding cake
The most common element of a cake for a disco wedding is a sweet disco ball, which is set instead of or on the top tier. The sides of the cakes are decorated with metallic cream, shiny stars, silhouettes of dancing people, turning tiers into the likeness of a dance floor. The design of disco-cakes is dominated by geometricity, bright colors, the severity of the elements, which distinguishes them from the classic wedding treats. A large cake can be used as a wedding surprise if a singer jumps out of it in a magnificent wig and sings a disco hit.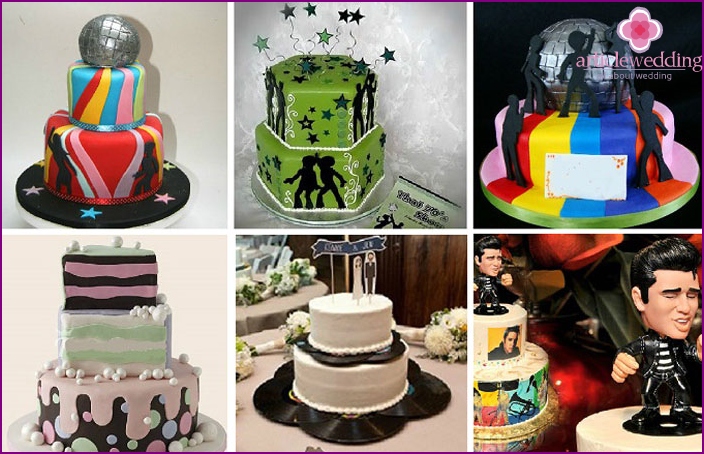 Wedding Hall Decor and Disco Accessories
The decor of a wedding hall in a disco style can be anything you like, but a mandatory attribute of any of the options is a mirrored disco ball (one or more). It is better if the ball is valid and starts working at the indicated time - this will add even more courage to the wedding celebration. Such an attribute is suitable for any decor of the hall, without spoiling the sophistication of the event, even if this style is only slightly indicated in the design of the wedding.
A popular decorative element in the disco style are vinyl records, which can be used to decorate walls, backs of chairs, tables (play the role of plate stands). They can be used as an invitation to get married if the appropriate text is printed on a paper circle or cover. When decorating the hall, techno-style elements can be used, shiny wall decorations and accessories, especially in the dance area, the presence of the maximum amount of equipment for creating special effects (smoke machine for creating steam, color music, etc.).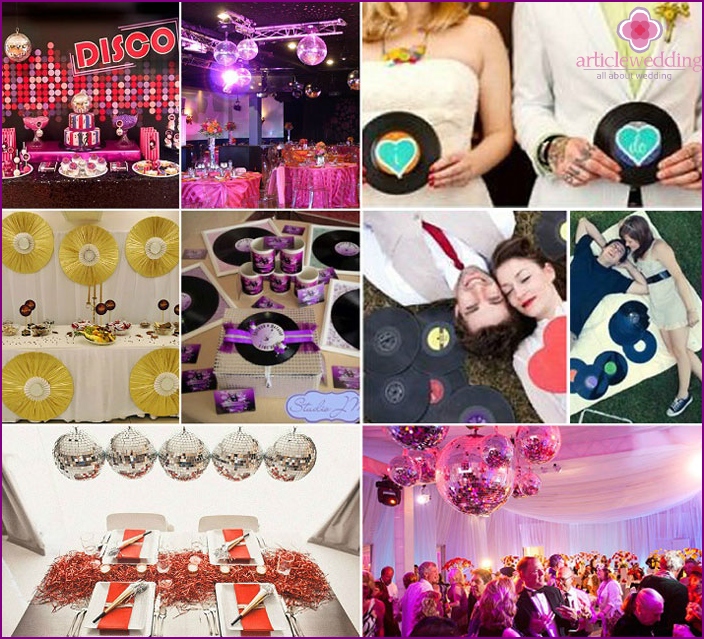 Ideas for a wedding photo shoot
The photo shoot plays a noticeable role at any celebration, and at themed disco-style weddings it is especially effective. Volumetric wigs, flared trousers, colorful and shiny clothes, stylish and unusual surroundings - all this creates a large field for experiments. Since disco is, first of all, dances, the best shots are obtained during the performance of characteristic dance movements. For more ideas for a disco-style celebration photo shoot, see the photo below: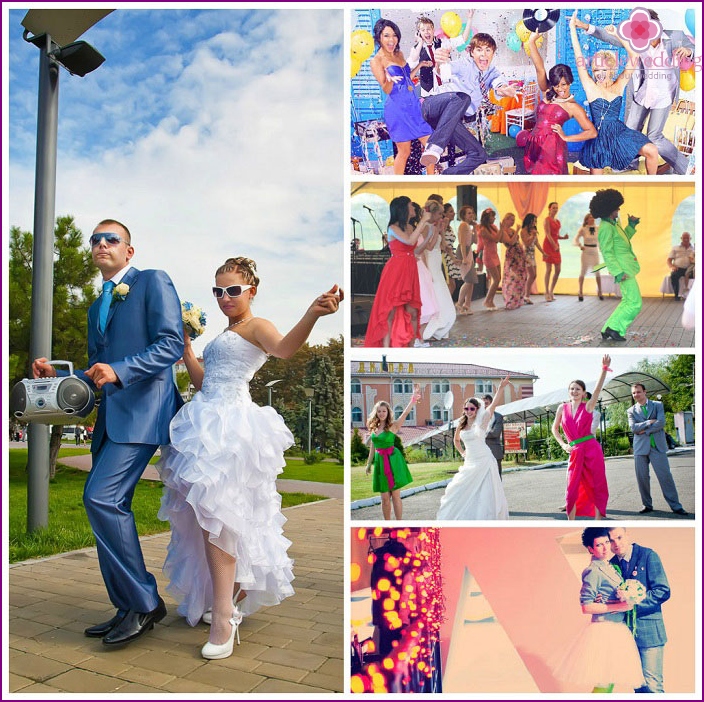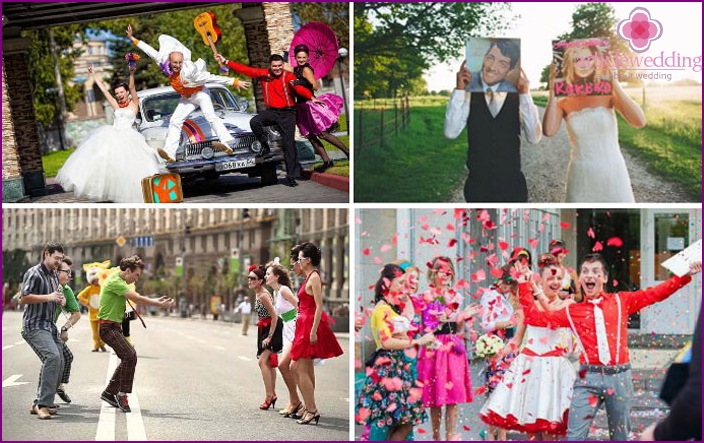 Video: 80s disco style wedding
A wedding in the style of a disco of the 80s is an incendiary, unforgettable event that will allow everyone to have fun from the heart. Bright colors of the decor, fiery dances - all this improves the mood, creates an atmosphere of fun by itself. The beauty and originality of such a wedding will be remembered for a long time by the newlyweds and their guests, and in addition, this celebration will remain a bright trace in the wedding photographs and video material. You can easily make sure that organizing a disco-style wedding is a good idea, watch the video: