Contents
---
---
Many girls dream of a wedding where everything is perfect: from the festive decorations and decorations to the chosen date. Some other hundred years ago, few would dare to celebrate the marriage in January. The winter month is rich in church holidays (Christmas, Christmas time, Epiphany), and fasting lasts until January 7. Bringing a statement to the registry office, where there is no summer excitement, future newlyweds often order the date and month of the celebration themselves.
Wedding in January - signs
According to some old beliefs, the wedding, scheduled for the first month of the year, promises early widowhood. But modern youth believes that not all signs need to be believed and are doing the right thing. Let us consider in more detail some of the signs of wedding January:
If during the wedding it snows heavily - to a prosperous life and complete prosperity.
With a strong wind - the life of one of the spouses may be windy.
Severe frost will strike when the wedding is celebrated - the firstborn will be born a boy with good health.
Full moon one or two days before the wedding - the marriage will be happy, long.
The time of the wedding is appointed after twelve o'clock in the afternoon - the most successful for painting.
Auspicious days for a wedding in January 2016
If you believe the eastern horoscope, 2016 will be held under the sign of the Blue Wooden Goat or Sheep and does not promise any permanence in any area of ​​life. When planning a wedding in January of this year, you need to carefully consider the choice of date. This month is rich in holidays, both folk and church. It's good if the wedding date is chosen in a favorable period, taking into account all the traditions.

Good days on the church calendar
In January, church calendars give permission to hold a wedding only after the 19th. Therefore, the wedding ceremony is best planned for the following days: January 20, 22, 24, 26, 27, 29, 31. From January 1 to January 7 there is a Christmas post and from January 7 to 19 - Christmas time. During this period, the church does not hold a wedding, and also on Tuesday, Thursday and Saturday of any week. There is a solution: it is worth planning the registration of marriage in the registry office for the first half of the month, and get married a little later. It is possible to combine both celebrations at the end of the month.
Best day for a wedding
January 1, 2016 - will bring a lot of joy to family life.
January 5 - young spouses will have excellent health, which will affect healthy offspring.
January 7 is the most successfully chosen day in all areas, as it falls on Wednesday.
January 10-12 - to family wealth.
January 17-19 - the family will become financially secure, and diseases will be bypassed.
Unfortunately, January's good wedding days, named according to the astrological calendar, do not coincide with church recommendations. In this case, the wedding is celebrated earlier, and only then the newlyweds get married in the church. According to the predictions of astrologers, the bride and groom, who decided in January to unite their destinies, a happy life awaits in loyalty and love.
The ideal days for a wedding according to the lunar calendar are the 3rd, 6th, 12th, 17th, 24th, 27th days.
In January, they fall on January 2 (the growing moon) - making important fateful decisions.
January 7, 14, 17 (waning) - pleasant surprises from relatives.
For the new lunar month January 22, 25, 31 with a rising moon - financial revenues, a good time for planning.
January Wedding Ideas
Some future newlyweds are racking their brains: when is it better to organize a celebration on the occasion of the wedding - in January or July. Someone without hesitation will vote for the warm season. What about those who do not want to wait until the summer? We heard that in January to appoint a wedding day «coldly», «boring»? This is fiction, because even in winter the wedding can become bright and memorable.


A bride in a snow-white fur coat, similar to the Snow Maiden, will not let you forget that we recently celebrated the New Year. The wedding decoration, chosen in azure-blue shades, silver, white, will remind guests of the fairy tale. Iridescent crystals, beads, which will decorate the newlywed's dress, will seem to have frozen frost, and white decorative branches, standing in vases instead of flowers, will plunge into the atmosphere of a winter forest. The bride's bouquet and groom's boutonniere should become unusual, winter. The combination of white flowers and pine cones will give a special charm to the floral find.

January wedding menu should be chosen especially carefully. Comfortable hot drinks, such as mulled wine, aromatic teas, and coffee with cream, must necessarily come in there. After a frosty walk, guests will not be very happy with canapes and light sandwiches, so make sure that warm salads and hot main dishes appear on tables on time. Liquid pre-warmed chocolate and freshly baked donuts will be the perfect logical conclusion to the evening..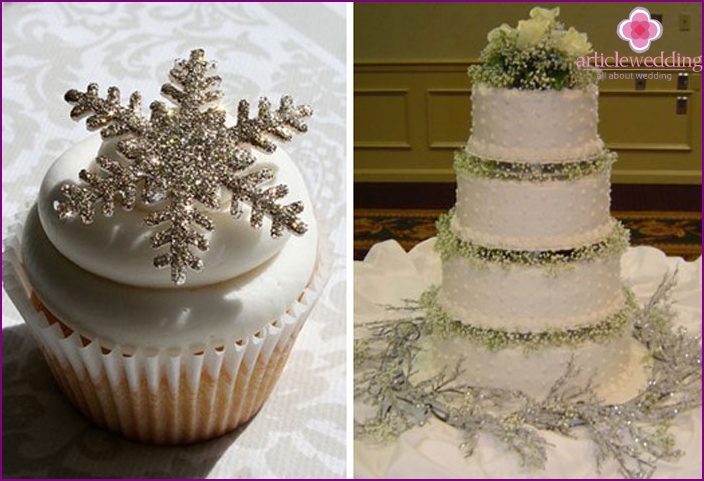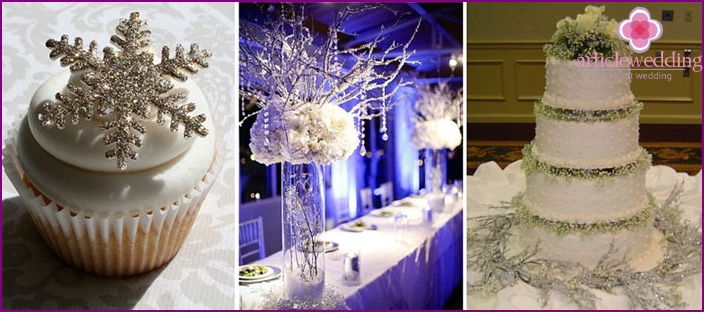 What to go to the wedding
January is the month of the holidays. Snow shimmering in the sun, picturesque landscapes will be an ideal decoration for a newlyweds photo shoot. When planning a wedding for the first month of the year, think over your wardrobe. It is better for the bride to purchase a dress made of thick fabric, such as satin. A long sleeve, a minimally open upper part of the outfit, an additional fur coat or cape will help to avoid hypothermia. Shoes should be closed, a wide selection of snow-white boots will not let you freeze even in severe frost. Find a season suit for the groom for the groom.



Guests must also take care of their wardrobe in advance. For a January wedding, closed clothes of neutral and dark colors are more suitable. Forget about transparent chiffon and colorful bright dresses until summer. At the January wedding, a women's suit looks well, a strict dress of a classic style. A man who prefers a tuxedo or three-piece suit is always irresistible. Regardless of the fact that winter is a time of frost, do not forget to bring shoes with you. After changing shoes, during the banquet you will feel much more comfortable, and look more elegant.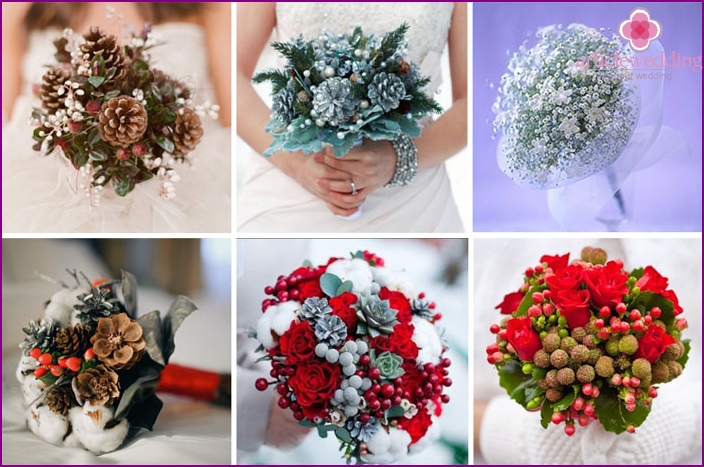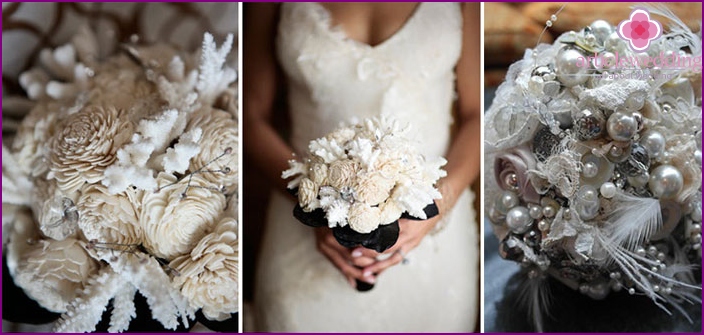 A winter wedding will turn out romantic and fabulous, if you approach its organization with responsibility, adding a touch of creativity. Find your solutions for young outfits, hall decorations, a winter menu - and your celebration will be remembered by guests for a long time. Given the cold, the bride will be able to put on a stylish fur coat, make an unusual make-up, and the groom will have the opportunity to give his beloved fur to the wedding. Choose a January wedding day and make it warm thanks to your love.