Contents
---
---
In our time, it has become fashionable to use non-traditional solutions at weddings to make the celebration unforgettable, original, different from others. This finds expression not only in the organization of theme weddings, in the use of non-traditional images, in colorful dresses for the bride, but also in the manufacture of bouquets from very unexpected materials. Another such curiosity is a clay wedding bouquet. Indistinguishable from a real bouquet, it has many advantages that make it a worthy alternative to fresh flowers.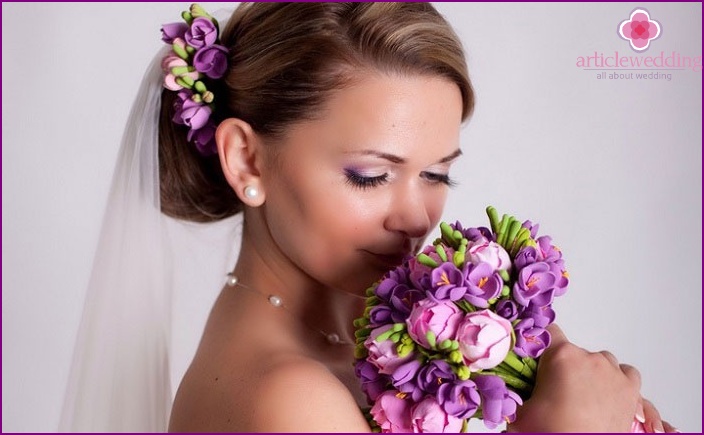 Polymer clay bride's bouquet as an alternative to fresh flowers
To come up with an alternative to fresh flowers in wedding compositions has already become a certain kind of tradition. All this is done for aesthetic and practical reasons, because manually created flowers do not outwardly yield to the real ones, but have a number of characteristics that may be useful to the bride. Fresh flowers are always a feeling of celebration, life, romance, tenderness. But they irrevocably fade, and it is difficult to do something about it, and therefore even ardent followers of traditional bouquets begin to think about alternative options. Clay has a lot to offer..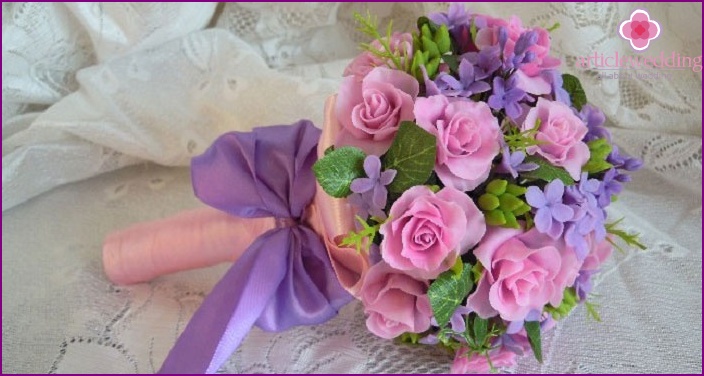 Advantages of a polymer clay bouquet
The advantages of clay wedding composition are undeniable:
Durability. Fresh flowers often fade already at the ceremony, and this is a sad and terrible sight at such an optimistic holiday. Clay compositions will hold out unchanged not only during the wedding, but also for many years after (if you do not drop the composition).
The beauty. The mistresses-needlewomen learned to make clay flowers so masterfully that they will not only be indistinguishable from real ones, but even more beautiful. The buds made by them are smooth, lush, always in the best shape, with the same desired size, the right tone, which can not be said about natural flowers, which may have natural flaws.
Ease. A wedding bouquet created using polymer clay is lightweight. By weight, it does not exceed 50 - 250 g, although at first glance it will seem different. This will help the bride not to get tired too quickly, because wearing a heavy thing for a long time is not an easy task.
Variability. At any time of the year and under any conditions, the bride will be able to marry those flowers in the wedding arrangement with which she wants. And snowdrops in mid-August is no longer a fairy tale, but a real reality, available to any girl who chooses a wedding clay bouquet.
Related accessories. With the help of clay, you can make not only a wedding composition, but also a beautiful boutonniere for the groom, decorate glasses, napkins, the bride's hair - all this will be in the same style, will not fade and will not lose its original appearance.
Time saving. The master can make a wedding clay composition long before the wedding, carefully put it in a safe place and calmly remember it until the celebration. A composition of fresh flowers must be collected 20 minutes before the start of the wedding (or taken if florists make it). This creates even greater excitement on such an important day, especially if there are any hiccups..
Photogenicity. Wedding clay compositions have a photogenic appearance throughout the wedding, so you can make great photos at any time of the holiday, and not rush to a photo shoot at the beginning of the celebration.
Symbolism. A bouquet from a wedding, kept in the family for many years, can always remain a symbol of love between husband and wife, a reminder of a bright holiday. After many years, it can be shown to children and grandchildren of spouses, thereby forming in their minds the image of a happy family.
Clay understudy bouquet
But the impossibility of creating double bouquets using clay is one of the disadvantages of such bouquets. Clay flower arrangements are fragile and tough. Therefore, throwing them is highly discouraged: in the best case, it just crashes to the floor, in the worst case it injures one of the friends and guests trying to catch a double understudy. It is better to make clay flower bouquets or bracelets for buddies - they will not fade, do not remember, they can be put aside without consequences to help the bride.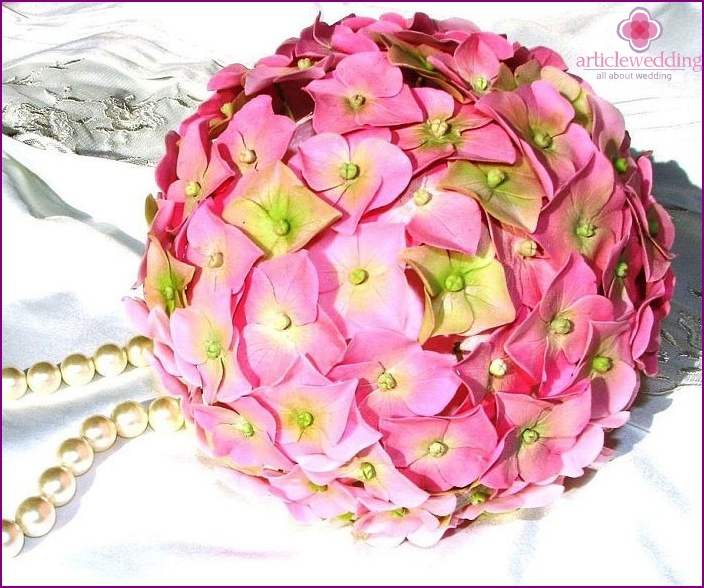 It is justifiable to make a clay understudy when the bouquet is not thrown, but passed from hand to hand, for example, if an unmarried friend or guest is only one. Sometimes an ordinary small bouquet of fresh flowers rushes into the crowd, and then a clay understudy bouquet is presented, which the friend could keep as a keepsake.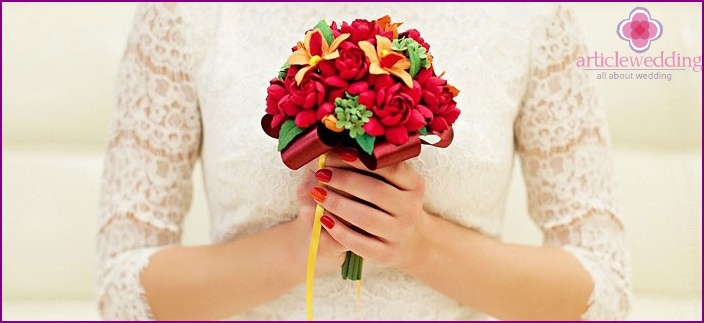 How to handle clay flowers
Flowers created using plastic (polymer clay) are reliable products. They are resistant to high temperature, plastic - stronger than some coasters and vases in which they can stand. However, there are certain factors that such flowers are afraid of. If you remember these things and not expose the wedding bouquet to such influences, it will delight you with its beauty for a long time and remind you of a happy wedding.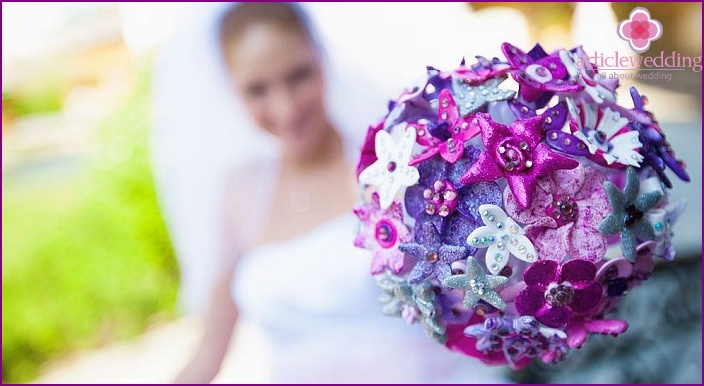 What is the clay bouquet afraid of?
The fall. Clay products are afraid of falls and bumps. But a lot depends on the quality of the material. Clay, which acts as the material for creating these wedding masterpieces, can be of two types - strong, but fragile, and less strong, but flexible. If your wedding bouquet is made of the first type, then when it falls, it will break completely or partially. If from the second - it can only bend, which is fixable: just carefully align the bent part.
Damage. If the wedding bouquet during the fall was not damaged much, for example, a couple of twigs or petals broke off, you can fix it, so do not rush to throw off the broken parts. Take superglue and gently glue the part to the fault point - if you connect it accurately, no one will notice damage. In the manufacture of such compositions, the master himself uses glue to connect many parts.
Moisture. Clay is very afraid of moisture, so wipe it with a damp cloth, wet it, put it in a room with high humidity, play with water near such a product, leave it next to children who may «to water» flowers - absolutely not. Under the influence of moisture, the product created with the help of plastic can deform or even soften. If the drops nevertheless fell on clay flowers, pat them with a dry rag, but do not wipe them, and then leave the bouquet so that it dries itself. Do not use a hairdryer, heater or battery for drying..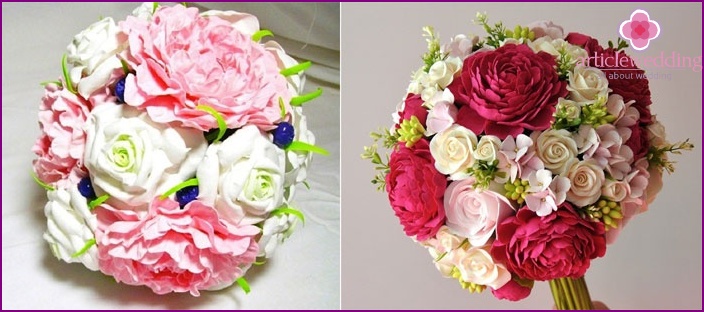 The sun. Clay is not afraid of heat, but the paint with which every flower is painted is afraid - it can fade, losing its original color. Therefore, try not to leave such flowers in direct sunlight.
Low temperature. Plastic products are not afraid of high temperature, but they are very afraid of low temperature. If you place the product in a cold place, the clay will become brittle and will be damaged at the slightest application of force. If this still happened, return the bouquet to a warm place again, and it will return to its previous state..
How to store
You need to store the clay bouquet from the wedding in a dry, warm room, not in direct sunlight, away from those who can pour it (including a possible neighbor's flood and an accidentally turned cup of tea), in places where dust sits weakly, for example, on glass . To remove dust from the flowers, wipe them with a dry cloth or synthetic brush, which is sold in every stationery store. You can admire the product, take it with your hands (but not wet), and do not drop it - and your wedding bouquet will delight you for a long time!
Video master class: polymer clay roses
A bouquet of polymer clay is easy to make on your own, if you have at least a small makings of artistic talent. The main thing is to learn how to make flowers, the rest is much simpler! The video below will help you master the process of making delicate roses from plastic, which are used in wedding compositions. Learning how to make just one flower, you can put together a wedding bouquet yourself.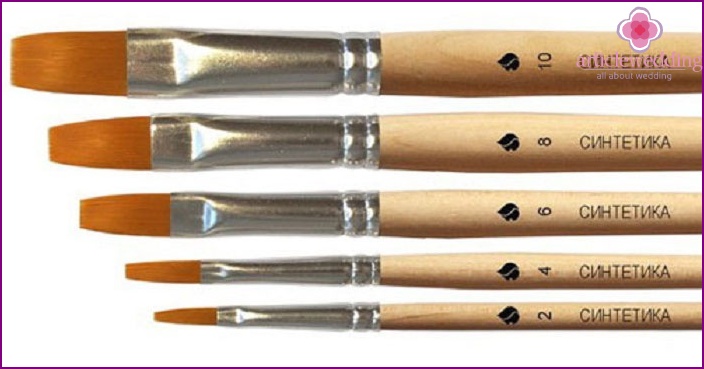 Polymer clay bouquets photo