Contents
---
---
Men always gave women flowers as a sign of attention, and on the day of marriage - this is their sacred duty. The bride's classic wedding bouquet is red and the flowers are roses. These flowers will emphasize any style of the bride and groom and will be in perfect harmony with the white dress. However, girls love the red wedding bouquet not only with roses: peonies, gerberas, poppies, tulips, peonies and calla lilies are perfectly combined in a flower symphony. Which of the bouquets looks better in the hands of the bride - in a multi-colored version or in a monovariant? Let's figure it out.
Options for a wedding bouquet in red
Red color at the wedding is used in different ways. These are not only flowers for the bride, these are flowers of the same shade in her hairstyle, manicure, pedicure and even a car. Red color attracts the views of others, especially if it is diluted with contrasting shades. For example, a scarlet dress with a red set of colors does not harmonize: the bride looks bright, but tasteless. A perfectly red bouquet looks in combination with a traditionally white dress, but with a cream or peach outfit, scarlet flowers are best combined with light ones. When choosing a shade of flowers for a wedding, you need to start from three things:
Bride preferences.
Age.
Dress colors.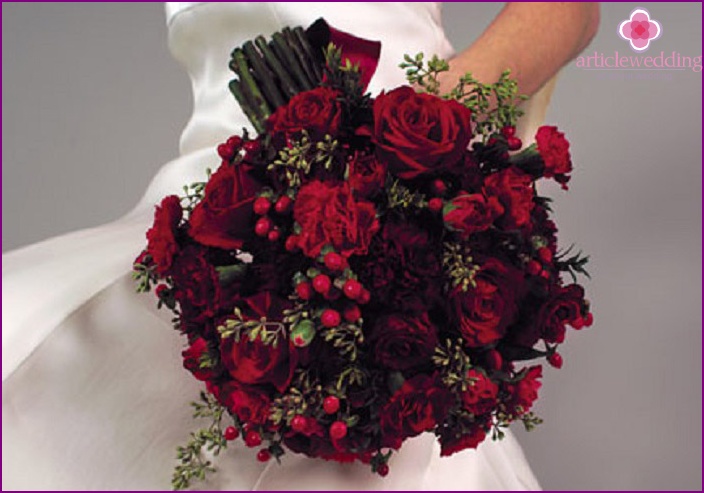 Also, when drawing up a floral wedding attribute, it is worth paying attention to the meaning of the elements. For example, the red color of a rose symbolizes a strong love union, and the round shape of the bouquet - reliability, infinity of relationships. Gerberas in this color represent innocence, youth, fun, so they are perfect for young brides. Often the bride and groom choose a wedding bouquet depending on the season: in winter, the red color of roses is diluted with white flowers or a rowan of rowan, and in spring, spring red tulips with mimosa will harmoniously fit into the image.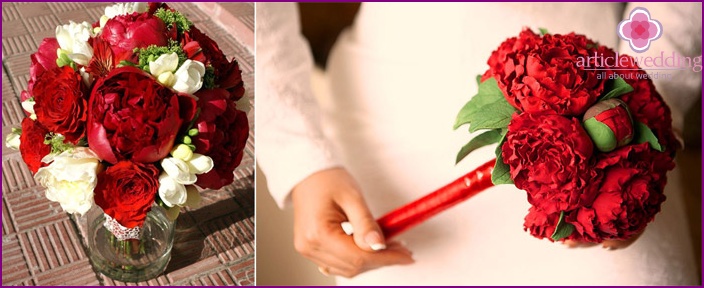 Among the summer options, I want to highlight a red bouquet of peonies. These familiar bride flowers have long been used at a wedding, so peonies are great competitors to traditional roses, orchids, callas. They attract with their fragrance, lush buds, and the delicate flower petals form a fringe that shimmers beautifully in the sun. This bouquet is perfectly combined with a magnificent white dress of the bride.
Arrangement of Red Roses and Gerberas

If the main character traits of the bride are humor, kindness, always a great mood, then she can safely choose a gerbera for her wedding. Due to the rich purple, scarlet or burgundy color, gerberas are perfectly combined with white, pink, cream roses and decorative greens. Elegant gerberas will perfectly fit into an autumn or summer wedding, and roses with a variety of shades will allow you to make many different options for the most demanding taste.
Mono-bouquet of tulips
Tulips symbolize fidelity and perfect love, so they are ideal for a wedding bouquet on your own. They can be arranged in a cascade bouquet, round bouquet, or hand knit. Red tulips will not only create a festive mood, but will also make any image of the bride delicate, young and spring-like fresh. Choosing bright tulips as a bouquet for a wedding, the bride symbolically shows her great love for the chosen one, because in the secret language of flowers, a tulip is passion, romance, big love.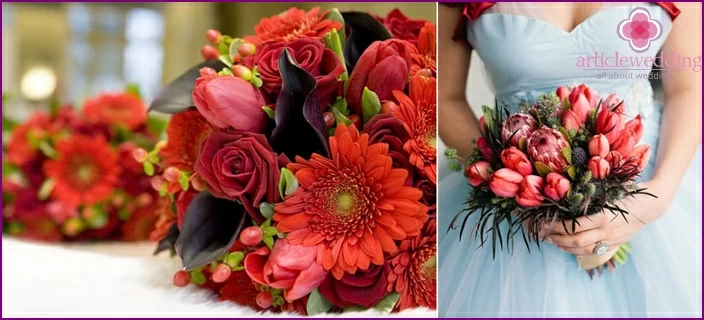 Bouquet of roses, callas and orchids
The bouquet, which will include red roses, snow-white callas and pink orchids, is perfect for a bride with dark hair. It is wonderful if the groom's boutonniere, made in the same luxurious style, will complement this floristic symphony that is pleasant to the eye. This composition of flowers looks aristocratic, but its cost is not cheap. Perform a similar floral mix in different forms:
cascading;
round;
in the form of a garland;
fan-like.
The combination of red with others - photo
Saturated red flowers are just perfect for a winter wedding, because this color is associated with the New Year holidays for all people. Red and white, red and green - a harmonious combination of any floral fantasies. Experts say that the combination of several tones looks much more interesting than the one-color composition in the hands of the bride. So, they suggest combining red, pink, beige, white.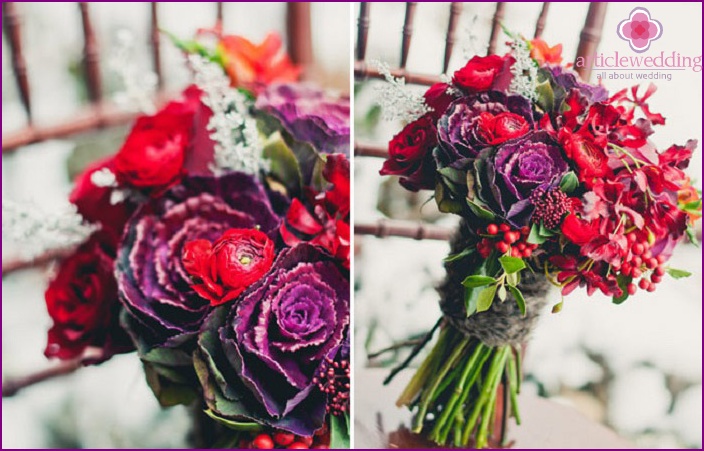 Multicolor combinations are allowed for the wedding - red with yellow or blue - but in any case, such a mix is ​​diluted with greenery - foliage, shoots or grass to ensure a smooth transition from one color to another. The wedding arrangement will look gorgeous, where the red color, combined with soft pink, will gradually turn into white. With contrasts that are too obvious, florists tend to introduce neutral tones to the bouquet.
Red white
The wedding arrangement of white and red flowers looks great. Temptation and purity, passion and tenderness, prosperity and infinity - this is what guarantees the newlyweds a red and white bouquet of the bride. The unity of opposites, because red is tension, passion, and white is elevation, purity, serenity. Together they will create a tender and passionate love. If the bride picked up a white dress, then the red color is displayed in shoes, varnish, lipstick, accessories. If the dress color is red, then accessories, as well as shoes must be white.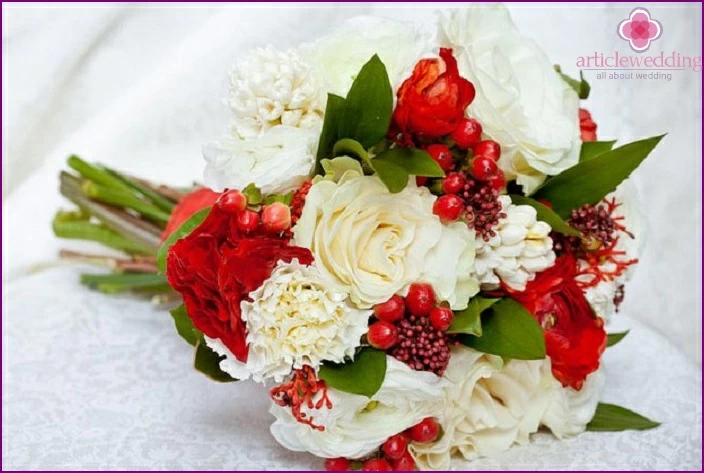 Red blue
Red and blue in a floral combination will be able to afford a confident girl at the wedding. Such an ensemble will not go unnoticed, giving the image of the bride completeness. A bouquet of scarlet and blue flowers requires the bride to pay special attention to the choice of her outfit, since such flowers will not be combined with all shades. Scarlet roses are usually elegantly in harmony with blue or blue irises, hyacinths, hydrangeas, delphinium, cornflowers, violets. In addition to this composition, a small amount of gypsophila or freesia is often used..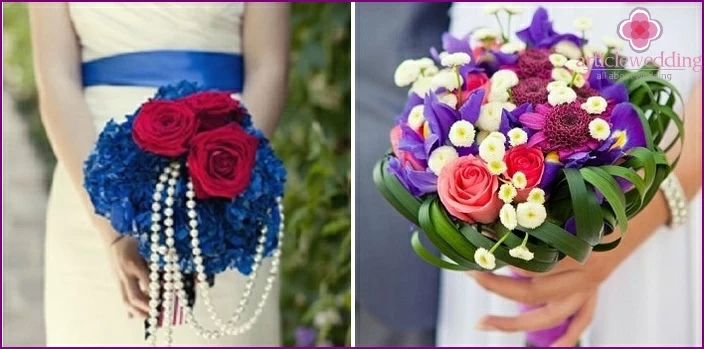 Red green
Red and green in a bouquet are chosen for themed weddings that are held outdoors or for some wedding styles - the Middle Ages, Elves, spring celebrations, weddings a la Provence. Nowadays weddings in green colors are fashionable, and green flowers in the bride's hands are a symbol of hope, youth, fertility, spiritual harmony. Diluting the wedding floral arrangement with bright scarlet flowers, the bride wants to symbolically share her harmony with her partner, hoping for mutual love.
Green flowers are not so easy to pick up, but florists find green freesias, orchids, caspedias or chrysanthemums. The color does not have to be emerald, olive and swamp, and bottle are allowed. Bright green accents come to the fore, and muted colors become the backdrop of the wedding floristic extravaganza. Beauty and originality - these are the essence of such floral variations.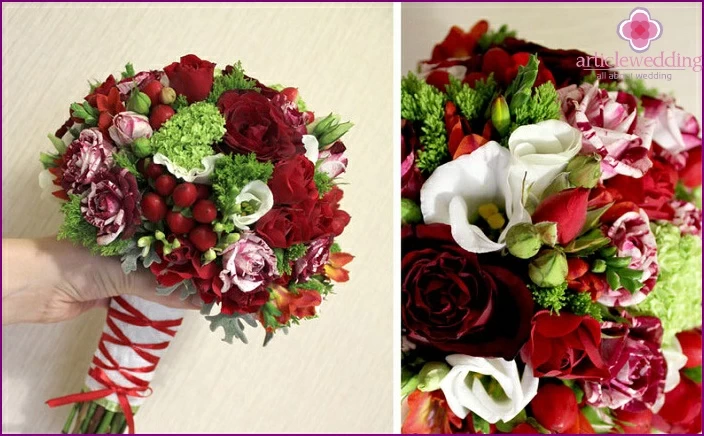 Photo selection of beautiful bouquets in red colors
Combining closed buds of different shades with blooming red flowers, florists get chic compositions for the bride of any age. Carnations look great, although modern girls often prefer roses to them, but in vain. Experienced specialists offer a real work of art - a red bouquet of carnations, combined with white orchids, pink peonies, herbs, other flowers. We have selected several options for beautiful vibrant color combinations for the bride, which we hope you will like: