Contents
---
---
What could be worse than a boring wedding with the same details! Thousands of wedding salons offer the same accessories, jewelry, and even dresses. Don't want your wedding photos to be like the photos of thousands of other newlyweds? The most compromise and inexpensive way to give the wedding a creative drive is an exclusive designer wedding bouquet. A bride with such an accessory, even in the most concise dress, will become the queen of creativity, and guests will remember this for more than a year.
Design Wedding Bridal Ideas
The main message of the master making the author's bouquet is uniqueness. You will receive a one-of-a-kind floral gift - a work of art that is created only once and only for you. Such an accessory will emphasize the exclusivity of the event (after all, every loving woman marries with a thought «once and forever») In addition, the designer bouquet will not violate other wedding customs for the sake of originality, add piquancy not only to the image of the bride, but to the wedding as a whole.
The latest trend in wedding floral fashion is everyday details, accessories or materials that are used in a non-trivial way. Do not worry about how to throw such a bouquet to girlfriends. Order a duplicate with the design product in the same style (in color and materials), but simpler and easier - this is a common practice today, ideal for floristic authoring. And we will tell you what ideas of floral design offer modern designers for creative brides.
Wedding bouquet of berries and fruits
An apple bouquet is not a novelty in wedding fashion, but an indisputable favorite among designer fruit accessories of this kind. You can order it at any time of the year, and the rich color scheme of this fruit and the ease of combination with a large variety of flora opens up great opportunities for designers. Pomegranates or mangoes look no less aesthetically pleasing among buds. The only drawback of such a floral masterpiece is the weight.
Serious competitors of the apple are citrus fruits (lemon, lime, orange, mandarin, kumquat), which are also available all year round, have bright colors and a fresh, unobtrusive aroma. The advantage of citrus fruits is the ability to use them in a cut form: they have a beautiful pattern on the cut, do not lose their appearance (do not darken), while the dried halves do not let juice in, so there is no risk of spoiling the wedding dress.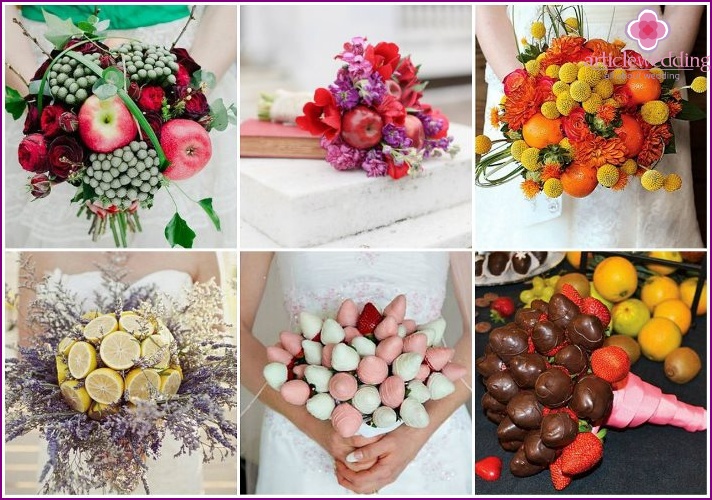 For summer and autumn brides, a designer floral bouquet with berries is suitable. For this, fruits with a hard shell are selected (rose hip, snow berry, hypericum, ilex, mountain ash, gooseberries, currants, cherries, unripe berries of viburnum, blackberry or raspberry). A strawberry bouquet will be mega-original, and designers suggest using it with icing (plain or colored). Such a sweet shell will not only add exclusivity, but also protect the delicate soft strawberry berries from damage..
Glamelia bouquet
Although this designer bouquet was invented several centuries ago, in our time it is experiencing a rebirth. Glamelia is one huge flower made of petals fastened with glue or hairpins. One such bouquet can take several dozen buds. Initially, for the manufacture of glamelia, the petals of gladioli were used, which were fastened in the form of a camellia flower. Modern florists use roses, tulips, lilies, peonies and other flowers for this.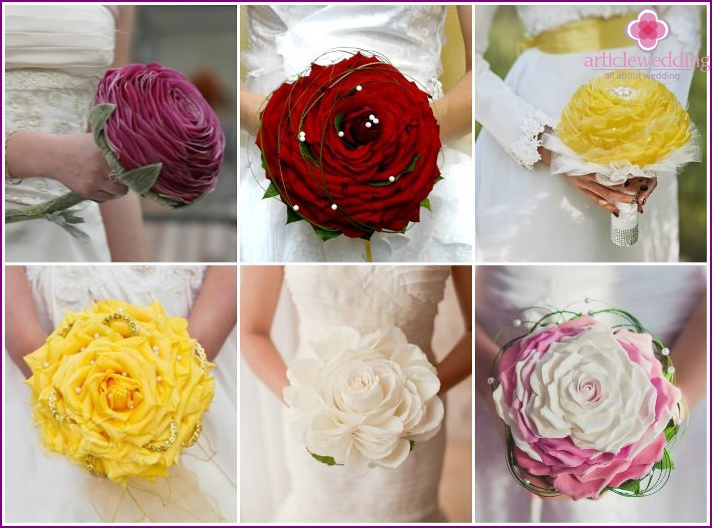 From exotic flowers or plants
Roses, lilies or even orchids are delightful, but not out of the ordinary - it is difficult to surprise them. Another thing is exotic flora. Ordering a designer wedding accessory made of unusual rare flowers is available in many large salons and online stores, the choice of such bouquets in catalogs is huge, the only difficulty is the delivery time (usually about a month). Exotics are distinguished by a bright, sometimes elaborate coloring and unusual shape of buds, so it is advisable to choose a bouquet with the image of the bride (not forgetting about the theme of the wedding) with a stylist.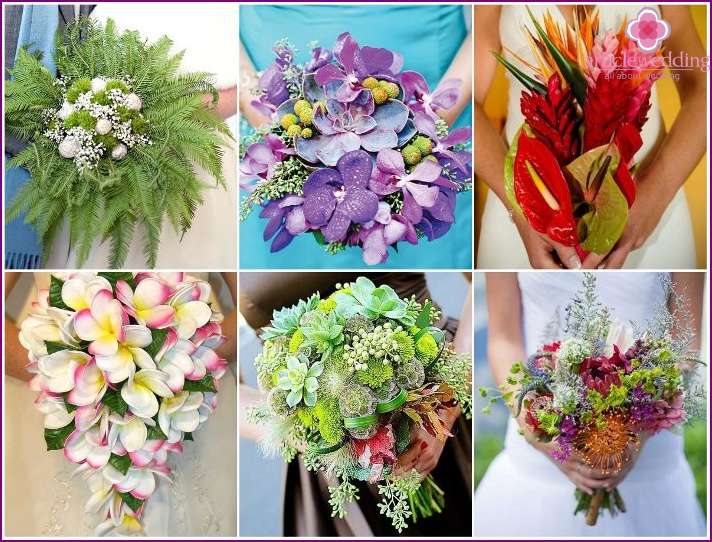 Designer wedding bouquets in the form of:
Handbags
Such a bouquet is not a bag in the literal sense of the word, but merely repeats its shape. Therefore, the size of this flower accessory should be small, and for convenience, there must be a handle (solid or in the form of a soft strap / chain). There are two options for the execution of such a bouquet:
traditional materials are used for the handbag (usually fabric or wire), then the accessory is filled with flowers;
the bag is completely made of flowers fixed on the frame (it can be tightly laid out rows of buds, glamelia or a bag of leaves with flowers filled).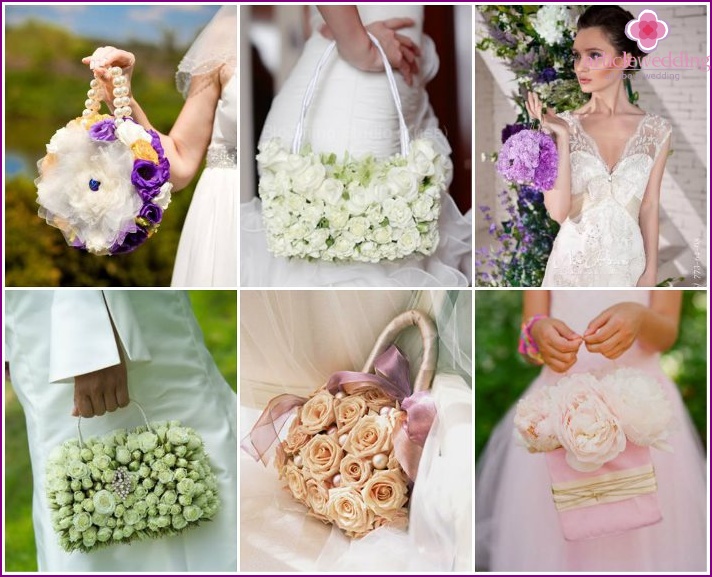 Couplings
Unlike a handbag bouquet, a floral wedding clutch retains its function: the bride can hide her hands in it. Such a designer accessory is ideal for a winter wedding and successfully replaces the gloves necessary for the cold season. A chain or strap will free your hands if necessary. Like the previous version, the clutch-bouquet is performed in two ways:
the basis for which traditional materials are used (fabric, fur, wire) is decorated with flowers on top;
entirely of buds (less often - stems with flowers) fixed to the frame (sometimes with additional decorative elements).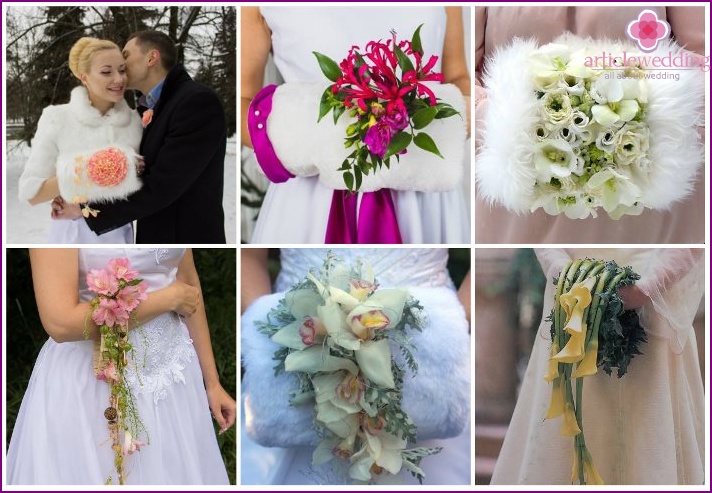 Fans
A designer fan bouquet will be a harmonious addition to a vintage or Victorian wedding. Roses are usually used for it (their multilayer buds create the illusion of volume, which is lacking in a fan shape, in contrast to traditional voluminous bunches of bundles). Other species with lush inflorescences (peonies, carnations, callas, etc.) do not have such a neat, geometrically clear shape as roses, so they are suitable for weddings of a lighter, more relaxed theme (shabby chic, boho, eco, provence).
Flowers in a fan are laid out in one or two rows, complemented by greenery, smaller buds, feathers or various ornaments. Florists offer a choice of two types of flower fans:
one-sided or double-sided on the frame (wire, bamboo, etc.);
in a special bouquet holder (in this case, these are two hemispherical halves between which flowers are placed); this option is good because a sponge is placed in the portbasket, in which flowers are inserted, thereby prolonging the life and beauty of the bouquet.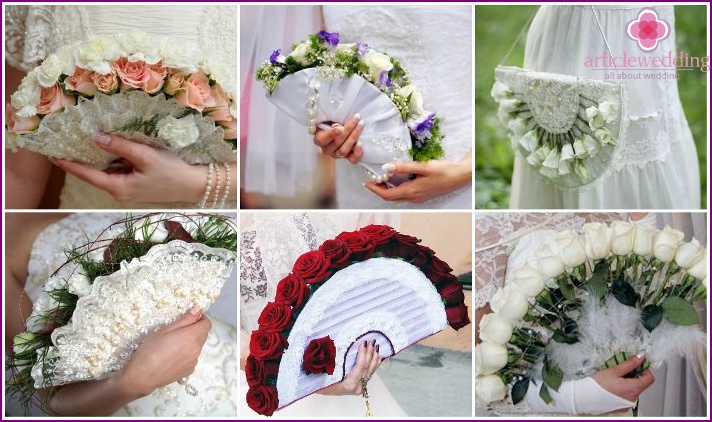 Umbrella
This is perhaps the most unformatted type of wedding design bouquet. The conical shape of the umbrella-cane (necessarily with a curved handle) serves as a port bucket where flowers are placed. It will not work to open such an umbrella - it has a purely aesthetic function. But you can use a cane and vice versa - the dome is decorated with flowers: the traditional whole bouquet is attached to the top or the entire surface of the dome is decorated with single buds. This variant of the umbrella can be disclosed, which is useful during a wedding photo shoot.
Since the bride will have to wear a bouquet for several hours, it is necessary to choose the optimal size and weight of the cane. Any kinds of flowers and greens are suitable for filling, including a combination with berries and a variety of decor. When ordering a designer bouquet, you need to consider the theme of the wedding, as an umbrella in the hands of the bride is a strong style component that will not fit, for example, into an anti-glamorous wedding (rock, hippie, etc.). Another limitation of the use of a flower umbrella will be seasonality - among snowdrifts such a bouquet looks ridiculous.
Photos of designer wedding bouquets
It is impossible to list all varieties of copyright floristic delicacies. In addition to the basic forms of the bouquet, its filling also differs in variety, in which flowers are combined not only with fruits, berries or vegetables, but also brooches, toys, buttons and even wine corks are added. Each master has his own individual approach and vision of the final result. Therefore, when ordering a bouquet, you need to formulate wishes in detail. To more accurately determine your preferences, we offer to see more original designer bouquets in our gallery.